Empire Mini GS Review 2023: The Perfect Paintball Gun
Empire Mini GS has become a trademark gun in the Paintball world. If you want to upgrade from a starter kit gun to something that can compete with high-end guns at an affordable price, this Mini GS paintball gun is a great option.
The compact design, coupled with high accuracy, that too for $300, makes this gun ideal for both amateur and professional players. The marker is essentially an upgrade of the Original Empire Mini. Like any other customer-oriented platform, Empire listened to the demands of the users and added features that make Empire Mini GS the ultimate treat for paintballers in this price range.
Related Post – Best Paintball gun under 300$
Let's explore more about the Empire Mini GS in the following sections.
Key Improvements in Empire Mini GS Paintball Gun
Before we start reviewing the product and find out what benefits this gun provides to the users, let's first look at the added features that made it so good.
Firm Foregrip
In the older model of Empire Mini, people felt uneasy handling the gun, as there was no grip. The metal layer over the foregrip made it difficult to hold the gun with sweaty hands. Empire took notice of these complaints and added an enhanced rubber grip that gives users a better playing experience.
High-performance HPA Tank
Empire Mini GS comes with a high-powered HPA tank that is enough to shoot 11,000 paintballs. That's absurd, right? Now, with this Mini GS, you don't have to worry about reloading every now and then. It saves you both time and takes the load off you, as you won't be carrying an extra tank with you.
Smooth Trigger
With Mini GS, Empire was more concerned with user experience and usability. That is why they have added an amazing feature, a self-lubricating trigger, which ensures smoother and frictionless trigger pull.
In addition, the Mini GS has also introduced micro switch trigger activation so you can adjust how many triggers pull you need to activate the trigger and shoot.
ASA Switch to Easily Degas the HPA Tank
Another improvement that got positive feedback is the ASA On/Off switch. Now, you can degas the tank just by tapping the switch. By doing so, you avoid damaging the gun's internal parts, such as the o-rings and solenoids. This feature comes in handy; you can change the tank even within the game.
Related Post – How to Refill Paintball tank?
Clamping Feedneck to Align the Hopper
In the older version, it was difficult to align the hopper when placed on the neck of the gun. Empire took care of this issue and included a clamping feedneck to keep the hopper in place with the help of an adjustable tightening grip.
Carry the Best Features of Old Models
Empire has had many guns that still have a cult following. The paintball community still adored the features that these guns have. Being the brand of people, Empire knows it all and has included the best features of its iconic models like the Invert Mini and Empire Mini.
Empire Mini GS Marker Review: Features and Benefits
Unparalleled Performance
It is the ideal paintball gun for both beginners and experienced players. Its compact and lightweight design ensures maximum accuracy, speed, and reliability. It features a toolless bolt removal system, an air-efficient inline poppet bolt system, an electronically controlled spool valve, and a high-flow regulator— providing easy cleaning, accuracy, and consistent air pressure.
Although Empire Mini GS is smaller in size, it is one hell of a gun. Right out of the box, you can start shooting at 275 fps with a 12-inch single-piece barrel. And after setting up the speed (velocity adjustor given at the back of the receiver), you will be shooting paintballs over 290 fps. That is why this is a quality Speedball marker.
Having a 45/4500 HPA tank gives you an edge over your opponents. When they are out of gas, you can keep pouncing at them without any such worries.
When it comes to accuracy, it gets 10/10. You will hit the target most of the time, regardless of your experience with this paintball gun. You will feel no to a little kickback with Mini GS, reducing the chances of inaccurate shots.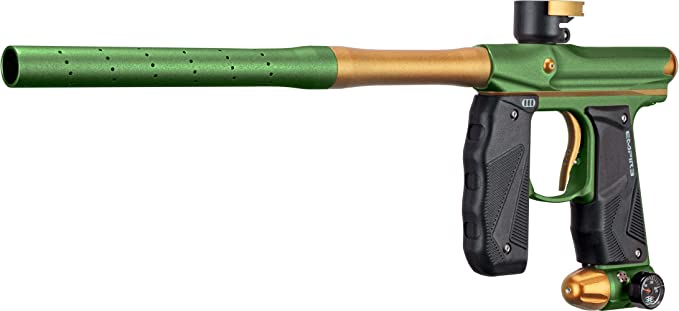 User-Friendly
The sleek design and compact size of this paintball gun allow it to be easily handled and maneuvered on the battlefield. The rubber grips help you hold this paintball gun comfortably without slipping.
Players can choose multiple shooting modes on Mini GS through the board on the foregrip. Another great feature that I personally like and is great for beginners is the presence of a gauge on the regulator/ASA to see and set the air pressure.
Make sure that the air pressure is set at 180-200 psi— don't exceed this limit; otherwise, your gun will start leaking and may also damage the solenoids. That's where the gauge feature comes in handy for new players.
Related Post – Does Paintball hurt?
Durable Build
The new Mini GS paintball marker has an aluminum frame that makes it lightweight and remarkably tough. This paintball gun lasts longer while maintaining its look and performance.
Empire Mini GS Paintball Gun: Pros and Cons
Pros:
User-friendly and easy to maintain
Empire has added Anti-Chop eyes to its electro-pneumatic paintball gun to prevent chopping.
Low kickback
Stylish and lightweight design
Quiet
Suitable for small-handed individuals
Value for money
Cons:
Large hands have trouble handling the gun
Poor Stock barrel
Occurrence of faulty products due to lack of quality check
Conclusion
The Empire Mini GS paintball gun is an ideal blend of performance and durability. It is an excellent option for both beginners and experts.
Its compact size and ergonomic design make it easy to handle the gun. It is smaller than the Empire Axe and Pro. The low kickback and inline poppet bolt system facilitate accurate shooting.
Even though the price is a bit high, the features make it worth every penny. It is among the top-of-the-line paintball guns. For those who don't mind the price range, the Empire Mini GS is a highly recommended paintball gun.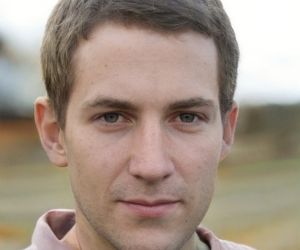 My name is Jezus Fischer, I am working full time on a paintball store and played all types of paintball games. Read more about me.