Best Long Range Paintball Gun 2023
If you really want to give your opponent a tough time in paintball, then it's time to switch from short-midrange markers to long range paintball guns. According to our years of experience, short-range paintball markers are unable to shoot with accuracy over 95 feet. Instead of this, long-range paintball markers are powerful and can shoot straight with great accuracy, even at 160 feet. You can win the battle without even disclosing your location.
Longer distance paintball markers are easily available all over the internet, but the worst part is, that the majority of the guns are termed as long-range sniper rifles, which actually they are not. Therefore, we have jotted down some of the best long range paintball markers that are being used by professionals in a variety of styles. The below mentioned long range paintball markers have been tested thoroughly so that we can give genuine reviews about them. Without further ado, let's move on to the Best Long Range Paintball Gun.
5 Best Farthest Shooting Paintball Guns
EDITOR'S CHOICE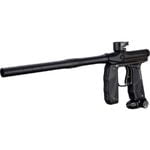 Empire – Best Long Range Paintball Gun
Velocity: 275 fps
Range: 150 feet
Hopper feed
PREMIUM PICK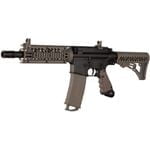 Tippmann – Long Range Paintball Gun
1Range: 150ft
Dual feed
customizable
BUDGET PICK
Umarex – Most Accurate Paintball Gun
Operation: CO2
Velocity: 315 FPS
Range: 50-100 Ft
1. Empire – Best Long Range Paintball Gun
Empire Mini Gs is the advanced version of the Empire Mini paintball marker. One thing that is appreciable about Empire is, they keep an eye on the advice and suggestions of their users. Mini GS is the outcome of such suggestions and feedback.
Featuring a slim and compact body that is very light in weight, weighing around 1.4 pounds. We have tested this gun and realized that it has improvised the quality of the gun. It features a rubberized fore grip, which makes it really easy for the players to hold the gun comfortably. This gun lacks this problem. Also, the frame around the trigger is pretty spacious that your fingers can easily float above the trigger. We found everything nice about the gun but one of our teammates found it uncomfortable to hold because he has large hands and chubby fingers. That's why his holding was not proper.
When it comes to performance, Empire Mini Gs is known to be the best long range marker, and the reason is its quiet performance that delivers accurate and exact shots with a range of 150feet. When we used it for the very first time right after taking it out of the box, it fired 15 balls per second, which can reach up to 20 bps.
Speaking of velocity, this electronic gun can shoot at an impressive 275 FPS, but only under optimal conditions. It can be increased to a whopping 293 FPS by using the included wrench. The velocity is adjustable from anywhere from 180 to 200 PSI, which is much more than you'll need for most standard tournament matches. It comes with a 12″ barrel but you can upgrade it to a 14″ barrel to make it one of the long distance paintball markers.
Pros
Low kickback
Rubberized foregrip cover
With 12″ and 14″ barrel
Cons
Not suitable for people with large hands
Maintenance is tricky
The most recent version of the Empire Mini GS has seen quite a few upgrades from its predecessors and great improvements over the original. Overall, it's a great long range paintball marker that is reliable and shoots with accuracy.
2. Tippmann TMC Light Gunner – Long Range Paintball Gun
Looking for the most accurate long range paintball gun? Tippmann TMC is the answer to your question. Tippmann TMC is built with sturdy and durable materials that can withstand harsh handling. You can crawl, creep, or roll down easily like a soldier if you have a Tippmann TMC in your hand because this gun will never be going to break apart. During an intense battle, holding a gun firmly is great art. It features a comfortable and firm grip that allows you to hold it firmly.
Since it's a magfed gun so it comes with a magazine that has a capacity of holding up to 19 paintball ammo. You can attach a hopper to it if you don't want to use a magazine. To increase accuracy and range, we always recommend using first strike rounds, but unluckily Tippmann TMC is not compatible with first strike rounds.
Apart from this, you can customize your TMC paintball marker as per your choice. Its impressive rail system allows you to install as many extra accessories as you like. If you want a more powerful gun, it's as simple as installing an upgraded barrel. The inner workings are compatible with a Tippmann 98 – so if you have a Tippmann 98, you can use its barrel on the TMC and enjoy shots with more effective range.
Speaking of the maintenance of Tippmann TMC, it's pretty simple and easy to maintain. The secret is to clean it right after every paintball match. This is how you don't need to do frequent deep cleaning of the gun.
Read More: Best 50 cal Paintball Gun
Pros
Dual-feed gun
Accurate
Picatinny rails for customization
Cons
You cannot use first strike paintball rounds with TMC gun
The Tippmann TMC is a great marker for beginners to pros. It has a high-quality build, accurate and long-range marker. TMC is for all levels of players, and mind you, it's very affordable.
3. Umarex T4E TM-4 Carbine – Most Accurate Paintball Gun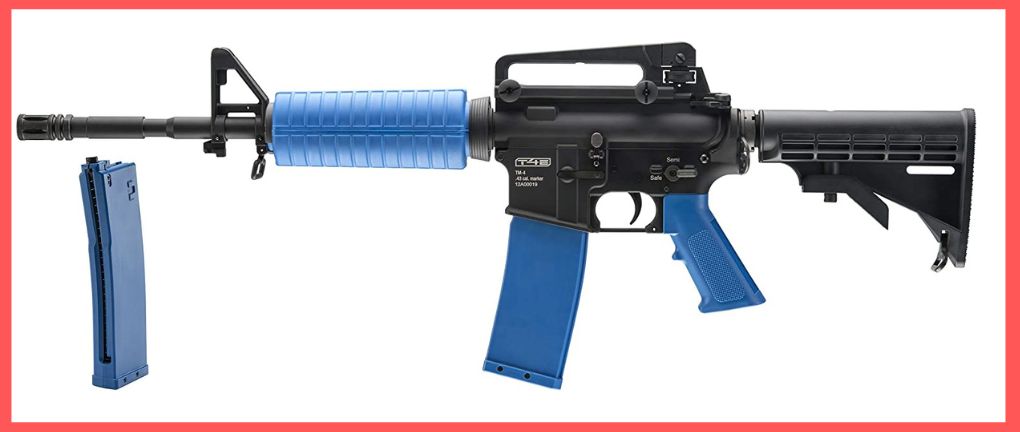 Umarex T4E TM-4 is known as the most accurate paintball gun. Basically, it is a training gun, but a lot of people use it for playing paintball as well. Instead of 0.68 calibers of paintballs, it accepts 0.43 calibers. It is one of the versatile paintball markers that can be used with rubber balls, powder balls, and even pepper balls.
Since it is mostly used for training, that's why its weight and feel are pretty much similar to real firearms. Umarex T4E is a MagFed style gun, which means it needs a magazine for loading paintballs. It can accommodate 15 rounds of paintball easily, but for better accuracy, we recommend using 14 rounds at a time.
Like other long-range paintball guns, it requires CO2 as a propellant. A 20 oz of CO2 capsule will deliver up to 45 rounds of paintball. The gun is built up using metal with a few parts of plastic just to give it a real firearm look.
Talking about the performance of the gun, it fires paintballs with a velocity of 315 FPS with an impressive shooting range of 100ft. Umarex T4E features front and rear sights, and the best part is these sights are completely adjustable. You can adjust them according to your needs. Like other long-range guns, it too offers opportunities for customization. Thanks to the 1913 rail system where you can add multiple gadgets.
Umarex T4E carbine is just like a real firearm, and that's the reason its weight is more than the weight of an actual paintball marker. Also, it's an old-style gun that lacks all the latest features of paintball markers, like ASA on/off.
Related: How To Fix a Paintball Gun That Won't Shoot
Pros
Sturdy and durable
Just like a real firearm
Less dangerous
Impressive range with great accuracy
Cons
Quite heavy in weight
Uses only .43 caliber ammo
Umarex T4E carbine is a 0.43 caliber paintball gun that is best suited for people who love to use look-alike of real firearms. It is one of the long-range guns that can be used in MilSim paintballing.
4. Kingman Spyder Fenix – Long Distance Paintball Gun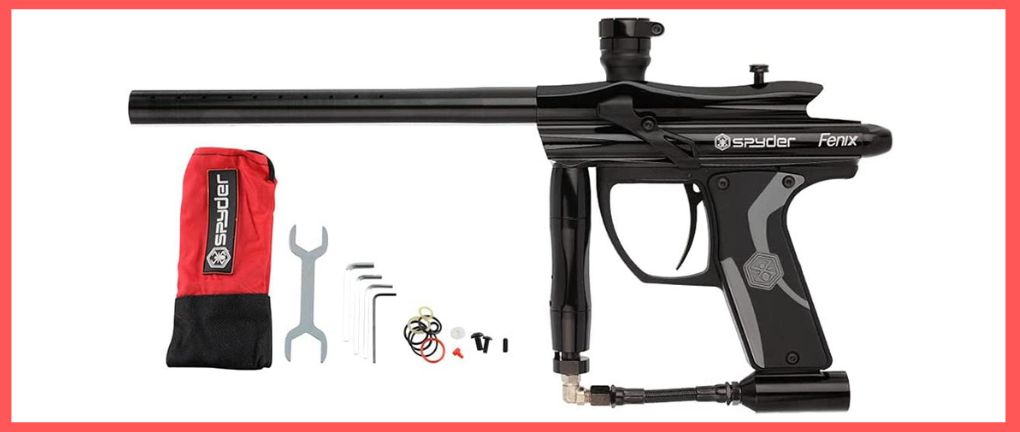 Kingman Spyder Fenix is an electronic gun that lets you fire multiple shots in a few seconds. At first glance, it looks similar to Empire Mini GS, but it has got lots of different features. It is made up of sturdy and durable materials, but the best thing is, it is not heavy like the other sturdy guns. We find it around 25% lighter than its predecessor model.
Spyder Fenix features a unique Eko Valve system that makes it stand out from the other markers. With the help of this innovative technology, Spyder Fenix can shoot up to 1600 shots in a single 20oz CO2 tank. Thus making it ultra air efficient.
We have experienced its efficiency. Usually, a 20oz CO2 tank can deliver up to 800-900 shots, but when we used Spyder Fenix, it delivered almost double the shots in a single CO2 tank.
This is impressive!
More so, with its break beam eye technology feature, the marker barely chops any paintballs. Break beam eye technology is the necessary part of any high-end gun as it enables the gun to fire properly settled paintballs. This prevents the paintball from chopping and rupturing inside the markers. Besides this, it has a velocity adjuster that is on the outside, with the help of which you can adjust velocity as per the field laws
The reason we have added Spyder Fenix in long range pb guns is its impressive range which is 150 feet. And the best part is, Syder Fenix can shoot straight and accurately with this much range.
When it comes to maintenance, Spyder Fenix wins again in this field. It is very simple and easy to clean and maintain. You can easily take out its bolt and eyes within minutes and clean it deeply.
Everything about Spyder Fenix was perfectly OK until we opted for customization. We found out that Spyder Fenix has got lots of compatibility with different brands. We wanted to replace its barrel with a 16" barrel, but we couldn't, and the reason is, that it's less compatible with other brands. You need to have a Spyder threaded barrel for it. So, in terms of customization, you will have very limited options.
Pros
Lightweight & durable
Air efficient gun
Electronic gun with low priced tag
Easy to clean
Cons
Less scope of customization
The Spyder Fenix Electronic Paintball Marker is one of the long range paintball guns which is perfect for all levels of players. You'll be amazed by just how easily and quickly it fires, showing accuracy that is pretty unmatched right off the bat, as well as with its ability to target your opponents.
5. Tippmann A5 – Longest Range Paintball Gun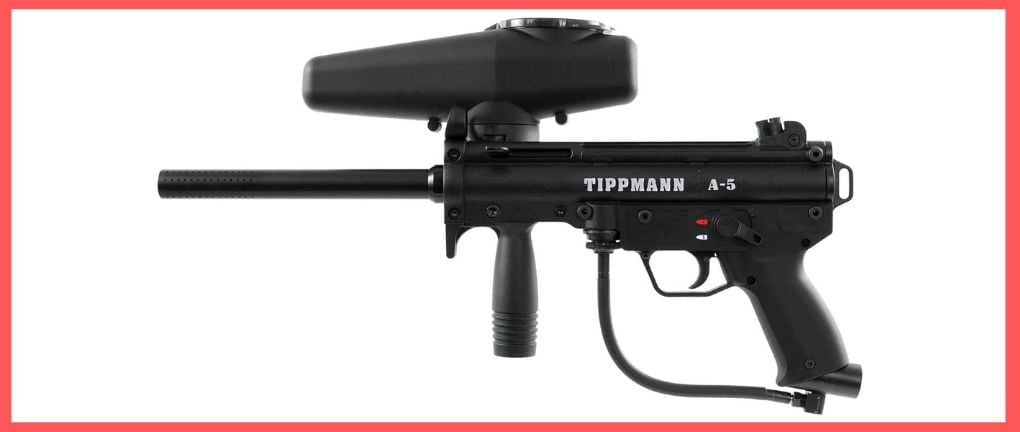 It's almost impossible to discuss Tippmann A5 when it comes to the longest-range paintball guns. Mind you, it is one of the most demanding and hot selling long-range paintball guns from Tippmann. It has an effective shooting range of 150 feet, and the best part is, it doesn't produce a loud sound when firing. This way, your opponent won't catch you.
It features a cyclone feed system, with the help of which you can fire paint at an impressive rate of 15 bps. With its long barrel that is around 16", it will shoot accurate shots with less recoil.
Using customized paintball markers is the leisure time activity of passionate paintballers. That's why Tippmann A-5 has lots of scope for customization. You can upgrade the marker as per your choice, like you can add Picatinny rails, install gadgets like scopes, lasers, red dot sights, and many others. Apart from this, the grip frame is ergonomically designed to fit with ease in the player's hand.
While using Tippmann A5 we found it a bit heavy, which is 1.4 kg, and the reason is it's entirely constructed of aluminum material. So no matter how much you crawl or creep on the field, the Tippmann A5 won't be damaged at all.
As far as the cleaning and maintenance are concerned, it is pretty easy to do. You can easily assemble and disassemble it without using any special tools.
Everything seems so nice about Tippmann A5, but during testing, we realized that its trigger is a little bit stiff to pull, which hinders rapid pressing of the trigger. For accurate and consistent shots, we prefer using Tippmann paintballs.
Pros
Sturdy and durable
Easier to maintain
Impressive shooting range
It doesn't chop paintball
Cons
Heavyweight
Trigger pull is a bit stiff
The Tippmann A-5 .68 is an exceptional weapon that's upgradeable and has a long range. It's also easy to use and carry. You'll love the way you move when using it.
Long Range Paintball Gun FAQs
Buying Guide for Long Range Paintball Gun
Investing in the longest range paintball is a great idea, especially when you are hard-core paintballer. Using guns with short or ordinary ammo simply wastes your time, energy, and above all, paintball ammo. Instead of getting frustrated over waste, it's time to invest in a long-range paintball gun.
But before heading to buy one, read out our precise buying guide so that you would choose the best long-range marker. Besides keeping in mind the basic factors for buying a paintball gun, one should definitely consider the following factors when looking for a long-range paintball gun. These are:
Shooting Range:
Whatever type of marker you are buying; paintball gun shooting range plays a vital part. The shooting range is usually affected by barrel length, the velocity of the gun, and lastly, the weather conditions, and it can be described by three terms, namely, safe range, effective range, and absolute range. What are these? Let's find out!
Effective Range:
In simple words, it's the range or distance a paintball can travel without being exploded. But once it hits the target, it explodes. Usually, the average effective range lies somewhere between 80 to 100 feet. Effective range depends upon the distance from the target. If the distance from the target is very long, then the resulting range would be a lesser effective range whereas if your distance from the target is shorter then the paintball may not burst upon hitting the target.
Safe Range:
Safe range is actually a range in which no one is injured. It is pretty different from the effective range. Safe range is used to calibrate the paintball gun before the start of the match. As high-velocity shots may result in serious injuries. Therefore players are requested to determine the safe range so that players may remain safe and sound. 280fps is the average velocity of marker which delivers shots with the maximum range of 100feets.
Absolute Range:
The absolute range is pretty much different from the safe and effective range. It is basically a distance paintball cover after leaving the barrel. Guns with the highest absolute range are termed as farthest shooting paintball guns. Such guns can shoot with an absolute range of 150 yards.
Barrel Length:
Barrel length is the most important factor that you should consider while buying a long-range paintball gun. Gun with a longer barrel, lest you aim better and you can easily hit the target. But it did not assure straight and accurate shots.
Always look for a gun with a long barrel of about 14" to 16" inches. Beware of using a very long barrel, like more than 16", as increased length will increase the friction inside the barrel, which ultimately reduces the effective range of the gun.
Picatinny Rail:
Always look for Picatinny rails while buying a long-range paintball gun. Picatinny rails don't directly affect the range of the gun, but you can attach different accessories that improve your accuracy and you hit the target perfectly. Picatinny rails offer endless opportunities for customization.
Noiseless:
A long range paintball gun that could be used a sniper must be noiseless at any cost. Always look for paintball guns that have a minimum amount of noise or choose guns with a mock silencer. Long-range paintball guns make noise because they use more power for high velocity.
Conclusion:
Long-range paintball guns are the best choice of gun for professional players as they shoot straight and accurately, and above all, it keeps your location anonymous. Choosing a long-distance paintball gun is a little bit of a tricky task, you have to keep an eye on the reviews and feedback on the gun.
With so many long-range paintball guns in the market, we recommend Tippmann A5 as one of the best long-range paintball guns as it is a well-designed paintball gun that uses HPA and CO2 tanks as a propellant. It is also equipped with an innovative cyclone feeding system that is responsible for fast feeding with an impressive range of 150 feet.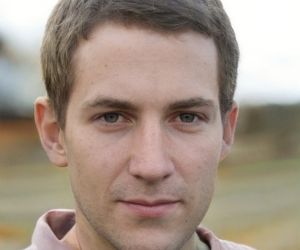 My name is Jezus Fischer, I am working full time on a paintball store and played all types of paintball games. Read more about me.