Best Paintballs 2023 – For Recreational and Tournament Level
Paintballs are the equipment that the majority of the players neglect, especially when they have to improve their performance. Using high end paintball guns along with the best paintballs would give a boom to your performance. No matter how expensive paintball guns are, if you have low quality paintballs with you, you will end up with a big mess in your marker. You will win nothing but frustration only.
Quality paintballs can retain their shape in the barrel of the gun and burst after hitting the target. The tough and brittle outer shell maintains the shooting accuracy of paintballs guns without bursting in mid-air. The best paintballs brands, such as Valken and First Strike, are known for manufacturing the most accurate paintballs.
Buying high quality paintballs is not a tedious task, all you have to do is "thorough research". We have thoroughly tested some high-end paintball brands in speedball and woodsball. So the basic purpose of penning down the best paintballs in 2023 is to facilitate the beginner to buy high quality paintballs that won't burst inside the gun.
10 Best Paintballs Reviews 2023
1. Valken Infinity – Best Paintballs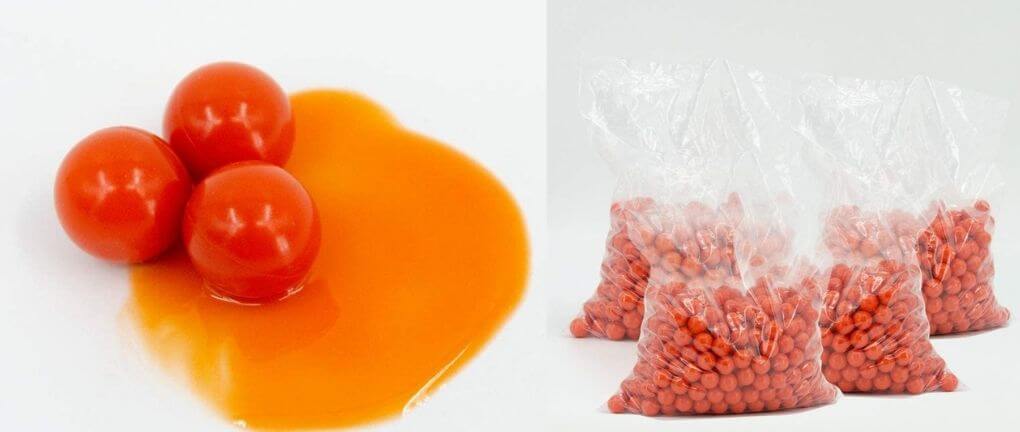 Valken Infinity comes under the category of the most accurate paintball that goes straight and hits the target accurately. These paintballs promise to deliver superior performance, and the reason is their high-quality manufacturing. Its outer shell is tough enough that it won't burst inside the barrel. Valken Infinity paintballs are 0.68 caliber and therefore compatible with the majority of the paintball marker.
The worth mentioning point is its immense weather resistance. We tested Valken Infinity paintballs in the coldest winters of Alaska. Whereas, few of our team members enjoyed playing with Valken Infinity paintballs in the summers of Florida and it performed well in both conditions.
Pros
Best for mag-fed and hopper fed guns
High-performance paintballs
Weather-resistant
Cons
Packaging quality is poor
2. Loader – Good Paintballs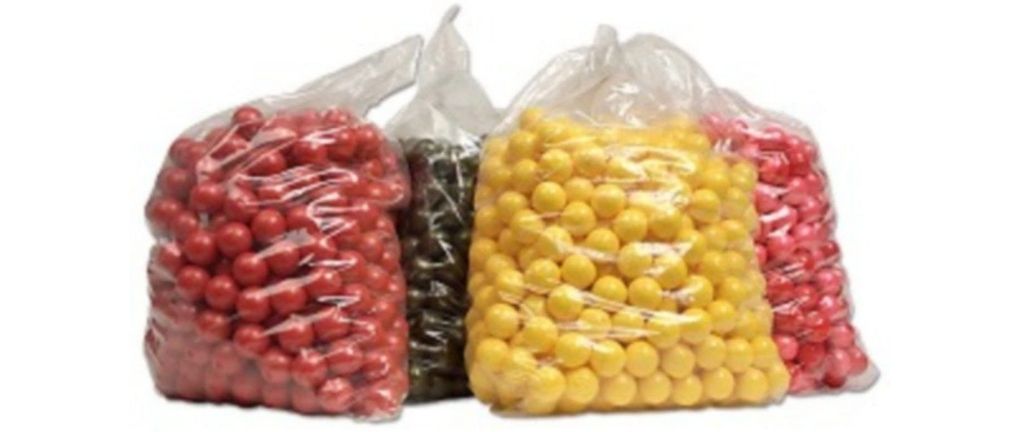 Loader paintball is a good option for recreational purposes and training purposes. They are also cost-effective. You will get a pack full of 500 rounds at a pocket-friendly price. They are .68 caliber paintballs, so you can use them in every paintball marker.
The loader paintballs are perfectly spherical in shape, but their outer gelatin shell is not as durable as Valken infinity. Therefore, you will have to compromise on the consistency of shots. After all, it's a paintball that is designed especially for training and recreational paintball games. But for serious gameplay, loader paintballs are not the best choice.
Pros
Best for fun play and training
Available in multiple colors
Compatible with all paintball markers
Economical
Cons
Not highly accurate for serious games
3. Wearable4U – Best 43 Caliber Paintballs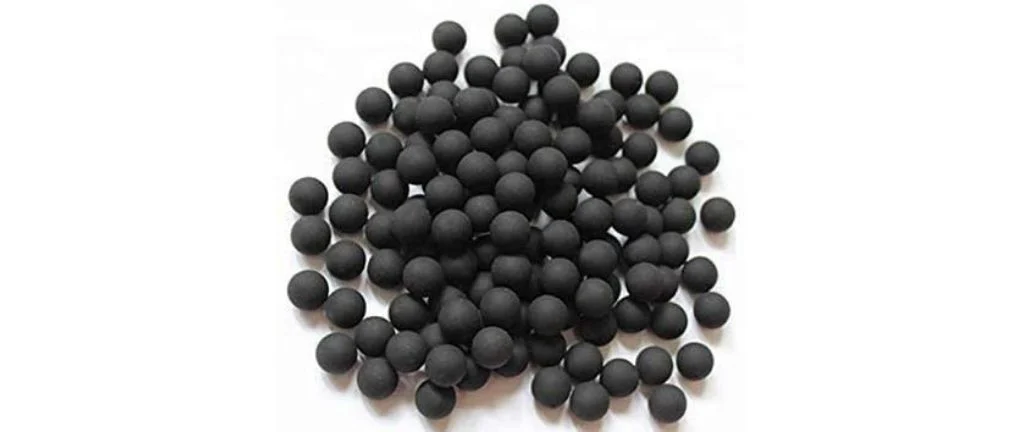 Next on my list of best paintballs is the Wearable 4U paintball, which is actually not a paintball but rather a rubber ball. But it can be used in any paintball marker for self-defense purposes. Other than self defense, we have used Wearable 4U paintballs for training and target shooting practice.
They are made up of soft rubber and you can reuse them. Just pick it up clean and keep it in your bag for next time. A single ball can be used thousands of times without any doubt. Wearable4U paintballs are great in terms of accuracy and performance. They shoot straight and accurately.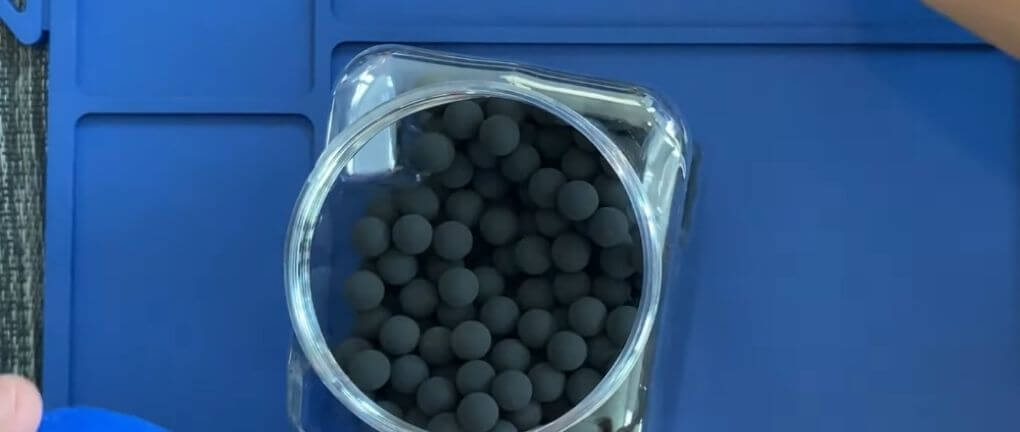 When you don't want mess-filled fun, then Wearable 4U paintballs can be a nice option. They are available in black, blue, and yellow, with packages of different rounds like 100, 250, and 500.
Pros
Cost-efficient for training purposes
Best paintballs for self defense purpose
Reusable balls
Cons
Cannot be used for playing paintball as it won't burst and hits hard
4. AOOHYEO – .50 Caliber Paintballs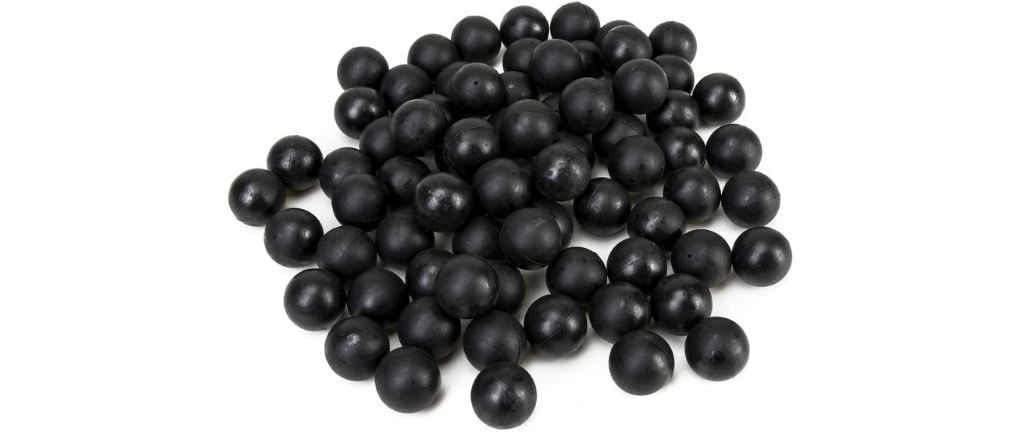 Aoohyeo paintballs are best for training and self defense. They are 0.50 calibers therefore they are compatible with .50 caliber paintball markers. I would call AOOHYEO paintballs the eco-friendly paintball. The reason is it lacks paint. They are solid rubber balls and deliver immensely consistent shots.
They are reusable paintballs. This means it won't burst after hitting the target, rather it will bounce back and you can just pick it up from the ground, clean it, and re-use it. AOOHYEO paintballs are available in different vivid colors so that you can easily find them out on the floor.
Pros
Don't burst on impact
Offers exceptional durability
Accuracy hit the target
Eco friendly
Cons
Not suitable for tournament-style paintball
5.

Valken Graffiti

– Best Paintballs for Magfed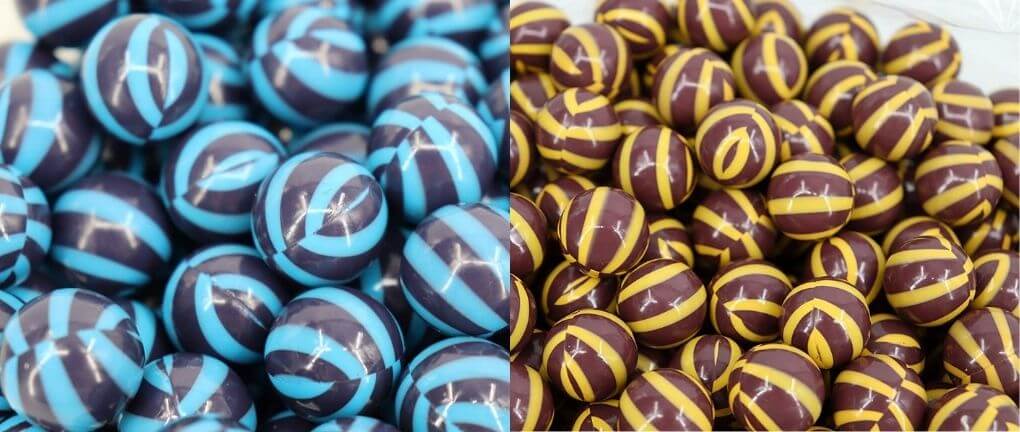 Valken is a brand that is well known for its different paintball accessories such as paintball masks, paintball guns, and paintballs. It has got a good reputation amongst paintballers, and that's the reason we have included one more variant of quality paintballs from the banner of Valken.
Valken Graffiti is known to be the superior and exceptional paintball that delivers shots with mind-blowing accuracy. They are made up of a thick and durable outer shell that guarantees to hit on the target accurately. My teammates and I tested it on a woodsball field. I hit my opponent from a distance of 60 feet, and to my amazement, it flew straight and a bright yellow spot appeared on the target.
Every time I used the Valken Graffiti paintballs, I found fresh paintballs. So I can guarantee you that Valken Graffiti paintballs comes with fresh paint. You can load them into conventional hoppers, but if you want more accuracy, then it's better to load them into a magazine. This is how your shots will be more accurate.
Another important feature of Valken Graffiti paintballs is its exceptional weather resistance. Because of its high resistance; we called it one of the most accurate one. These are .68 cal paintballs, and you will get 2000 rounds in a single pack. Valken Graffiti paintballs are one of the best paintballs for miniGS.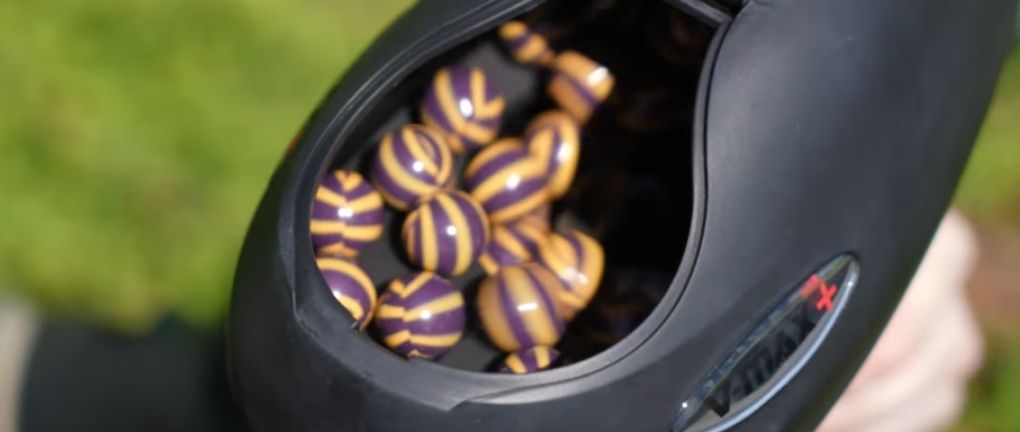 The only difference between Valken Graffiti paintballs and Valken Infinity paintballs is the level of accuracy and price. Graffiti performs exceptionally well with superior accuracy, whereas infinity tends to have one or two inaccurate shots. Graffiti is perfect in every case.
Pros
The thick and durable outer shell
Highly accurate
Ideal for tournaments
Maximize your level of performance
Best woodsball and speedball paintballs
Cons
Little bit pricey
Cannot be used for training purposes
6. Nelson Premium – Best 0.50 Cal Paintballs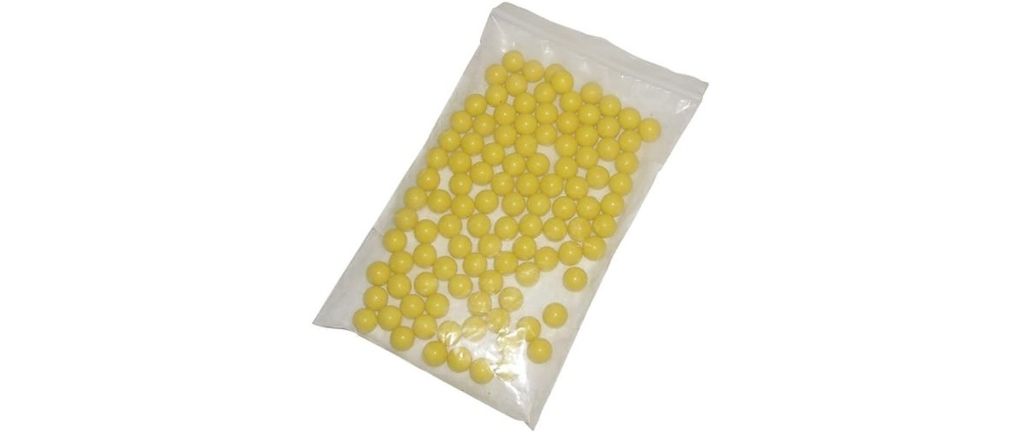 So you want to dominate on the paintball field. Use Nelson premium paintball and become the boss. Made up with high-quality gelatin with a thick and runny dye fill that splatters instantly as soon as it hits the target. The color of the dye is so bright that everyone on the field will notice the splattered dye.
The outer shell is in a dual tone which seems different when you change your angle. Freshness is never an issue with Nelson Premium paintballs, you will always get freshly manufactured and properly stored paintballs.
These paintballs have excellent resistance against weather. No matter how hot or humid the weather is, Nelson premium paintball won't spoil your game. They are 0.50 cal paintballs, therefore best suited with 0.50 caliber paintball gun such as T4E TR50 paintball markers, Tippmann TMC guns, Planet Eclipse ETHA 2, and many others.
Pros
Best for recreational purpose
Durable and sturdy
Pocket friendly
Gives optimal performance
Cons
Stains are tough to remove
7. Wrek Elite Premium – Best Paintballs for Speedball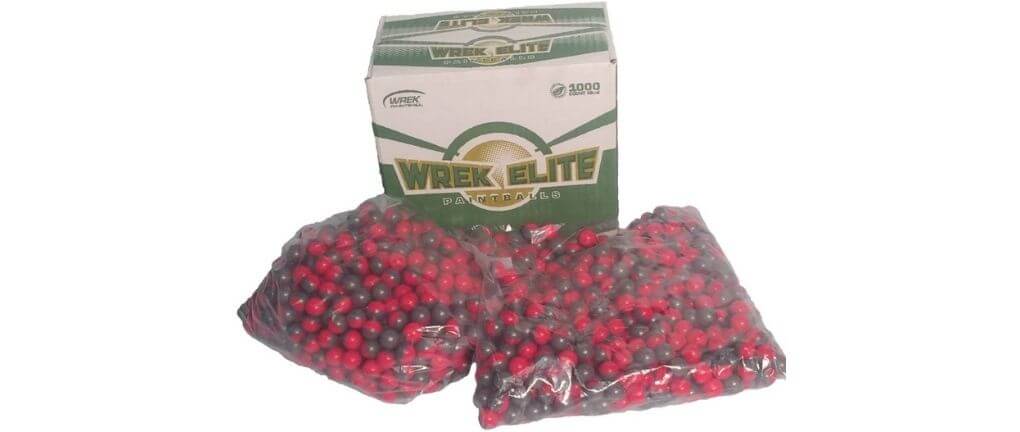 Usually, cheap paintballs that shoot straight and accurately use low-quality dye, and that's why sometimes their stains are unable to be removed from the clothes, such as Spyder premium paintball. In comparison with other cheap paintballs, Wrek Elite Premium paintballs possess the quality of the readily washable dye. Just wash your clothes with normal water and the splatter dye of Wrek Elite paintball would be removed within a few seconds.
It is a fantastic choice for those players who want to have the best paintballs by keeping a strict budget. Wrek Elite paintballs feature a thick and durable red/silver outer coating that is precise enough to burst on the target only and splatter yellow dye all around. Its perfectly round shape allows it to shoot straight. Wrek Elite best speedball paintball is popular for its remarkable consistency and accuracy.
Pros
Reduces risk of the mid-air explosion
Accuracy is the prominent feature
Very affordable
Easy to clean
Cons
Out of 1000 paintballs, few would have dents and are not perfectly round
8. JT GI Splatmaster – Paintball Ammo
Well, the paintball that I am going to review is formed by the union of two very popular paintball gear manufacturers, JT and GI. Therefore, you can expect the quality of JT GI Splatmaster paintball. They are 0.50 caliber paintball ammo that is perfectly compatible with 0.50 paintball guns. Never buy them for 0.68 caliber paintball guns; it would be simply a waste of money.
The build quality of JT GI Splatmaster makes it perfect for low-impact paintball. Apart from this, they are 100% biodegradable and weather resistant. it means harsh weather won't going to affect the performance of JT GI Splatmaster paintball. Another worth noticing feature is its perfectly round and consistent shape. Like other quality paintballs, the outer shell of the JT GI paintball is tough and thick enough to burst on impact only.
The packaging of JT GI Splatmaster is worth appreciating. It comes in a cardboard box, which ensures its durability and maximum shelf life. In terms of accuracy and consistency, it's the best 0.50 caliber paintball that neither bursts in the barrel nor causes a mid-air explosion.
Pros
Easy to store
Not a single bent or damaged paintball
Properly packaged
Low impact and non-toxic paintball
Cons
Its quality does not match with the price they are offering
9. First Strike FSR – Best Paintballs for Slingshot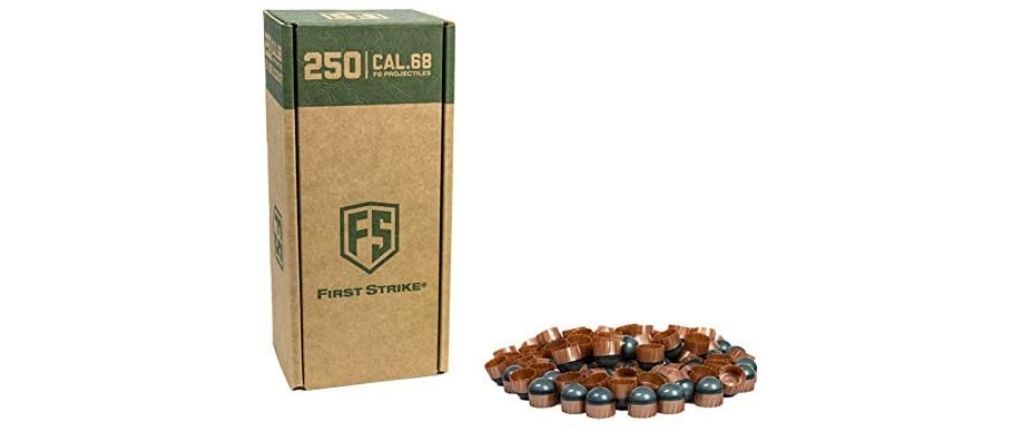 First Strike Tiberius Arms paintballs one of our favorites. We have used it in multiple paintball games like woodsball and speedball but it delivers the same consistent performance. Apart from this, in a few trials, we have used it with a slingshot. From a distance of 50 yards, it accurately hit the target with a slingshot. Thanks to its self rifling ability. So if you don't have a paintball marker, you can enjoy the performance of Tiberius Arms paintball with Slingshot.
The most distinguishing feature that I really like about Tiberius Arms paintball is their fin stabilization technology. The manufacturer has merged the fin stabiliztion technology with an aerodynamically shaped pellet. This deadly combination allows the paintball to fly with great speed and immense accuracy.
As stated earlier, we hit from 50 yards, and it speedily covers this distance without dropping its energy and bursts on the target. Mind you, Tiberius Arms paintballs are one of the most expensive paintballs on my list. But its accuracy is 50% more than the other paintballs on my list. They are best for paintball tournaments.
While using them, we realized that its outer shell is not like the other paintballs. After researching, we get to know that acrylic material is used for making its outer shell. Acrylic shells or polystyrene shells, when hit from a longer range, burst with 50% more power than regular paintballs.
All in all, First strike paintballs are very fine and accurate ammos, but one thing that limits their use, is their size is a bit bigger than 0.68 and that's why they are best to be used with Tiberius paintball guns. Also, due to the use of technology they are far pricier than the other paintballs. That's why only professional players opt to play with First Strike paintball ammos in tournaments only.
Pros
Fin stabilization technology for speedy firing
Aerodynamically shaped paintball ammo
Highly accurate
Can be used with slingshot and sniper guns
Cons
Hits hard
Size is bigger than the normal 0.68 caliber
Works great with Tiberius line of markers
10. Shop4paintball – Best Cheap Paintballs 2023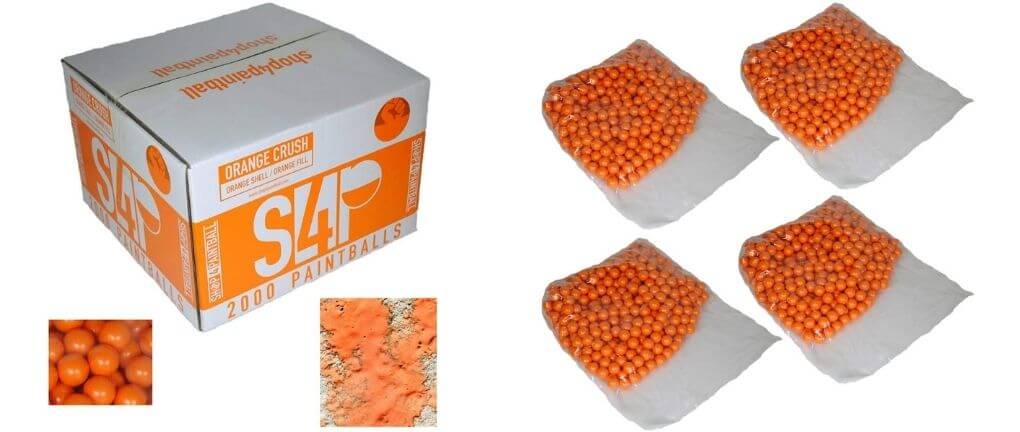 Here comes one of the best budget paintballs that comes from the house of Shop4 paintball. It is best beginner level players who want to become pro players by playing frequently. The thick outer shell provides great sturdiness to the paintball that it won't fire in the barrel or mid-air.
Shop4paintball meets all the criteria for a good paintball. It provides a good level of accuracy but is not as accurate as Valken Graffiti. It is available in different attractive and vivid colors with a bright inner fill that quickly splatters on the target.
Unlike other recreational level paintballs, shop4paintball is pretty much affordable. It comes in a properly packed box that holds up to 500 rounds. But many people complain that every single pack comes with a few broken paintballs that spoil the other paintballs. That's a big hurdle indeed.
Pros
Affordable paintballs
Accurate to some extent
Available in bright colors
Cons
Not carefully packed and shipped
Paintballs Buying Guide
Price
Many paintball manufacturers are offering various types of paintballs in different price range. Some paintballs are very expensive, whereas some are pretty economical. In between them, lies the mid-priced paintball. Of course, there is a difference between chalk and cheese in the quality and efficiency of these three types.
Starting from the lower level, the in-expensive and cheap paintballs are widely available all around. You can get 100 paintballs in exchange for $6.. These paintballs are made up of substandard material, which breaks even during shipping. They are pretty inaccurate and inconsistent, but people prefer to use them for fun play. Also, if you are very new to paintball and want to learn how to target it, then low-priced paintballs are the best option. They are available in the market under the category of recreational paintball.
Then comes the mid-priced paintballs which you will get 100 paintballs for $10.. In comparison with the low-priced paintballs, they have better quality and are more consistent. These paintballs are not a bad choice for beginner to intermediate-level players.
In contrast to this, expensive paintballs are of high-end quality. They feature exceptional gelatin and polystyrene shells. They are more pricey than the previous two types of paintball. Many manufacturers have incorporated different stabilization features like fins and ridges so that they may copy the real rifling effect. A pack of paintballs costs around $25 or more. It is the choice of paintballs for professional players. And that's why we call them tournament paintball.
Caliber
No doubt, caliber is the most important part of paintball. It is actually the diameter of a paintball projectile. We can determine paintball size with caliber. If you don't consider caliber while buying paintball, you might end up buying the wrong paintball for your marker. Either way, it may jam the barrel of your gun or damage your equipment.
The Size of the paintball should match the bore size of the barrel. Conversion kits are also available that convert the bore size of your gun from 0.68 to 0.72 and vice versa. 0.43, 0.50, 0.68, and 0.72 are the most commonly used calibers of paintballs.
0.43 caliber is the smallest paintball. They don't hurt at all because of their small size, as they carry less energy. The same goes for 0.50 calpaintballs. These two options are the best for low-impact paintball game. Wearable 4U and JT GI Splatmaster are two of the best 0.43 caliber and 0.50 caliber paintballs, respectively.
On the other hand, 0.68 cal paintballs are the most commonly used caliber, which is perfect for 0.685mm of bore size. These are high-impact paintballs and have more weight. They have high velocity and burst right when it hits the player. If you are playing with big boys of paintball, then 0.68 is the best option. An example is Valken Graffiti and Valken Infinity.
0.72 cal paintballs are larger-sized paintballs that have more weight. Therefore, you will need more compressed air to shoot them. They are not as popular as the 0.8 caliber paintball. Due to their weight, they hit hard. Professional and hardcore players prefer to play with 0.72 caliber paintball.
Durability
Apart from caliber, durability is one of the important features to consider when buying paintballs. The outer gelatin shell determines how durable the paintballs are. Ideally, the outer shell should be tough enough that it won't burst inside the gun. If the paintball is durable and tough, it will accurately hit your target.
Generally, the expensive paintballs offer the utmost durability. Though it's heavy on your pocket but trust me it gives you outstanding performance especially when you are in a serious heated paintball game. Like Valken Graffiti that shoots straight and accurately without bursting.
And yes, some reasonably priced paintballs feature the same level of durability. But for this, you have to dig it out thoroughly. One such example is Valken Infinity paintballs. While buying paintballs, do check the shape of the paintball, it will help you to assess the durability of paintballs. The shape should be perfectly round or spherical with no bumps or swelling on the surface.
Color
Many players neglect the importance of color when purchasing the paintballs. Though color does not have a direct impact on your performance, to some extent, it may help you to win the league.
Before choosing the color, it's important to know the type of paintball you are playing. Like if you are going into a woodsball field surrounded by thick and big trees, then choosing bright and vivid colors would be the best option.
Usually, players choose a neon color for woodsball. Neon and bright colors are highly visible on camo-pattren of clothing. This way, you will instantly get to know that your opponent has been hit.
Freshness of Paint
How fresh are the paintballs? This is the question that you must ask the seller. Mind you, with time, the outer gelatin-coating becomes weak, which makes the paintball very fragile.
Apart from this, moisture and humidity play an important role in the ruining of paintball. Therefore, before purchasing paintballs, test them and assess how fresh they are. It's a simple test, just take a few paintballs and drop them on any hard surface. It should bounce back to you. That's the sign that paintballs are fresh. And if they burst on the first fall it means paintballs are not fresh.
Another way to check the freshness of paintballs is to read the manufacturer's date on the pack. When it comes to the freshness of paint, Nelson Premium paintballs never disappoint its players. You should try it.
Shooting Efficiency
Shooting efficiency is a feature that you will come to know after using the same brand for several days. This is a trial and error process. Remember, for highly efficient shooting, you need to pay more money, as expensive paintballs are made up of using high-quality materials. Whereas, on the other hand, low-quality and cheap paintballs may burst even in the barrel during the game.
Paintballs FAQs
Conclusion with Recommendations:
So, my dear folks, you must have chosen your best paintballs up till now. Make sure it has a proper round shape, a tough outer shell, and should match perfectly with the caliber of your gun. I told you earlier, that buying paintball is not a tough row to hoe. All you need is proper guidance, which we have provided.
And still, if it's tough, then we recommend choosing Tiberius arms First strike paintballs that are known as the most accurate paintballs with self rifling ability and fin stabilization technology. But if you are tight on budget, then grab Valken Infinity paintballs as it is affordable, accurate, and weather-resistant and goes best with any type of marker.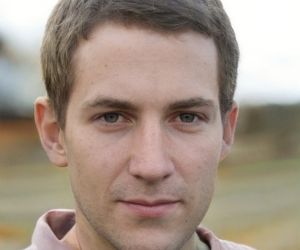 My name is Jezus Fischer, I am working full time on a paintball store and played all types of paintball games. Read more about me.