Empire Axe 2.0: Upgrade Your Game to the Next Level in 2023
Empire Axe 2.0 is an upgrade of the original Axe. Known for durability, semi auto, shooting accuracy, and higher firing rate, this gun comes in the mid-price range. If you are looking for paintball guns that are suitable for intermediate to pro-level playing styles, this high-end paintball guns are the ideal pick.
The paintball marker is the epitome of style and performance. You won't see such a beautiful gun in the industry. But don't deceive by the look— it's a beast of a gun with multiple firing modes that can take a beating without compromising the quality.
Continue reading to learn a detailed Empire axe 2.0 review.
What is New in Empire Axe 2.0 Paintball Gun?
It is an updated version of Empire Axe— with improvements in features that were needed in Axe and Mini GS like micro switch trigger sensor and many more. I have been using Empire Mini GS for so many years without any issues. It's a great gun with multiple adjustable firing modes. But maintaining GS is a bit harder. So, I decide to buy an Empire axe marker. Axe 2.0 seemed a reasonable option.
Here is how Empire Axe 2.0 is different from other paintball guns:
Expanded Trigger Area
Empire Axe 2.0 also comes with a broader foregrip and full auto mode. In fact, there is more room in the grip frame because the foregrip and extended grip are further apart. What it means is you can comfortably use the trigger even if you have bigger hands. That was one of the major concerns in Mini GS as it has a more compact design, which made players with bigger hands uncomfortable.
External Eyes
Another fault that I have with the Mini GS is eye covers are not accessible. If you have chopped balls inside the gun, you have to disassemble the whole marker. Empire Axe 2.0, on the other hand, has external eye covers (anti-chop eye system), which can be easily removed for cleaning purposes.
2-Piece Barrel
Instead of the Mini GS's single-piece 12-inch stock barrel, the Empire Axe 2.0's barrel is two-piece 14 inches. Moreover, the stock barrel has several ports on it. The larger paintball barrel with spiral ports makes the propellent launch with higher velocity. Also, it is easier to clean the 2-piece barrel.
Easy to Remove Bolt
You can remove the bolt easily without using an Allen wrench. There is a button underside of the bolt. All you need to do is to push the button, and the bolt comes out nice and easy.
Gauge Removed
Empire Axe 2.0 lacks the gauge feature that has been included in the Mini GS gun. The gauge is used to show the set pressure of the tank. However, you will find it difficult to handle the gun as the gauge keep pressing against your wrist, which is not a good experience.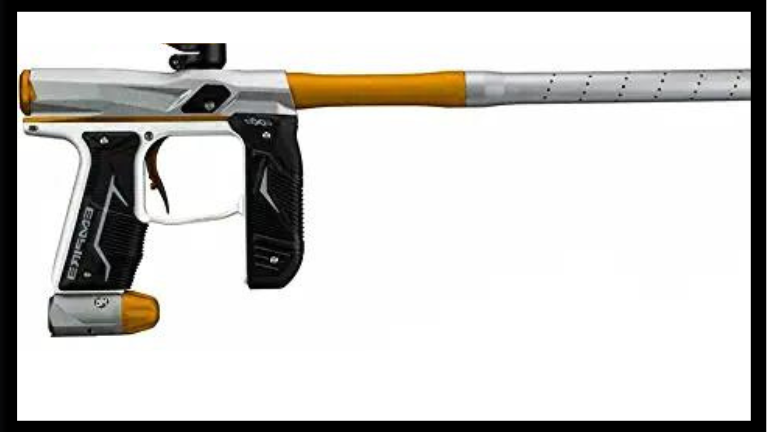 Empire Axe 2.0 Marker Review: Why is it Worthy Buying
Now that we have explored the features, let's find out more about the benefits that make Empire axe 2.0.
Performance
The Empire Axe 2.0 is the quality gun in most paintball tournaments. This fact itself boasts the quality of the paintball marker.
In my experience, semi auto Empire Axe 2.0 offers more control, maneuverability, and accuracy compared to its older versions. Handling is improved, kickbacks are reduced, and shooting velocity is enhanced. You can use different shooting modes that give versatility to the paintball guns. This marker from all paintball ruined the opponent player.
One of the amazing features of Empire axe marker is its stealthiness. It doesn't make much sound. You will hear just a buzz, even from close range. Axe 2.0 brings silent death to its enemy.
Did I mention how fast this gun is? The electric trigger in the Empire Axe 2.0 fires at rapid speed. Things get more explosive when you switch to ramp mode— you will be shooting loads of paintballs at your enemies at incredible speeds.
Build
As stated before, this model has an eye-catching design. Makers have come with a paintball gun that is visually appealing and ergonomic in its build. While one may think that having a sleek design makes this gun not suitable for intense gameplay. On the contrary, the frame of the Axe 2.0 is sturdy and long-lasting.
Also, this paintball marker has a watertight body that addresses the leakage issues once and for all. That is why they didn't include the gauge feature in the marker. In terms of air efficiency, Axe 2.0 has an excellent mechanism that allows safe airflow within the gun and prevents damage.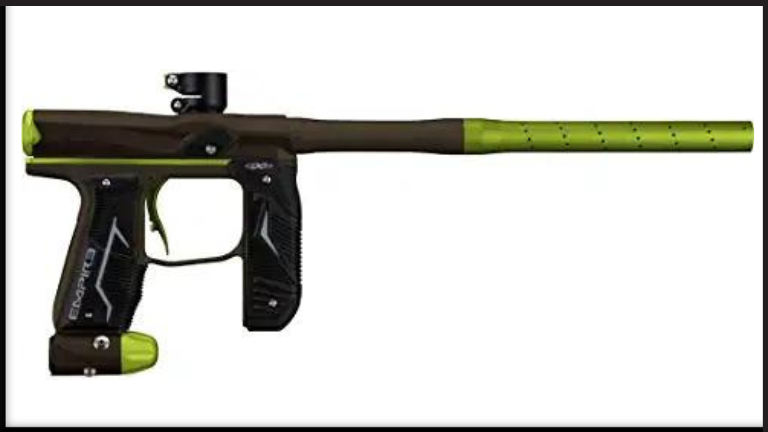 Empire Axe 2.0 Paintball Gun: Pros and Cons
Pros:
Multiple firing modes
higher Firing rate
Kickbacks are nonexistent
Tool-less bolt system
ASA regulator with On/Off lever
Push button bolt removal
Cons:
A bit expensive
Feedneck could have been better
Conclusion
Empire Axe 2.0 is a great speedball marker at this mid-range price. Suitable for players at all levels and types. Professional players have won paintball tournaments using this paintball marker, which speaks volumes about the greatness of the Empire Axe 2.0. It is, without a doubt, reliable performance externally serviceable, efficient, accurate, smooth, and comfortable paintball gun with multiple firing modes. This is a great value, and you will not be disappointed.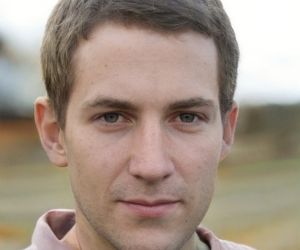 My name is Jezus Fischer, I am working full time on a paintball store and played all types of paintball games. Read more about me.