Last Updated on May 5, 2022 by Jezus Fischer
Low shooting accuracy and range of your marker give you nothing but a big title of a loser in a speedball paintball game. Taking care of sensitive guns part during the game is also a hassle. If you are losing speedball games frequently then it's time to switch towards the best speedball gun. Speedball is a fast-moving game that requires a speedy, consistent, and accurate marker.
With zillions of paintball guns, it is quite tricky to sort out good speedball guns that won't cause battery lagging or low shooting accuracy/range issues. While every brand claims of manufacturing the best speedball guns which end with different quality issues, we have made things easier for you. After thorough study and research, we have selected some best speedball paintball guns. These guns have all those specifications that you look into your speedball marker. Let's check out!
Best Speedball Paintball Guns
1. Empire Combat – Best Speedball Gun
Semi-automatic marker which gives on-spot maintenance. For a faster firing rate, an electronic grip frame is already attached.
---
2. Dangerous Power G5 – Tournament Paintball Gun
Lightweight electro-pneumatic paintball gun with impressive firing velocity. Long barrel and improved grip frame make it one of the best tournament paintball guns.
---
3. Empire Mini GS – Best Speedball Marker
Slim and sleek body with a rubberized foregrip and on/off ASA for easy HPA tank removal.
---
4. Action Village Axe 2.0 – Good Speedball Gun
Lightweight and an electro-pneumatic gun that assures you that no paintball will be chopped inside the gun. Super easy to clean.
---
5. Planet Eclipse GTEK 170R – Best Paintball Speedball Gun
A highly reliable and air-efficient electro-pneumatic gun that operates on low pressure. Delivers shots with great accuracy.
---
6. Dye M3+ – Speedball Gun
Colorful bright and attractive speedball gun that fires shots at an immense speed.
---
7. Empire SYX – Best Paintball Gun for Speedball
Sleek and compact electro-pneumatic gun with internal bolt system for enhanced accuracy in speedball game.
---
We call Empire Combat one of the best speedball guns and the reason is it's quick and on spot maintenance. Empire combat features a unique field strippable design. This design will give instant access to the majority of the internal components so that you can easily clean it on the spot without spoiling the tempo of your game. We tested it and in less than a minute we disassemble, clean, and re-assemble the Empire combat slice and join the field again.
Empire Combat BT-4 is made up of aluminum with few parts made up of stainless steel. This makes it one of the rugged and robust speedball guns that won't be damaged with any impact. It is a .68 caliber SEMI-AUTOMATIC gun with electronic grip action that is perfectly suitable for a fast-paced speedball game. With Empire Combat you can fire in semi-auto, ramping, and full auto mode in the speedball field.
While testing the accuracy of empire combat we found out that it features a removable barrel system. This means you can use a long or short barrel as per your accuracy requirement. Like if you need more accuracy it's better to use short length barrel and vice-versa. Inside the box, you will get an A5 9 inch barrel which is really helpful for highly accurate shots.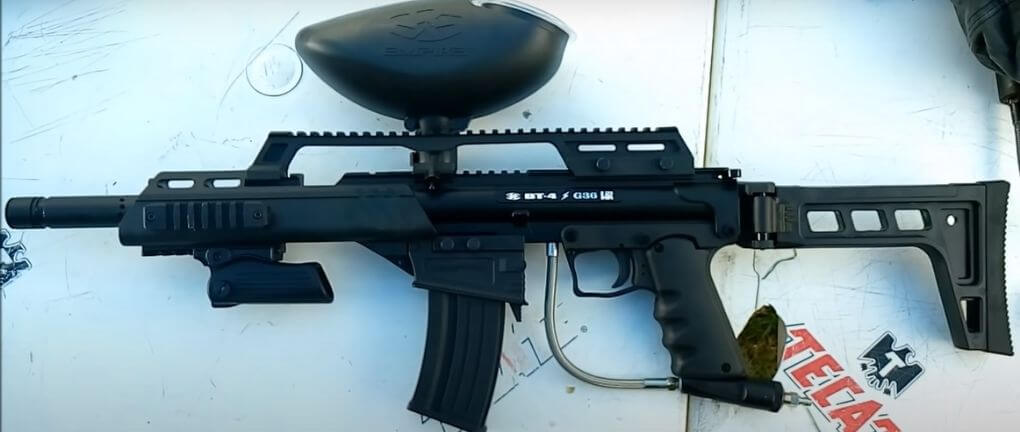 The external velocity adjuster is quite helpful in adjusting the velocity of the gun according to the rules of the speedball. We used Allen key, which we get with the gun for adjusting the velocity. Also, there are Picatinny mounting rails, not only on the top of the gun but also at the bottom. So that you can mount different accessories and customize Empire Combat Slice according to your game.
Pros
Easy access to internal components
Offset clamping feeding neck for better sight
With electronic grip frame for faster firing rate
With removable barrel system
Cons
You need to replace the O-ring after 2-3 games otherwise there will be de-cocking issue
---
Next gun on our list of best speedball guns is from the house of Dangerous power and the model number is G5 Spec-R. It is a new and modified version of the G5 and it's available in many attractive colors.
The Dangerous Power Spec-R features two 14″ barrels with micro-honed construction for more precise firing which is needed in speedball. The barrel size is .68 calibers which support ammos of the same size. Usually, .68 caliber ammos are easily and readily available everywhere as they are industry standard.
G5-Spec-R is an electro-pneumatic gun that uses a 9V battery for shooting guns. It features an OLEAD board with multiple firing rates such as Semi, burst, reactive, auto, Ramp, and many others. It has got a high firing rate that is 20 fires per second. The shape and frame of G5 Spec R is pretty different from its predecessor model because it features an OLED screen. This screen is quite helpful as it displays the board settings.
One of the most interesting features that Dangerous Power G5 Spec-R has is its OLED board has a removable chip. I personally admire this feature as this chip will allow you to store all your gun information and guns setting on it. So if during the game you need to switch the gun because of any reason, just take the chip out from G5 and insert it into another gun. All your G5-Spec R's gun settings will be transferred into the new gun. This will save your time during the game. That's the reason we considered it as one of the tournament paintball guns.
Besides this, in speedball games, players want to move almost weightlessly. Dangerous Power G5-Spec-R uses lightweight material so that the gun suits all speedball players. It weighs around 1 pound and 11 ounces even with a 14″ long barrel. WOW! This sleek and lightweight gun is equipped with a new and improved grip frame for comfortable handling. Though G-5 Spec R shoots with a high firing rate but if you want to maximize its performance then you can use an electronic loader with it. While testing the velocity and range of the gun, we found out that the inside of the gun uses 170 psi of pressure whereas the range of the gun is 280FPS.
Pros
With multiple and consistent firing rates
Improved accuracy with its two-piece barrel
Full metallic construction with a polished finish
Lightweight design best for speedball
Cons
It demands lots of lube and maintenance as the o rings between ASA are pretty fragile
---
Now here comes our best speedball marker that is again from the house of Empire. Like other speedball guns, Empire Mini GS is also an electronic gun that uses HPA as a source of power. Due to the fast-paced of speedball, Empire Mini GS electronic marker is the most suited marker for the game. Interestingly it has got different firing modes that include semi-automatic, burst, ramping, and full-auto. This means you can dominate in the speedball field in full action.
Another noticeable feature of Empire mini GS is its features Air source adapter on/off the regulator, which is highly needed in electronic guns. With the help of an ASA adapter, you can easily remove HPA tanks by degassing it in seconds. Therefore, o-ring of the gun will remain protected. This means it will going to require less maintenance.
Empire Mini GS is a pretty light speedball marker and weighs around 1 pound and 14 ounces. The grip has a thick rubber coating which is not like an ordinary plastic. With the help of its rubberized grip, you can comfortably hold the gun.
Speedball requires handling crushed paintball that fails to give you a firm grip on your gun. That's why Empire has added a rubberized fore grip on Mini Gs so that players can firmly grip the gun and enjoy every bit of the game.
Now comes the performance of empire mini Gs. It requires 180-200 psi of operating pressure. At this pressure, the gun can fire 23 balls per second with a velocity of 275-293FPS. Velocity adjuster is also there, that can be operated using an Allen key.
There is no harm in saying that Empire Mini GS is a great speedball marker. It weighs around 1.2 pounds which is awesome, but I feel like disassembling and cleaning it is a bit difficult task that you cant do in hurry at the battlefield.
Related: Best Budgeted Paintball Guns Under $300
Pros
With rubberized fore grip
With laser eyes on the body
Air efficient gun
Lightweight speedball marker
Cons
On spot, cleaning is a bit difficult
No user manual within the box
---
If you ask us about a good speedball gun, we will name Empire Axe 2.0. Being an electro-pneumatic gun Empire Axe 2.0 offers many different firing rates so that players can compete with full confidence behind the bunkers. The firing rates include semi, Ramp, Burst, and Full auto.
The Empire Axe2.0 features a main body of aluminum whereas other internal components are made up of metal. That's the reason Empire Axe 2.0 is so light in weight. When we compare the weight of different Empire's guns, it amazed us that Empire Axe 2.0 is 10% lighter than the previous generations.
Apart from this, it features two pieces barrel of 10 inches that has a break-beam anti-chop laser eye. I prefer buying guns with two-piece barrels for speedball and the reason is, they are super duper easy to clean. You can even get easy access to the internal components of a speedball gun. All thanks to its push-button bolt removal system, now you don't need any complex tool to disassemble the Empire Axe 2.0.
Empire Axe 2.0 features a wrap-around fore grip which has some texture engraved on it. This way the grip won't get loosen. The consistency of Empire Axe 2.0 is also worth mentioning. It fires shots with high accuracy and consistency. Also, there are no chances of chopped paintball inside the gun as the guns operate at low pressure that is 200psi also, it features an anti-chop laser eye. It has an impressive firing speed of 290FPS.
Overall, it's the most anticipated speedball marker but there are some downfalls that we observe. Like its feed-neck design is quite complicated to use as compared to the clamping feed neck design. Also, its user manual does not have complete information about the gun. So you might find yourself trawling over the internet.
Pros
Thin barrel that fires straight shots
Sleek and compact design
With micro-switch trigger sensor
10% lighter than the previous models
Cons
Incomplete information in the user manual
Feed neck is tricky to use
---
Planet Eclipse GTEK 170R gun is one of the most air-efficient paintball speedball guns. Gamma Core is the real player behind its air efficiency. Gamma core uses the Breech Sensing Technology which efficiently controls the amount of air that is released for every shot. With the help of gamma, core drive train the marker shots even low-quality paintball with great accuracy.
The combination of gamma core drive train and bolt system makes the GTEK 170R one of the reliable and efficient guns. And that's the reason; it makes a low sound while firing.
Besides this, planet Eclipse GTEK 170R can be used in any kind of weather be it freezing cold or scorching heat outside. It's all because of the gamma core drive train that makes the gun reliable even at extreme temperature conditions.
Planet Eclipse GTEK 170R is an electro-pneumatic gun and requires only HPA. It does not work with CO2. Interestingly, the GTEK 170R operates on very low pressure that is 135psi. The gun is made up of aircraft-grade aluminum and that's why it is pretty durable and sturdy. You can easily maneuver around the field while carrying Planet Eclipse GTEK 170R since it weighs around 1.9 pounds.
As fore mentioned it's an electronic gun so it requires 9V batteries. The gun is quite easy to maintain as it features a hoseless design with toolless accessibility. Its 9V batteries can be changed easily during the game without using any tool.
Similarly, if the barrel gets jammed you can easily clean it in between the game as it's super easy to clean. The best part is you can disassemble the entire gun without using and screw.
Planet Eclipse GTEK 170R is one of the best paintball speedball guns as it's air efficient, offers reliable shots with great accuracy, and above all, it's easy to maintain.
Related: Best Paintball Pistols 2022
Pros
With interactive Led display
Noiseless operation
Works well on extreme temperature conditions
Hoseless design
Sturdy and rugged construction
Cons
The foregrip is pretty small which may be uncomfortable to hold for players with large hands
---
6. Dye M3+ – Speedball Gun
Experienced and old speedball players must know about the DYE brand that manufactures excellent quality of gun which delivers superior performance. It's actually an electro-pneumatic gun which is far different than the other guns on my list. Dye M3+ has got so many breathtaking features that are simply amazing.
The addition of Slap ASA, 4h generation patented eye pipe along with updated FL-21 bolt system and UL-S two-piece barrel system makes it one of the most elevated performances speedball markers.
One of the worth mentioning feature of DYE M3+ is the presence of the MOS air operating system. This is an advanced and popular electronic system. The gun has multiple training and firing modes that give goosebumps to your competitor.
The color and external appearance of the gun is eye-catchy. Gun is available in many different and breathtaking colors. You will find an OLED screen that keeps you updated with your current firing mode.
Also Read: Paintball vs Airsoft
Pros
Easy to carry
High-end gun
With different training modes
Owns a separate operating system
Cons
Due to its complex nature, it's difficult to be used by beginners
---
7. Empire SYX – Best Paintball Gun for Speedball
The last one on my list of best speedball guns is again from the house of Empire. When it comes to reliable and lightweight guns for speedball, Empire is the brand that can quench your thirst for the best speedball gun.
Empire SYX is one of the high-end speedball guns which is an electro-pneumatic type of gun. The design and appearance of the gun are simply classy. It is pretty stylish and compact. The gun features a barrel in 2 pieces which are 7.5 inches short. The barrel and the entire gun is made up of hard aluminum. Let me tell you, short barrel guns are known for high accuracy. The same goes with Empire SYX.
You can say that Empire SYX is the advanced version of its 5 predecessors that is Empire mini, Axe, Mini Gs, Axe pro, and Axe 2.0. To make it stand out among the other models, Empire has incorporated an improved and new bolt system. The new bolt system in turn boosted the performance of markers that why it becomes the favorite gun for speedball players. It operates at low pressure that is 165 psi to 200 psi.
The new bolt system is coupled with a redesigned regulator which in turn increases the accuracy. So that players can play accurate shots in fast-paced speedball games.
Keeping in mind the comfort level of players, the gun features a thick rubberized front and back grip with grooves for fingers. This will reduce the chances of strain on the fingers of players.
Empire SYX is one of the best paintball guns for speedball. But in my opinion, it's not a gun that is easy to use and maintain. It's a bit complicated. Though it's easy to clean but its internal parts are quite complex that none of the players would bother to disassemble this complex gun, clean, and reassemble in the middle of the game.
Pros
Consistent performance
Sleek and compact design
Impressive accuracy and efficiency
Cons
Difficult to clean in mid-game due to complex internal parts
---
How to Choose Speedball Gun
When buying the best speedball gun, you need to keep an eye on lots of technicalities to excel in your game. There are so many different types of paintball guns. Choosing the right speedball gun would become a tough row to hoe. Here we have compiled a brief and concise speedball gun buyer's guide of 2022.
Type of Gun:
Speedball is a fast-paced game with less use of strategy. Here you need such markers that fire multiple shots at a time with great accuracy. In such a case, electro-pneumatic markers will give you a 100% result. Electro-pneumatic guns are by far the best type of gun for speedball. Whereas, pump markers are the most terrible option for speedball markers. To some extent, mechanical markers are a good option for speedball but if you want to dominate the battlefield, then consider electro-pneumatic markers. No doubt, they are the best type of speedball markers.
Lightweight:
Due to the expeditious nature of speedball, players require to have lightweight speedball markers. Lightweight markers won't quickly make you tired. You stay active and energetic throughout the game. There are many different brands of guns that are using lightweight materials such as aluminum and carbon fiber. Carbon fiber speedball guns are pretty expensive as compared to aluminum but they offer long-lasting durability.
Simple to Use & Maintain:
What we have learned from our years of paintballing experience, a speedball marker should be as simple to use as it can be. Using complicated markers will give nothing but a clear winning way to your opponent. Most importantly, a good speedball marker should be extremely easy to clean and maintain. During the game, there might come a time when you need to do on-spot maintenance of your marker. For this purpose, your speedball marker should disassemble quickly without using any special tool.
Highly Efficient:
Since the game is running with the speed of light, you are firing multiple shots consistently and dropping empty tanks one after another. There comes a time when you will be out of spare air tanks.
Well, to be honest, that's not the right approach at all. For speedball, you need to have a highly efficient marker that utilizes less air and feeds balls efficiently. So that you won't get out of a compressed air tank during the game.
Trustworthy and Reliable:
How irritating it could be when you aim at an opponent and instead of hitting the target your paintball rupture inside the barrel. Speedball players can't afford such incidents frequently as already the game is fast-moving. Therefore, a speedball marker should be trustworthy and reliable enough that it fire consistently and quickly without any fault. Many different brands like Empire are manufacturing guns with a reliable internal bolt system that ensures burst-less paintball firing.
Speedball Gun FAQs:
Conclusion & Recommendations:
Speedball paintball game is a "shoot and pray" type of game, where you shoot and then pray that it hits the target. For this using the right marker can give you a competitive edge over your opponent. Best speedball gun is a blend of speed, accuracy, and consistency along with ease of use. In our rankings, Empire Combat BT-4 is the best speedball marker as it features a field strippable design that gives instant access to internal parts for cleaning. Not only this, but it is also best for beginner to intermediate level players.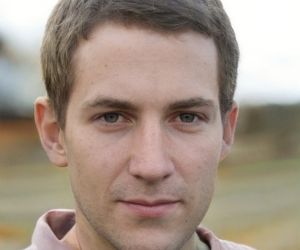 My name is Jezus Fischer, I am working full time on a paintball store and played all types of paintball games. Read more about me..