Paintball markers, paintballs, and hoppers are the most necessary gear for playing paintball. While buying these important gears, we often overlook the significance of a hopper and end up buying a hopper for a paintball gun that does not feed properly. And if it's doing so, then it makes so much noise to tell your next move to enemies.
Mind you, the best paintball hoppers never jam, nor do they make loud noises. Their smooth rate of feeding will give you a competitive edge over your enemies on the battlefield. Though every hopper fits well with every gun, not every loader fits well with your requirements and budget. Therefore, we have shortlisted some of the best paintball hoppers after testing and analyzing them deeply and have written unbiased reviews about them. So that you can make better decisions and perform well on the ground.
10 Best Paintball Hoppers 2023
IMAGE
PRODUCT
Discounts
PRICE
DYE LT R – Best Paintball Hopper

Electronic hopper
30 balls per second
Easy to maintain
Best for beginner to intermediate

Check Price on Amazon
Virtue – Biggest Paintball Hopper

Electronic hopper3IR sensor
With anti-jam feature
Best for intermediate

Check Price on Amazon
Valken – Electronic Paintball Hopper

Force feed hopper
30balls per second
Lightweight

Check Price on Amazon
Proto – Best Paintball Loader

Gravity fed
Reliable anti-jam feature
8 balls per second

Check Price on Amazon
HK Army – Fastest Paintball Hopper

Electronic hopper
200 rounds capacity
Best for beginner players
Universal feed gate

Check Price on Amazon
Empire – Paintball Loader

Sound-activated hopper
6 different speed setting
180 rounds capacity

Check Price on Amazon
Virtue Spire IV – Best Paintball Hopper for the Money

Electronic hopper
200/280 rounds
25balls per second
Bluetooth and iFi technology

Check Price on Amazon
Bunkerkings CTRL – Paintball Speed Loader

Industry's first angle indicator hopper
Electronic hopper
200 rounds capacity

Check Price on Amazon
Tippmann – Low Profile Paintball Hopper

Cyclone activated hopper
220 rounds
Sleek and compact design

Check Price on Amazon
LIGO – Best Gravity Fed Paintball Hopper

Gravity fed
9 balls per second
200 rounds

Check Price on Amazon
1. DYE LT R – Best Paintball Hopper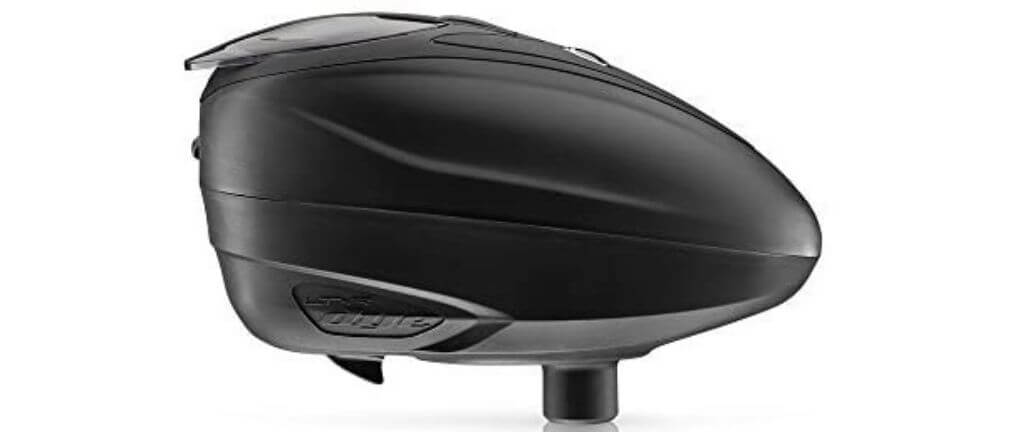 Breaking the ice with one of the most reliable electronic paintball hoppers, DYE LT-R, which is the most demanding paintball hopper among intermediate-level players. The price tag is a bit high, but the performance it delivers is totally worth the price.
What makes the DYE LT R electronic hopper different from the other paintball hoppers on my list is its patented loader technology, which fuses durability, functionality, and high performance together. I bet you, there won't be any professional paintballers who haven't used DYE LT-R in their early days.
We have tested the DYE LT R electronic hopper in numerous paintball matches, and in every match, it delivers exceptional performance. The build quality is outclassed and the material is pretty rigid. While fixing the hopper, I dropped it on concrete, and to my amazement, there wasn't a single crack on its body. Above all, it is completely water-resistant.
Since it is an electronic hopper, you need to have 3AA batteries which last up to 81000 shots. We tested it and realized that it could easily shoot 30 balls per second. All thanks to its patented loader technology. This means it is a go-to hopper for any electric paintball gun.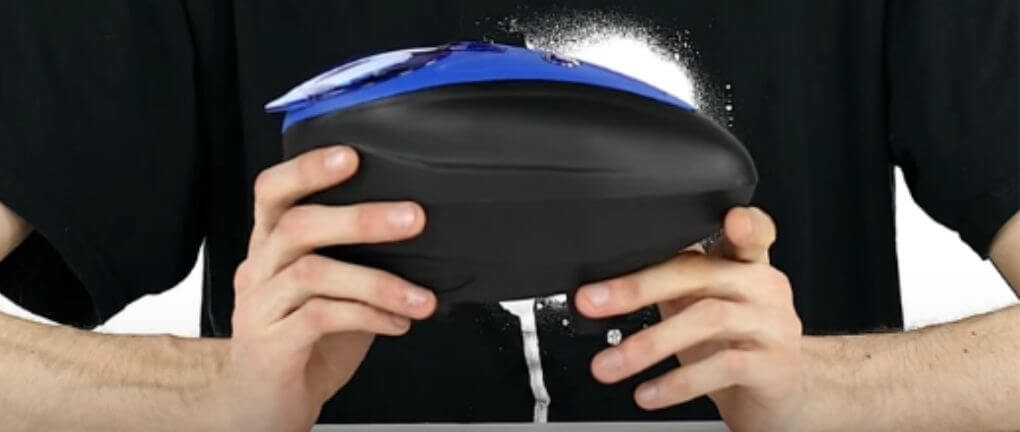 DYE LT R electronic hopper is a pretty simple and easy-to-maintain hopper. You can easily open the hopper without using any tools just by sliding the locking tab. This way, cleaning and maintaining it is just like a breeze.
One downside that I found was, the hopper is prone to jamming. But the manufacturer has given its solution, which is the shark fin release button at the bottom of the hopper. When you feel like the hopper has jammed, just press the shark fin button and unblock the hopper.
Pros
Highly reliable & Water-resistant
With anti-jam feature
High capacity hopper
Tool-less maintenance
Great for beginner to intermediate level player
2. Virtue Spire IR² – Biggest Paintball Hopper
When it comes to electronic paintball hoppers, virtue is the brand that hits the mind hard. Like Dye, it's one of the reliable paintball gear brands. Their hopper line is wide enough, ranging from mid-range to high-range hoppers that suit every level of player. Spire IR2 is the latest hopper from Virtue that features some amazing credentials that were part of the
Bunkerking CTRL hopper and Spire4 hopper.
We call it a reliable hopper because of its immense durability. The outer nylon shells make the hopper tough to deal with in every kind of situation. SPIRE IR2 is equipped with a proactive 3-eye feeding system that strictly monitors paint inside the hopper, which means no blank shots.
Spire IR2 is compatible with every kind of paintball including soft and fragile paintballs. The reason is its rubber drive that delicately feeds soft paint into the barrel of the gun.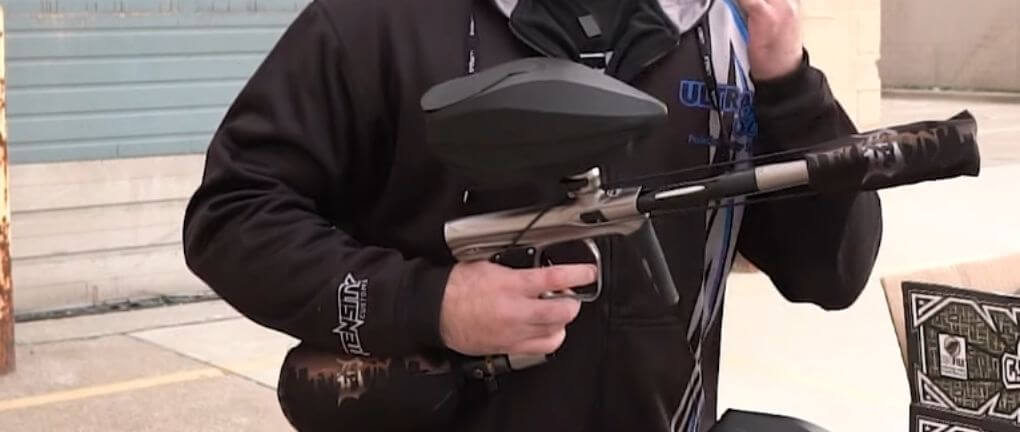 It requires 3AA batteries and has a capacity of 200 balls. Virtue Spire IR is advertised as a jamming hopper, and trust me, we found it 110% true. We used it in numerous paintball games and didn't even get a single complaint about jamming. Spring-loaded fingers might be the reason for this.
Anyhow, Virtue Spire IR2 is an adorable paintball hopper that is best for intermediate-level players.
Pros
Impressive 3 IR sensor
Never jams
Can deal with soft and fragile paints
Made up of durable material
Cons
You will have to buy spring ram separately
3. Valken V-MAX Plus – Electronic Paintball Hopper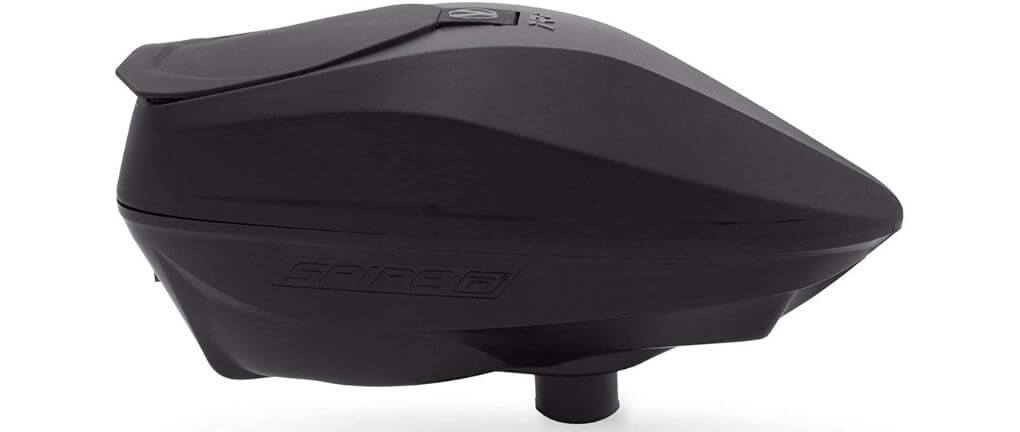 Valken V-Max Plus is one of the most anticipated paintball hoppers. It is a simple, lightweight yet reliable hopper as it weighs less than 1 pound.
Valken V-max Plus is an electronic paintball loader that we have tested on woodsball field Dye Proto Rize Maxxed marker. It is a mediocre-level paintball hopper that delivers 30 balls per second. It's what the manufacturers claim, but according to our analysis, it doesn't go beyond 13 balls per second. So the feeding rate is somewhat inconsistent.
We filled the hopper at the start of the game, and at the end, we had a few paintballs left in the hopper. From this, I estimated the capacity of Vmax plus, which is somewhere around 250 paintballs. it is further verified by the manufacturer's claim that it can hold up to 220 paintballs easily. So, in terms of capacity, Valken V-max is pretty impressive.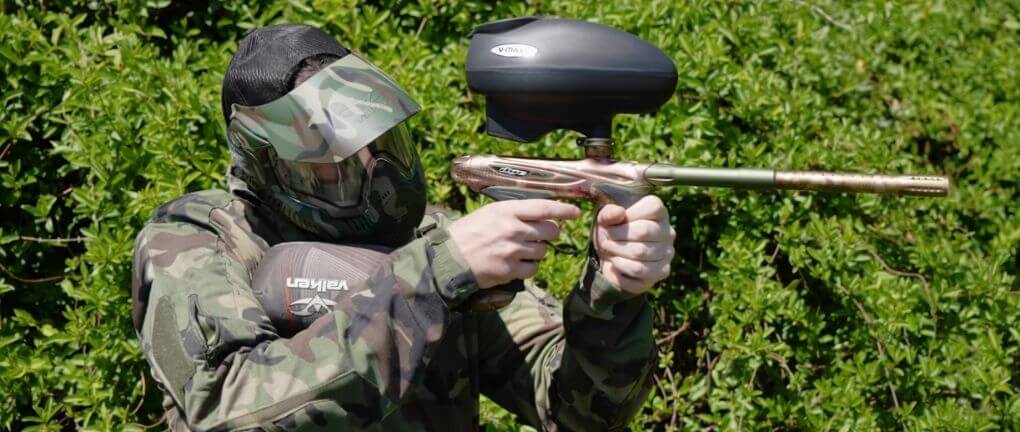 It is a simple hopper with not many complicated features. Like DYE LTR, it is super easy to disassemble and reassemble; you won't need any tools to do so. The quick-change lid facilitates speed feed and you can check the no of paintballs left from the transparent lid. One thing that grabbed my attention was its lid; it is pretty tricky to open. You have to push the lid forward and then up. I think it's a nice feature as it prevents accidental opening and spillage, especially in the woodsball field.
Pros
Tool-less assembly
Simple and easy to use hopper
Lightweight with high capacity
Best paintball hopper for woodsball
Cons
It drains batteries very fast
Feeding rate is inconsistent
4. Proto Primo – Best Paintball Loader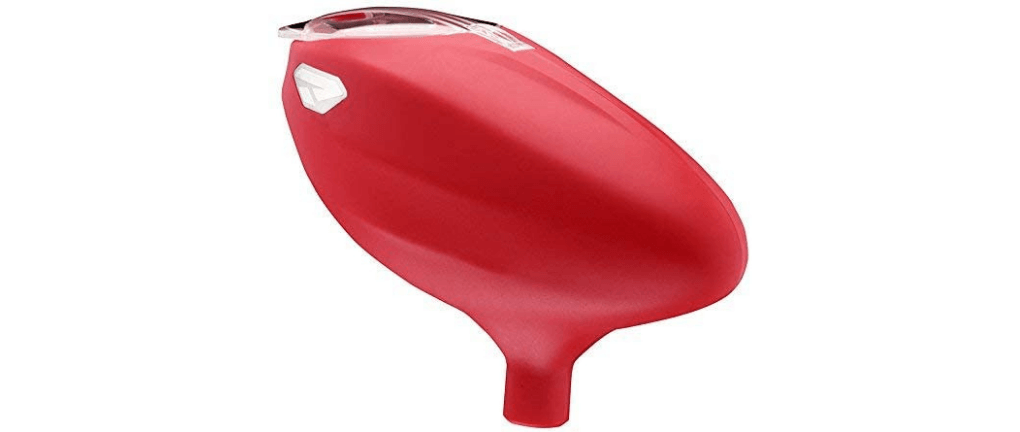 Well, if you are finding the best gravity fed paintball hopper. Then Proto Primo paintball hopper could be your right choice. Let me make it very clear to you, it is not like an ordinary gravity fed hopper, though it is simple but it has some advanced features too.
Jamming is the biggest issue with gravity fed paintballs, but Dye has incorporated such features in its Proto Primo paintball hopper that you don't have to worry about jamming. There is a special tray inside the proto primo paintball hopper that segregates the bottom paintballs from the other paintballs. This is how; the top paintballs won't exert any pressure on the bottom paintball, which may clog the hopper.
Made up of hard plastic, Proto Primo paintball hopper gives you complete peace of mind that the hopper won't be damaged no matter how much you crawl or creep. The feed rate is around 8 bps. I know it does sound impressive, but mind you, it's a gravity-fed hopper. Unlike other gravity fed paintball hoppers, you don't need to shake it vigorously after a few shots, it has got enough space inside that a little tilt would be enough. 200 rounds are its standard capacity.
Pros
Best for recreational players
Economical with durabale material
Spring-loaded lid makes it easier to load
Anti-jamming features
Cons
You need to tilt it after a few shots
5. HK Army – Fastest Paintball Hopper
HK army Pinokio hopper is one of the low-profile electronic hoppers. It is made up of polycarbonate, which is a lightweight and durable material. The hopper weighs around 15.4 ounces, which is less than a pound. It is so simple and easy to use hopper.
To make reloading easier, you can fit quick or speed feeds from different companies. The hopper is equipped with a flip lid that securely locks and protects the paintballs from falling off.
It requires two 9 volts batteries. The battery replacement is quite easy. There is an easy-to-pull battery door at the bottom of the shell where you can easily replace the batteries. Well, HK Army Pinokio is not like other hoppers where you have to dismantle the whole hopper just to insert two batteries in it.
HK Army Pinokio has got an impressive holding capacity of about 200 rounds. It delicately deals with soft and fragile paintballs, but if any paintball bursts inside, then cleaning the HK army Pinokio hopper is a bit difficult as you get limited access to the inner part of the hopper. It is a basic hopper that is best for novice players who are progressing gradually in paintball games.
Pros
Compatible with numerous speed feeds
Lightweight & easy to use
Faster reloading
One button switch on /off
Cons
Inside of the hopper is tricky to clean
Holding capacity is not accurate. It is 175-180 balls
6. Empire Halo Too – Paintball Loader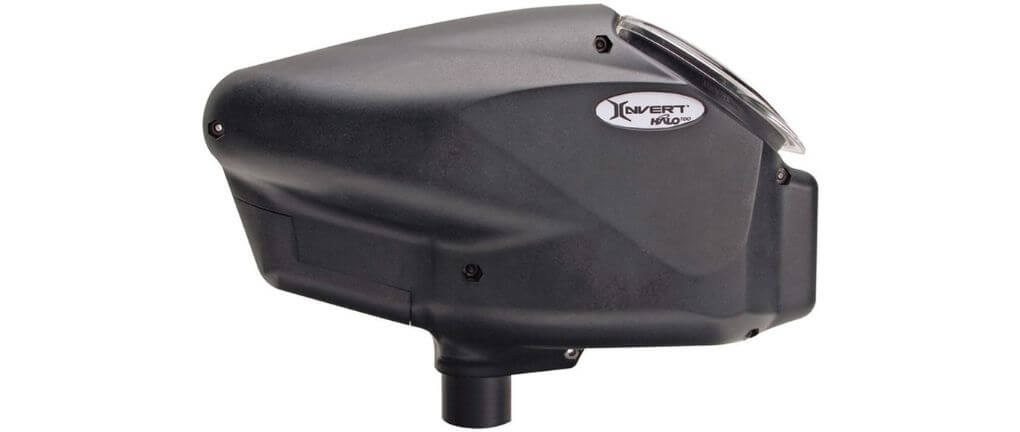 Empire is the name of quality and like their other products, Empire hoppers are considered the best hoppers. Empire Halo too is an affordable paintball hopper that is equipped with many advanced features that can assure superb performance on the field.
It's a sound-activated hopper, which means that when it hears your gunfire, it will automatically push the paintball down into the feed neck. For this purpose, you will find a small microphone attached to it. Luckily, you can adjust the microphone's sensitivity. If you have a large gun, you can even place it down.
One drawback that our teammates have observed while using Empire Halo, a sound-activated hopper with a low noise paintball gun. It starts to pick up the sound of other players' guns firing. But by adjusting the microphone sensitivity, you can get rid of it. But it's quite tricky to reach the exact point where the hopper picks up your gun's fire but not others.
Halo Too Paintball Hopper has got 6 different speeds, but the hopper is pre-set at speed 3. You can change it according to your speed of play and expertise. Its adjustable speed option makes it a suitable electronic hopper for beginner players as well.
You will need four AA batteries which give enough energy to the hopper that it performs well. These batteries may last up to 750 shots and after that its low battery indicator light will start blinking. The holding capacity is somewhere around 170-180 balls, which is the average capacity as compared to other models of the same categories. Empire Halo Too paintball hopper ensures smooth operation without jamming. The best thing about the Empire loader is, it is the cheapest electronic loader that anyone can afford easily.
Pros
Sound activated hopper
Adjustable speed setting
Adjustable microphone setting
Smooth delivery of balls
Cons
Picks up sound from the other players gun
Accommodates fewer balls
7. Virtue Spire IV – Best Paintball Hopper for the Money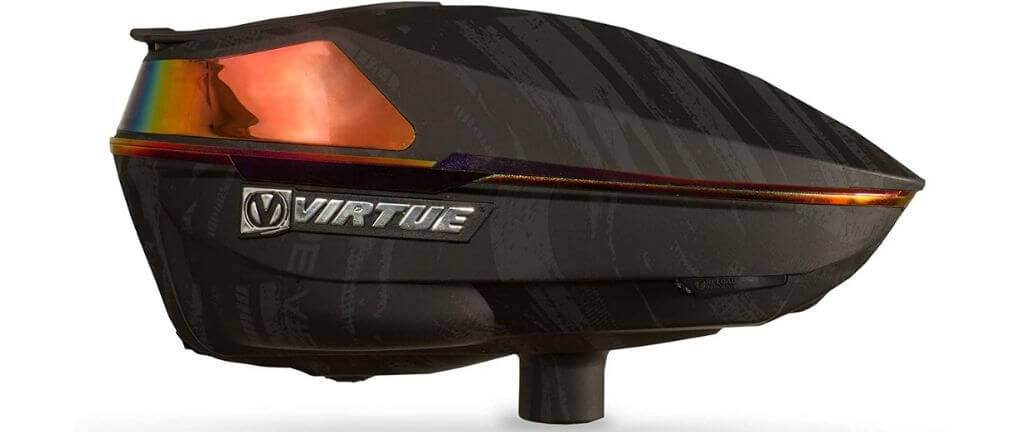 The next hopper on my list of the best hoppers is from the banner of Virtue, as it is a highly trusted brand for hoppers. The Virtue Spire IV hopper is one of the most commonly used hoppers in speedball. If you don't believe me, just head toward any speedball field, you will see players with Virtue Spire IV or Spire III hoppers on their paintball markers.
The aesthetics of Virtue Spire IV compelled us to test this beauty. In all the hoppers that we have tested up till now, I haven't seen such a beautifully designed hopper. Spire IV has got chromatic trim and chromatic window which were absent in Spire III. With the help of a chromatic window, you can keep an eye on the number of paintballs left.
Spire IV has got an amazing feeding rate. It has a Proactive feeding system that feeds balls after the vibration of the marker. Spire IV is a technologically advanced hopper as it is equipped with iFI wireless technology. This technology lets you communicate directly with your marker's eye. While testing it with the Virtue Ace paintball gun, the iFI wireless technology makes the loading job easier, as it automatically feeds the balls and stops itself.
I would say, this is the coolest feature in Virtue Spire IV. It is so smart that during the game when the eyes of the paintball gun get dirty, it returns back to the proactive feeding system.
Another impressive feature of Virtue Spire IV is it can be easily connected to your smartphones as it owns a mobile application for this. You can adjust the sensitivity, reload alarm, and reload indicator as per your choice. Pair Virtue Spire IV with a gun that has iFI technology and operates your gear with a smartphone.
Like other hoppers, it offers tool-less maintenance. It is a high-profile paintball hopper that is best for intermediate to advanced level players. It comes with the capacity to hold 280 rounds whereas the regular version can hold up to 220 paintballs.
Pros
Technologically advanced hopper
With Bluetooth and iFi technology
Can handle soft and fragile paint
Pleasing aesthetics
Available in many different colors
Cons
You can enjoy its full features with particular markers
Not suitable for beginners players
8. Bunkerkings CTRL – Paintball Speed Loader
Bunkerkings CTRL paintball hopper is the first hopper in the paintball industry that comes with an angle indicator. With the help of this amazing feature, you can shoot accurately as the hopper will notify you of the right angle for shooting. Bunkerkings CTRL is very much similar to Virtue Spire IV except for little technological advancements like iFI technology.
As far as the design and build quality are concerned. It is one of the low-profile paintball hoppers which is made up of a durable shell along with a nylon lid. The lid is quite durable and easy to operate. Just like Spire IV, a single push button will open the lid. It won't hinder your vision after sitting on top of your gun. That's how; you can observe every move of your opponent during the battle.
Bunkerkings can hold up to 200 rounds of paintballs easily, neither more nor less than 200. It features Drive cone technology that ensures smooth feeding of balls. Not only this, its rubber fingers can easily handle soft and fragile paints.
Unlike a gravity fed PB hopper, it requires batteries. 3AA batteries are enough with it. The N-charge pack can also be used with it. Just like Spire IV, it features a low battery indicator light that will quickly notify you when it's time to change batteries.
Apart from this, Bunkerkings is easy to maintain. Its tool-less assembly allows quick access to the inner parts of the hopper.
Pros
It never jams
Angle indicator for training and perfect shots
Compatible with every speed feed
Works perfectly with electronic markers
Cons
Need to purchase spring ramps with it
9. Tippmann Cyclone – Low Profile Paintball Hopper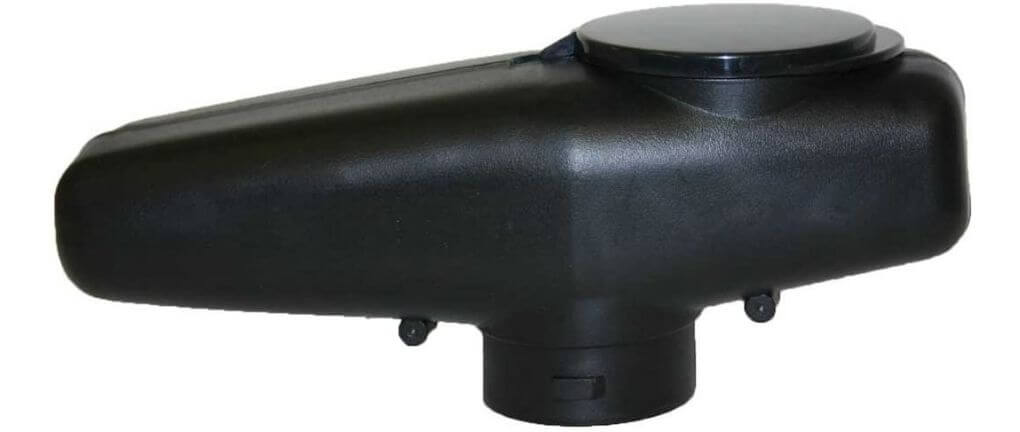 So those people who have X7 Phenom or Tippmann A5, and 98 custom platinum paintball markers, which are equipped with cyclone feed system. Tippmann cyclone feed hopper is the perfect choice for them. It's not like your old-style cyclone feed hoppers which are bulky and huge in size. Rather, it is compact and has a short height. Just because of it, you can easily hide behind a bunker or tree during the game. In fact, you can target any congested place. Besides this, it is an offset design hopper that gives you a clear view along the top of the marker.
According to the manufacturer's claim, it can easily hold 200 paintballs, but when we tested it, we came to know that it can actually hold around 220 paintballs, which is impressive.
The outer shell is quite sturdy and it can easily bear tough conditions. Tippmann cyclone feed hopper is a low-profile hopper that is best for beginner players who don't want to have a big egg-like hopper on their gun.
Pros
Good capacity
Smooth and consistent performance
Great for beginners
Cons
Not compatible with all types of paintball markers
10. LIGO – Best Gravity Fed Paintball Hopper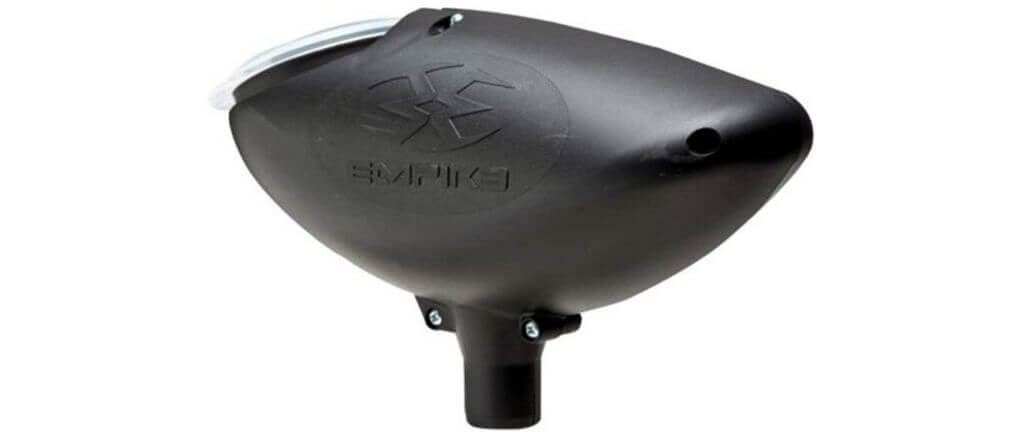 LIGO is a gravity fed hopper which is a low-profile hopper. Made up of sturdy and tough material that ensures long-lasting durability. LIGO paintball hopper has got enough capacity to load up to 200 paintballs. This means it's a great choice of hoppers for proficient players. But in actuality, it holds up to 160 paintball rounds.
Like Tippmann's low-profile hopper, the LIGO hopper has got a wide mouth, which makes loading an easy job. So you can spend more time focusing on your game rather than filling the hopper.
The hopper is simple to use, with not many complicated features. In fact, the inverted cone shape of the hopper facilitates the movement of paintballs in the hopper. Therefore, the chances of paintball jamming are almost zero. The feed rate is consistent; that is 9 balls per second.
As far as the maintenance is concerned, since it does not have any complicated parts, it's very easy to maintain. Also, it can be disassembled easily without using any tool, so you can clean its interior easily.
LIGO gravity fed paintball hopper is a great hopper for people who are just starting paintball and want a smooth and consistent hopper.
Pros
With flip open lid style
Low-end hopper
Simple and easy to maintain
Very affordable
Types of Hoppers
When it comes to the hopper, you will find several different types of paintball hoppers in the market, which include;
Gravity-fed
Electronic
Cyclone
Sound activated
Eye activated
Out of these five types, gravity fed and electronic hoppers are the types which are most commonly used. Whereas, cyclone hoppers are used to some extent. Based on their popularity, here is a brief overview of these three types of hoppers.
Gravity Fed Hoppers
As its name suggests, this type of hopper uses gravity to feed the paintballs into the marker. Gravity-fed hoppers are the most basic type of hopper, which are pretty easy to maintain and clean. It is simply attached to the feed neck of the gun without any specialized screws. That's the reason they are the choice of hopper for beginner players. Gravity-fed come in various sizes, but the most common size is the one that holds 50 balls or 200 balls.
Drawback
Gravity-fed paintball hoppers are very easy to use but the problem is their slower load time. The feeding time of the gravity fed is less than 10 balls per second which is way too little for a heated paintball game.
If you wish to shoot faster with a gravity fed paintball hopper, you will end up with paintball chopping. That's why gravity-fed are best for mechanical markers. Because their slower loading rate can't go parallel with the firing rate of electronic markers.
Electronic Hoppers (Force-Fed)
On the flip side, the electronic hopper uses a paddle, fin, or feed tray to feed the paintball forcefully into the feed neck of the marker. This force is provided by the electric batteries. So here instead of gravity, all work is done by the electric batteries. These types of hoppers have got tremendous firing rate which is limitless. The entry level e-hoppers can feed up to 15 balls per second whereas the high end electronic hoppers can feed up to 50 balls per second.
Also, they don't chop the paintballs as the gravity fed hoppers does. E-hoppers are best for electronic markers due to their limitless firing rate.
Drawback
They are not compatible with a mechanical paintball gun. For effective performance, use them with electric paintball markers.
Cyclone Hoppers
By using a specialized cyclone feed system, paintballs are fed into the feed neck of the marker from the cyclone hopper. Basically, a cyclone hopper uses gas instead of gravity or batteries. It's the same gas that your marker is using, HPA or CO2. Players can shoot up to 15 balls per second with fewer chances of ball chopping. Cyclone-activated hoppers perform well with paintball markers that feature cyclone feed systems, such as the Tippmann A-5.
Drawback
Cyclone-activated hoppers, once installed in any marker, are difficult to remove or transfer to other markers. Above all, the major drawback that minimizes the use of the cyclone hopper is its gas inefficiency. These hoppers, when installed in any marker, consume more gas than normal.
Buying Guide for Paintball Hopper
If you look superficially, the hopper is a simple device but deep down they are more complicated, which leaves you perplexed. We don't want you to buy a hopper that doesn't match the criteria for a good hoper. Therefore, we have jotted down some points that you should consider while buying the best paintball hoppers.
Choose with your competition level
It has been observed that many players choose to buy the right and best paintball hoppers that goes best with their competition level. Well, we have three competition levels in paintball, which are beginner, intermediate, and professional level. The best paintball hopper is the one that is perfectly compatible with the level of your competition, and it totally depends upon the choice of player. Therefore, based on your competition level, choose the paintball loader;
For Beginner Level of Game
For this level of competition, things are not that complicated. If you are a beginner player who has just stepped into the world of paintball, then it's preferable to choose a simple and low-profile paintball loader. Usually, novice players prefer to buy a high end and expensive paintball loader, which is just a waste of money at the beginner level.
At this level, memorize the word "LEEP", which will help you to buy the best paintball hoppers for the beginner. When choosing a hopper keep LEEP in your mind, it means, the paintball hopper for a beginner should be lightweight, easy to handle, Economical, and above all, it should be Portable.
Gravity-fed hoppers fit best in the LEEP method as they are very lightweight, economical, easy to handle, and portable. They are not much complicated and you don't need to maintain them on and off. There are some electronic hoppers too that fit best on the LEEP model, but my personal preference would be a gravity fed paintball hopper for every beginner-level player.
For the intermediate level of game
For this, mediocre paintball hoppers are perfect. They are suitable for those peeps, who are still progressing in the paintball and are not professional players yet. Mid-range hoppers are a bit more expensive than beginner-level hoppers as they are equipped with a few advanced features that boom your performance in the field. Eye-activated, cyclone-activated, and sound-activated hoppers are examples of the mid-ranged hopper. These are equipped with special sensors that give you a competitive edge on the paintball field.
For a professional level of the game
Well, if you have been playing paintball for years and are used to playing in paintball leagues, then professional level paintball hoppers are just for you. These are the hoppers that perform amazing due to the variety of features they have. We call them high end paintball hoppers. They are known to have a high feed rate with anti-jamming features. They have specialized sensors that ensure a smooth and trouble-free game. Electronic paintball hoppers are perfect for a professional level of paintballers.
Speed feed
Well, it's the feature that should be kept in the limelight when you are looking for the best paintball loader. Speed feed is the small part that is there in the lid of the hopper. Speed feed allows faster reloading. With the help of a speed feed, you can quickly refill your hopper without wasting any time. Therefore, if you want to enjoy every moment of a paintball game, switch to hoppers that have speed feed features such as Bunkerkings CTRL, Virtue Spire IV, and Empire Halo too.
Capacity
In terms of capacity, there are two types of paintball hoppers: high-capacity loaders, and low capacity paintball hoppers. For proficient and professional players, high-capacity hoppers are best since they come with a capacity of 200 balls per minute. So this means, your gun won't stop firing, even for a single second. On the other hand, if the player is at a beginner level, then it's better to opt for low capacity hoppers as they have a capacity of 20 balls per minute.
Weight and size
No matter at what paintball level you are, the hopper should be light in weight. A huge and bulky hopper would do nothing but restrict your movements. Paintball hoppers that are being manufactured nowadays are light in weight.
Also, you must search for a paintball hopper that perfectly holds paintballs according to your level of the game. For a beginner, a low-volume hopper that can hold up to 50 paintballs is more than enough whereas, for professional and expert players, there are loaders that can hold up to 200 paintballs. So choose according to your level.
Compatibility
You can't use engine oil that is not compatible with the engine of your car, and if you do so, you have to compromise on the performance of the car. The same goes with paintball hoppers. Not all paintball hoppers are compatible with paintball markers. It is very important to check the hopper's compatibility with your gun before buying one.
Currently, many manufacturers are making paintball hoppers that fit most of the paintball markers. But for the safe side, always check the compatibility of the hopper, especially if you have an old model of paintball gun. The best way to do so is to buy markers and hoppers from the same brands.
Firing Rate
Again, it depends on your expertise level. That is how fast you pull the trigger. Low-profile paintball loaders such as gravity-fed have a slow firing rate of about 8 balls per second. In contrast, some high-end and advanced features offer you amazing firing speed, like the Dye LT-R hopper. The best paintball hopper with a good firing speed will enhance your paintballing skills.
Water Resistance
A quality hopper should be water-resistant and can deal with all kinds of weather. Since you can experience any kind of weather, you may face extremely heavy showers on the field, so it's better to be proactive. Also, the hopper has to carry a paintball that has liquid inside. If the hopper is not water-resistant, chances are that it may stop working soon. So, to have a long-lasting hopper, make sure that it must be water-resistant.
Risk of Jamming
What could be worse than a jammed hopper when you are surrounded by enemies. It's one of the most annoying things, especially during the game.
The best paintball hopper must have an anti-jam feature. It's not necessary that a hopper with anti-jam credentials would be costly. No, there are some low-profile paintball hoppers too that never jam. Mind you, jamming is the main reason for hopper failure in the market.
Durability
We can't overlook the importance of durability whenever we are buying something especially when it's pretty expensive. Paintball hoppers are made up of the same material as the barrel of the marker.
Aluminum and ceramic made paintball hoppers are sold under the banner of the lightweight hopper. Ceramic hoppers are comparatively lighter in weight than aluminum. Also, they are way too easy to clean and maintain, but they are very fragile and sensitive.
Aluminum paintball hoppers are easily available. They are not only lightweight but also durable. Unlike ceramic hoppers, they get soiled with paint easily. Therefore, proper cleaning and maintenance are mandatory for the accurate working of the hopper.
Stainless steel made markers are indeed a good choice when it comes to durability, but they will increase the weight of your marker, and that's not a wise idea to carry an unnecessary burden on the paintball field. Nowadays, carbon fiber paintball hoppers are a new thing in the market. They have a featherweight nature of aluminum and ceramic along with the sturdiness like stainless steel.
In a nutshell, paintball hoppers should be made up of such material that is durable enough to withstand rough and tough conditions and should be lightweight.
Paintball Hoppers FAQs
Conclusion
Paintballing is impossible without a loader. It's a device that plays a great role in your winning trophy. The best hopper should be consistent; never jam, give a smooth rate of feeding, and should have enough space to hold the maximum numbers of ammo. In my opinion, Empire Halo Too and Dye LT-R are the best electronic paintball hoppers. Whereas, the best gravity fed paintball hopper is the Proto Primo paintball loader. Rest, the choice is yours.