The tropical monsoon climate of Miami FL is perfect for paintball. The warm winters and long muggy summers keep your energy level maintained and you enjoy every bit of the game. That is the reason people love spending weekends paintballing in Miami.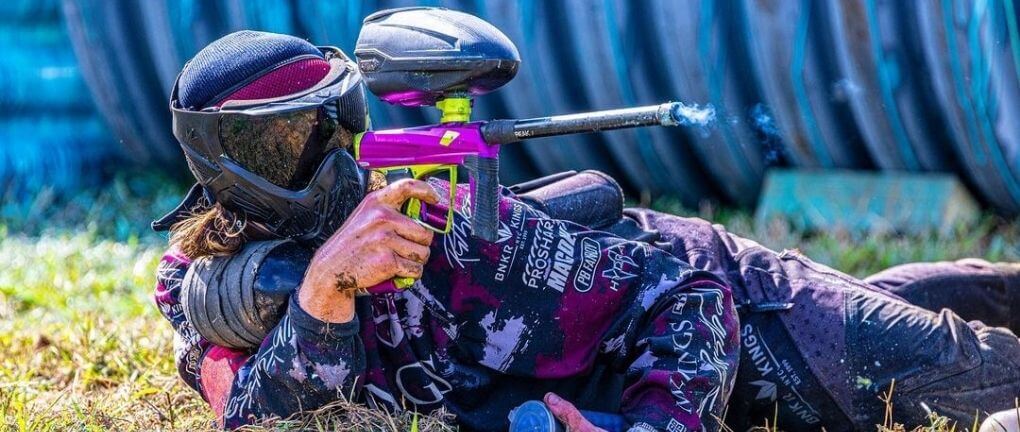 For this purpose, there are numerous paintball places in Miami FL that are not only extensive but also affordable. We have explored some of the best paintballing shooting places in Miami that can satiate your desire to play with the mess.
6 Places for paintballing in Miami Florida
1. Family Paintball Center
Ideal place for those peeps who hate long travels! The Family Paintball Miami Center is located on 17th Avenue and is equipped with numerous fields for different variations of paintball. They are operational seven days a week, but timings may increase on weekends.
It is not only a paintball field, but it has a pro shop too that offers guns, masks, paintball rounds, tanks, and other gears at affordable prices. When it comes to staff members, you won't find any loophole in their services. The Family paintball Miami center is suitable for events like birthday parties or team-building events.
How to contact Family Paintball Center
Website: familypaintballcenter.com
220 NW 137th Ave Miami, FL 33182
786-268-9208
2. Extreme Rage Paintball Park
Here comes the top-rated paintball in Florida; that's Extreme Rage Paintball Park. Its location is such that it is easily reached from all the main highways. Extreme Rage is an outdoor paintball area with a special field for woodsball, and equipped with wooden trees, hills, and tunnels. To simulate close-combat war, they have five-bedroom houses.
Extreme Rage Paintball Park leaves mind-blowing experiences and memories in the player's mind. ER park guarantees extreme fun. If you live in North Miami, the extreme rage will be only 19 minutes drive away from you.
How to contact Extreme Rage Paintball Park
Website: erpark.com
6401 Sheridan Street, Hollywood, FL 33024
954-986-9089
3. Splat Paintball Park
Splat Paintball Miami FL Park is located in Medley and it is one of the best places for paintballing in Miami. Professional paintballers have built this place keeping in mind the needs and requirements of paintballers. Honestly speaking, the fields are not huge, but they are large enough to give you an astounding paintballing experience.
For those peeps who love outdoor paintballing but don't like the dirty terrain, then Splat PB Park is best for them. The floor is covered with tournament-grade turf. Splat Paintball is not only suitable for groups, but individual players can also enjoy it. Along with that, paintball markers, tanks, masks, and other gear are available for rent on the field as well.
How to contact Splat Park
Website: splatpaintballpark.com
Splat Paintball Park, 9185 NW 96th St, Medley, Florida 33178
305-888-5552
4. SonRise Mobile Paintball
Bring the entire paintball setup to your home or any place you want.
SonRise Mobile Paintball Service is not a place, but rather it will transform your desired place into a paintballing place. They provide a complete setup of paintball so that you can arrange your event with paintballing wherever you want. If you have a huge backyard, SonRise Paintball will convert it into a paintballing field. This way, you don't have to worry about cleaning and all after the game is over.
How to contact SonRise Mobile Paintball
Facebook: https://www.facebook.com/SonRiseMobilePaintball/
5. The Paintball Party Place
If you want to experience real fun of Paintballing in Miami (Florida), then Paintball Party Place is the perfect option. It is located in the north of Miami, with capacious outdoor fields. Worth mentioning point here is, the scenic views of outdoor fields are simply mesmerizing. They have got different paintballing packages for paintballers of different ages. It has got one competitive edge over its competitors, and it is one of the coolest outdoor paintball fields, which is surrounded by 105 trees.
When it comes to pricing, it's pretty affordable. Even the rental equipment are available at cheap prices. The cherry on the top, if you bring your own markers and all, then you can enjoy paintballing at very low prices. Like every other paintballing place, the paintball party place doesn't allow outdoor paintballs.
How to contact The Paintball Party Place
Website: paintballpartyplace.com
28401 SW202 AVENUE(REDLANDS), HOMESTED, FL 33030
305-482-1286
6. Matrix Tactical
Matrix Tactical is the biggest paintball shooting park in Florida. Yes, the outdoor field is spread across an area of two acres. The field for woodsball features wooded areas along with trenches, bases, and sniper towers. For players looking for close-combat paintball scenarios, Matrix Tactical has a field that replicates a suburban town.
All types of paintball gear are available on rent at a low cost. Talking about staff members of matrix tactical, they are well trained and have sound knowledge of the rules and regulations of the game. If you land at Matrix Tactical, you will be guided thoroughly about the games and their rules. For individual players and small groups, they are open on weekdays, but for events and parties, only weekends are operational on prior booking.
How to contact Matrix Tactical
Website: matrixtactical.com
20800 Southwest 134th Avenue, Miami, Florida 33177, United States.
786-458-3130
Conclusion
The fun of paintballing doubles up in the bright and warm sunshine of Miami, Florida. Paintball Miami enthusiasts look for such a place. Unluckily, there are few fields for paintballing in Miami, that don't quench the thirst of passionate paintballers. But less is more. These few paintballing places are huge enough to accommodate a huge group of paintballers. The Matrix Tactical and the Splat Paintball Park fit under this category.