In 2023, if someone is looking for a budget-friendly and affordable paintball marker, then it's not something to mock. Pocket-friendly paintball markers do exist, which are much like expensive markers. One such example is Tippmann's US Army Alpha elite paintball marker, which is made of die-cast aluminum and fires up to 12 balls per second. To your amazement, it costs under $300.
So don't worry if you have only $300 in your pocket. You can easily get your hands on the best paintball guns for under $300. After in-depth research, we have picked out 5 best of the best paintball markers that are not only cost-effective but deliver exceptional performance. After using these paintball guns for about 6 months, we have carefully compiled this review. A buying guide is also there, which will help you to narrow down your choices.
Best Paintball Markers Under 300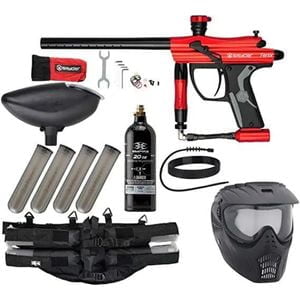 Action Village – Best Paintball Gun Under 300
Hard aluminum
Eko-Valve system for air efficiency
Break-beam eye system
Great entry-level electronic gun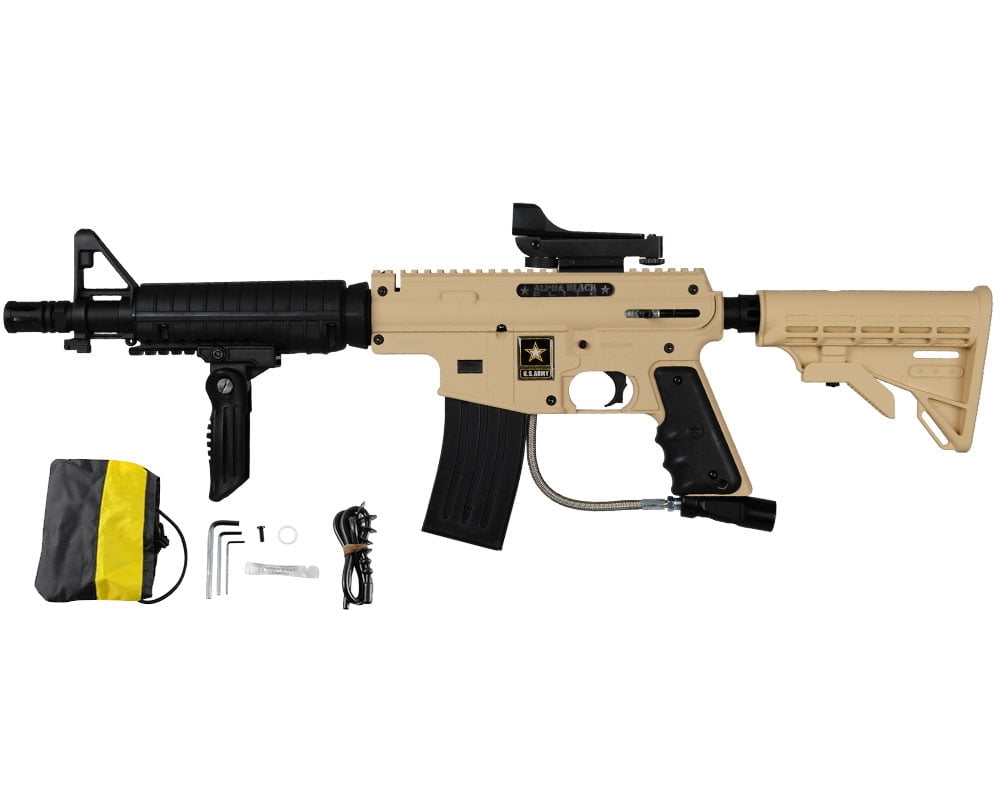 US Army – Best Paintball Marker under 300
Die cast aluminum
6 position collapsible stock, lower picatinny rail
Removable front side
Can be upgraded to MagFed style
Tippmann Epic – .68 Caliber Paintball Marker
Semi automatic marker
Collapsible and foldable stock
Highly customizable marker
1. Action Village Kingman – Best Paintball Gun Under 300
They say electronic paintball markers are costly, but what if you can get a high-performance electro-pneumatic marker for just $300.
Kingman makes it easier for beginner to intermediate-level players to approach expensive electronic markers. Spyder Fenix is one of the versatile and durable paintball markers that are manufactured by Kingman. It is not complicated like other electronic markers; rather, it is pretty simple to use.
In short, it features all those qualities that have to be there in a paintball gun under $300. Let's check out.
First of all, the aesthetic and build quality is extraordinarily amazing. It is made up of aluminum, which is of a hard nature, and the interesting thing is, the use of hard aluminum does not increase its weight. This literally surprised us, when we placed Spyder Fenix on the weight scale, it showed an exact 1 pound. In terms of weight and material, it's a great gun.
Since it's an electro-pneumatic gun, it's powered by 9V alkaline batteries. It also features an electronic trigger frame to give you a wild firing rate. You can steadily switch between different firing rates, like from semi-auto to ramp to burst, which ultimately increases your fighting performance on the battlefield. The trigger is not a smooth one, but since it's a double trigger, so pressing with two-finger techniques makes it smoother to fire.
Kingman Spyder Series is famous for the Eko-Valve system, which is also there in Spyder Fenix. This technology uses gas with extra efficiency, and just because of this reason, Spyder Fenix has got a great competitive advantage over other paintball guns under 300. Spyder Fenix states that you can get over 1600 consistent and accurate shots with a 20 oz CO2. To our amazement, when we tested it, it really shoots 1604 shots without chopping or breaking any paintballs.
All in all, the Spyder Fenix is a pretty perfect marker, but like other guns, it has a few downsides. Like, Spyder Fenix is not compatible with the parts of other brands, even it's hard to find a spider-threaded barrel, clamp, and hopper.
In terms of maintenance, it's pretty easy to maintain and clean. It features a tool-free top-cocking quick strip bolt and a rear plug, which makes cleaning a breeze for any level of player. If you want to stay on a budget but love to own lavish and extravagant markers, then Spyder Fenix is a great choice that you can get under $300.
Pros
Compact, durable, and lightweight paintball marker
Offers rapid firing rate that is 25 balls per second
Efficiently uses air
With fast-charging batteries
Made up of hard aluminum
Cons
Hardly compatible with parts of other brands
Sometimes trigger becomes hard to press
2. US Army Alpha – Best Paintball Marker Under 300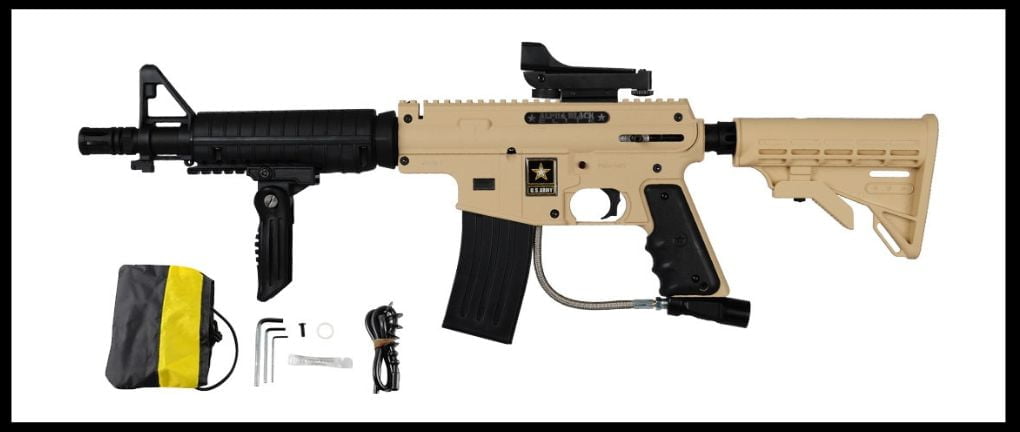 US Army is one of the most favorite paintball markers of paintball lovers because of its price and its features. You get such a professional level marker at a pocket-friendly price range.
Tippmann produced this marker by following the design inspiration from US Army. Alpha Black is made up of die-cast aluminum which enhances the durability and reliability of the marker. The quick-release feeder elbow and receiver all parts are made up of die-cast aluminum. Though, it's durable and reliable enough with the use of die-cast aluminum, it lies on the heavier side. US Army Alpha Elite without paintball weighs around 8 lbs, and if you load the magazine and hopper, it weighs around 10 pounds. that is quite heavier for the new player who hasn't carried any guns on the field. But if you are an intermediate-level player, then this much weight might not bother you.
Furthermore, it has a removable front side and carries a handle that you can attach whenever you need it. Also, its magazine has built-in tool storage, which lets you store Allen keys right with the marker. For the comfort of players, it has a stock that is collapsible up to 6 stages so that you can adjust it as per your comfort level.
The aesthetic of the US Army Alpha looks very much similar to an M16 assault rifle since it has the majority of the features that are alike M16 assault rifle like the barrel with lower Picatinny rail, removable magazine, and front sight.
One of the worth mentioning features about US army Alpha is, it's available in both versions that are electric and mechanical. And the best part is, you can get your desired version under $300 easily.
Now let's throw some light on the performance of the marker, during the testing of this marker what we get to know is that it has a great and fast firing rate. It uses a .68 caliber paintball and it is capable of storing 1000 paintballs. that means no hassle of hopper refilling. It can fire up to 12 balls per second accurately at a distance of 40-45 yards. As far as the shooting range is concerned, it can fire up to the range of 298FPS which is a nice firing rate.
US Army Alpha Elite marker can be upgraded easily. In fact, you can upgrade it to a MagFed style marker by using the Tippmann 98 MagFed adapter. You can upgrade its hopper too by using a cyclone feed system hopper which increases your performance. So upgrades are numerous in it.
Concluding, Tippmann US Army Alpha Elite is a nice choice of marker if you want to remain on budget. It delivers an immense amount of power which is perfect for beginner to intermediate level players. Due to its weight, it's not a choice of marker for speedball players.
Pros
Accurate gun with an appealing aesthetic
Made up of rugged and robust material
Available in electric and mechanical type
Looks similar to an M16 assault rifle
Cons
Not suitable for speedball game as it is too heavy
3. Tippmann Epic – .68 Caliber Paintball Marker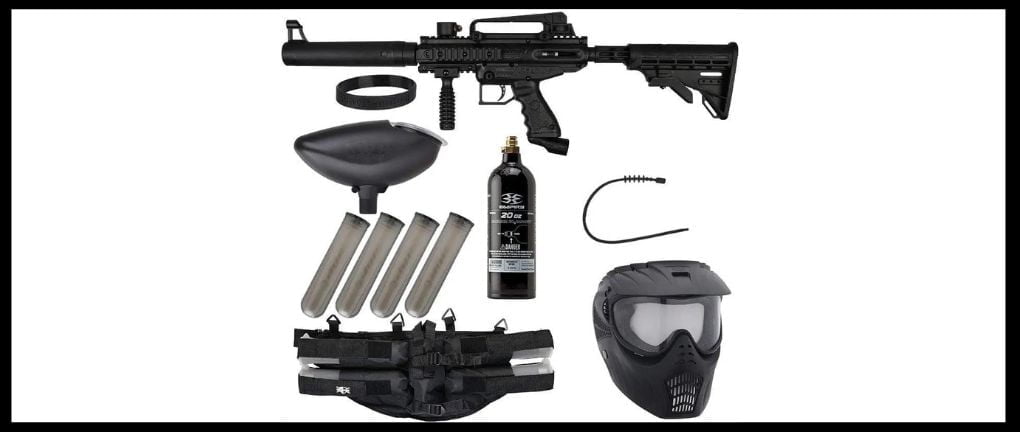 Sierra One is a newly launched paintball marker by Tippmann which can be easily afforded by new players. The reason for adding Sierra One to the best paintball guns under 300 is, it's a highly customizable marker that you might get at such an affordable price range.
Tippmann Cronus One looks exactly like a real firearm. It is made of aluminum, so durability is not a matter of concern. You will find a stainless steel gas line that assures no gas leakage. Also, the hose is pretty durable, so it won't break when the gun drops.
It has got not only a collapsible stock but a foldable stock too, so you can fold it when you are not in the mood to use it. Besides this, it features a shroud that is of AR-15 style. The presence of four Picatinny rails on the shroud makes the player to install numerous gadgets like a laser light or red dot light.
It's a semi-automatic marker, but you can upgrade it by using an E-grip frame. For upgrades, you are good to use Tippmann 98 parts like the flatline barrel, cyclone feed system, response trigger, and many others. You can also attach the parts of other brands, but there will be a decrease in the accuracy of the marker after installing the barrel of other brands.
Sierra One has got a great long range it can shoot up to 250-325 fps. A velocity adjuster is also there, which lets you adjust the velocity as per the rules of the game.
As far as the maintenance of the gun is concerned, it is not as quick and handy as in other guns. Though the manufacturer has added a quick-release feeder elbow, still the cleaning process is a bit time-consuming.
Under $300 is a great marker, it's customizable, looks real, and offers great performance but you will have to compromise on its cleaning job.
Pros
Unbreakable hose line
Highly customizable
Impressive shooting range
AR 15 style magazine and shroud
Cons
Difficult to clean and maintain
Accuracy drops down after using a barrel of other brands
4. Planet Eclipse EMEK 100 Paintball Marker Under 300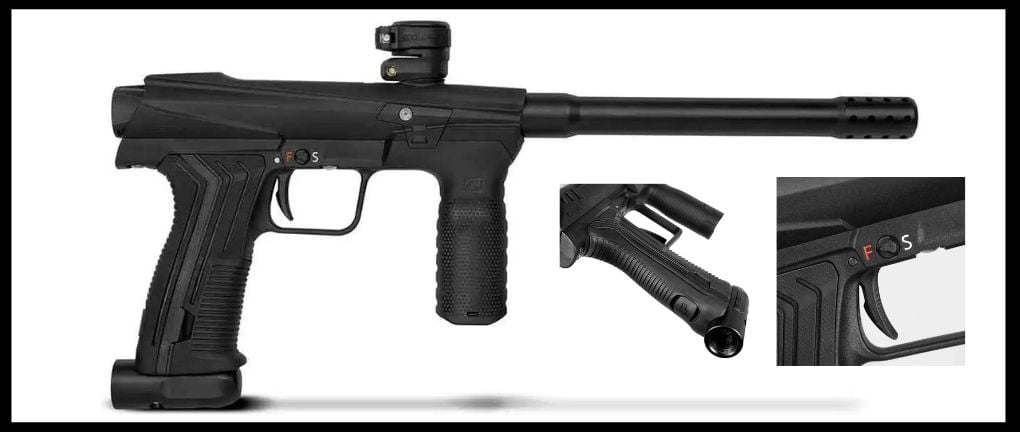 The rough, tough, and sturdy paintball marker that can withstand any scenerio game. Planet Eclipse EMEK 100 is an affordable entry-level marker that promises to give its users a high level of playing experience. Planet Eclipse is a trustworthy name, and every paintballer is well aware of the quality of markers that they produce.
EMEK 100 is a semi-automatic paintball gun that uses only HPA gas. It features a patented Gamma Core spool valve drive train which gives a smooth and reliable shooting experience. Planet Eclipse has put great effort into the trigger of EMEK 100 it's pretty different from the other markers of Planet Eclipse. It's a single trigger but it's highly responsive. The trigger is of the hinge style, which can be pulled smoothly and lightly without exerting extra pressure. You can get a firing speed of 10 balls per second with its responsive hinge trigger.
Unlike other $300 paintball markers, it is made up of strong glass-reinforced nylon but the bottom-line adapter is made up of aluminum. The combination of aluminum and nylon gives it a sturdy yet lightweight look. It weighs around 1.87 lbs, which fits into the category of the weight range for $300 guns. I would say it is the second lightest paintball marker after the Kingman Spyder Gun.
Planet Eclipse Emek 100 won't give a tough time to its user when it comes to cleaning and maintenance. You can easily clean its barrel with a squeegee and get access to internal components without using any tool. Also, there aren't any sears or springs, so you don't have to worry about their monthly replacement.
With all these mind-blowing features, the one thing that disappoints me is its barrel. It has a ported barrel of about 10 inches, which is nice, but for experienced players, it should be a bit longer, like 16 inches. Long barrels make aiming easier.
Planet Eclipse Emek 100 is a great marker that is designed for non-stop playing. Its performance and durability don't exceed its price tag.
Pros
No electric components relive the stress of failure of electric components
Pretty lightweight marker
Smooth hinge style trigger
Tool-less access to internal parts
Cons
Its barrel length should be more than 10 inches
5. Azodin KP3 Pump Paintball Marker Under 300 Dollars
If you want to take your pump-based paintball game to the next level then Azodin KP3 is the choice of gun for you.
KP3.5 is a quite attractive marker, it's available in different vivid colors. Not only its aesthetics but its performance is also attractive. It's a pump paintball marker that is operated manually by pumping the gun for each type you shoot. Therefore, Azodin KP3.5 is best for beginner players who enjoy playing pump-based paintball games.
It is an air source marker that uses compressed air only. Mind you, it is not suited to be used with CO2. With compressed air, you find immense accuracy and consistent shots. The marker is made up of aluminum except for the pump handle, which is made up of Delrin plastic, but it is wrapped with carbon fiber. So that the pump handle won't break no matter how aggressively you pump it. The overall weight of the marker is 2.5 lbs.
As far as the ergonomics of Azodin KP3.5 is concerned, it is quite comfortable and light to carry. It features a ported barrel of 14 inches which reduces the extra loud fire noise. The barrel comes in two pieces, which is a nice gesture for cleaning the gun. The bore size of these barrels is 0.685 and 0.681.
The KP3.5 is operated on lower pressure that is around 200 psi and that's the reason it is quieter. Usually, it is said that pumped paintball markers chops or break the paintball, but with Azodin KP3.5, you won't have such complaints. It never chops paintball but remember that exceptions are always there.
Azodin KP3.5 is one of the best paintball markers under $300 but it is not suitable for speedball since it has a slower firing rate. But it's best for playing paintball in your backyard with your friends. Make sure all your friends have a pump marker, otherwise you will lose the match.
Pros
Operated on low pressure
Produces less noise
Smooth strokes of the pump
Air efficient
Cons
Not suitable for speedball
Slow firing rate
Buying Guide for Best Paintball Guns Under $300
With the passage of time, paintball is becoming more popular among youngsters. Every other day, a new player stepped into the paintball game. Therefore, it is mandatory to choose the best paintball marker while remaining within your budget. Mind you, the best paintball guns under $300 are a bit different from the ones that cost more than $300. But you can get the closest possible gun by considering the following factors deeply and closely. Read on for this buying guide.
Type of Marker:
If you search the market, you will find different types of markers, the most common ones are;
Pump paintball gun
Mechanical or semi automatic
Electro-pneumatic paintball gun
Keeping in mind your frequency of gameplay and your passion, choose the type of gun you want for $300.
Let me help you, if you are an occasional player or you play just to have fun with your friends and family in your backyard, then it's better to choose a pump marker. They are comparatively slower than the other types of markers.
In contrast to that, if you are a regular paintballer who plays on weekends with teams on big fields, then choosing a mechanical marker is a great idea. They are best for woodsball or speedball. Mechanical markers are easier to maintain.
Electric markers are suitable for passionate paintballers. Such guns are more accurate and consistent and require less maintenance.
Material of Marker:
Buying a cheap paintball gun under 300 doesn't mean that you have to compromise on the quality of the material. Big hand of Applause for a few brands who manufactured low-priced paintball guns by using high-quality material. The majority of the guns under $300 are constructed out of plastic. Some manufacturers have used aluminum also. Aluminum is a lightweight yet durable material that gives strength to the marker.
Make sure that the material of the marker should be solid and light in weight. Usually, an aluminum body with a polymer grip frame is a durable combination.
Weight of Marker:
After material, the next crucial factor is weight about which you have to be very conscious. Ideally, a paintball marker should be lightweight so that you can easily maneuver it with you on rough terrain. Woodsball players usually carry different stuff with them on the field, and with a heavy gun in their hands, the real fun of the game vanishes. Therefore, it is wise advice to choose a paintball marker that is light in weight.
The best paintball gun under $300 should be 1.5-3.5 lbs heavy.
Shooting Power:
Most buyers are keen to know the shooting power of the marker. This is what we have observed. Like they are interested in the intense firing velocity of the gun. Both these factors determine the shooting power of any paintball marker.
Pump markers have very mediocre shooting power. Mechanical markers have good shooting power. Their firing rate is approximately 4—8 balls per second. On the flip side, battery-operated markers have a firing rate of more than 10 balls per second.
What speed the gun fires depends on the velocity of the shoot. Luckily, velocity adjusters are there on $300 guns. You can easily adjust it as per the battlefiled rules. The minimum velocity of $300 guns should be 280 FPS and more.
Trigger of the Gun:
If you want to have an insane firing rate with your $300 gun, then always look for a double trigger. They are super fast because they decrease the tension whenever you pull the trigger. Also, you will find some guns with E-triggers like US army paintball guns.
Barrel of the Marker:
When you are shopping for a paintball gun under $300, always look for a gun that has a long barrel like 10". Long barrels are gas efficient and utilize less gas as compared to the short barrel gun. Also, the barrel comes in two pieces are pretty easy to clean.
Caliber of the Marker:
Caliber is the internal diameter of the barrel according to which one chooses the size of paintball ammo. You may find paintball guns of different caliber like 0.43, 0.50, and 0.68. So if you are stepping into a low-impact game, then 0.50 caliber is the best choice of a gun under 300. The majority of the guns are available with .68 calibers as it offers excellent velocity.
Scope of Customization:
Who doesn't loves to set markers according to their taste? Every player.
Paintball gun should have limitless scope for customization, like you may add any device on the Picatinny rail for a more military-like effect. Also, a paintball marker should be one that can be easily upgraded to other paintball guns.
FAQs:
Conclusion:
So these were the best paintball markers under $300, which are pretty affordable and meet all the specifications that have to be there in a $300 marker. These five options are enough to choose from, but still, if you are confused about selecting one best, then you can select Action Village Kingman Spyder Fenix, which is an electric gun and great for entry-level players. Our experts love this marker because of its consistent firing rate. Your paintball gun is your lifeline when you are in the game. Invest wisely!