Last Updated on May 5, 2022 by Jezus Fischer
An adrenaline-pumping and full of action sports that can be played by people of all ages and lifestyle. Paintball game become more excited when you have paintball marker that shoots with accuracy and consistency. Paintball pistol is the right type of marker especially when you are in offensive/defensive game scenario. These light weight and handy markers improves your accuracy so that you can ace in your game.
There are so many different brands that are manufacturing paintball pistols such as Tippmann which is known for manufacturing indestructible pistols with an amazing shooting range. The list is quite lengthy. So we have chosen the 10 best paintball pistols to test and reviewed them below. If you are a beginner and don't know how to select the best all-round paintball pistol then head towards our precise buyers guide for paintball pistols.
It's time to get in the game with some rugged and robust pistols.
10 Best Paintball Pistol Guns 2022
1.

T4E M&P M2.0

– Best Paintball Pistol 2022
Breaking ice with one of the best paintball pistols ever that is from the T4E series of Smith & Wesson M&P M2.0. It is a semi-automatic pistol marker that is powered by CO2. Talking about the quality and durability of the M&P M2.0 pistol, its design and finish give it an exceptionally realistic look.
The slide, the slide catch, barrel, magazine, and majority of the internal parts are made up of metal and polyester, which gives a real feel to the players. Keeping in mind the comfort level of players, its weight has been kept within range. It weighs around 760 grams
You have the freedom to mount laser, lights, and other accessories using a Picatinny accessory rail on the pistol.
T4E M&P M2.0 is equipped with a pneumatic blowback system that shoots .43 caliber ammunition. Frankly speaking, the blowback action actually is not a full blowback instead it's like a half blow back BB gun. The magazine has an ammo capacity of around 8 rounds, so after 8 shots you will need another extra magazine for sure.
Upon using this .43 caliber paintball pistol, we came to know that it has an adjustable rear sight with a fixed front sight that improves the accuracy and aim of the player. Moreover, the authentic details and its finishing make it one of the outstanding paintball pistols that look real.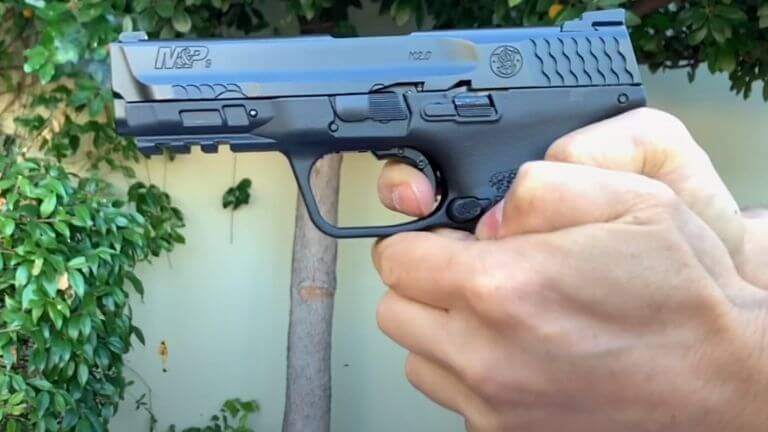 2.

Wearable4U T4E TPM1

– Best .43 Caliber Pistol Paintball
.43 caliber paintballs are perfect for beginner's players as it is light in weight and doesn't give any bruise upon hitting. If you are new to the paintball world, then T4E TPM1 is one of the best .43 caliber paintball pistols for you. It is a semi-automatic gun with a blowback action
Wearable 4U T4E TPM1 is made up of metal and polymer. You will find metal at every part of the pistol be it slide, slide catch, or barrel. The design and build quality speak for the pistol.
To make the game more stress-free, the team of Umarex has focused more on its weight and that's why it is known as one of the lightest paintball pistols. It weighs only 1.2 pounds which is approximately 532 grams.
It uses ammunition of a small diameter that is 0.43 inches. The pistol is powered by economical CO2 which is included in the package. You will get 5 tanks of 12 grams of CO2 along with it. Not only this, but a pack of 100 .43 caliber of paintball is also there in the pack.
Like every other pistol, its magazine has got an ammo capacity of 8 rounds. The trigger pull gives the feel like a double-action trigger which makes the trigger pull a bit longer as compared to the single-action trigger. The shooting range is 290 FPS which is an effective shooting range when compared with the other semi-automatic pistols. With low upkeep and extra-ordinarily sturdiness Wearable 4U T4E TPM has become the best choice for newbie paintball players.
We personally tested paintball revolver T4E TR50 for target practice and it literally performed well in the field.
Again, T4E TR50 is designed by Umarex to give the same like real feel to paintballers. When it comes to paintball revolver TR50 worth your time and money.
The build quality and look are amazing. A black plastic finish and some metallic parts give it a sturdy and tough look. It's a semi-automatic paintball marker and it is powered by CO2. It requires 12g cartridges of CO2 like other semi-automatic pistols. Upon testing this paintball revolver we came to know that after using 60 rounds you will need another CO2 cartridge, that's a good thing.
The Umarex T4E TR50 is always ready-to-go with its quick pierce CO2 system. This means you can instantly use the revolver right after inserting the cartridge without activating it to conserve CO2. And trust me! it's one of the amazing features that paintballers want to have in their marker. Talking about the velocity it is 360 fps which is already too high for a paintball field. And that is the reason it is best for target practicing.
T4E TR50 is powered by .50calibers which are loaded into a 6-rd rotary magazine. Revolvers have a slower reload time and that is the biggest drawback that I have observed in the T4E TR50 paintball revolver. Though, you will get pre-loaded five cylinders or 6-rd rotary magazines for quick reloads, which saves your precious time on the paintball battlefield. But what if you used all the five cylinders?? You will need some time to reload the magazines. Therefore you have to use paintball revolver very smartly in leagues.
4.

JT ER4 RTP

– .68 Caliber Paintball Pistol
For those players who want to enhance their performance to ace the game, JT ER4 RTP is the best option.
This is a 0.68 caliber paintball pistol and it is semi-automatic. Made up of strong and sturdy composite material which makes it highly durable and lightweight while ensuring it can withstand knocks and impacts on the field.
Unlike other paintball pistols, JT ER4 features a vertical feeding hopper that allows quicker reloading of paintball and other ammunitions. The hopper can hold up to 40 paintballs for fighting with opponents. We found this .68 caliber paintball pistol one of the safest and convenient markers for naïve and young players and the reason is its push-button safety trigger that offers convenient shooting.
JT ER4 RTP comes in form of a complete package. Along with this amazing paintball marker, you will get few other things such as a barrel plug. We found this feature of the barrel plug effective, it basically prevents accidental shots.
Furthermore, the Guardian Protective paintball Goggle system is also included in the package. These Goggles have fog-resistant lenses for clear visibility. Investing in JT ER4 RTP is a great idea especially when you want to hit the field right after purchasing a pistol from the pro shop. It's best for beginner players but in my opinion for naïve players investing in such an expensive pistol package is a risky idea especially when you are not committed to the game.
5.

First Strike

– Best Paintball Pistol to Shoot Pepper Balls
Want some different and unique pistol? Grab your hands on First strike compact pistol, you will love its design and performance.
First Strike Compact pistol or FSC pistol is one of the perfect sidearm that you used to defend yourself in paintball battle field. It is of miniature style in fact you can keep it in your jeans pocket; it's so handy and compact.
FSC pistol is one of the smallest and most powerful paintball pistols. And this is what we have listened about it. It has got amazing build quality as the majority of the components are made up of metal that gives a real and sturdy feel. The magazine has capacity to hold 6 rounds and you will be surprised to know that you will get 2 magazines of 6 rounds.
Unlike other pistols on my list, FSC doesn't require 12 gram of CO2 cartridge. Instead of this, its 6 round magazine require 8 gram of CO2 cartridges which let you play 12 shoots and if you are lucky enough you can have 18 shots with 8 gram of cartridge. Mind you, this is when you use T8.1 magazine. If you are using T9.1 magazine then you can use 12 gram cartridge.
It weights around 1.7 pounds and it has a mounting rail underneath the front of the barrel. This will let you put flash light and laser light on top of your paintball marker. Besides this, it features 20 % smaller grip than the standard pistol, this way you can hold it easily or longer time. But it's not suitable for people having dainty small hands.
Besides being a great paintball marker, FSC pistol can be used for shooting pepper balls. It uses 0.68 calibers of paintball and pepper balls that makes your opponent to give up. This small-sized revolver is packed with ultimate power. We haven't tested this product but our in depth research reveal that it loses some of CO2 when the magazine is released, which decreases the number of shots per cartridge.
Related: Best Paintball Guns Under $300
6.

HSA

– Semi Automatic Pistol
HSA T4E smith and Wesson is designed like a military firearm. Its smooth and classy outlook with fine finishing gives it a real look with a solid feel. This is a semi-auto paintball pistol that enhances your performance and improves your game.
It utilizes CO2 and shoots paintball with an amazing blowback mechanism. The magazine holds around 8 ammo or about .43 calibers. With T4E Smith and Wesson M&P2 M2 HAS package you will surely bang the paintball battlefield.
Talking about its build quality, it's made up of metal with polymer external housing. The pistol is finely finished and hard-wearing with a reliable build quality. The worth mentioning point here is, its weight is around 1.5 pounds even though it is made up of metal and polymer.
You have the freedom to mount tactical lights and different accessories. Thanks to its Picatinny rail system. HSA T4E S&W M&P2 features a pneumatic blowback system that shoots the gun out of the barrel. But what we felt is, its blowback action is not something worth appreciating. In fact, it's more like a half-blowback BB gun.
The next one on my list of best paintball pistol ever is a real and genuine paintball pistol that is again from the house of Umarex.
This T4E Walther PPQ M2 is not like the pistols of traditional color rather its barrel is of blue color. Like other pistols on my list, T4E PPQ M2 is a semi-automatic gun. It is powered by economical CO2 which is not included in the pack. It happily accepts 0.43 caliber of ammo that includes paintball and other ammo as well. T4E PPQ M2 is a perfect marker for playing paintball.
The appearance of the pistol is quite realistic. Furthermore, the polymer and metal combination gives this pistol a more deadly look. Talking about the feature and specification of T4E Walther PPQ M2, it features a magazine of 8 round ammo capacity that can be loaded 3 times in one 12 gm cylinder of CO2.
Though it's a single-action trigger pistol but it feels like a double-action trigger. Besides this, it has a trigger safety feature that prevents accidental shoots. Because of the metal slide, slide catch, barrel, and magazine, the overall weight of the marker is around 1.87 pounds which can be carried easily in the field.
The T4E PPQ M2 is ideal for paintball fields and the reason is its FPS that is 290 which closer to the permissible FPS of paintball playing fields. I would call it the best all-around paintball pistol as it enhances your paintballing skill irrespective of your expertise level.
Real action Walther PPQ M2 is the next pistol that we have tested genuinely. Its accuracy and range are amazing. It's a semi-automatic pistol that gives a real feel when you hold it in your hands.
All thanks to its sturdy and robust metal and polymer construction. The slide, slide catch, barrel, and the magazine in fact majority of the parts are made up of metal. Interestingly it is not much heavy. It weighs around 1.2 pounds that makes it the lightest paintball marker.
It is equipped with a pneumatic blow-back system that shoots paintballs with excellent accuracy. It supports paintballs of 0.43 caliber in size making it an ideal marker for paintballers as the smaller size of paintball produces a high impact on your opponent.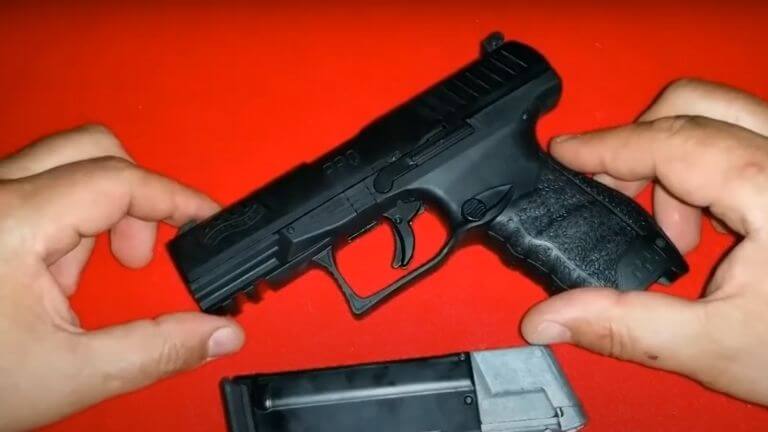 Besides this, T4E new Walther PPQ M2 features a front Picatinny rail for mounting different accessories. Also, it has adjustable rear sight that helps you to target your opponent easily.
Like other pistols on my list, T4E New Walther PPQ M2 is a CO2 paintball pistol as it requires CO2 cartridges for shooting. A 12gm of cartridge will be enough for hitting 24 shots. You need to load its magazine three times in one cartridge. Let me tell you its drop-free magazine has a capacity of 8 ammo.
One more interesting thing that I like about T4E New Walther PPQ M2 is its magazine is drop-free. It means the magazine won't drop out when its needs to be loaded. This way there are zero chances of losing magazines in the battlefield.
9.

Tippmann

– Best Compact Paintball Pistol for Home Defense
Tippmann is a popular name in the world of paintball. Experienced paintballers love to use Tippmann pistols.
The Tippmann pistol that we are reviewing is TiPX which is the second generation of original TPX. TiPX has covered all those lacking that was there in its predecessor. TiPX gun features a military-style design that gives a real pistol like feel.
It is a semi-automatic pistol that works on HPA and CO2. The sleek and compact design of TiPX makes it comparatively lighter than the competitor pistol that is 1.8 pounds, so that you can maneuver around the field easily.
Unlike other pistols, the TiPX features an aluminum trigger which is pretty responsive and efficient. Trigger jamming is the most common pistol problem that player faces in the ground. We are glad that Tippmann has solved this problem by incorporating an aluminum trigger. TiPX assures consistent firing without any delay.
When it comes to the performance of TiPX pistol, it let you hit any target with great accuracy. TiPX won't let you miss any shot. However, TiPX features a blow-forward system which is pretty incredible. Blow forward system reduces the kickback and recoil, so that you can enjoy consecutive shooting with more accuracy.
It features an external velocity adjuster so that you can adjust the velocity ranging from 200-300FPS via wrench. In a single 12 g CO2 cartridge, TiPX can fire 14-20 shots up to the range of 200 feet. It is a short barrel pistol with a barrel length of about 6 inches; even then TiPX gives you accurate shots.
One of my favorite features about Tippmann TiPX is the spring-loaded True-Feed magazine. These spring-loaded magazines directly push the paintball into the chamber where it gets fired readily. You can call it a safety feature as well, since you have to pull the trigger twice before firing constantly. It has two magazines and each magazine has 7 rounds. I found its magazines are of low capacity.
Anyways, Tippmann TiPX is a lightweight and compact marker that uses ammo of 0.68 calibers. TiPX can be used for shooting pepper balls for the purpose of self-defense when you are under threat. The build quality and its accuracy make it one of the best paintball pistols to shoot pepper ball.
Paintball is not limited to young boys and girls even kids can play paintball leagues in their backyards. Keeping in mind the safety and need of kids, JT has designed a special .50 cal paintball pistol for kids.
JT Splatmaster Z100 pistol is a spring-powered paintball gun that is a safe and low-impact gun. Splatmaster pistols are originally designed to be played in your backyard. Mind you, they are not for big paintball leagues and tournaments.
The entire gun is made up of blue-colored plastic so durability is the biggest concern. Upon holding this product in hand we expect that its life is not more than 1 year when it is used by kids.
It features quick-release magazines that hold around 7 rounds of ammo. To make cocking easier, it is equipped with a cocking assist handle. It can shoot up to 100 feet.
While testing Z100, we came to know that it is so light in weight and has average accuracy which is suitable for kids.
Types of Paintball Pistols:
Pump Paintball Pistols:
The oldest and the most basic type of paintball pistol. You can call them manual pistols because of the fact that they work manually. They are easy to operate you just have to push and pull the handle to put the next paintball in whenever you want to shot.
Pump paintball pistols are quite reliable and it makes the player focus on their accuracy and field skill. We have observed that people love playing with pump paintball pistol as it has its own charm.
Related: Paintball Gun Laws 2022
Mechanical Paintball Pistol: (Lack Accuracy & Speed)
This type of paintball marker is one of the commonly used markers. They are also known as semi-automatic. Trust me; they are one of the easiest paintball markers that can be used with little or no maintenance. The plus point about mechanical paintball guns is, they are comparatively cheap than the other types of paintball markers.
Mechanical paintball pistols are very easy to operate. You have to do nothing just pull the trigger whenever you want to take a shot. This means they fire one shot per trigger pull.
Talking about their operation, it required compressed air or carbon Dioxide for its operation. It has a small gas tank which can be refilled easily by any pro-shop before any paintball league.
Electronic Paintball Pistol:
For the proper functioning of an electronic paintball marker, you will need a solenoid to fire the marker. These solenoids are typically powered by a 9-volt battery. It has got various firing modes that you can use during your paintball league some of them are: burst firing, full auto, ramping, and many others.
Electronic paintball pistols have a circuit board that is responsible to control all the commands going to the solenoid.
Electronic markers have furthermore types such as pneumatic poppet valve; which uses pressured-powered ram instead of a striker. It delivers fast and consistent firing. Pneumatic poppet valve requires only compressed gas. Sing carbon dioxide will damage their solenoid.
The next sub-type of the electronic marker is the spool-valve marker which is not as gas efficient as the other types. But yes, it requires low maintenance and has just one moving part that is a bolt.
3 Shot Burst Paintball Pistol:
Now, this is the advanced type of pistol which allows you to shoot three times simultaneously per trigger pull. We found it as a variation of the electronic pneumatic type of pistol as you can switch between the three short burst modes and the semi-automatic firing mode. These paintball pistols are not suitable for beginners as they fire into 3 rounds.
Ramping Paintball Pistol:
Ramping pistols mean the firing rate increase as you pull the trigger. Ramping pistols are the best equipment for players who want to have continuous firing. They are known for their fast and continuous firing rate which is as high as 20 shots per second.
It is suitable for fast shooting but unfortunately, ramping pistols are not allowed in every tournament.
Fully Automatic Paintball Pistol:
Fully automatic pistols work in the same way as ramping pistols. But there is one major difference, in automatic pistols, you just need to pull the trigger once and the pistol will keep firing as long as you are holding the trigger. The moment you release the trigger. Firing will stop automatically.
The cost of fully automatic pistols depends upon the rate of firing. Some pistols have higher firing rates so they are expensive.
Fully automatic paintballs are strictly prohibited in leagues and tournaments and the reason is its highest firing rate. You have to be very careful while using them. People use fully automatic pistols during private paintball sessions.
Paintball Pistol Buying Guide 2022
Investing in a new paintball pistol is a great idea. It increases the accuracy and your efficiency. Interestingly if you are a beginner and planning to play paintball regularly, then we would suggest buying your own paintball pistol.
Here we have gathered some important considerations that you should keep in mind before investing in a paintball pistol.
Material of Pistol:
Usually, paintball markers are made up of three types of material. Every material has a considerable effect on the weight and durability of the gun.
Aluminum: It is one of the most commonly used material. Things that are made up of aluminum are comparatively light in weight same goes with an aluminum-made paintball pistol. Such pistols are not only light but are also affordable. Users have to compromise on the barrel quality as it feels so sturdy.
Stainless steel: paintball markers that are made up of stainless steel have got amazing durability and sturdiness. They can easily bear rough wear and tear. But the trade-off here is the weight of the pistol.
Carbon fiber material: well, when lightweight and durability is your concern, then carbon fiber paintball markers are the first choice. They are super easy to clean and maintain.
Weight of Paintball Pistol:
Weight is the most important consideration while buying a paintball marker. Of course, nobody wants to hold heavy equipment while playing as it affects the performance and comfort level of the players. So while investing in a paintball pistol, try to choose a lightweight model that weighs not more than 2-3 pounds.
Feed System:
Another crucial factor of the pistol is its feed system. The feed system controls the speed of the ball per second. Besides this, it also ensures smooth firing.
There are many different types of the feed system. Some feed systems are responsible for firing a higher number of balls per second. Whereas, some feed systems can fire only a few balls per second.
Therefore, it's a great idea to check the type of feed system first that matches perfectly with your needs and desire.
Position of Feed System:
The position of the feed system is also of utmost importance. Some pistols have an offset feed (horizontal feed) while some have centered feed (vertical feed). Vertical feed pistols can be used by both left-handed and right-handed users and it offers more balance. On the flip side, horizontal feed or offset feed pistols has a feed neck that is usually located on the right of the body. Let me tell you, horizontal feed is the most preferred type of feed amongst players.
Up Gradation of Pistol:
Young people love versatile and unique stuff that no one owns. Therefore, when you are buying a paintball marker, make sure it should have customizable features that you can customize or upgrade according to your need and league. Up-gradation saves your hard-earned money that you spend in buying a new model of paintball pistol. So it's better to access to advanced option and upgrade your marker rather than buying a new one.
FAQs:
Recommendations:
Choosing the best paintball pistol becomes a tough task especially when you have multiple options available in the market. Based on our experience and knowledge about paintball pistols, we have recommended some best of the best paintball pistols for you. Let's have a look.
Best .43 caliber paintball pistol
Lightweight pistol
Effective shooting range
8 shots magazine
OUR FIRST RUNNER-UP:

JT ER4 RTP
It's a semi-automatic pistol that accepts .68 caliber of ammo
Unique design with the vertical feed port
Lightweight Composite Construction.
With a protective paintball goggle system
Supports .50 caliber of ammo
Best for kids and backyard paintballers
Easy to load with no need for compressed gas
Shoots up to 100 feet
Conclusion:
Paintball is a fun-filled sport that becomes more enjoyable when you have the right paintball pistol in your hand. One cannot deny the fact that the process of choosing the best paintball pistol is quite hectic. That is the reason we have gone an extra mile and review some best paintball pistols. Still, if it's difficult for you, you can choose from our recommended products.