Paintball gear bags offer a hassle-free and safe way of transporting paintball equipment and other accessories. Not only that, you can keep your clothes and important belongings securely in the bag. There are many different types of paintball gear bags, like backpacks, roller bags, and duffle bags. But which one offers ample storage space and impact resistance? That's the weighted question.
For that sake, team paintballhub.com has researched, analyzed, and tested some paintball equipment bags so that you can select one best for you based on the type of your equipment and the environment you are going to play in. Here is a review of the nine best paintball gear bags that will help you find the top-rated paintball gear bag for your individual needs. We also have tips on what to look for in your next right paintball gear bag.
9 Best Paintball Gear Bags 2023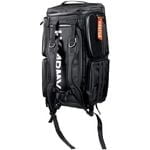 HK Army – Best Paintball Gear Bag
35L capacity
Expandable
Dual design gear bag
Planet Eclipse – Best Budget paintball gear bag
Holdall bag
Affordable
Best for beginners
OGIO – Best Cheap Gear Bag
130L
Multipurpose bag
100% Polyester
Virtue V4 – Paintball Equipment Bag
Lots of space
Waterproof
Durable
Fila – Affordable Gear Bag
Lightweight
Waterproof
With durable wheels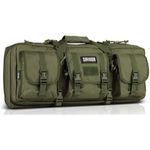 Savior – Paintball Bag
Ample space
Organizers to organize more equipment
Lots of pockets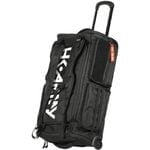 HK Army – Paintball backpack
75L
Expandable
With mole straps
Virtue Gambler – Best Gear Bag for Paintball
72L
Expandable
Lightweight
DYE – Paintball Rolling Bag
With tiny vents
Durable material
Breathable gear bag
1. HK Army Expand – Best Paintball Gear Bag
When it comes to quality paintball backpacks, HK Army is the brand that is there on the top. Meet the Expanded Gear bag from the house of the HK army. It is an approximately 35L bag, which is neither too big nor too small for paintballers.
We have tested the HK Army Expand Gear Bag on various paintball matches and our experience with it is super amazing. One of the distinguishing features of the HK army expand backpack is it is expandable. You can have 30% more space by expanding it from the bottom.
It's a dual design bag, which means you can carry it as a backpack and duffel bag as well.
It features a big compartment that has no divider so that you can freely keep your paintball gun, tank, and hopper inside the bag. Moreover, the HK Army Expand backpack has two front pockets with side cinch straps that allow you to store smaller things, like Allen keys. There's an elastic band at the top of each pocket, so you don't have to worry about your things falling out if you accidentally drop the paintball bag. Right above each pocket is a Molle area where you can attach pouches or Velcro straps for more storage. The interior of the backpack also has a padded area for storing your mask on one end and two mesh pockets for paintball barrels. These mesh pockets are spacious enough to accommodate 5 to 6 barrels easily.
Apart from this, for storing your mask, it has a microfiber-lined pocket that keeps your paintball goggles safe and protected.
In terms of space it's a nice bag indeed but what we felt is, its expandable section takes large space when you are not using it. So it's better to keep it open for more space.
Talking about straps, the shoulder straps are ergonomically designed and have enough padding that you can easily carry them without any discomfort. Not only is this one of the most affordable paintball gear bags, but it looks pretty stylish with a little bit of an edgy feel to it. However, if you like your paintball gear bags with a more delicate style and more traditional colors, don't worry – there are also 3 other color options available for you!
Pros
Durable and rugged bag
Spacious and enough roomy
Ergonomically designed shoulder straps
Waterproof YKK zippers
Cons
The expandable section takes more space when not in use
HK Army has launched one of the spacious and best paintball backpacks indeed. It is a great choice of bag for beginners and hobbyists who want to take all their essential paintball accessories on the field.
2. Planet Eclipse Tropical Skull – Best Budget Paintball Gear Bag
The Planet Eclipse Paintball Holdall Gear Bag is a rugged, durable, and duffel bag that's best suited for storing your necessities. Like most paintball gear bags, the Planet Eclipse paintball holdall is crafted from high-quality materials; in this case, 600D polyester lined with 210D polyester mesh and padded with 5mm of foam, with a smooth lining on the inside.
Planet Eclipse paintball bag can be a little misleading because, although it has plenty of room for your gear, there's no foam padding on the insides because of its super lightweight design. You can put your gun inside the larger compartment, but you'll need to make sure they aren't wet or muddy so they don't transfer into other parts of the bag. It's better to have them in a separate compartment since there isn't any protection from water or dirt. In fact, it doesn't have an inner lining nor is it waterproof. Avoid keeping your mask or paintball goggles inside the bag as it lacks lining. Instead, hang them outside via separates that are located on each side of the paintball bag for added ease. Finally, you can use a long strap when tucking away this snorkel bag if traveling by plane. This is a very durable model, but it provides less protection to your equipment because of no padding. Whatever, it is one of the light-weight paintball gear bags that we have ever come across. It's available in two prints that are sugar skull black and grit grey.
Pros
Small side pockets for keeping small things
Lightweight
Easy to carry
Spacious
Cons
No inner padding and inner lining
We have tested Planet Eclipse on a few paintball fields, but we didn't find it impressive except for the fact that it is light in weight and budget-friendly. You can use the Planet Eclipse Holdall paintball gear bag when you are carrying minimal stuff with you as it provides less protection.
3. OGIO Rig 9800 – Best Cheap Gear Bag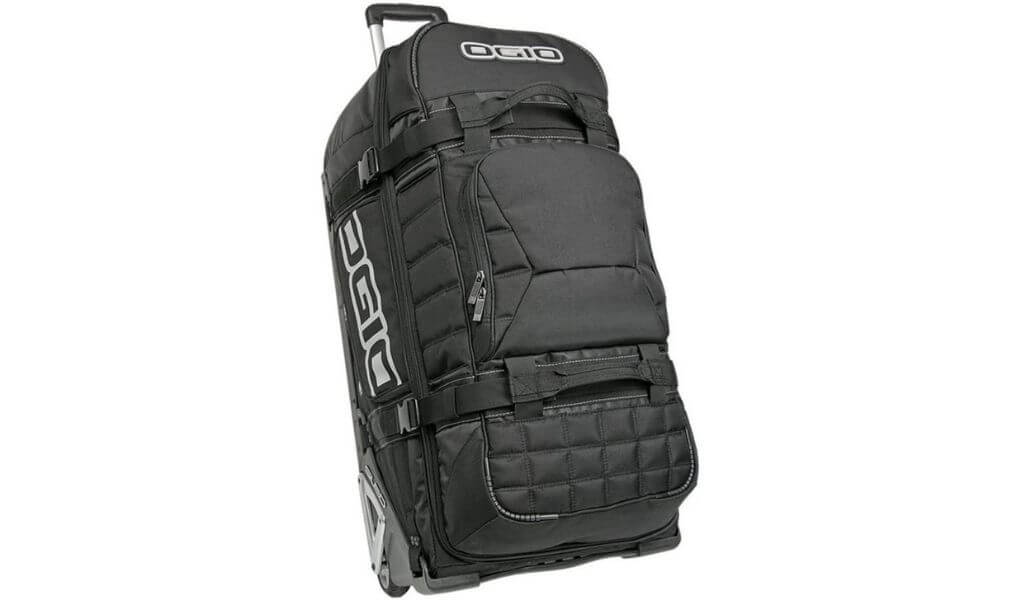 OGIO rig 9800 gear bag is a multipurpose bag. It is not meant to be used for paintball only; rather, you can carry it with you on your motorbike trips. It is a hand-carry styled bag that is made up of 100% polyester and has a capacity of 130L. So the size is pretty reasonable that you can easily carry your MagFed style paintball marker in it.
OGIO rig features a large compartment with a wide mouth lid opening so that you can easily access the internal components of the bag. The main compartment has additional internal organizers so that you can keep your stuffs in an organized way. The adjustable dividers allow you to customize the size of your bag to accommodate equipment of any shape and size. There are also two large side pockets, one additional pocket in the lid, and four smaller pockets.
For keeping your helmet safe and secure it has a helmet chamber that is padded to give complete protection.
With an oversized molded base and recessed heavyduty wheels, the OGIO Rig 9800 is engineered to stand up to the most rugged conditions. A structural load-equalizing deck keeps the bag stable irrespective of the terrain.
Since it's a rolled duffle bag, it features a handle to carry it which is of telescoping style, so that you can adjust the height of the handle according to your comfort level. OGIO rig 9800 provides a way to keep your stuff secure and protected, but it lacks a barrel pocket. But don't worry. You can carry them to the main compartment. Overall, it's a great paintball gear bag with nice features.
Pros
Heavy duty
Rugged and robust frame and base
Large compartment with adjustable dividers
Durable wheels
Ogio rig 9800 is a roomy and spacious paintball accessories bag that guarantees the safety and protection of your paintball equipment. A great choice for those players who travel for paintballing.
4. Virtue High Roller V4 – Paintball Equipment Bag
If you're looking to purchase a functional yet affordable paintball gear bag, we recommend the Virtue High Roller V4. This travel-friendly bag boasts a suspension system that supports the bag even when it's fully packed, making it stand out from other paintball gear bags. The Virtue High Roller V4 is an upgrade to their older model, the V2.
We have used it multiple times while carrying our paintball equipment for different paintball fields. When it comes to space, it has more room than its predecessor and plenty of external pockets, which are also easily accessible via zipper. And that's the reason it's there on our list of the best gear bags for paintball. The front compartment can be used as a goggle holder. But the goggle holder pocket is not too roomy. What we observe is that when we keep our mask in the goggle compartment, it takes a bit of space in the main compartment as well.
V4 has a dedicated compartment for keeping dirty clothes, which is right below the front compartment. So, your wet and muddy clothes remain separate and won't mess with other stuff.
On either side of the Virtue high roller bag, are additional convenient pockets for storing small items you may need daily.
Now, coming towards the very roomy main compartment. It can accommodate two paintball markers easily, along with hoppers and a gas tank. Inside the lid of the main compartment, there are a few pretty useful zipper pockets. We usually keep a barrel squeegee, regulator, and pods in it. All the pockets and compartments are lined with reinforced waterproof material.
Pros
So many pockets and handles to carry a bag
Heavy-duty and durable
With a waterproof interior lining
Separate compartment for goggles
Cons
Goggle compartment is small and congested
Virtue V4 high roller bag is a pretty spacious bag that is durable and extremely waterproof. It's a versatile bag that can also be used for other sports as well like golf.
5. Fila 7 Pocket – Affordable Gear Bag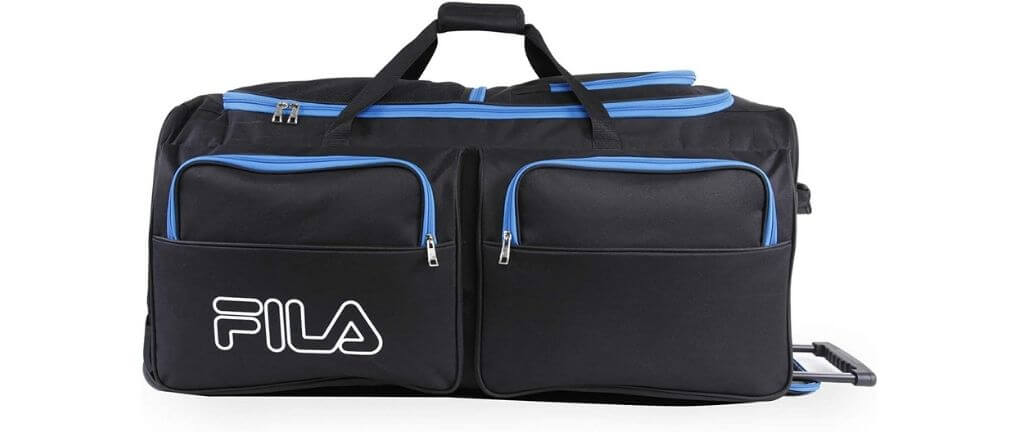 Fila offers a reliable and spacious wheeled duffle bag, which is one of the most affordable paintball gear bags in the market.
The bag is made up of 100% polyester with a water resistance coating all around the bag. The length of the bag is around 30 inches, which is pretty moderate for carrying important belongings on the field.
Fila paintball gear backpack features 7 pockets, which are quite roomy to accommodate your important stuff. Out of 7 pockets, 2 big pockets are there on the left side and 2 pockets are on the right side, whereas above the main compartment there are two pockets for keeping goggles and lenses. The best part is, all the pockets are internally lined with a water-resistant fabric to protect your stuff.
Our team has tested FILA paintball gear bag various times on various occasions and we second with the manufacturer that it is the most spacious and handy bag.
Last time, we kept Tippmann TMC MagFed gun in the main compartment and two HPA tanks. After that, there was enough space that you could easily keep two pouches of paintballs. The main compartment is spacious enough roomy. At the back lid of the main compartment, there is a mesh pocket where you can keep small things like Allen keys regulator and batteries for your MagFed gun.
Furthermore, it has in-line skate wheels, which are durable and rugged enough to be rolled on any surface. It's a duffle bag, but you can use it as a backpack also because of its padded straps that are zipped behind the panel. One drawback that we observed is, if you over-pack it, the bag doesn't stay stable on wheels as the stuff moves from side to side. The reason is, it lacks a frame as the other wheeled bags do.
Pros
Collapsible and lightweight
Durable zipper
Spacious pockets
Waterproof
Cons
Lacks frame, therefore, lacks stability
Just like other products of FILA, its gear bag is indeed a classy model. It has only 7 pockets, and all are enough padded to protect your belongings. No doubt, it's a great bag for beginner-level players.
6. Savior Equipment – Paintball bag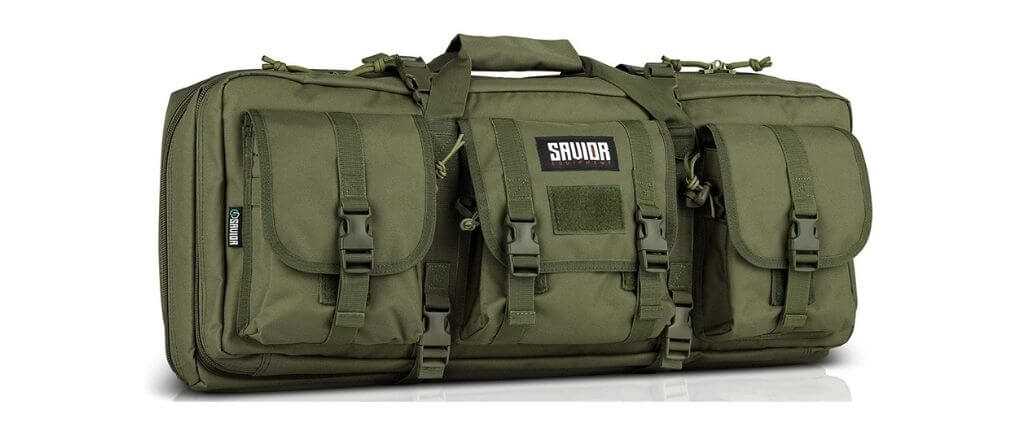 Usually, a conventional paintball gear bag of moderate size can accommodate only one Assault style rifle. You can stuff more than one assault-style rifle too but for this, you need to put safety and your peace of mind at stake.
Savior is the paintball gear bag that gives you peace of mind with safety, along with lots of space to carry two assault-style paintball rifles at a time. Mind you, it's not huge and bulky; rather it's a lightweight and compact bag that offers immense room for storage.
The distinguishing feature of the Savior paintball bag is it is equipped with a double rifle slot. Interestingly, both slots are divided with a removable and padded divider to protect your valuable markers from damage during travel. Both the slots have Velcro straps that you can fasten to give more protection.
You don't need to disassemble your gun while storing it, you can place it in their respective compartment as it is. Every slot has large padded sleeves for keeping pistols and small rifles. Our four members took Savior paintball gear bag to the woodsball field, and the surprising thing was, that we all kept all our equipment in this one bag. So in terms of space, it's awesome.
Talking about the exterior of the Savior paintball gear bag, here you will find three wide tactical pockets which are pretty spacious to hold magazines, Allen keys, regulators, and pods. These pockets are secured with Velcro straps and buckles.
In terms of durability Savior gear bag stands out the most. It is made up of 600D PVC nylon, which is of industrial grade. So no matter how roughly you handle it, the material won't be damaged at all.
Savior bag is available in three sizes that are 24" 28" and 32" inches and it has 6 amazing colors but Olive drab green is the nice one as it looks like a soldier bag.
While using the savior paintball gear bag I feel like if we overfill the front three pouch pocket, then the buckle straps can be extended to snap shut it. In my opinion, the buckle straps should be made up of stretchable material that you can extend it up to a certain limit when you overfill the pouch.
Pros
Paracord zipper to make the zippers anti-theft
Immense storage capacity
Made up of heavy-duty material
Padded compartments
Cons
Buckle straps on the front pocket don't extend
The Savior Equipment paintball marker bag is a great way to transport your heavy, bulky equipment stealthily so that nobody knows that part of your day will be spent playing paintball!
7. HK Army Expand Roller – Paintball backpack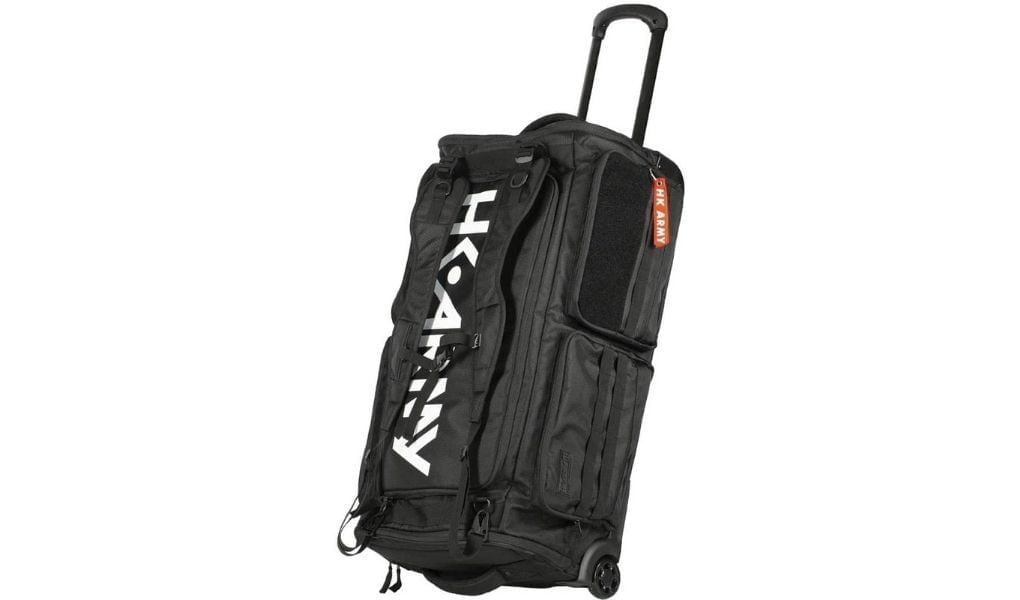 HK Army Expand is one of the best lines of the paintball gear bag. Here we have tested and reviewed another HK Army expandable bag, which is a roller gear bag.
It is comparatively larger than the HK Army Expandable Bag we have reviewed above, it has a capacity of about 75L which is more than enough to hold all the basic and necessary paintball accessories. Like other paintball gear bags of Expand series, it gives you 30% more space by expanding its bottom.
The bag has two pockets on each side, along with molle straps to allow you to attach more equipment. MOLLE stands for modular lightweight load-carrying equipment and is used for attaching additional pouches to expand the capabilities of your gear when out in the field.
For keeping your marker protected, the inside of the bag is fully padded with pockets inside. There are loops for holding barrels too. You can keep 5 barrels easily.
Interestingly, it has a dedicated pocket that is lined with micro-fiber for storing masks and goggles. The bottom part of the bag is expandable that gives you 30% more space when you have filled the bag to the fullest. Furthermore, for the comfort of its users, it features ergonomically designed shoulder straps that are padded enough that you can carry the bag comfortably on your shoulders.
When you want lots of space, HK army expand roller gear bag is a perfect choice, you can even expand its bottom section but one thing that is a bit strange here is, you cannot use the expandable section when you are rolling the bag on wheels. This expandable section is only useable when you are carrying a bag as a duffle bag or a backpack.
The wheel section is durably designed and built; the distance between the two rolling wheels is padded and covered with rugged plastic. For further support, there are two runners as well. Personally speaking, the HK army roller gear bag is best when you want to carry multiple paintball accessories.
Pros
Very spacious and roomy
Smooth and strong glide wheels
Waterproof YKK zippers
Padded shoulder straps
Cons
Expandable section is useless when rolling the bag
When your aim is to move with more equipment in less space and in an organized fashion, then the HK army expanded roller gear bag proves to be an appropriate paintball gear bag.
8. Virtue Gambler – Best Gear Bag for Paintball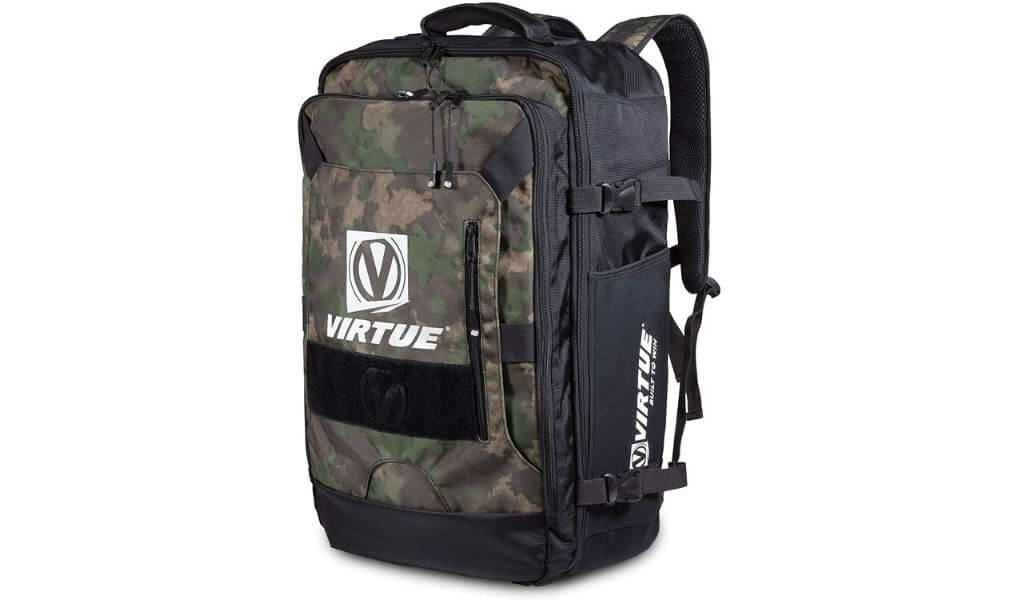 Virtue Gambler backpack has an impressive capacity of 72 liters. It is a backpack that has been designed with the paintball player in mind. It is made from high-density nylon and contains spacious compartments to store all your gear while keeping it organized.
It features a high-quality internal frame and padded back, high-quality storage and storage compartments, including the main compartment, side laser cut pouches for securely storing your valuables such as cell phones and wallets.
Apart from this, to keep you hydrated during the game, it has a separate hydration reservoir pocket for carrying water bottles. You can even keep pods in it. For keeping barrels, it has 8 barrel loops with padded sleeves. The main compartment is pretty spacious and padded that a MagFed style gun can be easily fit into it. It has a large zipped front pocket that you can use for keeping your messy clothes after the gameplay.
The cherry on the top, it has a highly convenient padded carrying handle at the top for easy transportation. Overall it's a great paintball gear backpack except for the fact that it doesn't have a separate compartment for lens and mask. Also, the interior is not waterproof.
Pros
Expandable main compartment
Weather resistant
Durable nylon zipper
Lightweight bag
Virtue Paintball Gear Backpack is a unique backpack, which has been designed keeping in mind the requirements of players. This backpack not only provides comfort to the player but also allows him to store his personal belongings.
9. DYE Discovery – Paintball Rolling Bag
So you want something compact yet spacious, then what about the Dye Paintball Discovery 1.5T paintball gear bag? It's not huge like the paintball gear bags we have reviewed before. But it's spacious enough to hold all your necessary items.
Let me tell you, according to the Dye, a 1.5T paintball rolling gear bag uses such material that can withstand harsh conditions easily.
We have used the Dye paintball gear bags for various recreational paintball trips and we like its simple and decent design. It is made up of 100% polyester Hex-Logic Rip-Stop fabric, which means if by chance your bag starts to tear, it won't extend. This way, it keeps the shape of the bag intact.
The main compartment is padded and has a few zippered pockets to keep your important stuff securely. There's a snap-on removable divider inside the big compartment to separate it into two halves if you like it. Otherwise, one big compartment is enough to store equipment.
On the top of a flap of the main compartment, there are three pockets. So in terms of pockets and storage DYE paintball gear bags are great indeed. But one flaw that we found is, it does not have any exterior pockets which are an important feature to get instant access to your important stuff like car keys, wallets.
Moreover, one of the inspiring features is the presence of tiny vent spaces on the sides. It improves air circulation and avoids any stingy smell in the bag. To make it easy to carry there are oversized rolling wheels and padded handles for comfortable movement.
Pros
Durable material
Removable dividers
Compact and spacious bag
With tiny vents
Cons
No exterior pockets
No compartment for mask
The DYE Paintball Discovery 1.5T Rolling Gear Bag is the ideal bag for any paintball enthusiast looking to bring all of their necessary gear with them on the road. The lightweight design makes it easy to transport, and experts agree that this may be one of the most compact paintball gear bags on our market today.
Buying Guide for Paintball Gear Bag
Style
When you plan to buy a paintball gear bag, you will find numerous varieties of bags like duffels, backpacks, or roller bags. Out of these, duffle bags are pretty easy to carry, and the best part is, they are very affordable. In contrast to this, backpack-style bags are also handy but they are perfect for people who travel a lot. Whereas, if you have to travel a lot, then roller bags with sturdy handles are a great option.
Capacity
When buying a paintball gear bag, one thing that one should keep at the top of the list is storage capacity. It is indeed one of the most important considerations. After all, it is imperative to provide sufficient space to include all your equipment and personal belongings while on the field. You need a large paintball gear bag if you're carrying long paintball guns or riffles.
Of course, if you spend a lot of time traveling to various locations where you get involved in regular paintball activities, make sure to choose oversized paintball gear bags, so that you can keep your essentials with you when you are on your trip.
Material
When you're considering a paintball bag, one thing is for certain: the importance of materials. First, you must consider what kind of material the bag is made from. Think about durability, sturdiness, and reliability concerning your needs with this piece of equipment.
Also, if you have any plans to go through the washing machine for a quick clean after playing paintball, then it's best to choose natural materials over synthetic ones, as natural ones are more breathable and able to handle high temperatures more easily than synthetics. It's always to look for a paintball gear bag with a mesh liner as it helps keep things cool on hot days as well as prevents a stinking smell. Bags such as Planet Eclipse Holdall paintball gear bags have an inner mesh lining that makes the bag breathable.
Storage Organization
It's important to check whether the bag has proper and organized storage space. Many paintball gear bags come equipped with a large main storage compartment with internal dividers, like Dye 1.5T, Ogio, and Savior paintball gear bags.
The main compartment should be big enough to hold a paintball mask, barrel, and tank, while the internal dividers allow you to further customize it by separating your smaller essential items such as goggles or extra tanks, hoppers, and masks into their own spaces. You should also look for external accessories like pockets. These provide added storage for quick access to smaller tools such as batteries or smartphones. Some bags even have loops or Molle webbing that are designed for holding attachments such as pods on your bag, like HK army expandable paintball gear bags.
Size
When purchasing a paintball gear bag, there are different sizes that you can choose from to suit your style of play. If you are a professional or frequent player, it may make sense for you to get an extra-large bag like HK Army Expandable Paintball Gear Bags. However, if you're just a beginner or occasional player, the smaller size should be enough for your needs, like Dye 1.5T rolling bag.
While the larger bags offer more space, they are also more expensive. So here again, it is crucial to match the proper bag with your needs as a paintball player, whether you're a beginning or advanced level player, and your degree of commitment each time about playing paintball.
Water Resistant
Always choose a paintball gear bag that is water-resistant like HK army or at least should have a water-resistant inner lining like Virtue V4 gear bag. No doubt it is highly crucial for the safety of your equipment and essential.
Weight of the Bag
The ease and convenience of carrying a bag is another important factor to consider. Paintball accessories are pretty heavy and on top of that if you carry a heavy bag, then how would you carry the bag with you along with paintball accessories. So a wise piece of advice is to look for a lightweight paintball gear bag.
Conclusion
When it comes to choosing the best paintball gear bags, there are a lot of things you need to consider. Space and convenience are two main factors when picking the perfect bag for your gear. Out of all the choices, we have picked three products that we think would be the most ideal for beginners.
HK Army – Best Paintball Gear Bags 2023 – When you want ample storage with superior protection
OGIO – Best Cheap Gear Bag – When you want a bag that you can use for traveling as well.
Virtue – Paintball Accessories Bag – When you want a waterproof bag with user-friendly ergonomics and padded shoulder straps.