Last Updated on May 5, 2022 by Jezus Fischer
Paintball pods are the gear that holds paintballs and give you instant access when you need to load them. They are not mandatory gear like paintballs and hoppers but with paintball pods your performance and focus on the game may increase. If you want to win your game then using proper paintball gear can help you.
Nobody wants to run out of ammo during the game or create a mess while filling hopper. They make hopper loading a breeze. The best paintball pod is made up of high-quality plastic with a spring-loaded lid that can be operated with thumb only. Here we have shared a few best paintball pods that are good locking paintball pods, capacious, and made up of durable material. We have thoroughly tested these pods and shared genuine reviews about them. I am pretty sure that after going through these reviews you would select the best paintball pod for your next tournament.
5 Best Paintball Pods Reviews
EDITOR'S CHOICE
NVirtue PF165 – Best Paintball Pods
Hold 20% more ammo
165 ammos
Press flick lid mechanism
A pack of 6 pods
PREMIUM PICK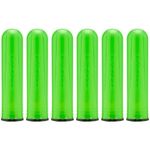 Dye Alpha – Paintball Pods
150 paintball ammo
Polypropylene material
Thumb tab on the lid
Pack of 6 pods
BUDGET PICK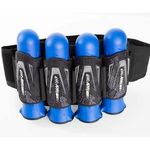 HK Army – Best Pods for Paintball
150 round capacity
Spring-loading mechanism
Pack of 6 pods
1. Virtue PF165 – Best Paintball Pods
When you want to go with fewer pods but more numbers of paintballs, then Virtue PF165 is the best paintball pod ever.
Virtue is a brand that all most all paintballers are aware of. Like mask, hopper, and other gears, Virtue has incorporated unique features in their pods too. Virtue PF165 is a pod that is of the same size as the standard pod. But it gives you the same capacity of 165 rounds as the other pods. They say that it can hold 20% more paintballs when compare with the standard pod. And that's true! Virtue PF 165 is a great choice of pod for those folks who want to stay light on the field but never want to get out of balls.
To give long-lasting durability, Virtue has manufactured PF165 with high-end and robust material that can withstand the harsh game situation.
While testing them, I noticed a unique credential that is the lid is equipped with a press flick mechanism. With this intuitive mechanism, you can easily unlock the flip even in urgency. The lid is very easy to open. One flaw that I found is, its lid opens up very easily and so it's easy to lose a pod. All in all, it's one of the best pods for paintball.
Pros
A pack of 6 pods
Nicely built
Spacious
Easy to open
2. Dye Alpha – Paintball Pods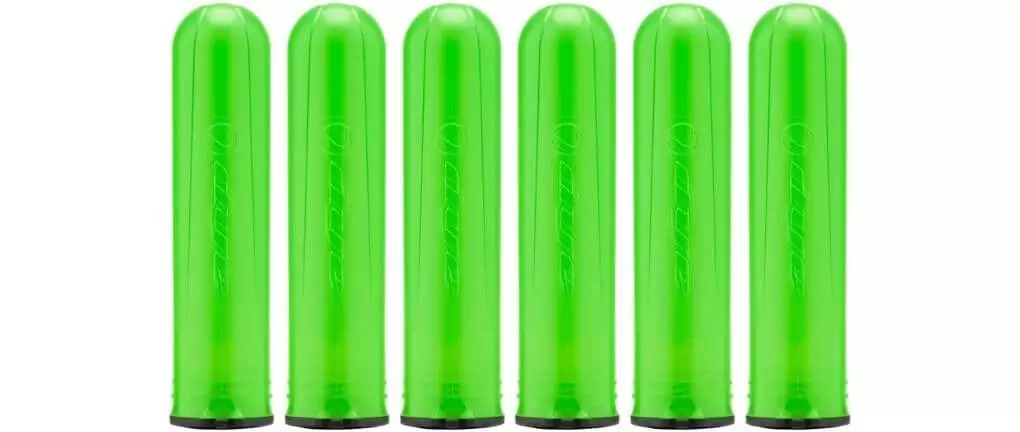 Dye Alpha pods are made up of rugged and robust material that is polypropylene, so its durability is not something to worry about. The capacity is pretty amazing which makes it suitable for beginner to moderate level players. 150 rounds are the stated capacity which may go up to 155 o 157 if you properly put ammo in the right way. If you don't hear the rattling noise, it means you have utilized the full capacity of the pod.
The best thing about the Dye Alpha pod is, they don't have any collar on the mouth of the pod. Therefore it keeps you stress-free about your paint spilling. Instead of this, you will see a snap lid that is firm enough and properly secures the ammo from spilling. The lid has a small thumb tab with a lifted lip, which facilitates the easy opening of the lid.
While testing the Dye Alpha pod I feel like its lid handle should be a bit wide and large, so that players can easily open it. When I try to open the pod with sweaty hands, it delays by a few seconds.


They are simple and elegant pods that have a minimalist feel. They are available in many colors like smoke red, baby blue, and others. Their durability and holding capacity make them a great paintball ammo holder.
Pros
Made up with strong material
Impressive capacity
Various color options
Cons
The lid handle is small, which is difficult to open with wet or sweaty hands
3. HK Army – Best Pods for Paintball
Well, instead of carrying many pods why not carry one larger pod. That's the statement of the manufacturer. HK army offers a pod that can hold up to 150 rounds of paintball. And I think, that's not a new thing to exaggerate. Many pods can hold a good amount of ammo.
But what makes the HK Army HSTL pod different from the other pods is its unique and innovative design. Made up using high-quality plastic that is polypropylene that guarantees long-lasting durability.
Its unique design features an advanced lid design with a spring-loading mechanism. Pods with such a mechanism are very handy and easy to use. They open up in just a snap during a heated battle. Besides this, thumb groove contour is also there on the lid which makes lid opening easier.
The overall design of the pod is such that it easily fits in your hand and you can open the lid with your thumb only. All standard harnesses can perfectly hold the HK army HSTL pod.
Pros
Spring-loaded lid
Innovatively design lid
Easy to handle
Available in many colors
Cons
With some harness, it may spill contents
4. Gen X – Locking Paintball Pods
Gen X paintball pods are the cheap paintball pods on my list. Talking about the capacity of the Gen X paintball ammo holder, it's about 140 rounds which is a sufficient amount for any beginner player. It's a mediocre-grade paintball pod that is equipped with a spring-loaded flip lid. Flip-top lids are the most reliable lid; it gives you quick access to paintballs. The size of Gen X pod is such that it fits perfectly into any standard harness.
Frankly speaking, the first look of Gen X is not so impressive. It looks kind of ugly but it's affordable and suitable for the recreational level of paintballers.
The reason for adding Gen X to our list of best paintball pod 2022 is its flip-top lid. It securely closes and doesn't pop. This way you are pretty much sure that you won't lose any paint on the field. One drawback is its durability is not reliable. It may break when mishandled.
Pros
Great capacity
Reliable lid
Best for recreational players
Cons
Prone to break
Appearance-wise not impressive
5. Maddog – Paintball Pods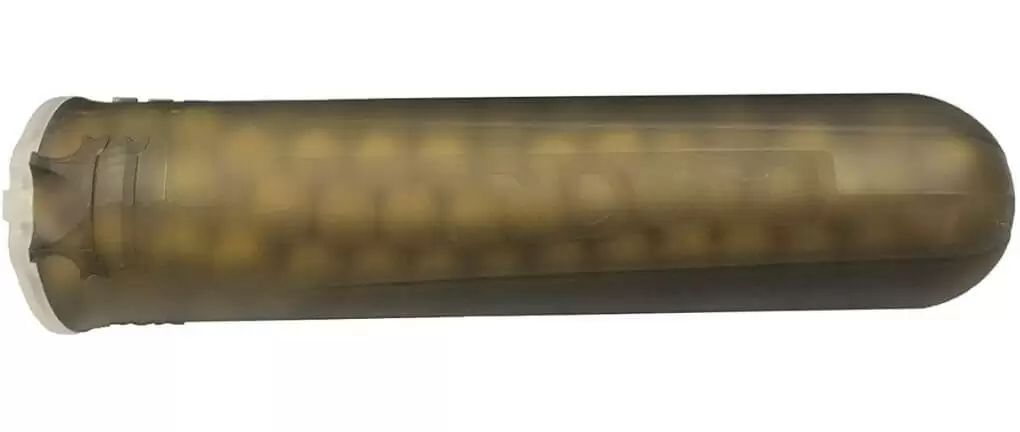 Maddog is not an old player paintball industry but it has gained popularity in a short period. Like Maddog mask, tanks and hoppers, its pods are of utmost durability. We are reviewing Maddog bone paintball pods which is the choice of the pod for experienced players. Maddog has used polypropylene to make the Bone pod durable and sturdy. The pod has gradually raised embossed bones that are meant for firm holding while opening.
When it comes to capacity it won't disappoint you as you can fill 150 rounds of paintball into it. Maddog makes you assure that you won't get out of paintball rounds during the game.
Maddog bone pod gives quick and easy access to the ammos. All thanks to its spring-loaded lid and indented thumb design on the lid. This keeps you relaxed that the lid will open quickly only when you want to open it.
It is available in numerous colors like white, smoke, lime, aqua, black. Maddog bone pods can fit easily in all standard paintball harnesses.
Pros
Capacious with durable material
Indented thumb on the lid
Gripping lines on the body
Paintball Pods Buying Guide
Paintball pods are the handiest and useful gear on the field. Buying a paintball pod is not a difficult task at all, since all brands have more or less the same paintball pod. But you should know what factors you would reflect on when selecting a paintball pod. Here is a brief and concise paintball pod buying guide;
How capacious the pod is:
The main purpose of the paintball pod is to carry and hold paintball ammo. Therefore, while looking for the best paintball pod, keep capacity in limelight. No matter how beginner or proficient you are, you always need a large supply of paintball ammo, so that you won't face any shortage during the battle.
Ideally, a paintball pod should have enough capacity that it can hold up to 140-150 ammo at a time. In my opinion, if you are a beginner player, 150 ammo would be more than enough for you. Whereas for proficient players there are paintball pods that can hold more than 160 ammo at a time.
How durable the pod is:
Paintball is a rough and tough game that involves creeping, crawling, falling, and whatnot. While buying a paintball pod or any paintball gear keep in mind that it has to face tough and harsh conditions. Nobody wants to buy the same pod again and again. Therefore it's best to invest one time that will last a long time.
Pods are made up of plastic that can be damaged easily. Nowadays manufacturers are focusing on using high-quality plastic that offers more durability. These models have a comparatively high price tag than the other ones. But once you buy them, they won't damage easily.
How easily the pod opens:
Suppose you are in a heated game and your hopper gets out of ammo. You want to fill it right away. The opponent is in your range. You take out the pod from the harness and open it. Oops! It doesn't. The opponent is moving slightly. You press the lid harder and end up spilling paintballs. And till then, the opponent has lost its position.
I know you don't want this. Therefore, always look for a pod that has a spring-loaded lid. That opens up instantly when you need it. This way you won't miss your target and easily fill the hopper just by one hand.
Also, make sure that the lid is not loose that it prematurely opens and falls all your useful ammo. No matter how expensive the pod you are using, if it doesn't have a spring-loaded lid, it's useless.
FAQs:
Conclusion:
Investing in a high-quality paintball pod is a decision you won't regret ever. It makes an enormous difference in your performance. You will have peace of mind that you will never run out of ammo no matter how long the game goes. If still, you are unable to decide the best paintball pod for your next game, then grab your hands on the Virtue PF165 paintball pod. It is smaller than the other pods but holds balls more than others. Indeed it's one of the best locking paintball pods.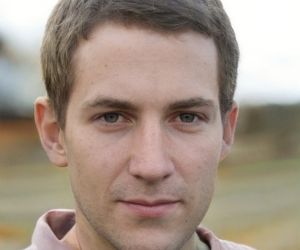 My name is Jezus Fischer, I am working full time on a paintball store and played all types of paintball games. Read more about me..