Last Updated on May 5, 2022 by Jezus Fischer
Paintball game is fun, fast, and full of adrenaline. Paintball is incomplete without a paintball marker. If you have been playing paintball with rented paintball markers for years, then it's high time to invest in your own fully automatic paintball marker.
Fully automatic paintball guns are faster than other paintball guns. In fact, they can fire at a maximum rate of 30 balls per second to 50 balls per second. These paintball guns also have an excellent firing range if you compare them with other paintball guns. So, if you are looking for a new paintball gun that you can use to defeat your opponent, try fully automatic paintball guns.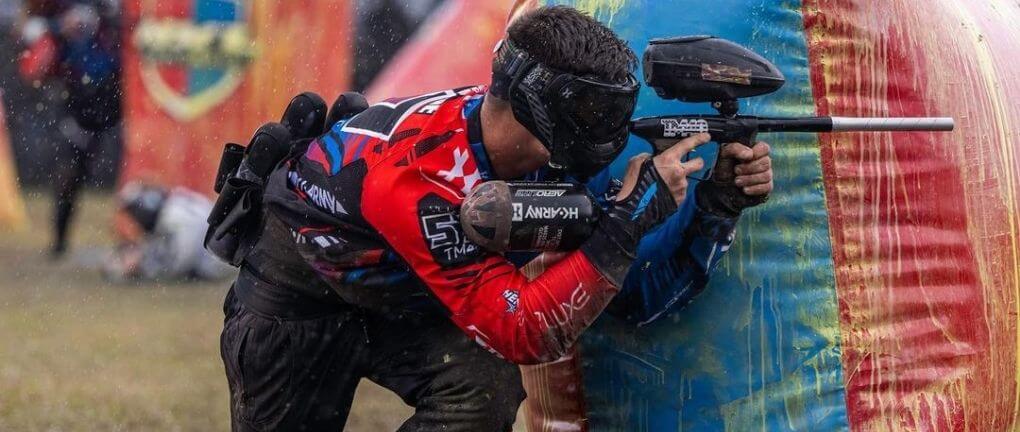 Paintball guns of whatever type are pretty hard to choose, since there are multiple options available in markets. That's why we decided to share some tried and tested electronic paintball markers that have a consistent and smooth firing rate. Let's check the Best Automatic Paintball Gun.
7 Best Fully Automatic Paintball Guns
IMAGE
PRODUCT
RATING
PRICE

EDITOR'S CHOICE

Tippmann Stryker XR1 – Best Automatic Paintball Gun

Low pressure spool valve design
Different firing mode
For professional players

Check on Amazon

Full Automatic

Empire SYX – Full Automatic Paintball Gun

Stylish and easy to carry
OLED board and screen
Tool-less maintenance

Check on Amazon

Metal Gun

Empire Axe 2.0 – Automatic Paintball Gun

Hose-less design
Impressive firing speed
Operates at low pressure

Check on Amazon

Long Barrel Gun

Dye Rize CZR – Best Electronic Paintball Gun

Compact and slim
With self cleaning system
Consistent firing rate

Check on Amazon

Endless Customization

Spyder – Semi Automatic Paintball Gun

Lightweight
Velocity adjuster
Air efficient marker

Check on Amazon

Complete Starter Package

Maddog – Semi Automatic Paintball Marker

Hose-less design
Vertical front fore grip
Best for beginners

Check on Amazon

with 14″ Barrel

Action Village – Full Automatic Paintball Marker

With five firing modes
With double finger trigger
More than 20 bps

Check on Amazon
Who doesn't know Tippmann? It's a house of quality paintball gears and when it comes to fully automatic paintball markers, Tippmann strikes the name first. The reason is its Stryker series that has numerous high-end electronic markers. Though all of them are best, but Stryker XR1 is of a next-level automatic paintball gun.
To make things easy and genuine for you, we tested Tippmann Stryker XR1 thoroughly on various speedball and woodsball games. It delivers awesome performance in every aspect. I would say you won't find any quietist and smoothest marker other than Tippmann Stryker XR1. It features a highly intelligent board that is fully programmable to shoot with different firing modes like burst, auto, semi-auto and ramping.
To make its performance quieter, Tippmann has incorporated a low-pressure spool valve design which is a great feature especially when you don't want your opponent that you are hiding behind them.
One thing that amazed us is its anti-chop break beam eye system. This system doesn't chop a single paintball during a tournament which I would say is its best feature. Apart from this, Tippmann Stryker XR1 is compatible with the majority of tournament-level paintball barrels because it has auto-cocker threaded.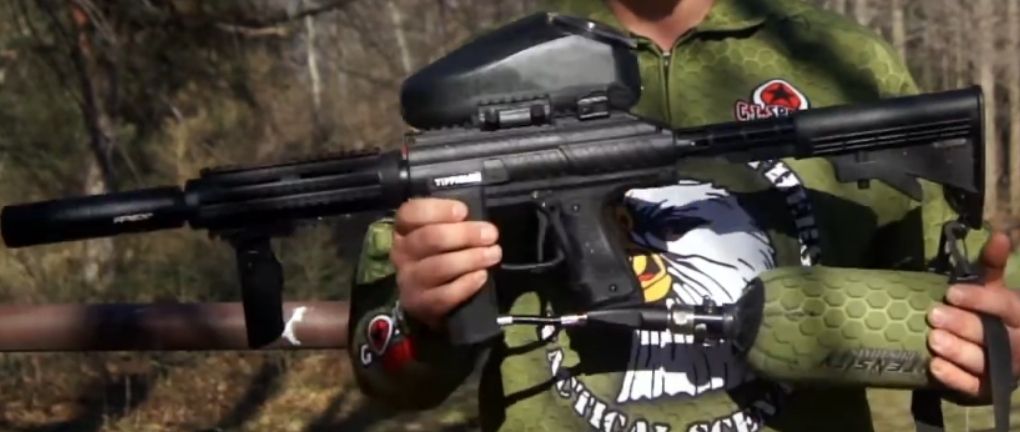 Tippmann Stryker XR1 is a gun specially designed for professional players. The adjustable telescoping shoulder stock lets you adjust the stock according to your comfort level. Everything about Tippmann Stryker XR1 is excellent; it's hard to find any flaw except the fact that its manual lacks clarity of information. Therefore, it will be a bit tricky for you to troubleshoot any problem that arises in the gun. Also we find it less gas efficient maybe it's because of the spool valve design.
Pros
Easy to handle as its light in weight
Highly customizable
Compatible with the majority of accessories
Cons
Information in the manual is not clear
Less gas efficient
Tippmann is a name everyone can trust and so Tippmann manufactures such amazing products to be trusted. XR1 is one of the lightweight and automatic guns in the Stryker series of Tippmann. It's a tournament-level gun with amazing features.
2. Empire SYX – Full Automatic Paintball Gun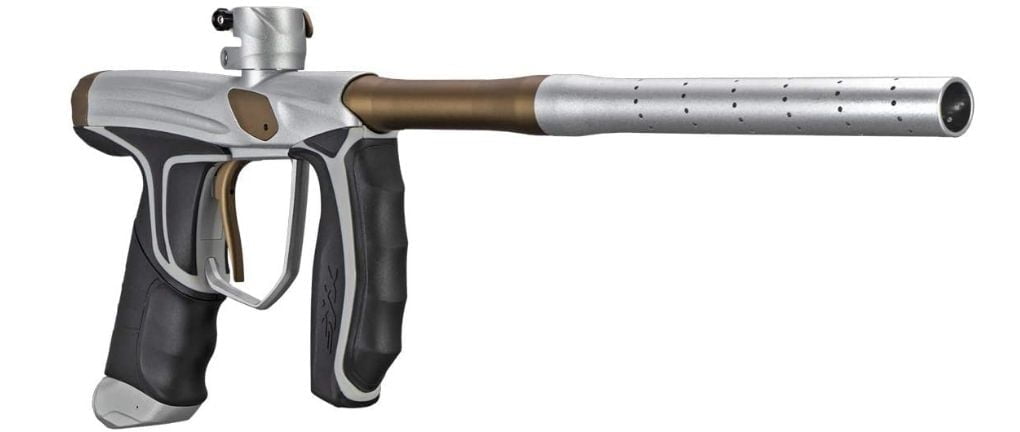 Empire SYX is the later version of Empire Axe and Mini-series, so it has incorporated all the features of AXE and Mini with great advancement. Empire SYX features a revised circuit board which makes its operation fully automatic. That's why we have listed it on our list of Best Automatic Paintball Markers.
While testing Empire SYX when we took it out from the box, its color and aesthetic proves that the design department had put great efforts into the aesthetic of this gun. It looks so stylish and comfortable.
The overall weight seems pretty light due to which you can easily carry it for the entire day on the paintball field. By testing it on different paintball fields we analyzed that Empire SYX is pretty different from Empire Axe in terms of performance. There have been lots of features that are advanced and improvised like the bolt system. Empire SYX has a very much improved bolt system than its previous model that is Empire Axe. In fact, the overall poppet design of Empire SYX is changed from AXE. Also, it features o-rings unlike the proprietary seal in AXE that increases the performance and gas efficiency of the gun. That's the reason Empire SYX is pricier than Empire AXE and mini. But its performance is worth the price.
Furthermore, you will get three barrels of different sizes along with the gun. It is equipped with a fully functional OLED board and OLED screen where you can check the settings of your gun.
I really like the ergonomics of Empire SYX. The battery compartment is located in the front foregrip and the best part is, it's completely tool-less. This is how you can easily replace the batteries without using tools during the game.
Moreover, the break beam anti-chop eye system and low-pressure operation are gentle enough on fragile paints. Without a single doubt in my heart, Empire SYX is one of the best automatic paintball gun that is meant for professional players. Mind you, the price tag and performance level don't allow it to be used by novice and beginner players. This is what we realized while testing it.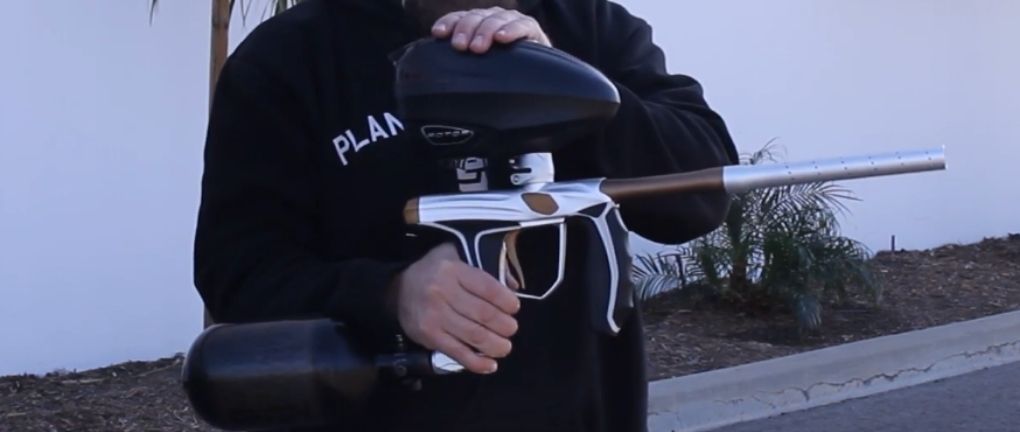 Pros
With improved features
Tool-less maintenance
Designed ergonomically to fit in all hands
Lightweight
With OLED board
Cons
Complex than other automatic guns therefore not recommended for beginner players
There is no harm in saying that Empire SYX is one of the best electronic paintball guns with high-end features. The lightweight and little recoil characteristics make it an ideal paintball gun for professional players.
3. Empire Axe 2.0 – Automatic Paintball Gun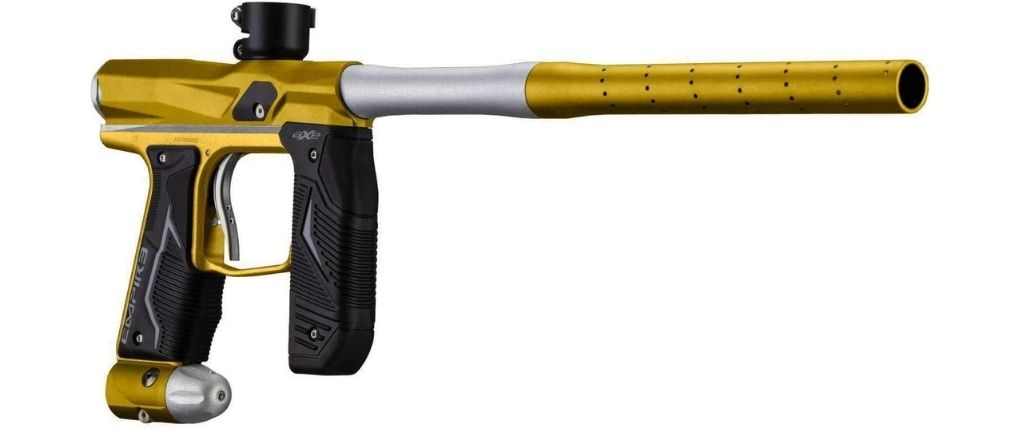 Next one on my list of best electronic paintball guns is again from the banner of Empire. But this time we have selected the younger brother of Empire SYX that is Empire AXE 2.0, which is still one of the best automatic paintball guns of Empire. It is comparatively less pricey than the Empire SYX, but Axe is widely used in tournaments and paintball leagues. This justifies the performance and features of Empire Axe.
Our acquaintances have used Empire Axe for scenario gameplays and they state that it is a nicely built gun that delivers shots with immense consistency and accuracy. It is a hoseless marker with an in-line bolt system which is a great addition as it minimizes chances of hose malfunctioning.
The main body of empire Axe 2.0 is made up of aluminum with internal components made up of metals. That's why Empire Axe 2.0 is called as one of the lightest automatic paintball guns. It is surprisingly 10% lighter than the Empire mini Gs and other previous models.
When it comes to consistency, Empire Axe doesn't disappoint its users at all as it features -+3 to -+5 on the Chrono that helps to maintain the firing consistency.
Furthermore, the two-piece barrel system makes cleaning an easy job. You can get access to internal components without using any extra tools. A big hand of applause for its push-button bolt removal system which makes cleaning an easy peasy job.
All in all Empire Axe 2.0 is a nice marker that operates at low pressure of 200psi which results in no chopped paintball. But we get to know one drawback that is, its feed neck design is a bit complicated when we compare it with the clamping feed neck design.

Pros
With auto-trigger option
Wrap-around engraved foregrip for better handling
Impressive firing speed of 290 FPS
Easy cleaning
Cons
Feed neck is a bit complicated to use
Empire Axe is one of the accurate, reliable, sturdy yet sleek, and compact paintball markers which has multiple firing modes to make your paintball match an adventurous one. Whether you are a beginner or a professional, this marker is the right choice.
4. Dye Rize CZR – Best Electronic Paintball Gun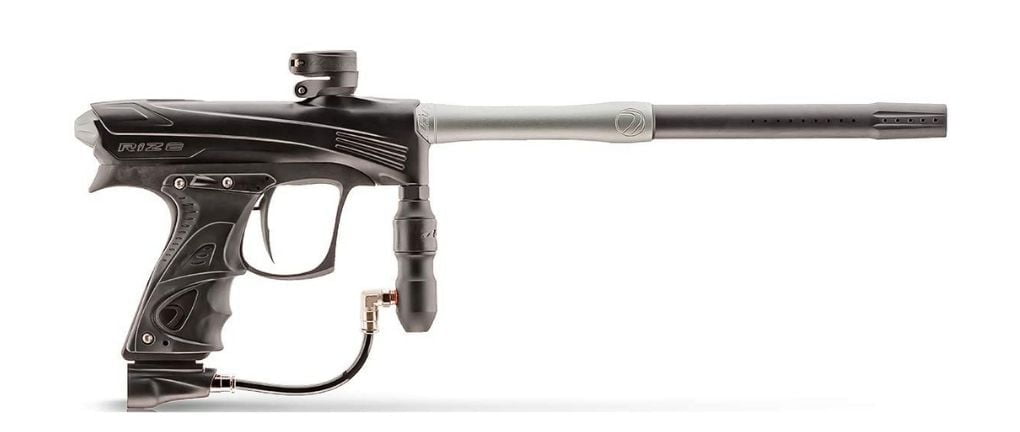 If you are in search of a fully automatic paintball marker the Dye Rize CZR is the bestest choice for you. It is basically a fusion of two mind-blowing guns of Dye. That is Dye Rize and Dye Rize MaXXed. In a way, you can say that in Dye Rize CZR you will get features of both these guns.
Let's talk about the performance of Dye Rize CZR. We tested Dye Rize CZR in multiple paintball tournaments and it delivered smooth and accurate shots with a consistent rate of firing. The first look and appearance are compact and slim and hence it fits perfectly into hands. it is made up of nylon which is a pretty durable material.
It is equipped with a Precision True Core two-piece barrel of 14". Two-piece barrels are pretty easy to clean and maintain. Also it's a 14" long barrel so if you want shots with great accuracy Dye Rize CZR will definitely help you. The dye lever lock adjustable clamping feed neck allows easier installation of the hopper on the gun.
Besides this, due to its internal bolt system Dye, Rize CZR produces low kickback and low sound and that's all because it operates on low pressure. Moreover, due to the internal anti-chop eye system, it hardly chops any paintball. This means you won't have to spend hours on cleaning the chopped paintballs from the barrel of the gun. Above all, Dye's 4th generation self-cleaning eye pipes make cleaning an easy job.
With all these amazing and innovative features, there is one drawback that makes Dye Rize CZR an outdated gun that is a macro-line hose. Actually, it's a great feature since it's a quick-release macro-line hose, you can access the hose line without any tool. But what bothers me is the macro-line hose is an outdated feature that the majority of the latest guns do not have. Anyways, DYE RIZE CZR is a nice marker especially if you are on a budget.
Pros
Hopper can be attached easily with its clamping feed neck
Hardly chops any paintball
Dye's Patented 4th generations self-cleaning system makes it easy to clean
Fully automatic paintball gun
Cons
Presence of macro-line makes it an outdated gun
Dye Rize CZR is a great automatic paintball marker especially when you want all the bells and whistles of high-end guns along with a low price tag. Performance-wise it won't disappoint you, no matter what paintball variant you are playing.
5. Spyder – Semi Automatic Paintball Gun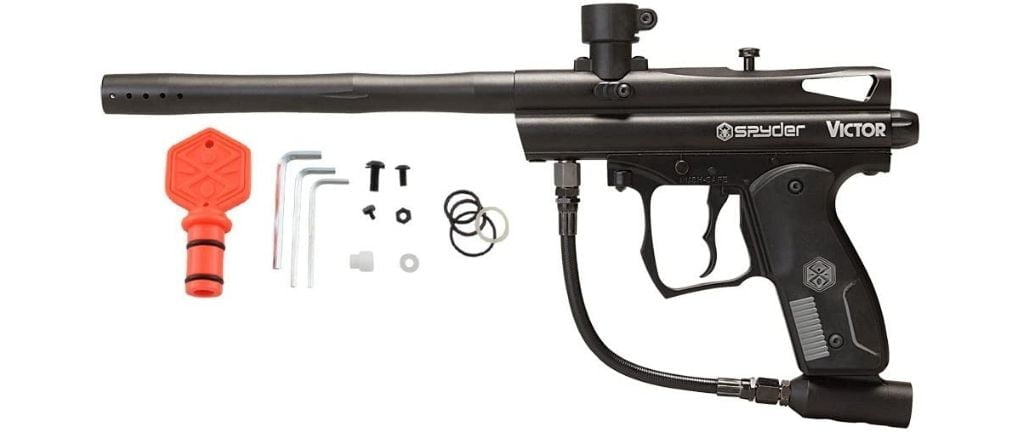 So if you are switching to upgrade to another level of gun then Kingman Spyder Victor Semi Automatic Paintball Marker may be a perfect fit for you. Spyder has been making paintball markers for 30 years so you can expect the durability and true performance it holds.
The body of the gun is made up of aluminum which makes it one of the lightweight paintball markers. It even weighs less than 2 pounds. The all-aluminum body has a classy matt finish, which gives Spyder victor a decent and elegant look. The grip panel is pretty hard which gives a better grip to the user. Clamping style polymer feed neck gives you the freedom to attach all kinds of hoppers to it.
Spyder victor is a semi-automatic paintball gun and the interesting part is you can upgrade it by installing an e-trigger frame. This is how it becomes a fully automatic gun. There is a velocity adjuster too which you can use to adjust the velocity of the gun as per the paintball field laws. You have the freedom to adjust velocity from 280 FPS to 350 FPS.
Spyder Victor was analyzed by our team on a heated and brutal speedball match where it delivers impressive shots. Since the Spyder Victor, we were using has an e-trigger frame and that's why we did not feel for a second that we are playing with a semi-automatic gun. The firing rate and accuracy are good enough that they won't disappoint you at all.
In terms of performance, Spyder Victor stays on top. You can add an electronic hopper as it will increase the overall performance of the marker.
One of the best parts about Spyder Victor is, it is a customizable gun. You are not limited by the options it has. You can customize it whenever you want. Just as we add an e-grip frame to make it a fully automatic gun. E-grip frame not only increases the performance of gun but also overcome the stiff trigger pull that was a drawback in our point of view. Anyhow, Spyder Victor is a low-budget entry-level marker that you can customize easily into an Impressive marker.
We called Spyder Victor an air-efficient marker since it has the unique technology of the Eko™ valve. This technology uses less amount of air so that you can enjoy maximum shots in a single CO2 or HPA tank.
Pros
Offers endless customization
Full aluminum body
With external velocity adjuster
A double finger trigger frame increases the rate of firing
Cons
Trigger pull is pretty stiff that can be overcome by using an e-trigger frame
Spyder Victor is a great entry-level marker and if you want to improve your speed and accuracy it's a marker that you can trust easily. The overall structure is pretty durable and above all, it offers unlimited customization.
6. Maddog – Semi Automatic Paintball Marker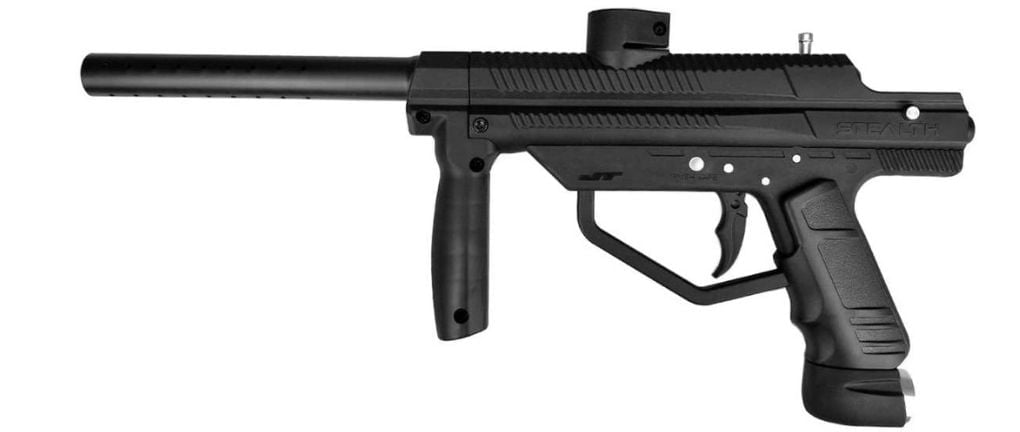 Maddog JT stealth paintball gun delivers impressive shots with great accuracy on the field. The first look of a gun is pretty different from the fully automatic gun. It is a lightweight paintball marker that is compact so that it fits perfectly on every player's hand.
The entire body of the gun is made up of polymer and that's why it doesn't have unnecessary weight. It features an ergonomically designed vertical foregrip which makes it comfortable to hold in hand. Also, holding the gun with one hand on the foregrip and another one on the trigger is the style of a true soldier.
When it comes to trigger, it features a double finger trigger which speeds up the firing rate. You cannot add an electronic grip frame with JT stealth. So customization options are pretty limited. Apart from this, it features an internal gas line which means you don't have to mess with the external gas hose pipe. Also, it reduces the chances of gas leakage.
The barrel is a ported style which reduces the loud noise of firing. It's a single-piece barrel but what we analyzed during testing is, it chops paintball. Since it's a single-piece barrel so it becomes pretty difficult to clean the barrel instantly after it has chopped paintballs. Sometimes the gun jams too which is so irritating especially when the game is heated.
JT stealth is an average-grade semi-automatic paintball marker. For beginners, it is the best choice of markers. But professional level players will not find it suitable for their taste and performance.
Pros
Hoseless design
Ported barrel which reduces the firing noise
Compact and lightweight design
Vertical front foregrip for a real soldier like style
Cons
JT stealth chops paintballs and may jam sometimes
In my opinion, JT stealth semi-automatic paintball marker is a gun that you could use just to enjoy the paintball game. If you want to play a paintball tournament then we will not recommend you to play with JT stealth. There are other high-end and professional-level paintball markers for tournaments in the market. JT stealth is a paintball marker that is meant to be used by beginners only.
7. Action Village – Full Automatic Paintball Marker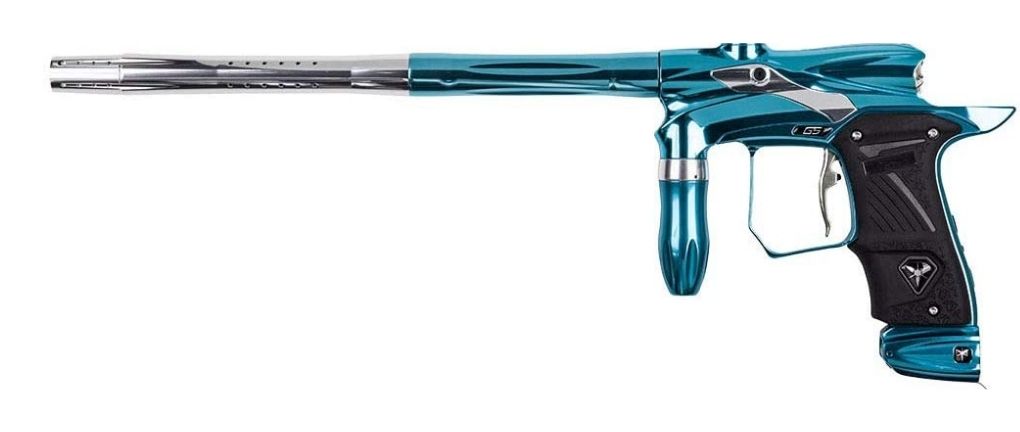 Action village Dangerous power G-5 spec R core is a type of gun that every beginner wants to grab. The build quality and aesthetics are simply amazing. It is made of lightweight but sturdy material that makes it one of the durable electro-pneumatic paintball guns.
Featuring a micro-switch blade trigger which makes shooting really fun. It has five different firing modes that are semi-auto, full-auto, ramp, burst, and tournament mode. Interestingly you can use these modes to dominate your opponent. Talking about the trigger design which is a double finger trigger that also facilitates rapid firing rate. The G-5 spec R core can fire more than 20 balls per second.
Like other Electro Pneumatic Markers, it lacks an external hose or piping. This not only makes cleaning an easy job but also there are fewer chances of gas leakage. The clamping style feed neck makes the attachment of the hopper an easy job.
As far as cleaning and maintenance of G5 are concerned it's a pretty easy task, unlike other fully automatic paintball guns. Thanks to its simple bolt assembly that makes cleaning the gun a walk in the park. Keep in mind that you will have to lubricate the bolt often, as it sticks and hinders the performance of the gun. Available in many different colors.
Pros
Electro-pneumatic gun
One of the lightweight paintball marker
With double finger trigger for rapid firing
20+ shots per second
Hose-less design
Cons
The single bolt system needs lubrication from time to time
Dangerous power G-5 Spec R core is an ideal paintball gun for beginners who want to try the joy of using a fully automatic marker. It is a lightweight marker so you can carry it with you all around the paintball field without any trouble.
Automatic Paintball Gun FAQs
Conclusion:
No matter what, you're going to have fun when you're playing professionally with fully automatic paintball markers. We hope the information we provided has been useful and that you can use it to find the best paintball gun for your needs. If still, you are reluctant to decide the best one, then we can help you. If you are a beginner-level player then choices are Empire Axe 2.0, JT stealth, and Dangerous power G-5 spec R core. These are considered as the best automatic paintball gun. Otherwise for professional players, Empire SYX and Tippmann Stryker XR1 are the best options.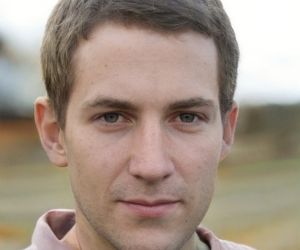 My name is Jezus Fischer, I am working full time on a paintball store and played all types of paintball games. Read more about me..