Every sport has its own dedicated attire. Footballers have to wear a jersey with shorts and stockings. The same goes for paintball. Paintballers have to wear a jersey with trousers to give maximum coverage to their bodies. But you cannot wear every kind of jersey for paintball.
Paintball apparel has its own kind of jersey which is soft, comfortable, padded, and gives superior protection besides being cool looking. Playing paintball can be quite dangerous; there is a lot of rough terrain that includes running, diving, sliding, and creeping, so it's necessary to make sure your body is protected.
When buying a padded paintball jersey, it's important to make sure you find one that suits your style and needs. Finding the Best Paintball Jersey can be a difficult endeavor. With so many options available on the internet, it's hard to know which sources are trustworthy and which paintball jerseys really represent good value for money. And since there are many choices out there, you need all the facts and details before making up your mind. That's where we come in! Here at thepaintballhub.com we have done all of your homework for you and found some of the best paintball jerseys on the market and are ready to share our findings with you! We have tested these paintball jerseys so that we can share our genuine review with you!
Top 5 Best Paintball Jerseys 2023
1. HK Army – Best Paintball Jersey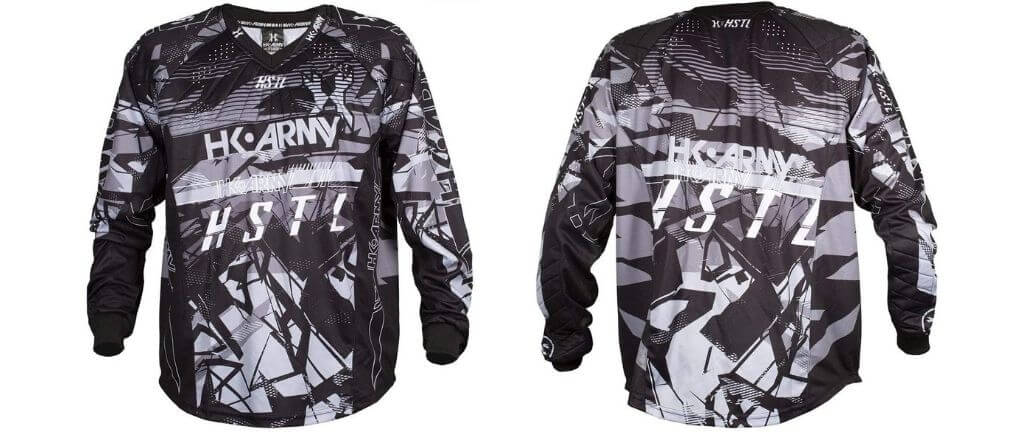 For every paintball gear, be it paintball gun or paintball jerseys, quality matters the most, after the performance. HK Army is one of the highly trusted brands when it comes to paintball gear. Like every other product of the HK army, their jerseys are of superior quality. HK Army HSTL Line is a new line of paintball jerseys that have amazing quality and comfortability. HSTL is a hand-sewn jersey that gives you long-lasting comfortability.
We have worn this HK army HSTL jersey on hundreds of paintball matches and every time we wear it, the comfort level is awesome. The fabric is so smooth and breathable and when you touch the fabric of the jersey with your hand, you will feel as if you have touched a piece of cloud, so soft and lightweight.
The V-neck collar is pretty wide. But it does not expose your neck and collar bone. It keeps you relaxed throughout the game.
One of the best things that makes HSTL paintball jerseys my favorite is their ventilated side panels. These panels, along with breathable material, keep you cool while paintballing in hot summers. HK HSTL is not just a simple jersey; rather, it is a jersey that gives you protection. It features a padded zone that is located on the chest, shoulders, and elbow. But what we analyzed while wearing the HK ARMY HSTL paintball jersey is, that there is not enough padding to give complete protection.
Pros
Thin and durable fabric
Sublimated graphics on each shirt
Breathable material
Cons
Very lightly padded chest, shoulders, and elbow
All in all HK army HSTL is a great padded paintball jersey that keeps you cool and comfortable on the paintball field.
The next one on my list of best paintball jerseys for 2023 is from the banner of social paintball which manufactures top-notch quality paintball gear and accessories that include gloves, harnesses, pants, and paintball jerseys.
Social paintball SMPL jersey is a suite-style purple color jersey that makes you look stylish even with paint on your face and body. The jersey is nicely designed using breathable and lightweight material. The stitching style is a loose fit that keeps you cool and relaxed on the field.
We have tested and worn this shirt in many paintball matches in summers and we were amazed by its full mesh back. After researching many other sportswear brands, we realized that Social paintball SMPL is the first paintball jersey that has full-back mesh.
So you can expect how cool you will remain during paintballing in the summers. Apart from this, for extra venting and breathability, there are underarm panels. This way you remain cool and relaxed during your paintball match.
To give SMPL cool paintball jersey a perfect fit, it has cuffs with thumb holes, so that the sleeves fit perfectly and you don't have to mess around with your sleeves during the game. But these thumbhole style semi-hand gloves are quite thin that they don't give full protection to hands. Also, you cannot remove them so if you don't like to wear these stitched gloves you have to bear them.
Pros
Exceptionally ventilated
With thumbhole cuff
Lightweight and soft material
Cons
Stitched gloves are of cheap and thin fabric that do not protect hands
It's not just comfortable and breathable, but it's also an amazing design that's both functional and stylish. The fabric is nice and lightweight, making it ideal for a day out on the field, but it's also durable enough to withstand a lot of use and abuse.
Planet Eclipse is an old player in the business of paintball gears and accessories. They identify the needs and requirements of paintballers and design a jersey accordingly. Players want to wear something that is as light as feather and stay comfortable so that they can focus on the game more deeply.
Keeping in mind the needs of players, the Planet Eclipse Launch HDE camo jersey is the true example of perfect paintball apparel. HDE camo is made up of 100% polyster which is so light in weight that you will doubt whether you are wearing something or not. The fabric is not just an ordinary polyester, but Planet Eclipse's unique Anti-snag material that won't pluck or snag no matter how harshly you use it.
This is the feature that we admire the most since paintballers have to crawl or creep on the terrain which damages their paintball uniform. But if you have a planet eclipse HDE camo jersey on your body, stay relaxed it won't tear at all.
HDE camo has a few places for patch placement: one on the chest, back, and arms. This way, you can rep your team. We used HDE cam paintball jerseys for a paintball tournament where we added team names to the jerseys for a small fee. This was a great addition. But what we felt, was that you can't change the position of patches. Like if someone wants the team name right on the chest, he can't! You are bound to place the patch at a fixed point.
The low-profile arm zipper pockets are quite handy, you can keep your small stuff in it like Allen keys that you may require on the paintball field.
Pros
Camo colors look cool
With Velcro patches
Anti-snag material
Cons
You can't change the position of the patch
This is a great jersey; it's comfortable and very breathable. Indeed it's best for enthusiastic and passionate paintballers who play at a serious level.
4. Sigma Sports – Padded Paintball Shirt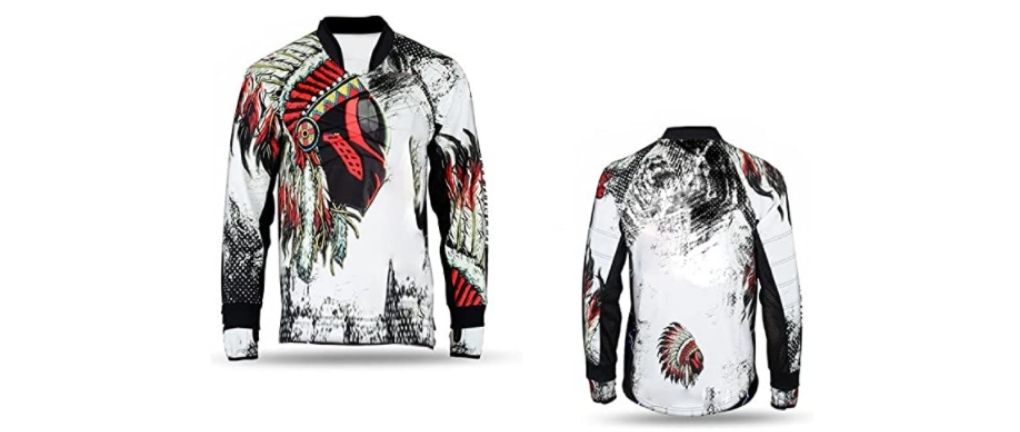 If you are looking for one of the best padded paintball jerseys, then Sigma sports is the brand you can trust easily. Sigma sports Nexo long sleeve jersey is one of the frequently used jerseys at paintball matches. The comfort level it offers is simply exceptional, but we are fans of its padding.
The padded zones are located on the torso, shoulders, and elbows, which give complete protection against paintball. Unlike other paintball jerseys, Sigma Sports uses soft material for padding that does not bother the players.
The fabric of the Nexo long sleeve shirt is pretty lightweight and, above all, it's breathable. So, no matter how high the temperature is, the Nexo jersey will keep you cool. The cherry on the top is its netback, which keeps you well ventilated throughout the game. There are ventilated side panels too, to keep you cool and relaxed.
We have tested the Nexo long sleeve jersey in various paintball matches and, as stated earlier we love its padding and comfortability. Not only this, the amount of breathability it offers is simply perfect. We played approximately 15 matches, and after every match, we washed it. What we analyzed, is that even after the 15th wash, its sublimated graphic color remains the same as new. It is available in many sizes ranging from small to 8XL, but you have to choose your size very carefully as every size is pretty loose and bulky.
The overall design is pretty nice; it has a fitted neckline that protects your neck and collar bone. With the help of ribbed cuffs, the jersey gets fitted in a position. Therefore, you don't have to roll up your long sleeves while playing.
Pros
You can wash it freely in the machine
Very well ventilated and breathable fabric
High-density sublimated graphics
With padded zones
Cons
Sizes are loose and bulky
Sigma Sports Nexo jersey is lightweight and super comfortable. The side panels have only meshed so they don't add any weight. Ribbed cuffs sleeves give a perfect fitted style.
5. Tacvasen – Best Paintball Uniforms
Tacvasen is one of the most favorite sports clothing brands which is known for high quality and affordable products. This jersey from the house of Tacvasen is a military-style jersey that is simple and elegant. So if you are a sophisticated kind of person, Tacvasen military tactical jersey will be a suitable choice for you.
Unlike other jerseys that we have reviewed, it is not made up of 100% polyester. Rather the material of Tacvasen is a mixture of polyester and cotton. The biggest advantage of the cotton-polyester blend is you don't need to iron the shirt as it makes the shirt wrinkle-free.
Also, since it has polyester, you can expect it to be breathable. As per the manufacturer's claim Tacvasen military-style jersey is breathable and windproof.
What we analyzed after wearing this jersey in a couple of paintball matches is, it's not as breathable as a sports shirt should be. So those folks who sweat a lot, Tacvasen jersey will not be a good option for them. Also, it is not padded at all. That's why we don't think it's suitable for a paintball tournament. But for recreational paintballing, you can wear it.
Coming towards its designing part, it features raglan cut sleeves which besides adding style to the jersey, improves the range of motion. The neck style is pretty different from the usual paintball jersey. It has a zipped collar neck that makes it easy to wear up. Also, the ¼ zip front collar gives complete protection to your neck and back of the neck as it surrounds your neck just like a high-neck do.
The sleeves are long and have loop-adjusted cuffs that give superior protection to the hands against paintball and cruel sunlight. Tacvasen Military style paintball jersey is considered the best paintball uniform because of its army-like print. It goes perfectly well with army-style cargo pants.
Pros
Wrinkle-free jersey
Zipped collar gives complete protection
Protects neck and arm from sunlight and paintball
Cons
Not padded
Not Breathable
This Tacvasen paintball jersey is comfortable and looks great. It is made of a polyester-cotton blend fabric that is soft and stretchy. The stitching is strong and assures no damage at all. Overall, best for beginners or recreational players.
Conclusion
We hope our reviews about paintball jerseys will be pretty helpful for you. Playing paintball can be a great way to build teamwork and have fun with your friends and coworkers! The paintball jersey that you choose can have a significant impact on the experience that you will have, so it is important to choose a high-quality jersey that is comfortable, durable and will last.