Are you planning to go to play paintball this weekend and wondering how much does it cost to go paintballing? This blog entry aims to answer this very question.
The cost of paintball depends on how much you are willing to pay. Like any sport, paintball has a low initial cost, which gradually increases when you start playing more.
Usually, paintball is played for a specific period of time in an arena or field that is privately owned. The field fees range from 10-$25 depending on the location and season.
If you are trying out for the first time, renting the paintball equipment for the day seems a plausible option, especially for one-time activity. This will cost you around $30.
And if you decide that paintball is a sport for you and wish to buy your own gear, you will have to spend around $200 to get the most basic item. You can spend a lot on paintball, but only you decide how much you're willing to spend.
Continue reading if you want to know how expensive paintball can be.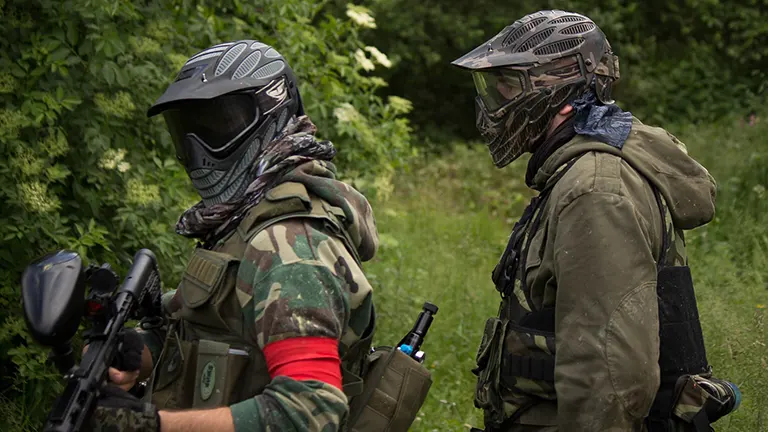 How Much is Paintballing: Cost Overview
Paintball can be an expensive sport for someone who has just started out and plans to play more often. In order to make this easier to understand, I have broken down paintball expenses into two categories: gear purchases and equipment rentals.
Here are these categories:
Cost of Paintball Gear Purchase
Before discussing the prices, let's first look at what you need to have for a paintball game. You will need a paintball gun, paintballs, Paintball mask, Paintball hoppers, and CO2 tank.
Now, let's see how much each of these paintball items costs.
Paintball Gun
The most basic and cheapest paintball pump will cost you around $30. For a full-automatic or mechanical gun, you'll have to pay $70 to $100. If you want the best paintball gun that is accurate and reliable, it can cost you as much as $2000. Further, you can customize your paintball guns by adding upgrades, increasing costs.
Paintballs
The paintballs are not one-time purchases like guns, masks, or hoppers. You have to buy paintballs for every game. The cost of paintballs depends on the paintball size, quality, where you buy them, and how often you use them. You can get a paintball box of 2000 rounds at about $30. These paintballs have poor quality. In the paintball tournament, high-grade paintballs are used, which cost $80 for 2000 rounds.
Masks
Masks are essential gear for paintball players. The price of the paintball mask varies depending on the quality of the mask. Masks can be purchased for anywhere from $20 to $200.
Hoppers
Hoppers are cheap, and you can buy one for just $5. For high-end paintball guns, you can get a motorized hopper. For instance, Dye LT-R Electronic Paintball Loader costs around $100.
Paintball Tank
The best paintball tanks are those that provide high air pressure. You have two options for selecting the propellant to shoot the paintballs: CO2 or compressed air (HPA) tanks. Compared to HPA, CO2 tanks are the most common and relatively cheap. The paintball tank refilling cost is around $3-$6, regardless of tank type.
Paintball Field Fees
Professional paintball places offer the best competitive environment. Depending on where you live, they will charge you around $10-$25. You can get a fee reduction if you are a member of a paintball
Cost of Renting Paintball Equipment
If you are just trying out paintball, it is best to rent equipment from the establishment rather than buying. You will generally pay a minimum of $30 for an entry-level gun, safety goggles, tank, some paintballs, and entrance fees.
How Much Is Paintballing Per Person
The paintballing cost varies depending on whether it's a one-time or ongoing activity. If you choose to rent the equipment, it will cost $30 per person with the most basic equipment and an hour's worth of ammo. On the other hand, the initial cost will be greater if you choose to buy high-end paintballing gear.
How Many Paintballs Do I Need?
It is one of the most frequently asked questions. How many paintballs you will use depends on you and your playing style. You will use more paint if you are an aggressive player. Additionally, your paintball gun determines how much ammo you will consume.
Typically, a hopper holds 200-300 paintballs. And if you have a full-auto paintball gun, it can fire 15-20 pellets per second, thus, increasing paintball usage.
The paintballs are available in packs of 500, 1000, and 2000. It takes an average player an hour to use 200 paintballs if you play aggressively. So, if you have a paintbox of 1000 rounds, these will be sufficient for four or five hours.
Most paintball sessions last approximately 2 hours, so a pack of 500 paintballs will be enough for a day.
How Much Is A Paintball Birthday Party?
Paintball birthday parties are quite common these days. Many paintball companies offer special packages for the event. Normally, a more basic package for the birthday party starts somewhere from $200 and goes up to $400, depending on your location.
How Many Paintballs Do I Need For A Full Day
The average player uses approximately 100 to 150 paintballs per hour. Therefore, a 2-hour game will require at least 200 to 300 paintballs.
Is Paintball Worth It?
You'll experience thrills and excitement that you've never had before when you play paintball. You won't regret spending your money. Know why paintball is fun in this blog.
If you plan to try out paintball this weekend, we've provided you with a list of the necessary expenses. Happy paintballing!