Best Paintball Mask 2023 – Exceptionally Breathable and Comfortable
Getting injured while playing a heated paintball game is a common scenario, especially when you are not using proper protective gear. You dive, crawl, and bump your head into any object that's totally normal. Luckily, paintball masks are the biggest survivors. They not only protect you from injuries but give you the confidence to play with full passion.
A good paintball mask must offer great breathability and maximum comfort so that paintballers can focus only on the game. Well, there are many best paintball masks available in the market, but finding the one that is reliable, genuine, and durable to use is a tedious job. Many sub-standard masks are being sold as the best one. Therefore, it's an essential task to deeply check out the paintball mask reviews before purchasing. Here we have compiled some of the best paintball masks of 2023 that are not only genuine but also reliable and offer exceptional performance.
10 Best Anti Fog Paintball Masks 2023
IMAGE
PRODUCT
FEATURES
PRICE

TOP PICK

Dye i5 Paintball Mask

eVOKE air sync system
290 degree field of vision
POV mount camera

Check on Amazon

For Pros

Empire EVS Pro Paintball Masks

270 degree field of vision
Tool less lens replacement
Triple density foam padding

Check on Amazon

EDITOR'S CHOICE

Virtue VIO Thermal Paintball Mask

Enhanced visibility with VIO lens technology
3D molded foam ProPad
Highly breathable mask

Check on Amazon

HELMET WITH FAN

Outgeek M50 Mask with Fan

Dual filters around mouth
With fans to reduce fogging
Made up of hard plastic

Check on Amazon

BADASS MASK

HK Army Paintball Masks

PVT lock quick change lens system
Compressed EVA foam ear piece
With three different foam layers

Check on Amazon

EDITOR'S CHOICE

Dye Precision I4 cool Looking Paintball Mask

Low profile mask
Patented multi directional venting
Compressed ear pads

Check on Amazon

FULLY COMFORTABLE

Dye I4 Breathable Paintball Mask

Bounce flex zones
Virtue VIO lens technology
Best breathable mask

Check on Amazon

DUAL PANE MASK

Virtue VIO Contour Fog Proof Mask

Virtue VIO lens technology
ProPaddding
Glass friendly mask

Check on Amazon

BEST BUDGETED MASK

Valken MI-7 Cheap Paintball Mask

260 degree horizontal and 160-degree vertical visibility
Optimized sculpted visor
Best for beginners

Check on Amazon

PAINTBALL HELMET

LEJUNJIE PJ mask for large heads

Paintball mask with helmet
Military-style mask
Best for big head players

Check on Amazon
1. Dye i5 – Best Paintball Mask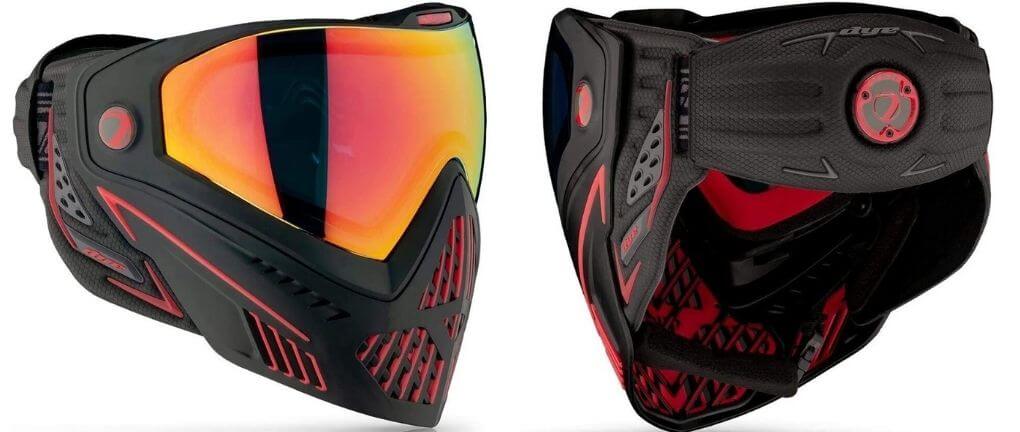 If you are a type of paintballer that is more into technology, then the Dye i5 would be one of the best paintball helmets/masks. It is equipped with unique features and the latest technology that you will love for sure.
The first and foremost thing that you will feel about Dyei5 is the soft and multi-layered inner foam padding. It is highly absorbent and quickly absorbs sweat. And this is the reason it is hard to fog up. The foam is replaceable. After a few matches, you can replace it with new snap-on foam padding.
The GSR Pro strap is a great addition to the Dye i5, which gives a comfortable and secure fit. It even holds your face without any disturbance so that you can focus on your game. Above all, players can easily adjust their ratchet-type straps with a single hand. I have personally experienced the comfort level of the GSR Pro Strap. It's something out of this world.
Passionate players call Dye i5 one of the best masks for paintball, and the reason is its compatibility with technology. It features the eVOKE wireless air sync system that gives you automated audio alerts to keep you active in the game and it is the biggest reason people prefer the Dye i5 paintball mask.
Apart from this, you can capture your every move on the game via its POV mount, where you can gopro mount and record your thrilling paintball game.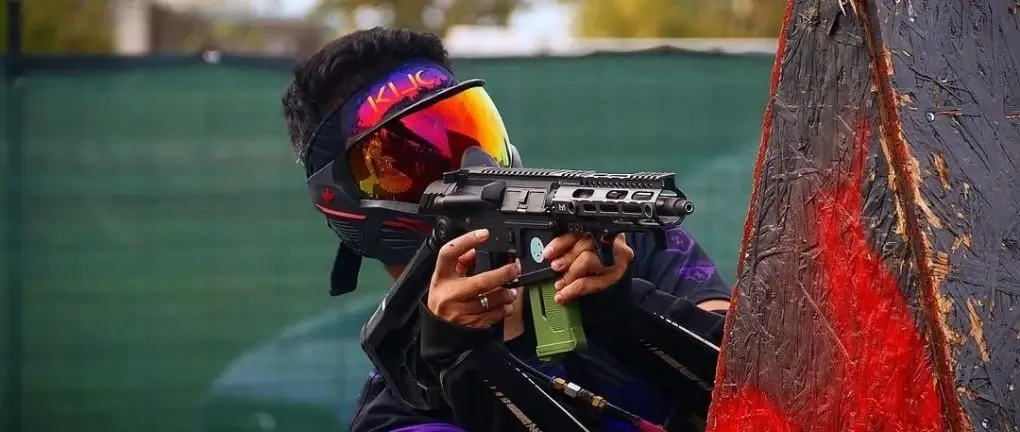 Dye i5 is outfitted with one of the best lenses in town. It comes with an anti-fog dyetanium lens that can be replaced quickly without any effort. Since it's a dyetanium lens, so it is going to protect your eyes from harmful UV rays. The lens gives an amazing peripheral vision of about 290 degrees with high optical clarity. It has got about 30% larger peripheral visions than its previous model.
It gives complete face coverage to paintballers along with ear padding. Dye i5 is one of the ASTM certified paintball masks. Well reviewing Dye i5 is a pretty difficult task as there is so much good and positive to talk about it with no cons, except its price. We won't consider it as a con; because the features and specifications, you will get in Dye i5 completely justify its price.
Pros
Anatomically designed to fit the paintballers
Best for big heads
It dissipates heat and moisture
No voice muffing
With ear padding
eVOKE and POV mount system
Cons
Dye i5 is one of the flawless paintball masks which gives superior comfort and breathability. It is almost impossible for anyone to lodge any bad review about dye i5 as it is so perfect. But I think it's too pricey.
2. Empire EVS – Good Paintball Mask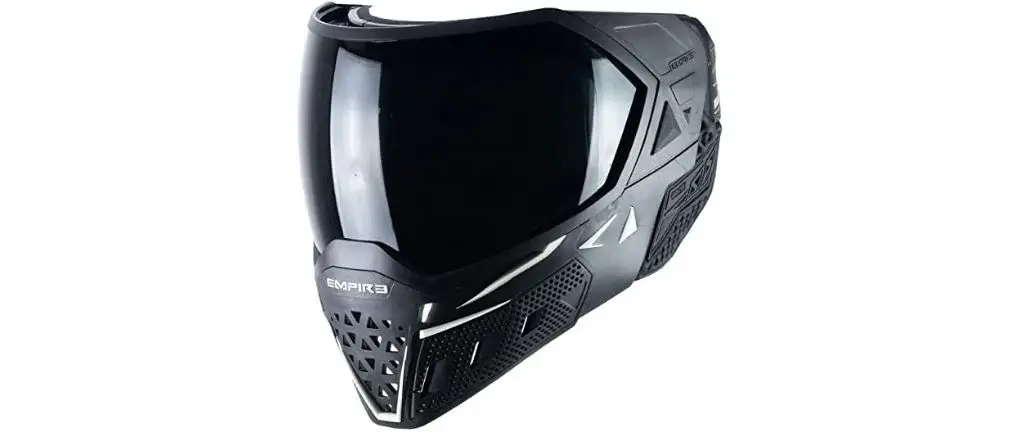 Empire is a trustworthy name that is popular because of its quality and high-end features. The roomy interior of the Empire EVS paintball mask compelled us to add it to our list. The Empire EVS is a newly launched mask that has grabbed the attention of many enthusiastic paintballers.
Keeping in mind the safety and comfort level of players, Empire has designed EVS using high-quality material that fits perfectly with every paintballer. The lower bottom of EVS is made up of extremely flexible and soft rubber to make it super comfortable to wear. Also, because of the flexibility of the material, it can bounce the hail of paintballs.
The Empire EVS paintball mask is equipped with a anti fog thermal lens that reduces the internal fog to almost nil. The lens has a UV protective coating that protects your eyes against harmful UV radiation. It is a spherical lens that is ASTM certified and have completely scratch resistance. When it comes to peripheral vision, EVS offers 270 degrees of peripheral vision, which is lower than its competitors like Dye i5 and i4. But in terms of ventilation and comfort, it can defeat any high-end brand.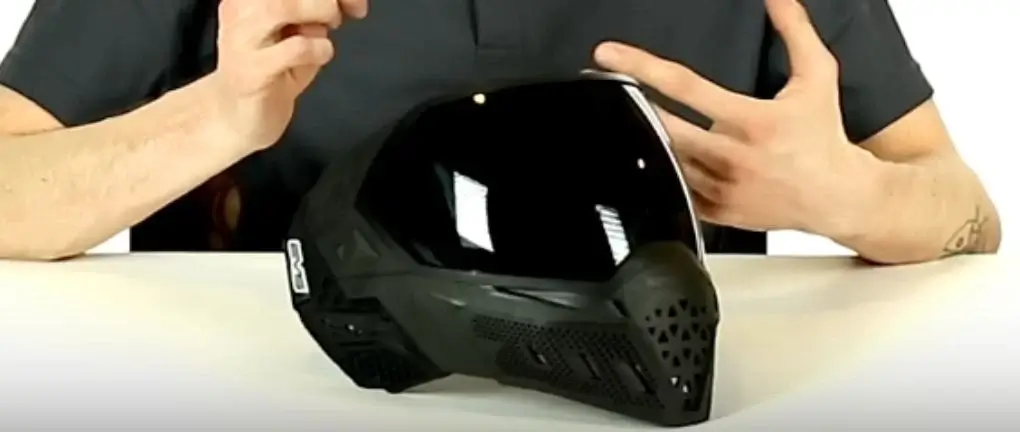 EVS has got an amazing ventilation system. It has got bigger ventilation holes around the mouth area so that heat can easily dissipate. Apart from this, its interior is pretty wide and has triple density foam padding, which absorbs moisture. This is how you can target your opponent without being disturbed by the fog on the lens.
A moving helmet or mask is one of the most annoying things while paintballing, but the Empire EVS paintball mask, won't let you experience this annoying thing. Thanks to its silicon-backed head strap for giving it a perfect fit to the mask on the face of paintballers.
Moreover, the Empire EVS is a lightweight and comfortable paintball mask that can be worn by any player. But players, with a big head and a big nose, face difficulty in wearing an EVS paintball mask. It is not the best choice for such players otherwise it's a great pro paintball mask.
Pros
The lens is pretty easy to change- almost toolless
It gives full coverage to face
Made up of soft and lightweight material
You will get comfy ear protection along with it
With highly absorbent triple density foam padding
Cons
It's a great paintball mask but it's not a good choice for people with a big nose and big head. Plus, you will not get its smoky and mirror lens along with the mask; you will have to purchase it on your own.
3. Virtue VIO – Best Thermal Paintball Mask
Virtue VIO Ascend is the perfect blend of safety, flexibility, comfort, design, and price tag. It is the 4th paintball mask from the banner of Virtue. The other three were great hits, but virtue has got some upgrades. First of all, the design is highly customizable. You can either change the lens or internal foam padding. Even the head straps can be changed. When it comes to lens replacement, you have got 18 amazing options for the lens. So you don't need to buy a new mask for every type of paintball game, just customize it according to the game and you are ready to dominate.
Virtue VIO is equipped with a anti fog thermal lens that is scratch-resistant and anti-fog just like its predecessors. It gives you an amazing peripheral field of vision just like a high end paintball mask. Another advantage of using the Virtue VIO ascent thermal mask is zero optical distortion that gives you perfect and clear vision.
When it comes to ventilation, just by holding it in hand, you can guess the amount of ventilation and breathability it offers. It has got tons of holes in the front and sides so that hot air can dissipate easily. This way, you can communicate with your teammates easily.
VIO Ascend paintball is a single piece mask. What I mean to say is that you will not get soft foam ears separately. The internal foam padding gives superior protection to ears while giving enough room that one can listen to their partner easily.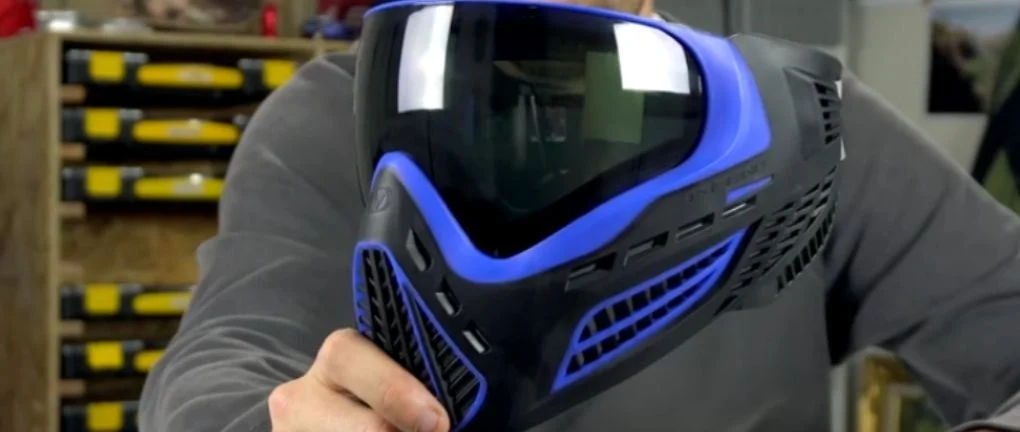 Besides this, Virtue VIO is pretty comfortable to wear. It is around 3" or 4" wider than its previous models. That's why it fits perfectly on paintballers with big head. But I feel like players who have small heads will have a tough time fitting it in. Overall, VIO ascend paintball is a great choice for players who sweat a lot. It is a premium paintball mask that is light on the pocket. So if you want the best thermal paintball mask, the VIO is a big thumbs up.
Pros
Highly breathable paintball mask
Quick change lens system
It gives complete coverage to your face, jawline, and ears
With multi-layer inner foam padding to absorb sweat
An affordable paintball mask
Cons
Virtue VIO is equipped with all the necessary features that paintballers want. It is a pretty wider paintball mask that doesn't fit properly on small heads
4. Outgeek M50 – Paintball Mask with Fan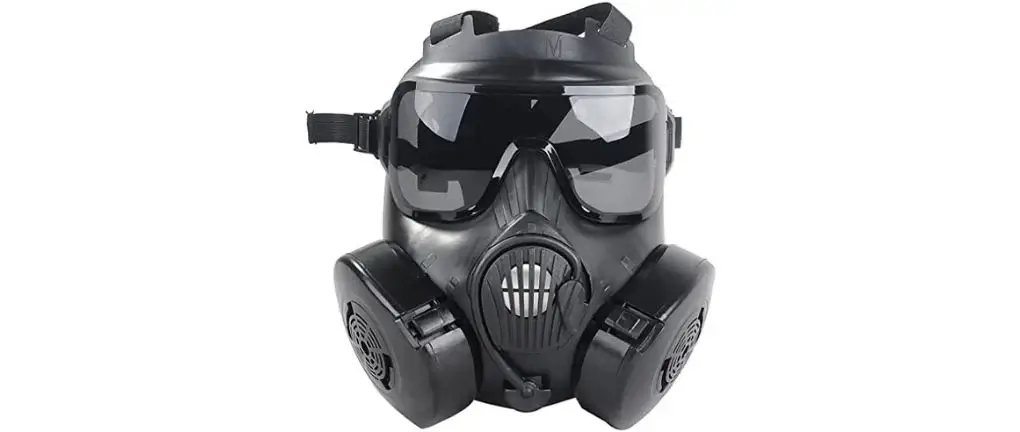 The Outgeek M50 hits the list of best paintball masks with the title of paintball mask with a fan. Yes, you read it right. If you sweat a lot or you are an enthusiastic and passionate player who plays for hours and hours, Outgeek M50 is the perfect choice of mask for you. It features two fans right around the mouth, which keeps the interior of the mask well ventilated.
The Outgeek M50 is designed keeping in mind the military looks. It is made up of hard plastic that is Chlorobutyl rubber silicone which makes it pretty durable. We tested its durability and were deliberately hit by a 350fps semi-automatic gun from a distance of 6 meters and there wasn't any single crack on the mask. So in terms of durability, it got full marks.
Talking about the comfort level of the mask, it has got a thick inner padded foam that absorbs sweat. Not only this, its head harness system is pretty versatile and sturdy, which keeps you well concentrated on your game using Velcro straps. Just fit it according to your comfort level on your face.
Outgeek M50 dominates its competitors with the addition of dual filters. These filters are around the mouth because of which it is easier to breathe and communicate. Filters are pretty easy to change and M50 will let you know when it's time to change filters. The white tab on the filter will turn blue, indicating it's time to change them. Along with filters, there are fan canisters that require two AA-size batteries. It is operated by a simple push-on/off button that is there outside the mask. Outgeek doesn't leave any part of your face and jawline exposed, it gives you full coverage and protection. You will get two pieces of visors with it, tinted and clear. Tinted one gives somewhat protection against UV rays. Outgeek M50 is a great paintball mask.
Pros
The build quality is awesome
It gives full face protection
Fully ventilated and breathable facemask
One of the best paintball masks with a fan
Cons
Its peripheral vision is a question mark, which is not so impressive. Also, it gives zero ear protection. This is not a big problem, but ideally, a paintball mask should give protection to ears as well. Upon using it we realize that its fan works on a 5-minute timer after which you will have to restart it.
5. HK Army – Badass Paintball Mask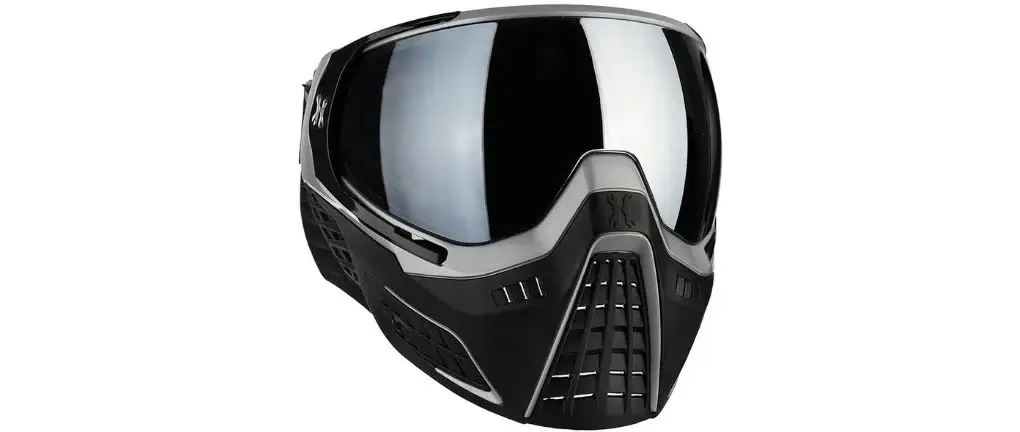 Now if you want a badass paintball mask for badass paintballers then the HK army has something very interesting for you. Yes HK Army's KLR paintball mask is the ultimate choice for any paintballer because of its designs, build quality, and comfort are super amazing.
KLR paintball mask is made up of rugged material that is a thermoplastic elastomer. The paintball goggle is designed in such a way that it protects the sensitive and critical facial areas of the user. However, maintaining great breathability and freedom of movement.
Talking about the most important part is the lens. HK Army has won the hearts of its users by incorporating Pure Lens, which is available in 9 different options, including clear, smoke, Cobalt blue, and many others. I have used the HK KLR paintball mask with mirrored lens and this is just perfect- outclass optical clarity and visibility it offers. All lenses of KLR are thermal and UV coated so no need to worry about fogging.
I have personally tested the HK Army KLR paintball mask and I became its fan just because of its PVT lock quick-change lens retention system. This system lets me change the lens in just a snap without using any tools.
The comfort level of the HK Army is superb as its interior is bonded with three different layers of foam that give matchless comfort. Also, it absorbs sweat and paintball impacts. Besides this, you will get a compressed EVA foam earpiece that protects the inner and outer parts of the ears from impact and shocks. Honestly speaking I found these earpieces pretty hard and stiff to use.
We should not forget the fact that the HK Army KLR paintball mask is well-ventilated as there are lots of big and small holes around the mouth that dissipates the heat and prevent fogging.
Pros
It offers great comfort
Design and build quality is impressive
Available in many colors
Lens retention system is quick
Breathable and doesn't fog up
Cons
The earpieces are not as comfy as they should be. It literally hurt ears. Apart from this fact, it's a nice paintball mask.
6. Dye Precision I4 – Cool Paintball Mask
Now comes one of the most demanding and highest sold paintball masks that is Dye precision i4 which is the predecessor of dye i5. If you can't afford dye i5 then you can choose i4. It's a low-profile paintball mask with all the necessary features.
Let me tell you, the Dye Precision i4 is one of the lightest paintball masks ever, as it weighs around 1.2lbs which is very light. You won't even feel that you are wearing anything. The Dye i4 is designed in such a way that it gives the best comfortable fit for all faces. It is an ASTM F1776 and a CE-certified paintball mask.
Like Dye i5, Precision i4 gives awesome comfort during the game. It has 1 1/2 inch straps that can be adjusted easily via a tiger-tooth locking mechanism. This strap system firmly holds down the mask no matter how heated the game is. This means if you have to crawl or creep during the game, you can do so, your mask won't move at all.
It comes with a scratch resistant and UV coated wide lens that gives an excellent peripheral vision of 290 degrees both horizontally and vertically. The optical clarity is very amazing you won't even feel that you are looking through the lens. The lens is of superior quality means no glare. Changing the lens is just a matter of a few seconds, just push the tabs on both sides of the mask and the lens will pop out.
The interior of the Dye i4 is pretty roomy, you can easily wear it over your glasses without any difficulty. Inside it is dual-stage removable foam, which is very comfortable. It absorbs moisture, and sweat and prevents fogging. You can change the foam when you feel it's enough smelly. With its patented multi directional venting, communication during the game becomes easier.
While testing it, we found its compressed ear pads to be pretty soft and easy to use. Dye Precision i4 is indeed one of the best paintball masks. That's the reason they are the official paintball mask of the Los Angeles Ironman professional paintball team.
Pros
It gives an excellent field of view
Awesome ventilation for breathing and communication
Low profile paintball mask
Lightest paintball mask
Available in 25 attractive colors
Cons
While using Dye precision i4 I found some genuine flaws. Like it doesn't give you full coverage, if you yawn or shout or open your mouth wide, your jawline will be exposed. Moreover, its fits perfectly to the majority of players but some of our team members who have large heads faced difficulty in wearing it.
7. Bunkerkings CMD – Best Paintball Mask for Breathing
Bunkerkings is a newcomer in the paintball mask industry. That's why it has incorporated the already developed lens system of Virtue VIO. You will find many similarities between Bunkerkings and Virtue, like the lens hinge lock system, lens, temple, and goggle frame foam. But at the same time, when you wear it, you will get a different kind of feel, and that's because of its ventilation system.
Bunkerkings has focused on making its paintball mask breathable and well ventilated. Fog elimination is the main aim of Bunkerkings and it has made it. I would say, it is the best breathable mask ever. There are multi-directional air vents all around the mask that keep it well ventilated. Also, near the ear, you will see some tiny holes that are totally meant for enhanced communication. This way players won't face any difficulty while communicating with team members.
One interesting feature that will be loved by paintballers is its bounce flex zone. Yes certain parts of Bunkerkings CMD are made up of flexible material that bounces paintball without being burst. So if communication and ventilation are your utmost concerns then a Bunkering CMD paintball mask would be the best choice for you.
Pros
The bounce flex zone is a new addition
Comfortable and changeable inner padding
Lots of vents around the mask
Fits perfectly to players with glasses
Cons
As such there isn't any worth mentioning technical flaw, but what I feel that they should introduce some more colors of CMD paintball mask. Currently, they have got limited colors and almost all are dull and boring colors.
8. Virtue VIO Contour II – Best Anti Fog Paintball Mask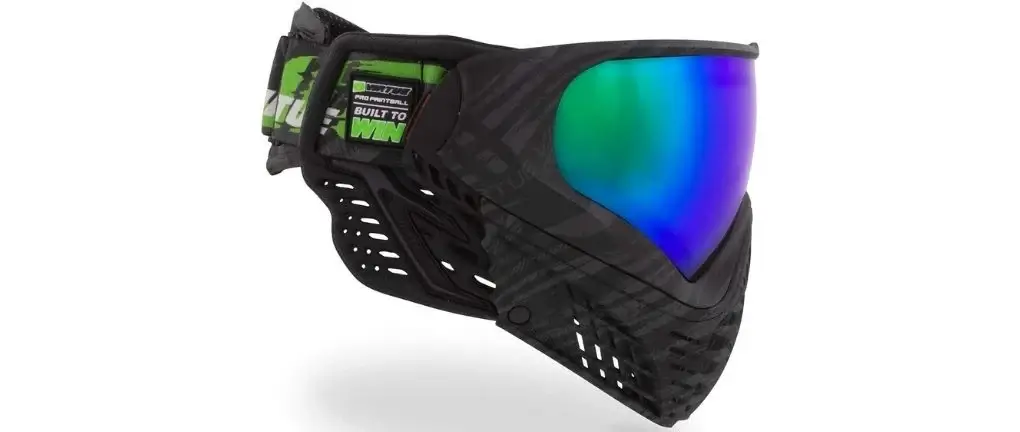 Virtue paintball masks are enough to make your paintballing experience a thrilling and exciting one. This time we have Virtue VIO contour II on our list which is one of the best anti-fog paintball masks. Virtue VIO lens technology is awesome to give you crystal clear visibility and amazing peripheral vision.
It has almost the same features as Virtue VIO ascend but what makes it different from others is its new ProPad goggle strap system. It is actually 3D foam that is added on an extra-wide back strap. This system adds more and more support and gives more grips to mask to stay in position. So no matter how much you drag on the ground, it won't gonna move away an inch.
Virtue VIO contour 2 has upgraded its earpieces with new and improved acoustics. Contour 2 has got lightweight and durable high-grade foam that protects your ears from painful paint shots. Everyone knows that earshots hurts and it's quite challenging to secure ears without adding extra padding. Virtue did it very nicely. This way, players can listen to each other easily.
When it comes to the lens, VIO lens technology beats everyone. Contour 2 has got a dual-pane, UV-coated, thermal lens that is completely anti-fog. The lens offers excellent peripheral vision with no distortion.
We called it one of the best anti-fog paintball masks as it uses a anti fog thermal lens that prevents fogging. Also, the inner foam absorbs sweat and moisture. So there are almost zero chances of fogging up.
Like Ascend, contour 2 is pretty roomy from the inside. You can easily wear glasses. It's quite comfortable to wear. Virtue Contour 2 is one of the most demanding anti fog paintball masks that people love to use.
Pros
It is ASTM and CE certified
It dissipates heat and keeps away fog
You can customize it according to your choice
ProPadding is a great addition
Glass friendly paintball mask
Cons
Designing of the mask is good but it doesn't give full coverage. Often time many people complain of hitting right at the forehead that spoils the entire game of players. It doesn't protect the forehead. Those players, who have a wide forehead, may have difficulty in covering it with Contour 2.
9. Valken MI 7 – Best Paintball Mask for Beginners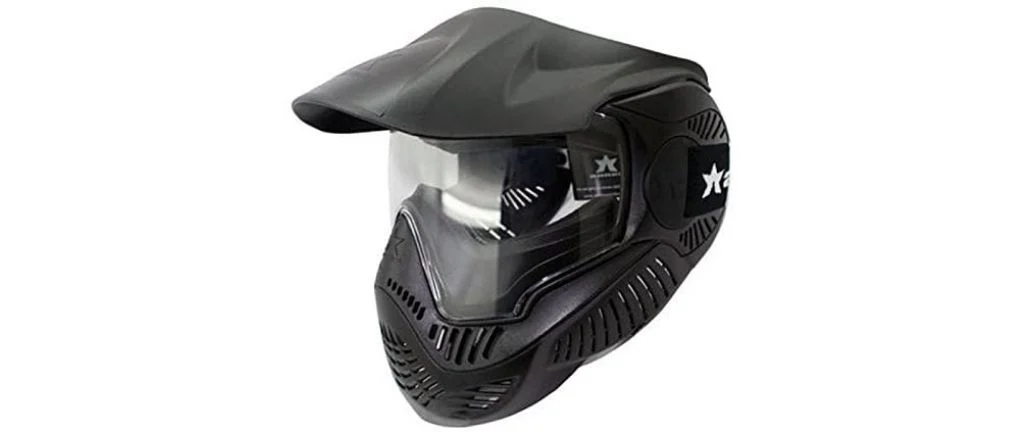 Valken MI-7 is one of the finest paintball masks that we often recommend to beginner level players. Like other Valken's paintball masks, the MI-7 offers great features, but it's a low-profile paintball mask.
Equipped with a dual-pane lens which is not a thermal lens but due to double hard coating, it exhibits many features of a thermal lens like scratch and wind resistance. It offers great protection against fog. Therefore, you can play for an entire day without any condensation problems.
The build quality and durability are worth mentioning, it's made up of polycarbonate, which ensures that it won't crack no matter how hard you fall on the ground. Due to its material, we recommend it for woodsball as it's quite sturdy.
The mask features a quick release lens system that lets you change the broken lens quickly on the field, it takes hardly 20 seconds to do so. Talking about the visibility Valken MI-7 offers pretty impressive visibility those us 260 degrees horizontal and 160 degrees vertical visibility. Since it's a beginner-level mask, you can upgrade to another paintball mask for enhanced visibility, after becoming a pro player.
When you take the Valken Mi-7 in hand, you can clearly see the coverage it would provide. It is designed in such a way that it gives complete coverage to your face and jawline and even the upper part of your neck. In fact, it comes with an optimized sculpted visor that protects you when the sun glares at you.
Pros
Comfortable and breathable paintball mask
Double layer foam inside the frame and around ears
Scratch and wind-resistant lens
Lens is easy to change
With sculpted visor
Affordable and easy to maintain
Cons
Well, we found out that its straps are not comfortable as they are advertised. Some people find it very tight especially those with large heads.
10. LEJUNJIE PJ – Best Paintball Mask for Big Face
If you have a large head or you need complete protection for your head and face, then grab your hands on the Lejunjie PJ paintball mask. It is specially designed for players who have large heads. It is constructed using different materials for different parts. As for the helmet that covers your head, ABS engineering plastic is used, whereas the face mask part is made up of thermoplastic polyurethane. However, the lens is made up of polycarbonate.
So in terms of durability, it is highly rugged and robust won't get damaged even in the toughest gaming conditions. Lejunjie is a well-designed helmet that weighs around 1.23 lbs. The build quality is such that it absorbs shocks and impacts during the game.
Lejunjie paintball mask gives complete protection and coverage. The breathable mesh mask area covers the lower part of the face whereas the helmet covers the head. The helmet and mask area give full protection to the ears. The helmet part is removable. You can even use the face mask alone if you don't want heavy gears on your head.
Pros
Available in eight camo colors and shade
Military-style paintball mask
Best for players with a big head
Gives full coverage to the head face and jawline
Cons
The inner foams are not comfortable, they irritate a lot. Some people also complain about its build quality it's not as amazing as it is advertised.
Paintball Mask Buying Guide
Rental paintball masks are pretty unhygienic to use. You never know, the last person who wore this helmet might have some contagious disease. They say, instead of investing in a personal paintball marker, it's better to invest in a personal paintball mask. This way, you will have a single-handed used paintball mask, which will be, of course, hygienic to use. But where the shoe pinch is, where to start from, especially when you are buying it for the very first time. Fret not! We are here to help you.
After consulting many professional paintballers we have compiled a brief buying guide that will help you choose the cool paintball mask on the planet. Mind you, numerous factors have to be kept in mind while you are purchasing a paintball mask. Below are the enlisted factors that will surely help you in decision-making.
Comfort of Mask:
Whether you are choosing a paintball attire or paintball mask, comfort is the topmost factor that you should consider. A constantly moving mask disturbs the performance of the player. It spoils the entire thrill of the game. Therefore you should always look for a mask that fits perfectly on your head and doesn't move with your head.
The comfort of the mask itself depends upon its strap system and foam padding. Basically, the strap system holds the mask perfectly on your face. You can adjust it as per your comfort level in the middle of the game. Ideally, a good strap system should be easy to adjust and should not disturb the user while he is aiming his target.
Also, foam padding is another factor that determines the comfort level of the mask. The basic purpose of foam padding is to provide padding between the mask shell and your sensitive parts of the face, like the ears, nose, and jawline. This way, it protects your face from different injuries by absorbing the shock. Apart from this, foam padding absorbs the moisture developed from sweating and keeps the interior of the mask arid and dry. So no chances of fogging!
Technically speaking, you will find foam padding in almost every paintball mask. But what keeps the high-end paintball mask different from the cheap one is the quality of foam padding. Some paintball masks are equipped with such types of foam paddings that can be changed easily and quickly. This way you can change the foam padding whenever you are about to play. Cheap paintball masks are equipped with itchy and rough foam padding.
So the bottom line is, always look for a paintball mask that has an adjustable and comfortable strap system along with a soft foam padding system inside. Remember, paintball is a game that is played for long hours, so you have to be as comfy as possible to win the game.
Ear Padding:
Besides the bursting of paintball inside the marker, one more frustrating incident that paintballers face is the bursting of paintball right in the ear of the player. Though it hurts, it's pretty hard to clean. So a good paintball mask must provide appropriate ear protection via ear padding. But make sure that it does not influence your communication with your team members.
The best trick for checking the earpad is to communicate with your team while wearing a mask with earpads. If you have to shout its means you have to look for some high-end paintball mask with improved ear padding.
Paintball masks such as Dye precision i4 and Virtue VIO ascend offers enhanced ear padding with great comfort. You must try this.
Quality of Lens:
No doubt lens is the most important part of a paintball mask because the paintball game is all about visibility. If your enemies and their field are not clearly visible, you will be out from the game soon. Low-grade paintball masks are usually equipped with a lens of poor quality that makes lots of distortion like glare and reflection. Such lenses disturb your visibility and you got hit before you hit your enemy. Therefore, it's better not to compromise on lens quality. The high-grade paintball masks use spherical-shaped thermal lenses that won't fog up and give you crystal clear vision up to 260 or 270 or 290 degrees.
Since paintball is an outdoor game that is mostly played in sunlight, so in order to protect your eyes from harmful UV rays, we prefer to use paintball masks that has UV protection coating on the lens. This way it keeps your eyes protected from harmful sun rays.
Apart from this, the lens should have a scratch resistance coating as it increases the life span of the lens. However, a lens with so many scratches affects the visibility and performance of players. In short when shopping for a paintball mask,
Types of Lens (Dual or Single Pane):
There are two types of lenses for paintball masks. One is a single pane and the other one is a dual pane. The basic purpose of both types of lenses is the same, which is to provide clear visibility with protection. But the dual-pane lens is far more superior to a single-pane lens, especially when it comes to fogging up.
A dual-pane lens is made up of two panes that are separated via a foam barrier. This foam barrier is quite helpful in preventing the fog build up inside the lens. The dual-pane lens is also called thermal lens and trust me, they are best to reduce fog build-up. Dual-pane lenses require more care and maintenance. You have to frequently clean the inner part of the lens. They require very high maintenance, as leaving them dirty may damage the lens.
But in contrast to this, a single pane lens is very easy to clean. They require low maintenance and the best part is they are durable too. If in case they got scratches, you can get it replaced easily, as they are not much expensive paintball masks, unlike dual-pane lenses. The best thing is, single pane lens is thin and lightweight. This way it doesn't make the paintball mask heavy.
Luckily, there are some brands like V-force, that manufacture single pane thermal lenses. The lens would be a single pane but it has a thermal coating or anti fog hydrophobic coating for fog prevention. But you have to be very cautious while cleaning them, as its anti-fog coating may come out.
So the bottom line is, the choice is yours depending upon our budget and your preference.
Durability:
A paintball mask is like a one-time investment. Nobody wants to buy a new paintball mask for every game. And obviously, it's a frugal approach to buy something once that serves your purpose for a lifetime. Therefore, always choose paintball masks that are made of sturdy, rugged, and durable materials like hard plastic. They can easily bear all the rough and tough handling.
When it comes to durability, dual pane lenses are the most recommended option, since they are more durable.
Weight:
Wearing a heavy and bulky paintball mask will feel as if you are holding a big watermelon on your head. Weight is the most under-rated factor that majority of the people ignore while buying a paintball mask. Paintball games last for hours and wearing a heavy goggle or mask is just like putting extra pressure on your head. That's why we always recommend choosing a lightweight paintball mask that keeps you fresh and active all day. The best paintball mask should weigh somewhere between 1-2bs.
Venting System:
A high-end paintball mask that improves your paintball game must have a good ventilation system. The reason is that heat that is generated by our mouth and nose will result in the buildup of fog on the lens. That's why a proper air vent must be present in the paintball mask.
These air vents will circulate the hot air and mix it with fresh cooler air. This will result in no fog or moisture inside the helmet. Above all, air vents allow proper communication with the teammates. This is indeed the biggest advantage of air vents. Therefore, we always recommend choosing a paintball mask that has efficient air vents for proper communication and airflow.
Coverage:
The basic purpose of paintball masks is to provide coverage to your face so that it remains protected from paintball. But how much coverage a players need, it's totally his choice.
Usually, beginner players look for full coverage paintball masks that are just like helmets. They not only cover your face and jawline but also covers your neck and head too. Whereas, expert players always choose the streamlined design. Such paintball masks only cover the sensitive part of your face like ears, eyes, mouth, and nose.
Straps:
Paintball games involve lots of dynamic and challenging movements. Sometimes you have to crawl like a soldier on the ground. That's why a paintball mask with good straps gives you a good fit. Make sure that the paintball mask has double straps that provide fix adjustment. Apart from this, magnetic chin strap is also very important for the perfect adjustment of the mask. In the end, the most important point is to make sure that these straps are not naggy or itchy.
Paintball Mask FAQs
Conclusion
A paintball mask is one of the most important pieces of protective gear that you must wear while playing paintball. In fact, it is that important part of the game, that without a paintball mask you can't play any league. If you are fond of paintball, speedball, and woodsball, then investing in a fog-proof paintball mask is no doubt a great idea. Remember, rental paintball mask risks your health and hygiene.
In short, a paintball mask that is light in weight, glasses friendly, well ventilated, breathable, fog-free, and glare-free visibility, along with amazing communications, compiles the best paintball masks. And here are our recommendations from the list;
Do give it a check.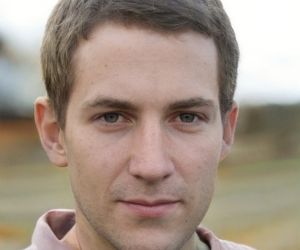 My name is Jezus Fischer, I am working full time on a paintball store and played all types of paintball games. Read more about me.