Best Mechanical Paintball Guns 2023 – Customizable & Comfortable
Mechanical paintball guns are very easy to find, that's what naive paintballers think. But not every mechanical paintball gun is meant to be used in paintball tournaments. It should have a nice FPS, great velocity, and, above all, comfortability and low weight. These are the features that the majority of semi-automatic marker are not having.
There are few paintball markers that support mechanical operations and have high FPS and great accuracy with air efficiency, just like Planet Eclipse M170R and Gog paintball gun. If you are in search of the best mechanical paintball guns, then we have got you. We have covered some top notch mechanical paintball guns that are accurate and air efficient to take your paintballing experience to the next level. Mind you, we have genuinely tested all these guns to write legitimate and authentic reviews for you.
7 Best Mechanical Paintball Markers
1. Planet Eclipse MG100 PAL – Best Mechanical Paintball Gun
Who doesn't love MagFed paintball marker? Planet Eclipse MG 100 Pal is a MagFed mechanical paintball marker that weighs less than 2 pounds. All thanks to its durable aluminum construction. The magazine is capable of holding 10 balls of 0.68 calibers easily. Like with other MagFed guns, you can use a hopper-fed mechanism too, but for this, you need to place its dummy magazine.
Talking about the performance of Planet Eclipse MG 100 Pal. We have tested it thoroughly and found it to be one of the best noiseless markers. It's all because of its spool valve design technology that reduces the noise of the marker. This way, you can be a sniper in the paintball field. As far as its range is concerned, it's about 100 feet, which is pretty impressive.


Since it features a Gamma core drive train and PAL that not only improves the overall air efficiency but also produces less kickback without chopping any paintball. Planet Eclipse MG-100 opens up doors for customizations because of its EMC-rail kit that allows you to mount multiple accessories and devices to have a real soldier-like feel.
What we like about Planet Eclipse MG-100 is its EMEK trigger that is ultra-soft and highly responsive for shooting multiple fires. And what we dislike about it is it's not so easy to disassemble. So technically deep cleaning is a bit tricky.
Pros
Produces less noise and kickback
With dual-feed option
Doesn't chop paintball at all
Long barrel gun for improved accuracy
Best Mechanical paintball gun list is incomplete without discussing Planet Eclipse MG-100. It is one of the easy-to-use paintball markers that features a dual-fed option. For players who love to use AR-style firearms, the Planet Eclipse MG-100 is the best choice for them. It performs very well irrespective of the environment of the paintball field.
2. Tippmann Stormer 68 Caliber Mechanical Paintball Marker
Tippmann Stormer is one of the most rented paintball markers at the pro shop. You cannot deny the fact that it is one of the highly demand paitnball marker. And obviously, it should be, as it is from the house of Tippmann that is known for quality and accurate paintball markers.
Tippmann Stormer is available in three different versions that are Tippmann Stormer basic, Tippmann Stormer elite, and Tippmann Stormer tactical version. Stormer Tactical is a military-style firearm with lots of options for upgrades and customization, and that's all because of its multiple Picatinny rails. Also, its trigger frame can be upgraded to an electronic trigger, and that allows you to shoot at rapid firing rates.
It features an external velocity adjuster that allows you to adjust the velocity of the gun somewhere between 250-325FPS.
Worth noticing feature of the Tippmann Stormer is its internal gas line, which assures no gas leakage. Since guns with gas leakage problems are the most annoying things on the battlefield. The 6-position collapsible stock is very useful, especially when you have to target your opponent with style and in a comfortable manner. Also, Tippmann Stormer is a bit bulky and heavyweight that is around 10 pounds, so with the help of stock, one can adjust its weight easily.
We have tested Stormer tactical in various paintball matches and you will be surprised to hear that it doesn't chop ball even in a single paintball match. A big hand of applause for its proven inline bolt system that prevents ball chopping. All in all, the Tippmann Stormer tactical is a great mechanical marker that can be used even by beginner players.
Pros
Looks like a real military-style rifle
External velocity adjuster
Doesn't chop paintball
Stock can be adjusted to 6 position
Cons
A bit heavy and bulky in weight so makes mobility with it, a little tough
Tippmann Stormer is indeed one of the best mechanical paintball guns in terms of looks and performance. It never disappoints its players, and that's the reason people love renting it for paintball matches. It is a flawless marker with great accuracy and performance. Best for all levels of players.
3. Planet Eclipse M170R Mechanical Paintball Marker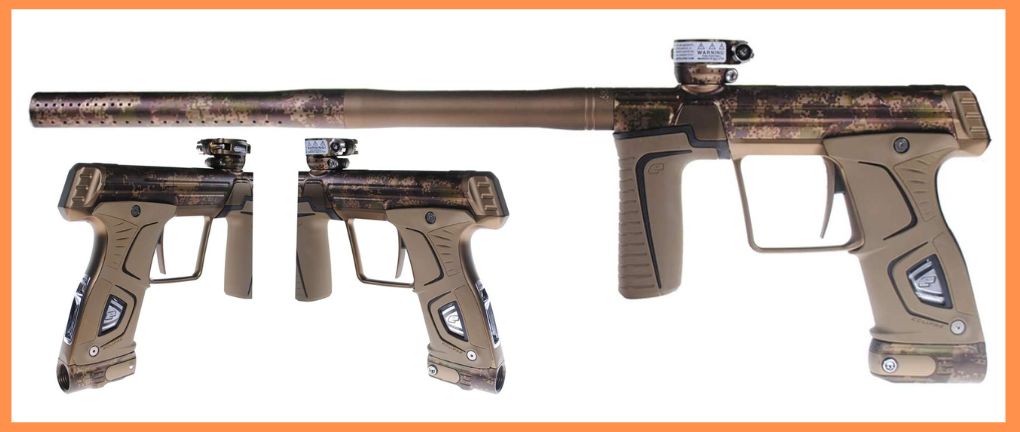 The third one on my list of the best mechanical paintball guns is worth considering gun. If you have ever rented Planet Eclipse Gtek 170 R then you will definitely consider the marker that I am going to review.
Yes, Planet Eclipse M170R is the mechanical version of GTECK 170R and that is the reason we have called it one of the best mechanical paintball guns. M170R has inculcated all the features and characteristics of its electronic version in GTEK 170R.
Just like the other markers of Planet Eclipse, M170R features a gamma core drive train along with breech sensing technology that makes the gun air efficient. Unlike other paintball markers that only shoot high-end paintballs with accuracy, M170R can even shoot low quality and cheap paintballs with great accuracy and velocity, and the credit goes to its Gamma Core drive train.
Not only this, the Gamma core drive train in M170R allows the gun to be used at any extreme temperature, be it hot or cold. It features a 14.5" barrel, which is in two pieces. So you can expect highly accurate shots with M170R. Apart from this, it lacks external hose lines; rather, it features an internal hoseless design that means no gas leakages during the game.
Planet Eclipse M170R is made up of lightweight and durable aluminum and that's why it weighs around 1.9 pounds only.
While using M170R we were impressed by its tool-less accessibility. It's super easy. Even in the middle of the game, you can clean your gun, get access to the internal parts of the gun without using any tool. One thing that bothers us is its foregrip, which is meant to give immense control, but unfortunately, it's so small that I can't even feel comfortable while holding it. Also, there are no Picatinny rails, so customizations are almost zero.
Pros
Air efficient and reliable gun
Can be used in extreme temperature conditions
With foregrip
Noiseless operations
Cons
The foregrip is uncomfortable to hold
No possibilities for customizations
If you can't afford to buy GTECK 170R then enjoy using the mechanical version that is M170R which is equipped with all the features that its predecessor has. In my opinion, it is one of the most high-end, reliable, and air efficient mechanical paintball guns that you will ever find.
4. US Army Elite Paintball Mechanical Marker
Paintball enthusiasts know the value of the US Army paintball brand because they always launch markers with unique features at affordable prices. You can easily buy a professional-level paintball gun at a budget-friendly price from the banner of the US Army.
One such example is the Elite paintball marker, which is designed keeping in mind the guns of the US army. It looks like an M16 assault rifle. Die-cast aluminum is used in the construction, which gives it a real gun-like feel. Due to its robust material, the US Army elite marker is pretty durable and can withstand rough conditions.
No one can deny the fact that the real fun of paintballing is playing with a dual-feed paintball marker. US Army Elite gives you a mind-blowing paintballing experience as it is a dual-feed gun.
Coming towards its performance, well as per reviews of our teammates, US Army Elite has got a great firing rate with nice accuracy. The firing rate is around 12- 14 balls per second with an impressive velocity of around 298FPS.
Apart from this, it features adjustable and removable front sights with lower Picatinny rails and barrels that look exactly like an M16 Assault rifle. Since it's a bit heavy, paintball marker that is around 8 pounds, and with a hopper, it reaches 10 pounds. Therefore, for proper support, it features a 6 position collapsible stock so that you can adjust it according to your comfort level.
US Army Elite is one of the best mechanical paintball guns that performs nicely and smoothly without any trouble. Overall, it's a great marker, but its weight might cause problems for any beginner-level player.
Pros
Made up of durable and rugged material
A powerful and realistic gun
Looks like a real firearm
Dual-feed gun
Available in both configurations that are mechanical and electrical
Cons
Not suitable for beginner level players because of its heavyweight
US Army Alpha Elite is a mechanical paintball gun that is the favorite of all. Because of its resemblance to the M16-AR, you can use it to play MilSim paintballing. The firing rate, accuracy, and shooting range are pretty impressive, plus its durable material is an added advantage. 
5. Mercury Rise Venom Semi Auto 68 Caliber Mechanical Guns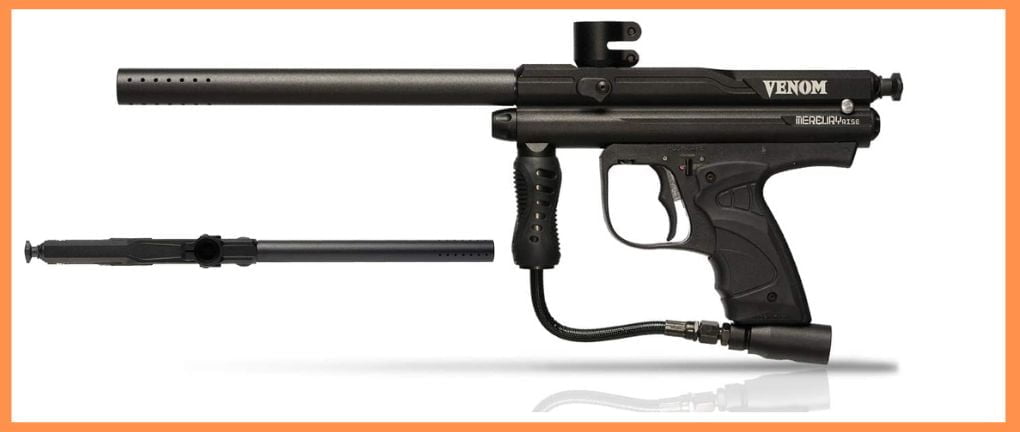 Mercury Rise Venom is the mechanical paintball gun that gives you complete confidence during the paintball game. Though it looks similar to Spyder Victor in appearance it's very different when it comes to the performance of the makers. Except for a few parts, the entire gun is made up of aluminum, including ASA and clamping feed neck of the gun.
It features an 11-inch ported barrel and the best part is, the barrel is in two pieces. Frankly speaking, mechanical paintball guns that feature two pieces barrels are very easy to clean and maintain. But the bad point here is the barrel excepts only high-quality paintballs like that of First strike paintball. Using low-quality and cheap paintball will decline the performance of the gun. So it's better to use high-quality paintballs when you want accurate and perfect shots with mercury rise venom.
Like other high end mechanical paintball guns, Mercury Rise Venom features an external velocity adjuster that easily adjusts the velocity of the marker as per the ground rules. Apart from this, its dust-proof cocking design makes maintenance and cleaning a very easy job for anyone. You don't need any special tool to open the plug of the gun, as it features a tool-free plug design to get instant access to the internal parts of the gun.
So, in terms of cleaning and maintenance, it's a quintessential mechanical paintball marker. Mercury Rise Venom is equipped with every nice feature except the fact that its ASA leaks gas sometimes.
Pros
Rugged and robust paintball marker
Molded foregrip for comfortable handling
Super easy to clean and maintain
Tool-less plug design
Cons
ASA Adapter leaks gas sometimes
Demands high-end paintballs only
Mercury Rise Venom is a paintball marker that is suitable for every level of paintballer. No matter if you are a beginner or a pro paintballer, mercury rise venom gives you surety that you are not going to miss any target. Its super easy clean system makes it a great choice for beginner-level of paintballers.
6. JT Stealth Semi Automatic Mechanical Paintball Gun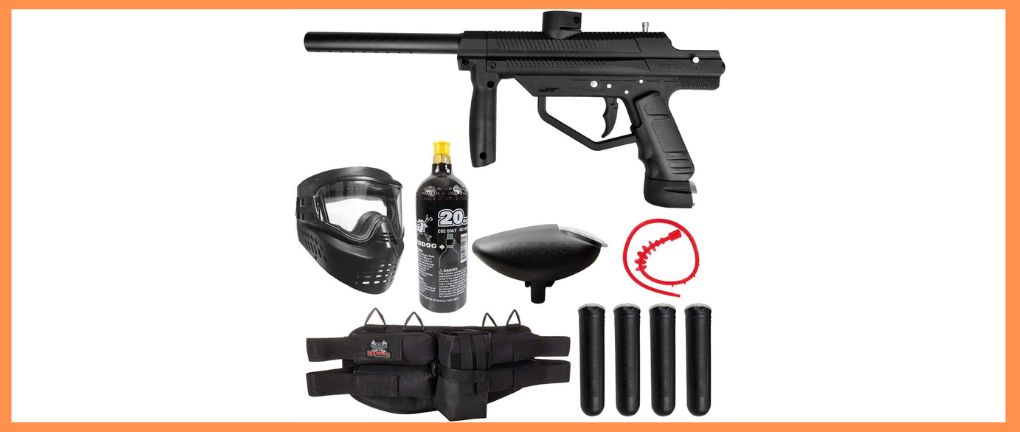 The next one on my list of the best mechanical paintball guns is the Maddog JT stealth paintball gun, which is a gun of choice for badass paintballers.
Unlike other mechanical paintball guns, JT Stealth is a gun that does not have an external hose system, and I would say this is the best feature. So, the player doesn't have to worry about the gas leakage from the tank. Instead of this, it features an internal hoseless design, which gives players complete peace of mind while paintballing.
JT Stealth is a mechanical paintball gun, but you can enjoy a rapid firing rate because of its double finger trigger that gives a smooth and fast firing rate. This is a hopper-fed gun that is designed in such a way that it looks like a MagFed gun, but in actuality, it is not. There is a vertical foregrip at the front that gives you a superior level of control and comfort.
JT Stealth paintball falls under the category of lightweight paintball markers that are compact too. Talking about the cleaning and maintenance of JT stealth, It is relatively simple and easy to clean. According to reviews and feedback from our teammates, it sometimes jams and chops paintball too. That's indeed one of the annoying things for any paintballers.
Pros
With internal hoseless design
Lightweight and compact paintball gun
Rapid firing rate with double finger trigger
Comfortable foregrip
Maddog JT Stealth is a nice gun that is best suited for beginner paintballers or those peeps who just want to practice paintball. It is pocket friendly and has got great features. Not a good choice of paintball marker for professional paintballers.
7. Kingman Spyder Victor Budgeted Mechanical Gun
So you are a beginner-level paintballer and buying your very own paintball gun, then Spyder Victor is the best choice for you. It is a mechanical type gun that gives seamless performance while keeping your budget under control. The entire paintball marker is made up of high-end and durable material that can withstand all rough and tough conditions easily. It features a bottom-line standard ASA for quick attachment of a gas tank.
It is one of the most air-efficient markers on the internet as it features Eko™ valve technology. This is such an innovative technology that uses air with efficiency so that you can shoot 1600 shots easily in a single 20 grams of CO2 tank. So this is what we called the competitive advantage of Spyder Victor over other mechanical paintball markers.
Apart from this, its equipped with external velocity adjusters that give you the freedom to adjust the velocity of the marker from 280 to 350 FPS easily. More so, the design of the trigger is pretty impressive as it is a double finger trigger that lets you fire rapidly when you use an e-grip frame with it. While using it on certain matches, we have realized its trigger can become stiff to pull. Also, it chops paintballs but the ratio is 1 out of 100 paintballs, which is too little, but still, it's there.
Spyder Victor mechanical paintball gun is a great choice of marker that gives endless possibilities for customization.
Pros
Highly air efficient paintball gun
Shoots with great accuracy
With external velocity adjuster
Lightweight and easy to carry
Cons
Trigger is stiffy
It chops the paintball
So for beginner level paintballers who want to remain on a budget, Spyder Victor is the best choice of marker for them. It performs very nicely and the build quality is very amazing that no matter how many times it hits the ground, it won't damage it at all. 
Conclusion
Mechanical paintball markers are pretty easy to use and maintain as compared to electronic paintball markers that require high maintenance and care. That's the reason; every new paintballer starts paintballing with mechanical markers. If you are still unsure about which mechanical paintball gun to select, then we recommend Planet Eclipse M170R as it is light in weight, air efficient, and has great accuracy. But if you want to have a mechanical paintball gun with endless possibilities for customization, thenTipmann Stormer Tactical would be the best choice for you.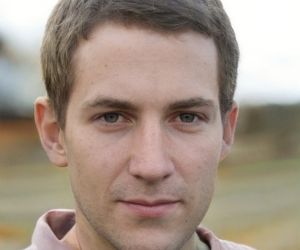 My name is Jezus Fischer, I am working full time on a paintball store and played all types of paintball games. Read more about me.