Best Paintball Tank 2023 – Reviews for Every Level Paintballers
If you wish to be a professional paintballer, then stop using rental equipment and buy your own paintball gear and equipment that will make you a successful paintballer. After paintball markers, paintball tanks are the most mandatory gear without which you are useless on a paintball field. Investing in the best paintball tanks would be one of your momentous decisions that you won't regret at all.
Professional paintball players are well aware of the best paintball tanks. Veteran paintballers get stuck while choosing a paintball gun tank. Many budgeted tanks are available in the market, but not every tank is worth buying. The best paintball air tank must provide airflow with consistent pressure so that paintballers can smoothly fire without any disruption.
Choosing the best paintball tanks are not an easy job especially when all options are more or less similar. After months of research and testing, we have reviewed some paintball tanks which we think are the best in town. The reviews are then backed by a short buying guide to help you decide on the best paintball tank brand.
Types of Tanks
Whatever paintball marker you are using, you will need propellant to shoot the paintball out of the barrel of the gun. Based on propellant, we have got two types of tanks that are widely used around the globe to power the paintball gun. Carbon dioxide tank – which is most commonly used by paintballers. Whereas the other option is compressed air tanks, which are normally used in high end paintball markers. Let's have a detailed look at both types.
CO2 Tank
CO2 tanks are the most commonly used tank type among paintballers. Affordability and ease of refilling are the main reasons for using CO2 tanks. Above all, Carbon dioxide tank refills are widely available, even on the paintball field. So if you are a veteran paintballer who just stepped into the world of paintball with a few bucks in the pocket, chances are quite high that a CO2 tank would be your preference.
No doubt, they are great and simple to use, but there is a major downside due to which professional players don't give it high preference. CO2 tanks are weather and temperature-sensitive. Therefore, in cold weather, the internal pressure may drop and result in the freezing of gas inside the tank. It also happens when you fire with a crazy firing rate. The temperature sensitivity of the Carbon dioxide tank results in pressure fluctuation, which directly affects your performance in the game.
HPA Tank
The next option for a high end paintball tank is HPA, which is the acronym for high-pressure air. It is also known as a compressed air tank. They are comparatively less popular than CO2. Usually, paintballers who are more into paintball leagues and competition use HPA tanks just because of the unreliability of CO2 tanks. They are the popular choice amongst professional players.
The biggest advantage of using an HPA tank or compressed air is that it doesn't freeze up no matter how cold the temperature outside is. Above all, HPA tanks offer a consistent rate of firing without a pressure drop. Therefore, your performance would be outclassed with an HPA tank.
Many players have switched to HPA tanks because of their benefits, and that's the reason many paintball fields provide refills for HPA tanks without charging a single penny. That's a benefit as well, as it cuts down on our tank refilling costs. HPA tank uses a special adjustable regulator, which makes it easier to use effectively. Mind you, the regulator is pretty pricey, which increases the cost of using an HPA tank.
10 Best Paintball Air Tanks 2023
1. Tippmann Empire Basics – Best Paintball Tank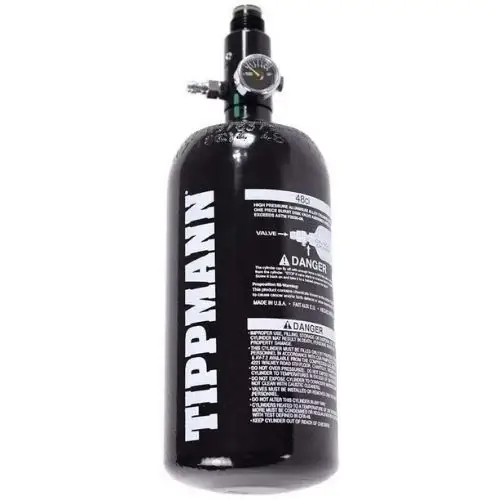 For those peeps who want a budget-friendly high-pressure air tank for paintball, Tippmann is the best choice.
Tippmann Empire Basics 48/3000 HPA tank is the favorite of the majority of beginner level players, and the reason is its lightweight nature. Constructed out of aluminum and is capable of holding up to 48 cubic inches of HPA with an internal air pressure of 3000 psi. A pre-fit regulator is already attached to the tank; therefore, you don't need to buy a regulator with it separately.
While using Tippmann Empire basic in a speedball tournament, we found out that it can easily deliver 500-700 shots, and if you are using a gas efficient marker like poppet-valve-based electro-pneumatic markers, then you will enjoy more shots. Personally speaking, I found it a little bit on the heavy side. Though it's light in weight, its weight ranges towards the higher side, which is not an impressive feature.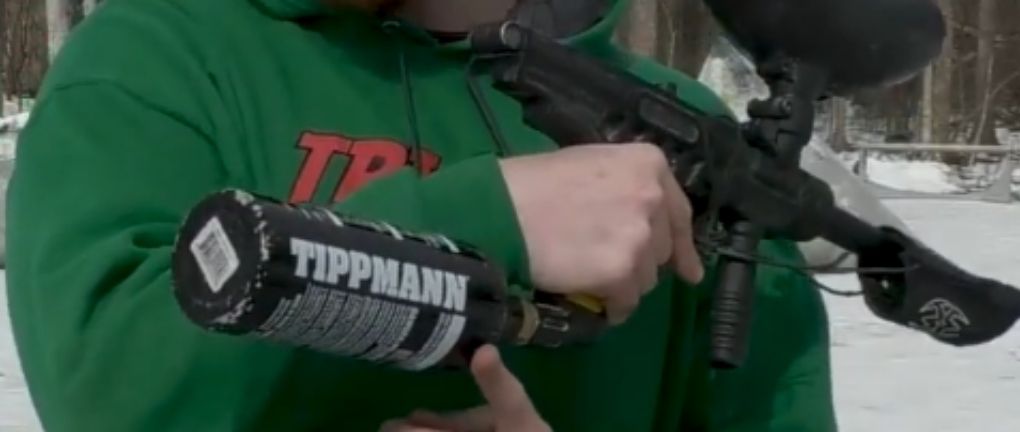 All in all Tippmann empire basic is the best paintball gun tank for money. A great option for those players who want to switch toward HPA tanks.
Pros
Affordable
Gives an impressive number of shots
Comes with adjustable regulator
Cons
When compared to carbon fiber HPA tanks, its weight is relatively on the higher side
2. Empire 48ci – Biggest Paintball Air Tank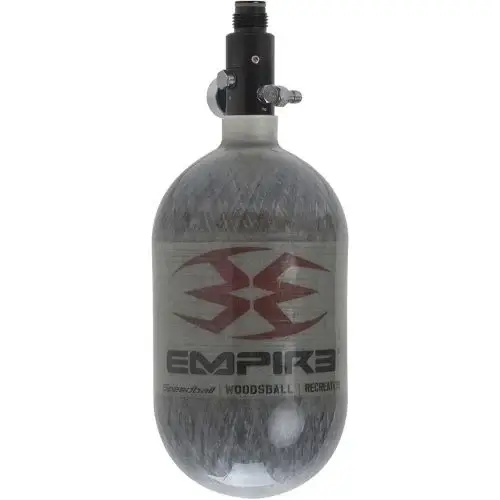 Fine, so you are upgrading from CO2 to a compressed air tank and want a carbon fiber HPA tank, then the Empire carbon fiber air system is a nice option for you. It is affordable and light in weight as it is constructed out of carbon fiber.
Apart from this, it comes with an already fitted adjustable regulator that is made out of aluminum. With aluminum, I meant to say aircraft-grade aluminum. While testing, I found out that its regulator has got pretty impressive quality. It is durable and sturdy. Though the tank itself is made out of durable material the sturdiness of the regulator is something very impressive. Of course, it's a pure energy technology regulator that is known for delivering stable output air pressure with great flow.
The pressure gauge is of flimsy quality its stops functioning after a few fills. Empire should notice it. Meanwhile, you can replace it with any other gauge easily.
The internal pressure is about 4500 psi and the volume is 48 cubic inches. The output pressure it delivers is about 800 psi, which you can adjust. The Empire carbon fiber air system is DOT certified which has to be re-tested every five years.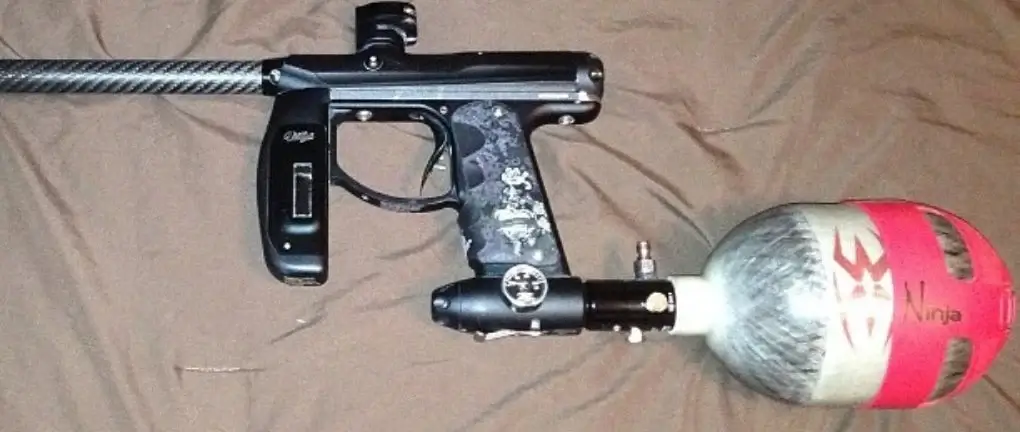 My experience with the Empire carbon fiber air tank is pretty amazing. With its consistent pressure, you can shoot without any interruption. And it's light on the shoulders and in the pocket too. So it's one of the most recommended paintball air tanks in our banner after the Tippmann Tank.
Pros
Sturdy and lightweight construction
Aircraft-grade aluminum regulator
Provides consistent pressure
3. Maddog 20 Oz – Best CO2 Tank for Paintball
Next on my list of best paintball tanks is from the house of Maddog. It's an aluminum tank, which is one of the best CO2 tanks for paintball guns. As far as its durability is concerned, it's super impressive. Everyone knows that aluminum is a lightweight metal, so Maddog CO2 tanks weigh around 1.75 lbs when empty. It can hold 20 ounces of CO2 and when it is filled it weighs around 3 lbs, which is not too heavy to carry.
As far as the number of shots is concerned, according to our experts Maddog 20 oz. paintball gun tank can deliver up to as low as 800 and as high as 1000 shots in one single fill. It's pretty cool, and I think it's more than enough for one single round of paintball.
One interesting fact about the Maddog paintball tank is, stamping of the current manufacturing date on the tank. Many people misunderstand it as the expiration date but in actual it's the manufacturing date. This way, players can know how old paintball gun tank they are using,
From the manufacturing date till 5 years the tanks can be freely used for filling CO2 but after 5 years, you need to hydro test it. Maddog 20 oz paintball tank meets and exceeds all the safety certifications like DOT, ASTM, TC.
Pros
Sturdy and lightweight tank
Refillable tank
Can be used for up to 5 years
Cons
With consistent use, pin valves may leak
4. HK Army 48ci 3000psi- Best HPA Tank for Paintball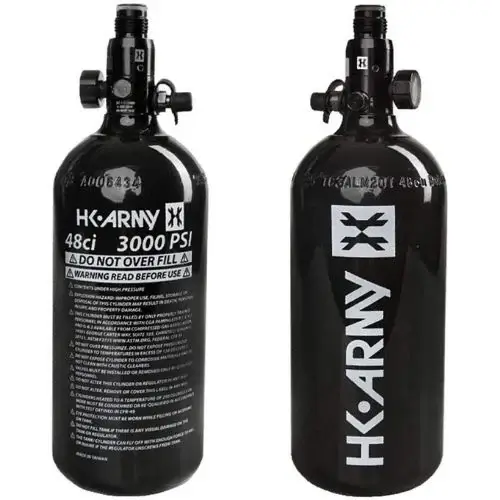 HK Army is one of the top paintball tank brands. Besides being affordable, tanks of the HK army are also durable and have immense robustness. HK Army is the HPA tank that our team has thoroughly tested. This is a small size HPA tank, but don't go to its size, it is full of power and performance. You can use it with a mag-fed marker and the difference will be visible.
The tank is made up of aluminum so it's light in weight. The internal pressure is 3000 psi and the tank capacity is 48 cubic inches. The HK army HPA tank delivers an output pressure of 800 psi, with which you can shoot up to 250 ammo in one single fill.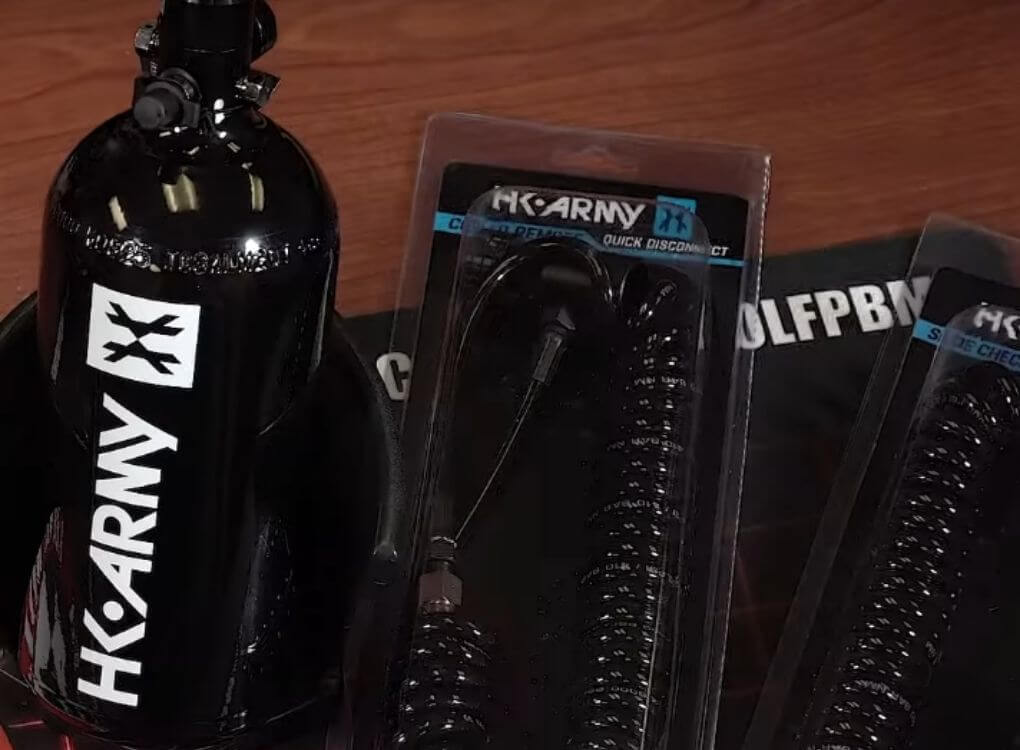 One thing that is missing in the HK HPA tank is the pressure adjustable regulator. You can adjust its output pressure as it lacks one. For this, you need to buy a regulator. Overall, it's a nice HPA tank as it delivers gas with consistent pressure. So that you can accurately shoot your target.
Pros
Budgeted HPA tank
Great for beginner players
Easy to carry and durable
DOT and TC approved
Cons
Lacks regulator. So it's difficult to adjust the output pressure
5. Hawki – High Pressure Tank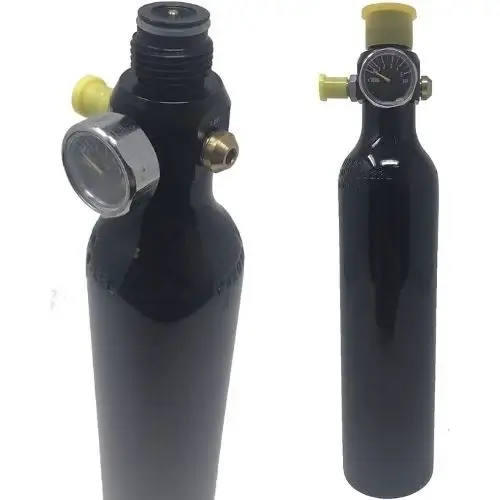 Be it your paintball marker or airsoft gun, Hawki aluminum compressed air tank would be your best companion to win the game.
Constructed using lightweight aluminum, the Hawki HPA tank has got awesome sturdiness. It can hold 13 cubic inches of HPA at a pressure of 3000 psi. The output pressure it delivers is 800 psi. Players have the freedom to adjust the output pressure using the pressure adjustable regulator that is pre-fitted on the tank. It is equipped with a pressure gauge that notifies you from time to time about gas pressure.
Hawki HPA tanks are not only easy to use, but also safe to use. The nipples of the tank are covered with a rubber cover to prevent any accidental leakage. The overall length of the tank is around 10 inches, including the regulator. Hawki HPA tank is not as light in weight as compared to the carbon fiber PB tanks, but it is reasonably sized and priced. Great for beginner layers who want to experience HPA tanks.
Pros
Well maintained pressure
With pressure regulator
Light and compact tank
Cons
Not lightly weight as it should be when compared with carbon fiber tank
6. First Strike HPA Paintball Tank
First Strike paintball tanks are not very popular but when you need a high-performance HPA tank at an affordable price then the FS is the best option. The reason we have added the FS to our list is its lightweight construction. Out of all the tanks that we have tested and reviewed, FS is one of the lightweight paintball tanks. It weighs around 0.9 lbs, which is comparatively less than the other paintball air tanks on the market.
Another worth mentioning feature of the FS paintball tank is its brass threads. These threads look like ordinary threads, but they can rotate 360 degrees. This allows you to fit the tank in any direction, either vertical or horizontal or whatever position you like.
The standard output pressure is 800 psi, which is being followed by FS tank, but in case you want a low pressure high end paintball tank, you can adjust its output pressure from 275-1100 psi. Due to its pressure adjustment, First Strike paintball tank can be attached with any paintball marker.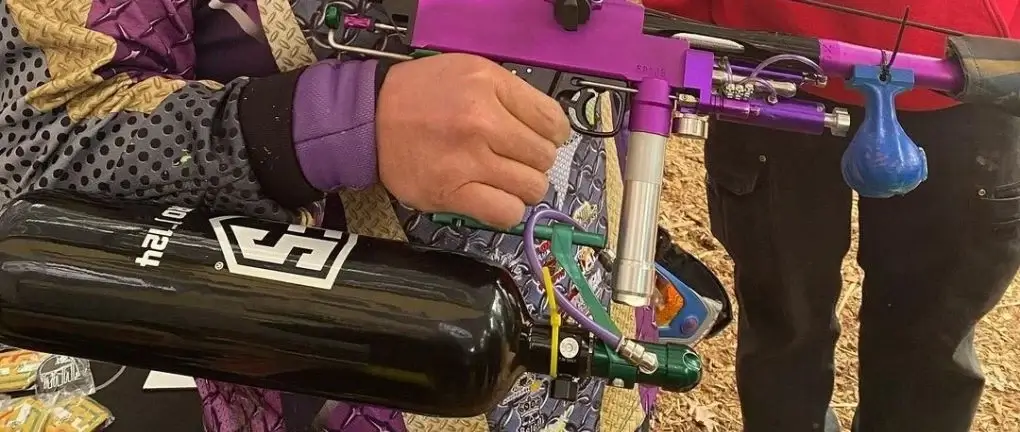 Talking about the recharge rate, it is pretty quick. You don't need to wait and yawn for the tank to refill. According to our experts, First Strike paintball tanks recharge within minutes without any hassle. That's the impressive part about it.
Pros
A tank cover is already included in it
Best for beginner players
Readily refill
Immensely lightweight
Cons
Though it's an HPA tank but it fluctuates FPS when compared to other models
7. Action Village 20oz – High Pressure Paintball Tank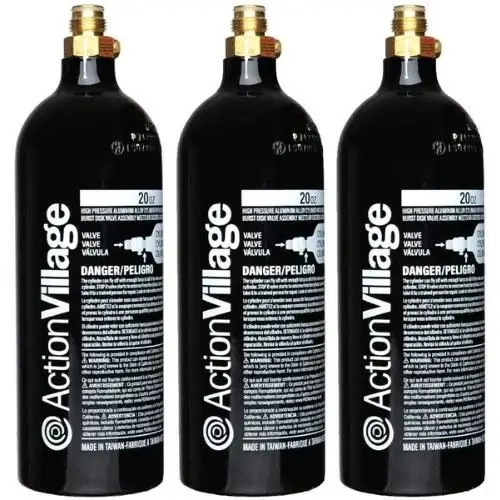 Every paintballer must be aware of the brand Action Village. It is the brand that has been serving paintballers for ages. Here we have added an Action Village aluminum CO2 tank, which is a true example of durability and sturdiness.
It is a 20 oz tank that can hold enough co2 that you can shoot more than 1000 shots, which is not a bad deal for beginner and intermediate level players. 20 oz capacity of Action Village tank will guarantee you that you won't run out of air even during the middle of the match.
Since it is made up of aluminum, you can expect that it would be light in weight, and it is. Action Village focuses on the safety of players, and that's why their tanks are DOT and TC certified. Action Village CO2 tanks are compatible with all brands of paintball markers that use CO2 as a source of power.
Pros
Built with durable material
Lightweight and safe to use
Gives more than 1000 shots
Cons
You will have to buy pressure regulator separately with it
8. Valken V2.0 – Best Paintball Gun Tank for the Money
Valken compressed air tank for paintball has got all the bells and whistles that you want for a successful paintball game. It is amongst the best paintball tanks and it's all because of its durable material and high-end performance.
Valken HPA tank has got 3000 psi of internal pressure and a consistent output pressure of about 800 psi. This combination of internal and output pressure gives exceptional airflow to your weapon and that's why it Valken paintball tank boosted your performance. The tank comes with a pressure regulator therefore you don't need to invest some extra bucks in buying a regulator.
Valken paintball tank is made up of aluminum and meets and exceeds all the regulatory requirements. It is a DOT and TC-certified high end paintball tank. It offers you 5 years hydro testing warranty, which makes you use the tank for 5 years without being worried.
Pros
Perfect tank for entry-level players
The stainless steel fill nipple
Meets TC and DOT standards
9. Ninja Paintball Compressed HPA Air Tank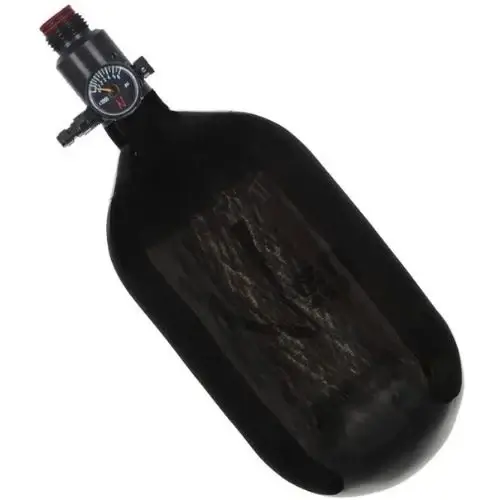 Now, this is something that is out of this world. Robustness and resilience are the prime features of the Ninja carbon tank. We have deeply tested the Ninja carbon fiber tank and used it on various paintball fields and didn't find any flaw in the performance. Ninja carbon fiber tanks are specifically designed for professional players. It is available in many attractive colors, among which black, snakeskin, and translucent red are the most popular.
Let me reveal how it performs.
Made out of carbon fiber which is pretty a lightweight material and suitable for HPA. It delivers the airflow to the gun with the same consistency without any fluctuation in pressure. So your performance would be amazing especially when you are using a Mag-fed or electro-pneumatic marker.
Its sturdiness and light nature are the reasons why it is the favorite tank of professional paintballers. But one noticeable thing is its outside body is prone to dents even with a minor fall. I think that's not a big issue as long as it's performing fine. Ninja tank can hold 68 ci of gas with an internal pressure of 4500 psi. There is a pressure regulator on the top of the tank with the help of which you can adjust the output pressure according to the need of your marker.
To keep you updated with the amount of air inside the tank, there is a gauge on the top so that you can refill it when you are out of gas. Ninja tanks are compatible with all types of paintball markers.
Overall, the Ninja carbon fiber paintball tank is one of the best high pressure paintball air tanks that are available in various volumes ranging from 35–77ci.
Pros
Best for paintball leagues and airsoft
Highly trusted brand by professional players
Easy to carry around
Available in different colors and sizes
Cons
The body is prone to dents
10. HK Army Aerolite – Low Pressure Paintball Tank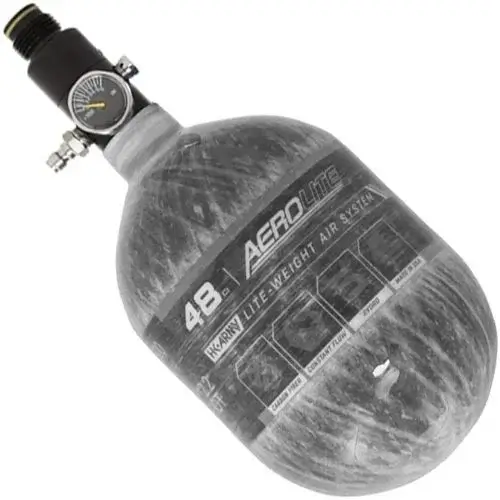 HK Army AeroLite carbon fiber air tank system is the choice of the tank for professional players who don't bother spending extra bucks on tanks. It features an AeroLite pro regulator, which is made up of aircraft-grade aluminum. Whereas the tank itself is made up of carbon fiber. HK Army AeroLite HPA paintball tank is called as one of the lightweight pb tanks that gives strong and reliable performance in every paintball game.
The construction of HK Army AeroLite is such that it looks compact and small but inside it has got enough space to accommodate 48ci of HPA. The internal pressure is 4500 psi.
As far as the average number of shots is concerned, it is comparatively lower than its competitors that are 720 shots in a single fill. But don't look at the number, consider its performance and the consistent pressure output that smoothly flows air to your gun. So that you crazily fire at your opponent.
HK Army AeroLite HPA paintball tank is manufactured in the USA and has safety certifications like DOT and TC. All in all, it's a nice carbon fiber paintball tank.
Pros
With adjustable pressure regulator
Compact in size but holds a great volume
Nice and sturdy system
TC and DOT approved
Cons
Gas may leak due to loose threading between the gun and tank
Paintball Tank Buying Guide
Choosing the best paintball gun tank for money could be an easy job if you are well aware of the factors or points that you have to deeply consider while buying a paintball tank. Here are some considerations that you must check into a tank for a paintball game.
Tank Type:
As discussed earlier, paintball tanks are of two types: the one that comes with CO2 gas in it and the other that has HPA, or compressed air in it. Both types of tanks have their own pros and cons. Also, every paintballer has different preferences when it comes to tank types. Usually, professional and expert paintballers prefer to play with the HPA tank due to its consistency. However, CO2 tanks are the tank of choice for occasional and recreational paintballers.
Tank Size:
Tank size is the second most important factor that players should consider before buying. Usually, veteran players make the mistake of buying a large size paintball tank, thinking that it will offer more shots. But they end up getting too tired as the large tank would be too heavy to hold for too long. So here, "bigger the better" statements invalidate.
For CO2 tanks two types are available,
Single-use cartridge- which can be used just one time. It weighs around 12 grams which is enough to fire 35 shots.
the refillable tanks that can be refilled anytime you want. Its size ranges from 9 oz to 36 oz. You can fire up to 1600 shots with a 36 oz refillable co2 tank.
| Tank Size | Tank Weight | Average Shots |
| --- | --- | --- |
| 12 oz | 1.8 lbs | 600 |
| 20 oz | 2.6 lbs | 1000 |
| 24 oz | 3.1 lbs | 1200 |
For HPA tanks the size rating is in PSI and cubic inches. The PSI indicates the pressure of the tank which comes in at 3000 psi and 4500 psi. Whereas cubic inches indicate the volume of the tank, which is the total capacity of the tank. It ranges from 13 cu to 90 cu.
We always recommend players to look tank size chart that they will get at the sports shop before buying a tank. Usually, our players prefer to play with 68/4500 of tank size. Whereas the 4500 indicates the internal pressure of the tank and 68 denotes the volume of the tank. There are other sizes as well, like 50/4500 and 90/4500. 68/4500 size tank is a medium-size tank that is not too small or too heavy to carry. This is the ideal size as it is light in weight and gives you enough shots to dominate your enemy.
Tank Size: 3000 PSI
| Size | Average Shots |
| --- | --- |
| 13 cu. Inch | 130 |
| 22 cu. Inch | 230 |
| 35 cu. Inch | 370 |
| 48 cu. Inch | 500 |
| 62 cu. Inch | 640 |
Tank Size: 4500 PSI
| Size | Average Shots |
| --- | --- |
| 48 cu. Inch | 720 |
| 68 cu. Inch | 1020 |
| 80 cu. Inch | 1200 |
| 90 cu. Inch | 1350 |
Tank Material:
Many low end paintball tanks are made up of cheap quality material. Of course, you can't expect high performance with such paintball tanks. That's why the material of the paintball tank is one of the crucial aspects that one should consider. Generally, paintball air tanks are made up of either aluminum or carbon fiber, or steel. Let's check out one by one.
Aluminum
Paintball tanks that are made up of aluminum are relatively easier to carry as they are light in weight. Aluminum-made tanks are by far the most commonly used paintball gun tanks these days. Apart from this, they are less expensive.
Where the shoe pinches is, they are less durable when compared with other materials. Its body can be easily damaged by slight hits and impacts. Despite its durability, many people still use aluminum-made paintball gun tanks because they are pretty easy to carry, especially in scenario paintball. Tippmann and Maddog are the most commonly used aluminum paintball tanks.
Carbon fiber
Ninja is a big name in the field of paintball and it has used carbon fiber in the manufacturing of tanks. The reason is it's durable and immensely light in weight. From durability, you can expect no dent even when abused roughly. They can withstand tough and rough style playing without any damage. They are a bit costly but they last a very long. A carbon fiber tank can accommodate up to 4500 PSI of pressure. We have Empire and Ninja paintball tanks on our list which are carbon fiber-made tanks and hold up to 4500psi.
Steel made
Tanks that are made up of metal like steel offer exceptional sturdiness. This means it can bear abusive handling; even extreme abusive handling will not damage it. Such tanks are great if you want durability, but mind you it adds unnecessary weight to your tank and marker. Steel is an outdated material now. You will hardly find any steel made paintball gun tanks. The reason is, that they are heavy and their lifespan is pretty short as they are prone to rust.
Among these three materials, carbon fiber paintball tanks rank high because of their ability to hold high pressure and bear rough handling.
Tank Weight
Weight is of utmost importance, especially if you are a competitive player who plays for hours and hours. Carrying unnecessary weight around the field will make you tired before time. This, in turn, will affect your overall game performance.
Usually, 48/3000 and 68/4500 are the two most popular sizes in aluminum and carbon fiber tank respectively. As they are both ideal size-wise and weight-wise.
Never ever make the mistake of choosing a heavy tank for your game. Choose a tank that, when attached to the paintball gun, stops at the crease of your elbow. This is the tip to get the right size paintball tank.
FAQs
Conclusion:
Paintballing is impossible without a paintball tank. Be it speedball, woodsball, or any other scenario game, the importance of a paintball tank is inescapable. Remember, purchasing a paintball tank is a one-time decision that lasts for approximately 5 years. So whatever paintball tank you choose, make sure that it is light to carry around, has durable and sturdy construction, and delivers smooth and reliable gas airflow.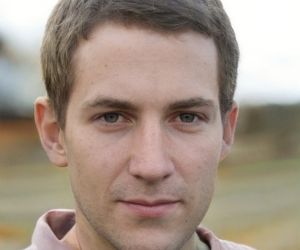 My name is Jezus Fischer, I am working full time on a paintball store and played all types of paintball games. Read more about me.