How to Refill Paintball Tank    
Introduction
You blend in perfectly with your environment and are virtually undetectable. Your enemy is in front of your eyes, but they are unable to nail down your location. After acquiring a lock on the target, you fire. Once, twice, thrice…
Before you understand what happened to you, someone shot you and you are being eliminated. There is nothing more terrifying than being in the thick of a fierce battle and having your tank suddenly run out of air. You need an uninterrupted supply of compressed air in the tank. For this, you need to know all about how to refill paintball tanks.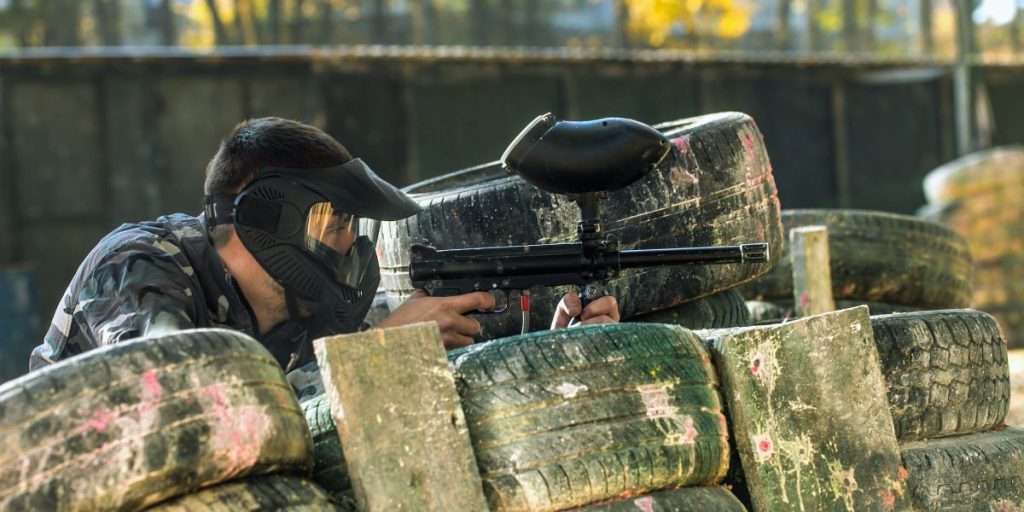 Why Do You Need Air Filled Tanks?
Paintball is a game in which participants compete against one another by shooting each other with paintballs fired from paintball guns powered by compressed air. Compressed air acts as a conduit for the delivery of the projectiles fired from the cannon to their respective destinations.
Everyone knows a little science about glasses that have less shelf life. Once there is none left, it must be replaced immediately. Before you refill paintball tank with an air compressor, there are some must know things you need to familiarize yourself with first.
The first query we have asked is how to refill paintball tanks at home. So take note that because paintball tanks can be refilled at home with the use of air compressors, there is no longer a need to pay a trained expert to do so. It is quite comparable to putting air into tires that have been flat.
In order to successfully complete this technique, you will need to get an air compressor that is capable of producing the required level of pressure. The next question arises: can you fill a paintball tank with an air compressor? The response is yes. You won't have any trouble filling a paintball tank if you have an air compressor.
But first, learn about the types of air tanks!
Types Of Paintball Tanks
If you do any research on the topic, you'll discover that there are three distinct types of paintball air tanks used in paintball guns. HPA, pure nitrogen, and carbon dioxide. all of them make your paintballing easier and faster.
The air or oxygen in an HPA paintball tank has been purified, and the tank itself is subjected to a significant amount of pressure. On the market, you may discover solutions that are of high quality and come in a variety of sizes and capacities to choose from. However, the largest tank that may be utilized is just 5,000 pounds per square inch (PSI) in capacity.
Because of the pressure within the paintball tank, the carbon dioxide is in liquid form rather than its more common gaseous state. There is a wide range of sizes available for CO2 tanks, from 3.5 to 40 ounces (100ml – 1,180ml).
Before you go ahead and fill it with paintballs, you need to make sure you know what sort you have available. People frequently pick the HPA tank over the CO2 tank because the HPA tank's pressure remains constant regardless of the temperature.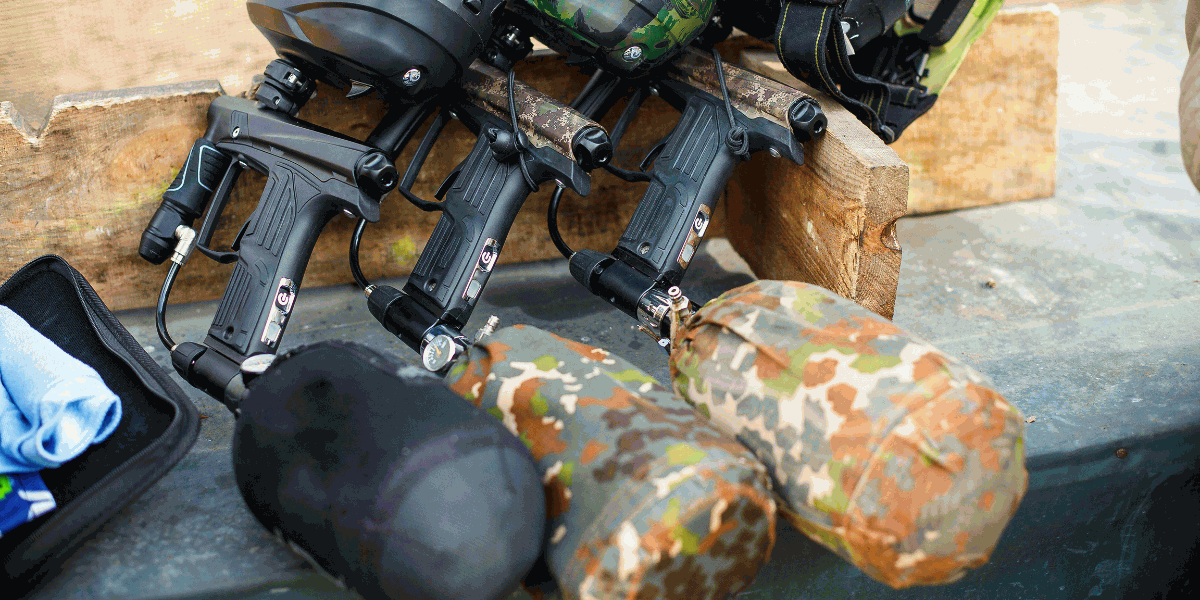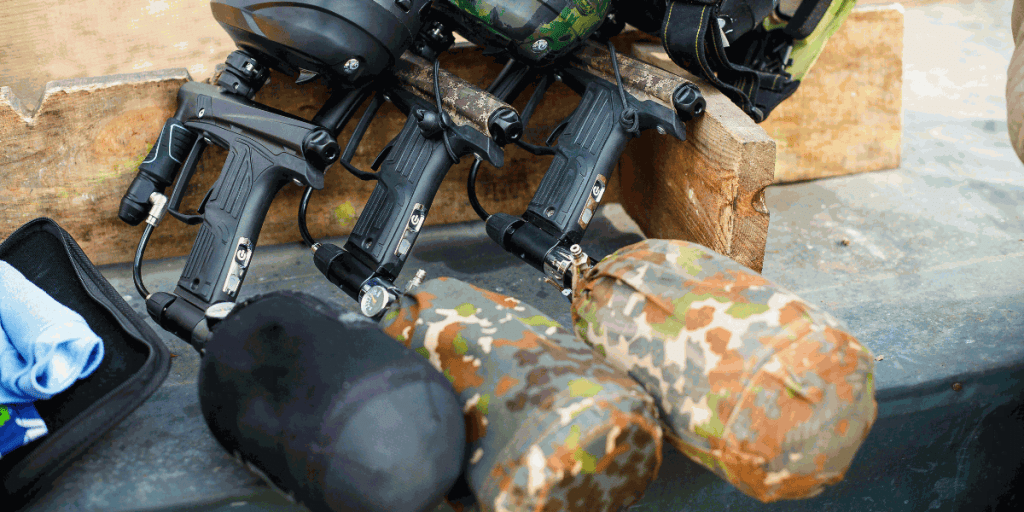 You can have confidence that a dependable paintball tank, such as a compressed HPA air tank, will have the appropriate level of pressure once it has been filled up to the appropriate level. Air up to 3,000 PSI may be contained within it.
Related Post – HPA vs CO2 – Which one to Choose in 2023
On the other hand, if the carbon dioxide (CO2) contained in a CO2 tank is exposed to temperatures that are either very high or very low, the CO2 will either raise the pressure in the tank or reduce the pressure in the tank.
Last but not least, pure nitrogen tanks are extremely uncommon. Even at your neighborhood paintball shop, you can have trouble refilling paintball tank of this sort if you insist on purchasing it. Due to high prices of pure nitrogen tank, you are only left with HPA and CO2 options.
Now, however, we get to the most essential question: which variety of tanks are the best paintball tanks in the field? Mostly paintball players think that HPA tanks are the best. It declares that most of the paintball players choose to adopt HPA rather than CO2.
Then why do some individuals insist on continuing to use CO2? To be honest, the cost is the core reason. CO2 tanks are not only significantly less expensive, but they also contribute less to the pollution of the environment. However, HPA performs far better in terms of how effectively it operates.
Now you have lots of questions in mind, like how to fill a compressed paintball tank, how to refill CO2 with an air compressor, and how to fill an HPA tank with an air compressor. Hold your horses, you will get a satisfying answer to all your queries. Just keep on reading this blog post till the end.
Step By Step Guide Of Refilling Tank
After locating a place where you can refill paintball tank, the next thing you need to do is fill up your tank. It should come as no surprise that the compressor inside of an HPA tank is not the same as the compressor inside of a CO2 tank. We think these can be easily available at refilling stations if at all feasible. Let's check how you can do it without hustle.
Step 1: Know Your Tank's PSI
There should be a gauge on your tank that shows how much PSI is in it. The maximum is typically 4500 PSI, and you should under no circumstances ever go higher than that.
It is important to note that if you have a CO2 tank, you should first place it in the refrigerator in order to maintain a consistent temperature within the tank. This would make it much simpler to fill it up to its maximum capacity.
Step 2: Connect the Filling Nozzle to the Air Compressor
Always be attentive to the device that will be fitted to your air tank. When you join the nozzle to the tank, there you find a little black O-ring that prevents gas from leaking out. If you can't locate the O-ring, you won't be able to fill the tank because air will escape via the little hole in the bottom of the tank. If the O-ring is missing ask help from an expert immediately.
In the event that the O-ring is present, all that is required of you is to draw back on the collar of the attachment so that the center needle is exposed in its entirety. Connect it to the filling nipple on your tank by plugging it in. Check that it is secure by manipulating the hose in a few different ways. The connection must be solid.
Step 3: Start Filling the Tank Slowly
As soon as you are certain that the connection is secure, begin gradually introducing air into the tank. You are able to accomplish this by simply pressing the lever on the compressor. On the other hand, some compressors contain buttons; thus, it is suggested to pay attention to them.
You shouldn't continue to pull the lever or push the button in any scenario. It is important that the filling process be carried out slowly and properly rather than rapidly. The needle on the gauge ought to rise upward while the refilling process is carried out. One more time, paintball air tanks only contain either 3000 or 4500 PSI, so you need to be aware of which category your tank falls into.
Step 4: Keep an Eye on Both Gauges
One of the gauges will be located on your weapon, while the other will be located on the air compressor. During the process of filling the tank, it is important to keep an eye on both the fuel level and the gauge to ensure that the gauge is functioning properly. In a perfect scenario, the two gauges would move in the same direction simultaneously. This demonstrates that they are both performing their jobs appropriately.
Step 5: Control the Temperature
When refill paintball tank, one of the worst things you can do is to do it too rapidly, which is also one of the worst things you can do. The temperature rises to a dangerous level. Experts say it is hot when you press the lever or button with undue pressure. The air simply escapes from the compressor and into your tank, causing the gauge to increase in a short amount of time. You don't want this to occur since it might be detrimental to the tank and give you the false impression that the tank is fuller than it actually is.
A hot fill gives the illusion that the tank is full even when it does not really fill it. Soon after you disconnect the tank, the air will grow hot even if you aren't using it, and the gauge will go down. This will happen regardless of whether or not you are using it. To avoid this from happening, make sure that the filling procedure is carried out slowly.
Step 6: Release the Nozzle
Many novices neglect to complete this stage, despite the fact that it is the most crucial one. When you have finished adding air to the tank, the air compressor will still have some air in it that may be transferred into the tank when you are ready. Through the release valve on the air compressor, this air should be allowed to leave the device. If you press on this, it will cause all of the excess air to explode out. You should not be concerned about the resounding "whoosh" that this will produce.
If you don't let the pressure off before releasing it, air will continue to flow through the hose even after the pressure has been removed. This might cause damage to the tank, particularly to the opening where the fuel is placed.
Step 7: Detach the hose from its connection.
You are now able to detach the hose from the fill nipple after releasing the pressure that was previously being applied. Beginning with the collar, complete each step of the process in reverse order. To disconnect the hose, just pull it down and remove it from the connection point. You are now ready to depart once you have carefully placed the hose back on the table.
Conclusion
Paintball guns stop functioning properly after the tank that holds the compressed air runs dry. It is necessary to refill the tank so that it can store additional pellets and maintain its firing capacity. However, a lot of paintballers are clueless about how to fill a paintball tank. Refill paintball tank is not a hard task. As was mentioned before, the tank may be refilled using an air compressor if necessary. There are a few things you need to perform before you can fill your paintball tank in a secure manner.
This article has walked you through the straightforward procedures required to refill paintball tank using an air compressor. It is a wonderful resource to utilize if you are interested in learning how to fill a compressed air paintball tank, since it provides you with all of the information that you wanted.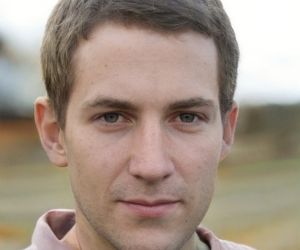 My name is Jezus Fischer, I am working full time on a paintball store and played all types of paintball games. Read more about me.