Is paintball on your to-do list, but there is a chance that it might rain, and you are wondering if you can play paintball in the rain? Most paintball fields are open during rain unless a windstorm or lightning could pose a danger to the players.
It's a whole new experience playing paintball in the rain and requires meticulous planning. Guns, paintballs, and clothing should all be prepared according to the weather. It is also necessary to change your playing strategy, choose the right field, add extra equipment, and so on.
Most modern paintball guns and loaders are water-resistant and can sustain heavy rain. Just avoid electronic gear, as the electrical components are prone to damage in the presence of water.
Paintballing in the rain is more challenging than you think. That's why most paintball enthusiasts, like me, opt to play it on a rainy day.
Read on to learn how to make the most of your paintball experience on a rainy day. Now let's get started.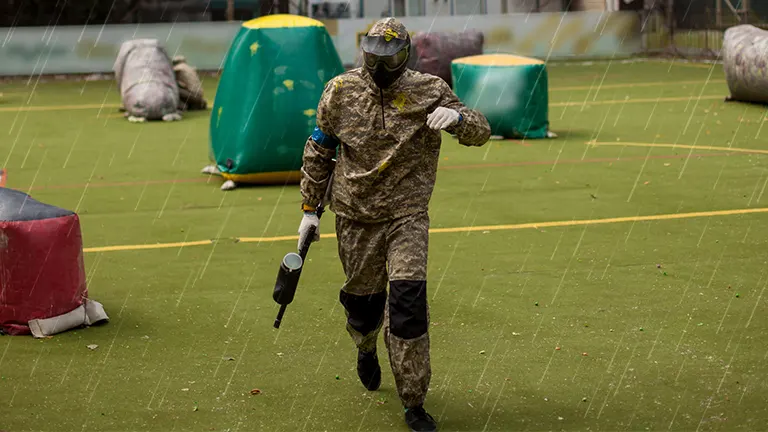 Preparation for Playing Paintball in the Rain
Most players postpone their paintball sessions when it rains. In fact, many think that paintball guns don't work in rainy conditions, which is totally incorrect. Paintball guns work smoothly and wouldn't let you miss the fun.
However, as already established, properly planning before heading for the arena will ensure that your team performs better on a rainy day. Here is what you must consider for playing effectively in the rain:
Protect Paintballs
Inherently, paintballs are water soluble. Even exposure to a small amount of water can affect the outer layer and damage its integrity. Using wet paintballs can leave residues in the barrel that impacts your shots.
Place the paintballs in a sealed and secure container to keep them dry. Paintball pods provide a moisture-resistant storage solution for paintballs. Also, take extra precautions while loading paintballs into your hopper. Load inside or under a cover if it's raining. 
Sometimes, the leaks in the hopper can also affect the paintball. A better way to avoid this is by covering the top of the hopper with a plastic bag. This will keep the paintballs dry.
Related Article: Standard Paintball Size (Different Types of Paintballs)
Go for a Mechanical Gun
It is not guaranteed that paintball guns with electronic components will not have issues while playing in the rain, no matter what precautions are taken. The safer option is to use mechanical paintball guns instead. Many paintball gun manufacturers are now making mechanical markers.
Make Barrel Porting WaterProof
Keeping the paintball barrel dry is important for accurate shooting. Water in the barrel makes it slippery, affecting the paintball's trajectory and making it harder to aim.
Ideally, covering the porting on the barrel with some sort of water-resistant material will be enough to block the water entry. You can use simple waterproof tape.
Reload with Care
Another way rainwater can affect paintball is when you reload a gun. A simple task of reloading can end up damaging the paintballs. Use the shelter to reload your weapon. If there is no shelter, cover your gun with your body so that water cannot get in.
Read Also: How To Fix a Paintball Gun That Won't Shoot
Protect the Grip of Your Marker
Many electronic components are housed in the grip frame of the paintball gun, including an electronic circuit board, a trigger mechanism, and batteries. Even though these grips are sealed quite well, water can still seep through.
Here is a simple tip to prevent this: remove the grip, cover the electronic components in a plastic cling, and reattach the grip on the frame.
Use Thermal Lens
Rain increases humidity outside, causing fog to form inside your mask. It can easily hinder vision and affect your game. Getting a paintball mask with a dual-thermal lens can help reduce the fog issue. The lenses are separated by a foam that maintains the temperature between them, preventing fogging.
Protect Paintball Mask Against Rain
A paintball mask is the most vital part of your safety gear. You should always play paintball with a mask and goggles. However, it becomes harder to see when the protective eyewear becomes wet due to rain. Paintball is all about accurate shooting, and you become more vulnerable with visibility compromised.
Protecting your mask shield from rain should be your top priority. For this, you can either use a mask visor or a mask fan. Both options are effective. However, you need to find what works best for you.
Don't Forget to Bring Extra Clothes
It is always a good idea to bring extra clothes when playing paintball in the rain. At the end of the game, you should change the damp clothes. Additionally, extra pair of socks and boots can help freshen your feet between the breaks. One important consideration: don't wear cotton clothing as it will absorb more water.
Microfiber Lens Cloth is a must-have
A microfiber lens cloth is part of almost every paintball gear bag, and it is even more important to have this cloth when it's raining. It is difficult to see when your protective eyewear is wet, so keeping it clear of water becomes critical.
You will be using microfiber cloth more while playing paintball in the rain. As a best practice, use polycarbonate lens spray to deep clean the lens and wipe it with the microfiber cloth after every game. This will protect the lens from scratches.
Bring on Poncho
Among other things, the poncho can be of more help in playing paintball in the rain. You can get these easily online. Even you can order a camouflage poncho, which is ideal for such scenarios.
Move Carefully
Playing paintball in the field while raining requires some extra care. Most paintball arenas have woodlands alongside slopes. It is recommended to watch your steps. You can end up injuring yourself if you aren't paying attention while running around the terrain.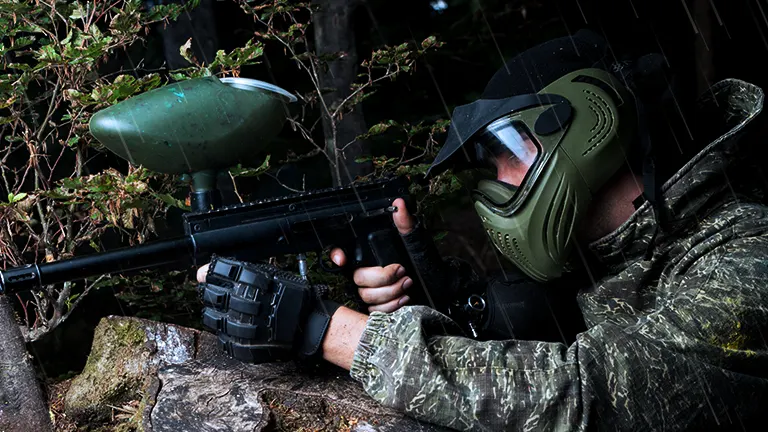 Tips for Playing Paintball in the Rain
Playing paintball on a rainy day is much harder and more challenging. Besides limiting your vision, rain also reduces your shooting accuracy. Here is what you can do to overcome these problems and keep winning at paintball.
Dressing
If you plan to play paintball on a rainy day, be sure to dress appropriately. Getting caught in the rain without the right clothing can result in losing the paintball game. Choose clothes that keep you dry and allow quick movement.
When it rains, running or showing the athleticism essential for playing paintball effectively is difficult because of the slippery ground. The best practice is to wear waterproof hiking boots that offer maximum traction to stand up to the elements.
You will also need extra clothes and shoes as you don't want to drive back home in wet clothes after the game.
Related Article: What to Wear for Paintball
Adjust Your Strategy
The goal of any game is to get the best of your opponent by using a strategy. Many factors are considered while constructing an effective plan. And as these more factors add up, how you approach the game also changes accordingly.
Poor weather is a mutual foe for you and your opponent. You can win paintball games if you devise a strategy that counters the opposition and the rain.
Playing paintball in the rain needs adjustment in playing style. Safety becomes your top priority, as the likelihood of getting injured becomes more on a slippery field. Similarly, you must slow down and take time when you aim for your opponent, as there is limited visibility on a rainy day.
Move Slower
As mentioned above, slowing down your pace becomes a key winning strategy when playing paintball on a rainy day. Although an attacking strategy helps you win most games, you must be more patient on a rainy day. Waiting for the right moment and then attacking can maximize your winning chances.
Usually, the gameplay is shorter, so players can change their equipment and clothes. This will also translate into how you play in a limited time.
Know When to Quit
If the rain gets worse and you have minimum visibility, it's better to call it a day. For now, you shouldn't push through the bad weather. You can play later when the rain subsides.
Can I Play Paintball in the Snow?
Playing paintball in the snow is similar to playing paintball in the rain. However, there is a little catch— very few paintball arenas allow playing paintball in the snow. It is, therefore, advisable to check if a paintball field is available before planning to play in the snow.
The Field Is Yours
It can be safer, more thrilling, and more fun to play paintball in the rain if you prepare and plan ahead. Prepare your gear, attire, and supplies, and go out on the field.