Beginners often ask me, "is paintball a sport?" This is a debate that has been going on for a long, and the answer varies depending on who you ask. The pros will tell you that paintball has all the ingredients for a good sport.
At the same time, a college student who plays paintball on the weekends to relax might consider it a hobby or recreational activity. So, depending on the perspective, you will get different answers.
Paintball may or may not be considered a sport, depending on what we define a sport as. Continue reading to get a quick overview of paintball and whether it's a sport.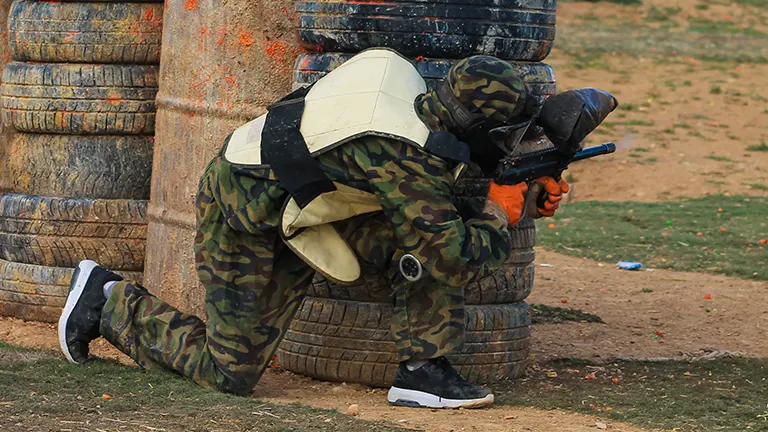 How You Define Sports
According to Oxford Dictionary, "sport is an activity that you do for pleasure, and that needs physical effort or skill, usually done in a special area and according to fixed rules."
Therefore, for a game to be considered a sport, it must contain the following elements:
It should be fun and thrilling
Require a specific skill set
Should include physical activity
It must be played in a designated area
It must follow specific rules
Now, let's see whether paintball satisfies the above conditions. Taking a closer look at paintball and how it is played would be the best way to accomplish this.
What Makes Paintball A Sport?
A paintball is a game in which teams or individual players shoot paint-filled pellets at opponents to eliminate them. Specialized compressed gas-powered guns, known as markers, are used to fire these paintballs.
Here's a look at whether paintball qualifies as a sport.
Is Paintball Fun To Play?
Paintball offers players the thrill of a real combat situation in a more fun way. Even though you aren't facing real bullets, the fear of getting eliminated by hitting with paint-filled balls makes your adrenaline pump faster.
Soon, you will realize that paintball is not just a game but an intense survival situation where you must devise various strategies to win paintball games.
Various game scenarios are included, from claiming the flag to total annihilation, attacking and defending the president to protecting him. Getting a top of tough competitors in challenging conditions gives players unmatch pleasure. Thus, the first condition for being considered a sport is met.
Related Post – Why is paintball fun?
Does Paintball Include Physical Activity
Paintball players are always on the move. Changing locations is the key to getting into a good attacking position or avoiding an opponent's trap. That is why players keep running on difficult terrains with heavy guns and other gear, so it is a great sport to remain fit and healthy.
Further, it may require you to jump, kneel, or duck, depending on the circumstances. At the end of the day, you will be fully exhausted. Since it requires a great deal of athleticism, endurance, and agility, it can even be considered an extreme sport. It can be even more challenging when you are playing paintball in the summer.
It meets another criterion for being considered a sport due to its physical demands.
Read Also: What to Wear to Paintball in the Summer?
Where Are Paintball Games Played?
Just like any other sport, paintball is played on specific indoor or outdoor fields. Each game zone has unique features like varying field sizes, natural terrains, obstacles, and rules. To make things more exciting, there will be trenches, hills, bunkers, fortresses, and more in these paintball fields.
You can find paintballing in a variety of places throughout the US, depending on where you live. I have had a great experience paintballing in Miami, Florida. There are plenty of places that you can find there to play paintball.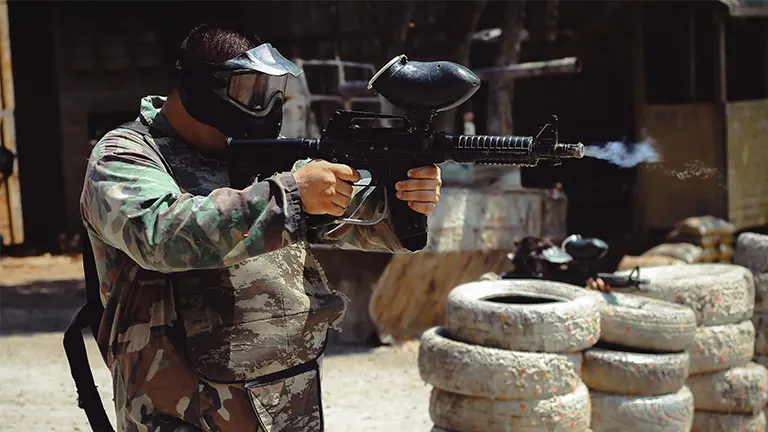 Are There Rules For Paintball?
A rough game of paintball does hurt and causes injuries. Paintballers are vulnerable to bruising and welts, especially when hit at close range in sensitive areas.
It is, therefore, important that paintball rules and regulations are implemented in order to protect players and promote fair play.
Here are some of the rules that most paintball arenas make sure that players must follow:
Guns
It is important for players to choose guns based on the speed of paintballs. How fast the paintballs go determines the impact and possibility of injury. For paintballs, 280 feet per second is usually considered the standard velocity, and guns that fire more than the set speeds are not allowed.
Protective Gear
The paintball arenas make it compulsory to wear certain protective gear. These include paintball masks, goggles, vests, knee pads, cups, and gloves. All this equipment ensures the safety of the players.
Paintball Apparells
What you wear to paintball is of great importance. You must wear a specific paintball attire that allows protection and boosts efficiency by providing comfort. Generally, it is recommended not to expose the skin to prevent injuries and paintball bruising. Therefore, don't wear t-shirts or tanks.  
Contact
The only contact allowed in paintball is hitting someone with paintballs. All other contact with the player are strictly forbidden, even with guns. As a result of this rule, there will be no fighting between the players.
Shooting Guide
Players are forbidden from shooting at the head/neck. It is also a big no-no to shoot at close range. As mentioned above, only those guns are allowed that can shoot paintballs at the velocity of 280 fps.
No Alcohol
You will be immediately escorted out of the paintball arena if you are drunk. You can't drink alcohol on the paintball field.
Is paintball an Olympic sport?
By now, we have successfully established that paintball is a sport. But is it a part of the Olympics? The truth is that paintball has never been an Olympic sport, regardless of how much we might like it to be. However, you can play in various types of highly-competitive paintball tournaments.
Conclusion
Paintball is a real sport that demands discipline, athleticism, and competitiveness. You will have to follow the rules, play for a specific time period, and achieve the main objectives of the game. This blog entry is designed to give a very quick overview of why paintball is a sport. I hope you got your answer.