Welcome to the world of paintball! Whether you are a beginner or a pro player, you have landed on the correct page to get all about how to play paintball. Paintball is a passionate game that satisfies your thirst for adventure. It works as a stress reliever. You can relieve your stress from the hectic office and daily life. Once you get into the field and start playing, you forget all your pressure except the one, that is, "hit that damn out."
We know all the potential questions that arise in your mind about paintball. How does paintball work? What is paintball game? Where to play paintball? What is the history of paintball? How to get into paintballing and how to be good at paintball? Etc etc. Don't worry, we have a satisfying answer to your every question.
Let's first learn something very basic but crucial about the paintball game before moving on to the step-by-step instructions. Playing paintball requires a team; you cannot do it by yourself. You can get along with other teams instead of just your own. Get all the necessary information about team formation by clicking here (How to Make a Paintball Team).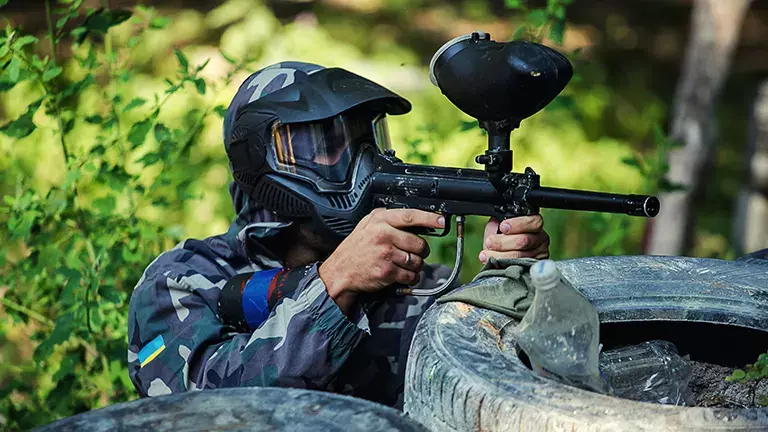 Its age restrictions are another question that is frequently posed. I can either play or I can't. Paintball is incredibly popular regardless of age, whether you're a youngster or an old git. No matter your age, gender, or physical make-up, you can play paintball. Visit our in-depth blog (What is the Paintball Age Limit? Can Kids Play Paintball? ) for precise age requirements.
How to Play Paintball – Step by Step
To elaborate how does paintball works, we have jotted down some important information. From purchasing the necessary accessories to ambushing your opponent on the field, all the important factors are covered here. Let's have a look.
Step 1: What Do You Need to Play?
Getting started in paintball is not difficult. Only a few equipments are really crucial to buy. You don't have to spend a lot of money; you may spend a little on basics to buy the following important stuff:
A Paintball Gun
Without a paintball gun, you can't step into the field to play. There are a variety of paintball markers available in the market today, so you can get confused while choosing one for yourself. It is recommended to fix a good amount as a budget. Paintball markers may be purchased new for less than $150 or leased from various paintball stores for $10-$20 per day.
Mask
Paintball masks are available for the sole purpose of protecting your face. If a paintball strikes your body, it will leave a tiny bruise, but a direct shot in the eye will blind you. Make sure your mask is paintball-approved, and then use it all the time on the field. If you don't like a full-covered mask, wear protective goggles with soft buff-style masks.
Hopper
Paintballs must be loaded into the chamber of your gun before they can be shot, and the easiest method to do so is by using a hopper. A paintball hopper is a little container that fits on your gun and allows paintballs to be loaded into it.
Air Tanks
The propellant used to shoot a paintball is a compressed gas, often compressed air or compressed carbon dioxide (CO2). Compressed air tanks for firearms come in two sizes: tiny 12 gram tanks used in BB guns and bigger tanks that screw onto the cannon. A large tank of CO2 can fire many rounds of paintballs.
Paintballs
Paintballs and paintball guns are what make paintball fighting possible. These spherical, paint-filled gelatine paintballs are put into your weapon and fired by the expansion of compressed gas. There are several brands and a variety of colors. You can choose according to your desire. However, for a novice, they all operate similarly as long as they are not too old, so choose what seems decent to you and utilize it. Bring enough to last for as long as you wish to play.
Step 2: Where to Play Paintball?
Depending on how do you play paintball, you can determine where to play it. When you play paintball for beginners, you mostly play simple versions of paintballing. Like elimination, capture the flag and king of the hill. However, if you are a level up from paintball for beginners, then scenario paintball is your thing.
Paintball is played in backyards, in woods, and in abandoned places. But playing paintball at these places can turn the table upside down. In the US, you can find many themed-based fields designed for paintball lovers. You can find many recommended fields on our site according to your location. Whether you are in Chicago, Houston, or Miami Florida, you can check out the best paintball fields in these cities.
Step 3: Know The Rules First
Though the rules vary from game to game and field to field, there are some basic rules for playing paintball. Here we jotted down some general rules for you.
When you enter the game zone, put on your mask, and don't remove it until you're out of the playing area.
First focus should be on safety and playing fairly. Let the game start then strike.
You'll get to walk on your field to define zones and obtain a game breakdown from your referee, as described above.
Every paintball field has some discrete rules, so be careful to listen before playing.
Every field has a designated referee who starts and stops the game and is always there to help players.
An area declared to be a paintball free zone, a dead zone, and informed to all players.
When eliminated, players must go to the dead zone.
Eliminated players should put their hands over their heads.
Until you hear "all clear," don't shoot.
The players have no physical interaction.
If you're struck, you must leave the field.
To avoid getting hit by a player who doesn't know about your elimination, intimate him immediately.
These are quite general rules that are followed whatever the scenario you are playing.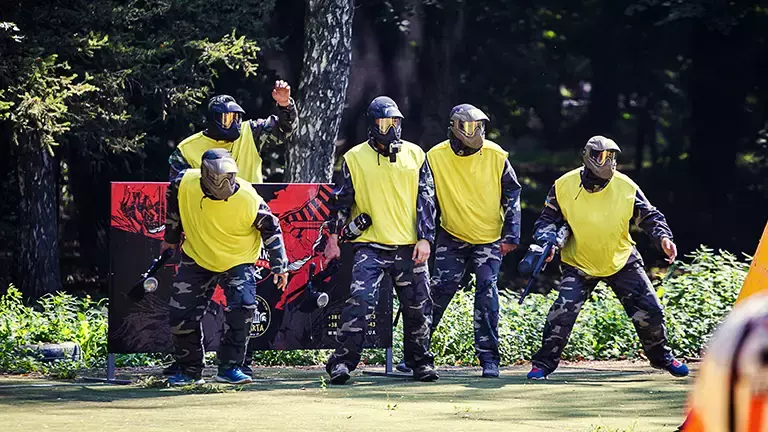 Step 4: How to Play Paintball?
You now have everything you need: the necessary equipment, safety gear, a chosen field, and a thorough understanding of the paintball game. Now, you must choose a scenario to play and begin an adrenaline-fueled battle. Paintball is as simple as playing any other survival game.
The two teams start the battle when the referee gives them the signal. Your only aim is to eliminate all the team members. But you have to be very watchful to save yourself from being hit. It can throw you out of the field. Try to take cover behind the bunkers to be safe from being shot.
As you know, paintball is a sport that is played in teams. You will need synergism among all your team members. A well-collaborated team is hard to defeat. Try to practice before landing in the real game. Design signs to communicate in every situation. We witnessed a team that used this strategy to stay together the whole battle. No doubt, they stayed longer than other teams.
We all know that haste makes waste. Try to be cautious and steady. Always move slowly and try to be under cover. Only attack when you are sure that other opponent members are not there to counter attack you. If you hasten in attacking, you will end up eliminated timelessly.
Step 5: Pro Tactics To Be A Pro
Every year, the popularity of paintball increases, with a greater number of players increasing proportionally. Paintball has been around for over 25 years and has a lot of tactics involved in it. How to be good at paintball is a frequently asked question. So, we dug out some Pro Tactics to endure more in the field.
The pro tactic is a tactic that a player uses to avoid being hit by paintballs. This tactic involves getting behind a tree or a bush and then using the cover to your advantage. If you are playing paintball, it is important to know some pro paintball tips. Let's go through the selected tactics that we learned from some advanced level players.
Always know your surroundings. Every field is different from the others. Visit your playing zone beforehand to design your strategy accordingly.
Guys try to play sneaky paintball. Hide more and show up less. Only come out to attack the nearest opponent player. Once you are done eliminating him, go undercover again.
There are some members of a team who are not like-minded. But when you play together as a team, you have to create collaboration. The pro strategy is to support and save every member of your team to last longer. Success will be yours.
Use a multi-dimensional attacking strategy. Attack from all sides, altogether. It is enough to blow away your enemy from the battle zone.
Wrap Up
Paintballing gets fame in no time among all age groups. And it's worth it! Many of us still want to start playing it. It's a breeze. All you need to do is buy some essentials like a paintball gun, hopper, safety gear, and paintballs. Secondly, select a field according to your mood, taste, and budget. Then go through all the rules that are particularly designed by the field organizers. Now you are good to go! Play a battle with strategy, wisdom, and endurance. Adopt these pro tips to become an advanced level player. This is all you need to know about how to get into paintball and become a pro-level player.