Best Paintball Pants with Superior Breathability and Flexibility 2023
Paintballing is not about high-quality accessories and protective gear, but you should also invest in some high-end paintball clothes that keep you comfortable and protected throughout the game. Scratched knees are the most common injury that paintballers face, and the reason is the use of less protective and padded bottoms.
When it comes to bottoms, we have got some amazing paintball pants that are thick and padded enough to protect your knees and legs from scratches. Though there are numerous tactical paintball pants in the market, we have selected the 10 Best Paintball Pants, tested, and reviewed them. So, you can buy a perfect pair of padded paintball pants for your next paintball match.
10 Best Tactical Paintball Pants 2023
EDITOR'S CHOICE
Survival Tactical – Best Paintball Pants
Designed with 1000D layer technology
Superior knee protection system
Knee and butts padding
With 16 small and big pockets
PREMIUM PICK
HK Army TRK – Jogger Paintball Pants
Paint/mud resistant fabric
Drawstring waist band for perfect fit
Stretchable pair of pants
Breathable and well-ventilated
BUDGET PICK
IDOGEAR G3 – Multicam Paintball Pants
4-way stretch technology
Anti-rip and tear material
Water resistant Teflon coating
With 10 spacious pockets
1. Survival Tactical – Best Paintball Pants
Survival Tactical has designed some of the best camo paintball pants that offer more protection with immense durability. These trousers from Survival Tactical are designed using 1000D layer technology with ripstop fabric. And the best part is, for the knee, butt, and leg areas, highly durable material is used so that you can play without any fear of damage.
If you are fond of wearing cool and classy shades of paintball pants, then keep Survival tactical pants on your list. They are available in numerous colors, like multi-cam and officer green. Apart from this, coyote brown and typhoon camo are also available. There are even tons of extraordinary sizes, like ranging from small to extra-enormous.
Survival Tactical pants have been used by our team members on different paintball fields. Surprisingly, all of them appreciate the comfort level of these pants. There are almost 16 pockets which are quite useful for keeping your important stuff. The lightweight mesh that is there inside the pants makes it pretty breathable and you won't sweat liberally.
Pros
16 pockets of different sizes
Padded from knees and buts area
Knee protection system
Available in many colors
Cons
Not really for relaxed wearing
No doubt survival tactical is one of the best padded paintball pants that use unique technology like air circulation system and changeable knee protection system. It is durable and won't tear even on rough use.
2. HK Army TRK – Jogger Paintball Pants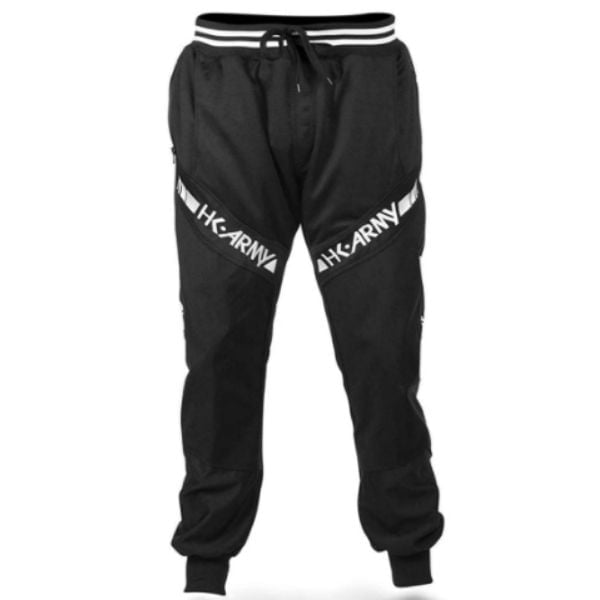 So, you want something that is affordable and built to last. Try HK army TRK paintball pants. HK Army is a brand that every paintballer knows due to its quality and durable products. Like other products, HK army paintball pants are of extreme quality and durability with an affordable price tag. They are made up of good material with great padding and stretch zones.
While we tested these pants, we found a high-quality padding area in the fly area. And that's the great thing indeed. It features a drawstring waistband that makes it comfortable to wear. Apart from this, if you see the inside of the pant, it's all covered with a soft mesh material that makes the pant breathable and comfortable.
The best part about HK army jogger paintball pants is their material, which does not absorb any kind of paint or mud. It makes cleaning an easy peasy job.
The ankle fit design of the pants gives a perfect fit on the legs and ankle area. During speedball, when I had to carry lots of pods and other stuff; I found out that it has only 2 swab pockets. Paintballers have to carry different things with them so there should be more pockets in the pant.
Pros
Stretchable material
Zipper pockets are waterproof
Material is durable and easy to clean
Ventilated and breathable pant
HK Army TRK jogger pants are the perfect jogger pants for paintballers. They are breathable and have enough padding to protect the groin area. Since it has only two pockets, you will have to use a harness with these pants to keep important stuff.
3. IDOGEAR G3 – Multicam Paintball Pants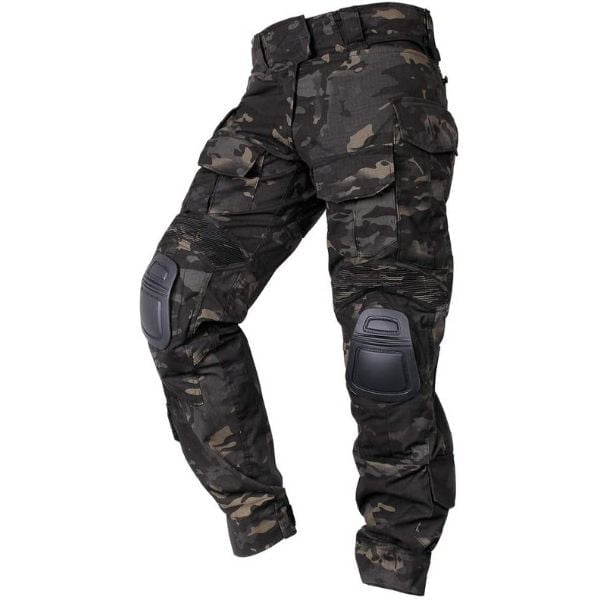 IDOGEAR is a professional tactical gear manufacturer known for manufacturing awesome products. IDOGEAR Generation 3 tactical paintball pants are made up of polyester and cotton, 50% each. So you can imagine the durability it has.
They have also incorporated ripstop technology that makes them anti-ripping and tearing. With 4-way stretch technology, you can move with great without any fear of tearing. For added durability, it has a YKK zipper and Teflon coating on the outside of the pants.
You will be staggered to know that it comes with adjustable knee pads. You can adjust the knee pad size according to your comfortable position. It comes with 10 pockets and IDOGEAR is available in different attractive colors such as ranger green multi camo in black and fawn.
Pros
Great tactical pants
The low-profile waistband gives a perfect fit
With adjustable knee pad
Stretchable and comfortable pant
Cons
No hips and crotch padding
No doubt, IDOGEAR offers the high end quality of tactical gear and the same goes for their jogger pant. They are designed with high technology to make you most comfortable during the game.
4. Bunker Kings Featherlite Fly – Paintball Protective Pants
The next one on my list of best paintball pants is from the banner of bunker king. These Featherlite fly paintball pants are pretty popular amongst paintballers because of their lightweight design. It weighs around 430 grams, which is so light that even you will doubt in your heart whether you have worn something or not.
Bunkering kings Featherlite pants are one of the most stretchy pants, and it's because of the Durstretch technology that not only makes these pants stretchy but also resistant to water.
Since paintballing is all about running and targeting, therefore you need to have a perfect fit and comfortable pants. Bunkering Featherlite features an amazing locking system that fixes your pants in one position without sliding up or down. It also has adjustable waist sizes for every size, so you can get a perfect fit around your waist. Bunker King Featherlite paintball pants are available in all sizes.
Pros
Adjustable ankle straps look cool
Breathable and comfortable pant
Power stretch
Lightweight with no bulky detailing
Cons
Crotch seam splits after a few washes
Bunker king Featherlite paintball pants are a great choice for players who want to remain comfortable and stretchy on the field. But it's not as durable as it should be. Anyways, it's economical you can afford another one easily.
5. HK Army Hardline – Best Lightweight Paintball Pants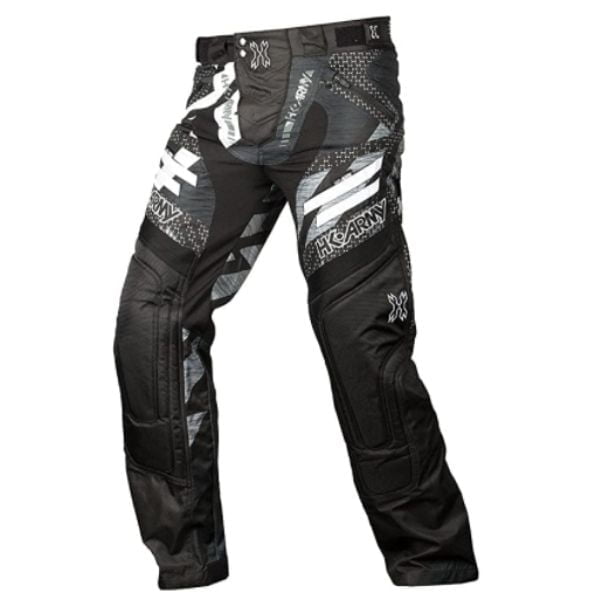 If you are in search of some cool and stylish paintball pants then grab your hands on HK army Hardline paintball pants. Its design and details are so amazing that you will fall in love with it at first glance.
Let me tell you, HK Army Hardline paintball pants are designed by professional tournament-level paintballers who are well aware of the slides, dives, and snake crawls at the field. That's why there is thick padding in the hips, crotch, and knee areas to keep you protected from injuries.
Also, an adjustable waist and cuff strap make you fit perfectly in the pants. We tested these pairs of pants at a brutal woodsball field and found them super stretchy. The material is so soft and breathable that you can wear it all day long without any trouble.
One thing that bothers me all day is the thick mesh inside that keeps sticking to my legs, making them super warm. To cope with this, there are leg vents with a zipper to lower your body temperature.
HK Army Hardline paintball pants are designed by professionals. That's why they are well aware of the importance of pockets. Besides all these features, HK Army hardline pants have some SIS pockets too for keeping barrel squeegee and pods. It is available in many different color combinations such as graphite, fire, stealth, and others, but the base color remains the same that is black.
Pros
Great for all-day wearing
Gives great protection to knees and hips
Designed for professional players
With great designing
Cons
The inner mesh is pretty thick and sticks to the leg
HK Army Hardline paintball pants are indeed the best paintball pants that keep your lower body protected from paintball hits. Indeed, they are super comfortable and stretchy so that you can easily wear them all day long.
6. YEVHEV G3 – Tactical Paintball Pants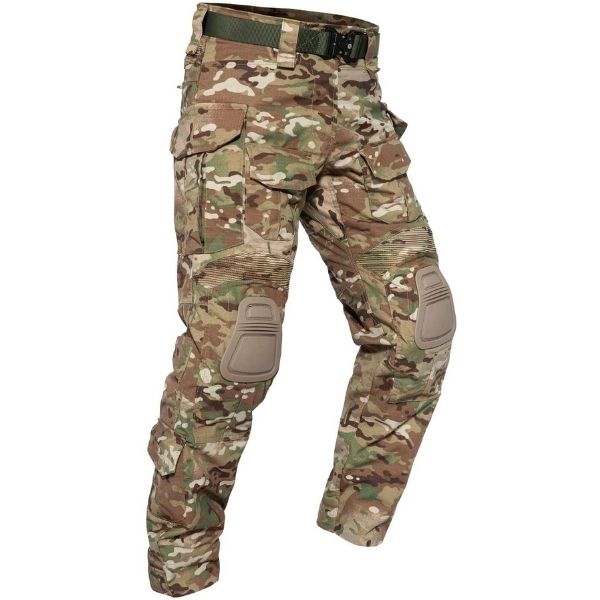 YEVEHEV is a 16years old brand that is known for tactical and hunting clothes. They develop such clothes that keep you warm and cozy even in chilly winters. YEVHEC G3 pants are the fusion of style, comfort, and durability. It is made up of 50% cotton and 50% polyester. But the best thing is, it has a Teflon coating on top of the pants, which makes it water-resistant and tear-resistant. Besides this, Teflon coating increases the durability of pants as well.
YEVHEV has put great effort into designing these tactical paintball pants so that players may feel comfortable during the game. That's why there is special tailoring on the hips and crotch area which first perfectly on the body so that you can easily make your tactical movements.
To make these pants more flexible, you will find the fabric from the knees and waist is somewhat different from the fabric of the entire pant. This is because YEVEHEV has added special elastic fabric to these areas.
Moreover, it features removable knee pads, and the interesting thing is that you can adjust these knee pads according to your height with the help of its elastic strap. YEVHEV is one of the best tactical paintball pants as it fits right because of its adjustable Velcro straps at the waist, knees, and ankles.
Pros
Comfortable and flexible pants
Designed for professional paintballers
With enough padding on hips and crochet
Adjustable knee padding
I would say YEVHEV paintball pants are the best paintball pants for big boys, because of their available sizes and because they are so roomy that a big size man can easily fit into them.
7. Paintball Equipment Tactical Emerson Combat Pants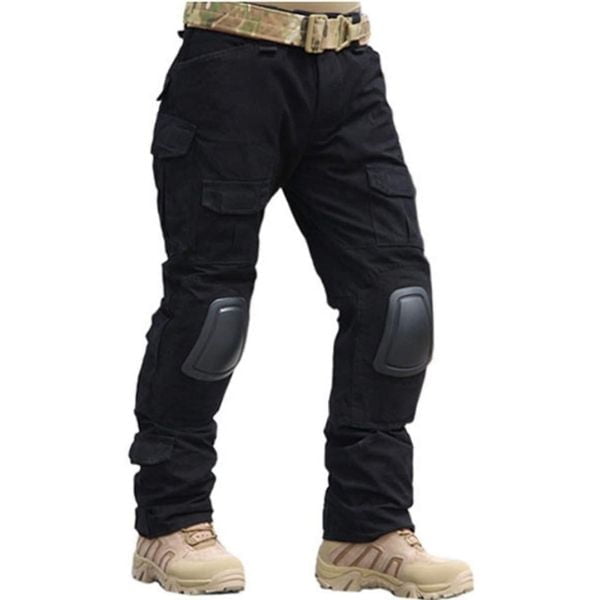 Paintball equipment combat tactical pants are the perfect choice of pants for big guys because of the available size. Unlike the other tactical pants, it is not much heavy. It weighs around 0.8gm.
Gen2 is made up of mixed materials that are cotton and polyester, with a high content of polyester. The Teflon coating on the top makes it water-resistant and anti-wear and tear. Therefore, you can freely wear it in any paintball league without any fear that it will tear. The water-resistant capability of the pants does not absorb paintball dyes. That's why it can be washed easily after the paintball match.
We have tested Gen 2 combat paintball pants in various paintball tournaments and we found them super comfortable and breathable. The inner mesh is a great addition to keep the pants breathable. Also, in terms of protection, it leaves no loophole. The padded crotch and hip area protect you from any kind of injury. In fact, the knee area has removable knee pads that make it easier for you to crawl or creep on the ground.
The interesting thing about paintball equipment combat tactical paintball pants, is, it has got numerous pockets with durable zippers and buttons. You can keep your important gears on the paintball field easily. These amazing pairs of paintball pants are available in numerous sizes, but make sure to buy big size pants as they shrink after washing. Till then, you can adjust the waist using Velcro straps.
Pros
Great for outdoor sports
Water-resistant
Lightweight and breathable pant
With a replaceable knee pad
Paintball equipment gen 2 combat paintball pants are nice tactical pants that are not only comfortable to wear but also stylish paintball pants and trendy too. It's a must-have paintball pant.
8. Exalt T4 – Paintball Pants
Exalt paintball pants are one of the best tactical pants that I would love to recommend every time.
Exalt t4 is the perfect example of fine workmanship which can be evident by its elegant design. Exalt 4 has got all the features that should be there in tactical pants with padding on the top.
Well, it has got really nice padding on the knees, hips, and crotch area so that you can glide or slide on the field easily. On the knees, the padding area is quite big so that it wraps around your legs and gives you optimum protection.
Exalt t4 pant has got numerous pockets which are pretty wide and well designed so that you can keep your paintball accessories in them. The pants have got a drawstring at the bottom and at the top too, to make them fit on your body. To keep your legs cool and breathable, the inside of the pants has a mesh lining to keep your body cool during the game.
While we tried Exalt T4 pants on a woodsball field, we were amazed by their flexibility. Though it's stretchable, it has got more stretch at the hips and crotch area, which are usually prone to damage. So, unlike other pants, Exalt T4 pants are protective and durable to use.
Pros
Plenty of pockets
Baggy style pants
Made up of high-quality material
Fine and elegant designing
With wide knee pads
Cons
Pockets at the back of the thigh are tricky to use
Exalt T4 pants are one of the best paintball pants for summer because of their breathability. You can fearlessly wear it on any paintball field. It will not tear nor will it spoil.
9. Bunker Kings V2 – Cheap Paintball Pants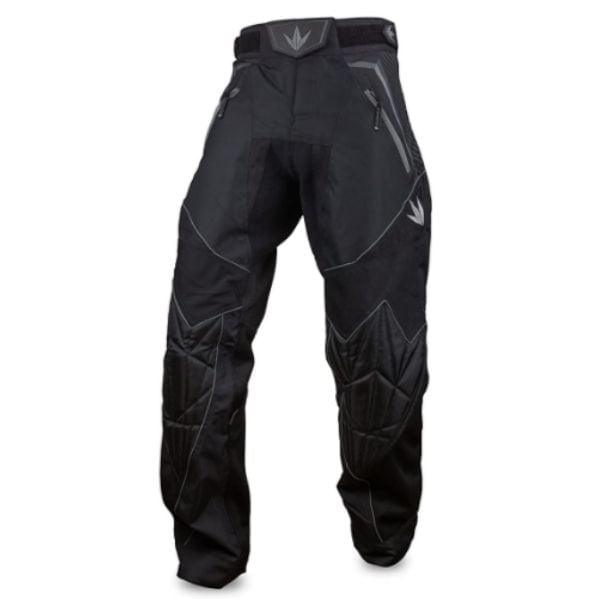 Bunker King Supreme paintball joggers are comfortable pairs of paintball pants that are one of the best-reviewed pants on the internet. These pants are made up of high-quality ballistic nylon, which is double stitched. To make it more durable, it features quadruple stitched seams at the areas that are susceptible to tear. So in terms of durability, stay relaxed. You can wear it on every paintball match.
BK supreme pants are pretty flexible with hi-flow ventilation so that you can remain cool and freely move on the field. For better mobility, it features elastic flex zones.
Like every paintball pant, it has padding around the knees and crotch to give maximum protection. It features a few pockets, but all have zippers, so none of your stuff will fall out of your pockets.
BK supreme pants are great pants in terms of material and functionality, but their size is a big confusion. It is a bit slim in the style, which is not liked by the majority of paintballers, so always choose one size greater than your actual size.
Pros
Highly durable and flexible pants
Offers great breathability
Elastic flex zone for comfortable mobility
Great padding
Cons
Some customers find it hard to select the perfect size
Bunker King V2 is a great pair of paintball pants, especially for beginners. They are no doubt one of the best cheap paintball pants with all those bells and whistles of costly paintball pants.
10. GI Sportz – Best Paintball Pants for Big Guys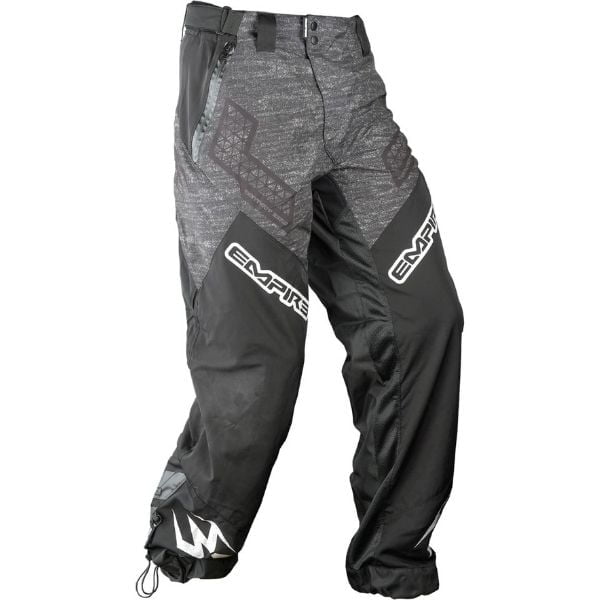 The last paintball pant that we have tried is GI Sports Empire F7 paintball pants, which I would say is one of the lightweight and breathable pants. It weighs only one pound, so if you wear it, you will remain comfortable in every sense.
In terms of breathability, no one can beat GI sports paintball pants. It features laser-cut vent holes at the back of the pants, which allow a massive amount of air to move and absorb perspiration.
It features power stretch mesh panels, which also make the pants breathable and soft. To have a full degree of flexibility, it features a 4-way stretch groin panel. We have tested it on a scenario-based speedball game a where we have to crawl to our base camp. During crawling, we felt how flexible these pants are. GI Sportz pant fits every player thanks to their elastic ankle cuffs and adjustable waist.
Pros
Super ventilated and breathable pants
With power stretch mesh panels
Waterproof zippers
Rugged Pants
Cons
No knee, hip, or crotch padding
GI Sports Empire F7 is an extremely lightweight paintball pants that has got enough ventilation to make the pant breathable. We would recommend it for those players who are hard-core paintballers who play irrespective of hot temperatures.
Paintball Pants Buying Guide
So we have shared our views about some of the best paintball pants. Now it's time for you to consider what characteristics paintball pants should have and why they are necessary. So that if you want to buy paintball pants that we haven't reviewed, you can easily make a decision. Let's check out our paintball pants buying points.
Look for thin pants
You are not playing paintball in your drawing room where the floor is neatly clean. Paintball is a rough and tough game that will expose you to harsh conditions. You might dive, creep, or crawl during the game, which may injure your legs. Therefore, while choosing the best jogger paintball pants, always look for a pant that is thick enough to protect you from thorns and twigs. Also, you won't get any bumps on your leg after getting hit by a paintball. Luckily, all the paintball pants that we have reviewed above are made up of thick material.
Look for padded pants
Just like the thickness is important for paintball pants, padding is equally important. In fact, padded pants are the perfect definition of paintball pants. Usually, pants have thick padding on the knees, crotch, and hips areas so that you can freely move around the field without any injury. Most of the paintball tactical trousers have removable knee pads, which is a great thing. You can even adjust the position of the knee pad according to your height. For instance, IDOGEAR and YEVHEV paintball pants have adjustable and removable knee pads.
Choose the right material
What I believe is, a paintball pant should not be susceptible to tear. It should be strong and durable enough to withstand all harsh conditions. Therefore always select such pb pant that is made up of strong and durable material that is wear-resistant. Besides this, flexibility is another important factor. The paintball pant should be made up of flexible material so that you can easily stretch and move around the field. All the pants that we have reviewed are made up of rugged, durable, and flexible material but our favorite is YEVHEV as it has used special elastic knitted fabric on the knees and waist area to have more flexibility.
Look for breathable pants
You can't deny the fact that paintball is a strenuous game that will make you sweat a lot during the game. That's why, to keep yourself cool, always look for breathable paintball pants. Pants are breathable when they are made up of breathable material, and have mesh paneling or laser cuts.
Wearing constricted pants will make you uncomfortable, which ultimately affects your performance. Therefore, the breathability of pants is another important factor that you should consider. HK army TRK and Hardline both have mesh paneling for breathability purposes. Whereas, GI sports empire F7 features laser perforations for breathability.
Look for plenty of pockets
Yes, more pockets mean more space, and this is better for you. You will have extra space to keep barrels, pods, magazines, and other accessories while paintballing. Make sure to look for zipper pockets that give more protection to your belongings. Survival tactical paintball pants will win your heart if you want pockets, as it has got 16 pockets.
Best Paintball Pants FAQs
Conclusion
Paintballers can play with great tactics and tricks if they are comfortable both mentally and physically. Being comfortable mentally is not in our hands, but yes, we can make you comfortable physically by reviewing some of the best paintball pants for you. These paintball pants will keep you cool also even if you play on hot summer days.
Though we have selected the top-rated paintball pants but if you are still perplexed to choose then go with our recommendations that are Exalt T4 paintball trousers as it has enough padding and is made up of thick material. Survival tactical pants are also a great option. Rest, the choice is yours, take help from our buying guide and choose the best pair of paintball pants for you.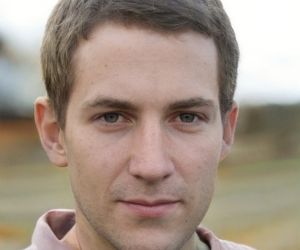 My name is Jezus Fischer, I am working full time on a paintball store and played all types of paintball games. Read more about me.