Best MagFed Paintball Gun 2023 – Dual Feed & Accurate
With different variations of paintball, MagFed paintball is the latest category of paintball sport which is mostly liked by the players who want to experience real military warfare. MFOG is commonly known as the MagFed only game where players use magazine-fed paintball markers instead of hopper-fed, which gives more like a real firearm feel.
Finding the Best Mag Fed Paintball Gun is not a hard job at all. You will find lots of high-end brands offering Mag Fed paintball guns, such as Tippmann MagFed, which is durable and accurate. Remember, your performance on the battlefield depends greatly upon how accurate and durable your MagFed guns are. Therefore, we are here to reveal some top-rated Mag Fed paintball guns that are accurate and give you real military warfare exposure. All of the below-mentioned markers have been tested on woodsball, MilSim, and MFOG paintball fields by various players. Scroll down to know more about the best Mag Fed paintball guns of 2023.
Top 5 Magazine Fed Paintball Marker
EDITOR'S CHOICE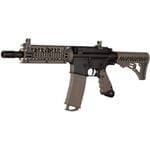 Tippmann TMC MagFed Paintball Gun
Budget-friendly
Dual-feed
19 ammo capacity
PREMIUM PICK
Planet Eclipse MG100 – Magazine Fed Paintball Marker
Lightweight
Customizable
10 ammo capacity
BUDGET PICK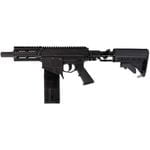 Valken – Best Magazine Fed Paintball Gun
Durable
18 ammo capacity
With comfortable grips
1. Tippmann TMC MagFed Paintball Gun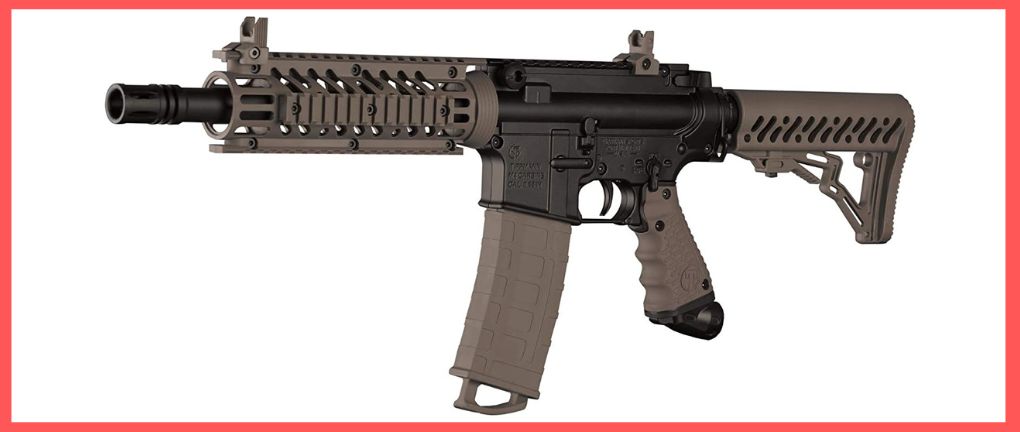 If you genuinely want to dip your toes into Mag Fed paintball guns, then Tippmann TMC is the gun that suits best to you.
You must have used rented Tippmann Cronus, so you will be well aware of the quality and aesthetics of Tippmann TMC, as it is the MagFed version of Tippmann Cronus. Our teammate who loves tactical-style paintball guns, Tippmann TMC, is their favorite because of the fact that it looks like AR-Steel Firearm.
TMC comes with a sturdy magazine that has the capacity to hold up to 19 balls. Since we have used Tippmann TMC various times, so we have analyzed that it can hold 20 paintball ammo, but to improve the consistency of the gun, we recommend you to load only 19 balls at a time. Don't go for full capacity as it may clog the marker. That's our advice only, not the manufacturers.
In case at some point in the game, you are out of filled magazines, then you have the option to shift to hopper fed system. Don't forget to place the dummy magazine while you are using the hopper-fed option. Tippmann genuinely knows the needs of players. With the addition of a clamping feed neck, Tippmann gives you the liberty to add whatever brand of hopper you want.
More so, TMC is equipped with adjustable front and rear sights. What I feel, is this is indeed a great addition to the marker to make it look like a more MilSim style gun. Apart from this, to add more style to your Mag Fed gun, TMC features four Picatinny rails where you are free to mount various accessories like flashlights, lasers, and whatnot.
While using the Tippmann TMC magfed paintball marker in one of the heated woodsball battles, we can say without a doubt that it is one of the most accurate paintball markers as you can target your enemy even from 150 feet away accurately. Everything about the TMC Mag Fed paintball gun is pretty amazing, except the fact that it is incompatible with first strike rounds. Also, a few of our teammates feel its barrel is not of the same quality as the barrel of Tippmann Cronus and other tactical-style guns of the same brand.
Related: Best Paintball Guns for 400 Dollars
Pros
Amazingly accurate gun
Great rail system for more customization
Looks like AR/M4 rifles
Dual-feed option
Above all, Economical
Cons
Not compatible with first strike rounds
Barrel quality needs to be upgraded
It would be an injustice to not discuss Tippmann TMC while discussing MagFed guns. Unlike Tippmann TCR MagFed, which was pretty expensive, Tippmann TMC MagFed gun is the very affordable and best choice for beginners who want to have an authentic AR feel.
2. Planet Eclipse MG100 Magazine Fed Paintball Marker
In the world of paintball guns, MG100 is the first-ever paintball gun that is MagFed with Gamma core bolt. It's a mechanical-style gun, therefore, you won't need any batteries for it.
Let's first talk about the looks of this amazing paintball marker; it gives its players the realistic taste of MagFed assault rifles. The stock, barrel, and grip are made up of aircraft-grade aluminum. Although weighing less than 2 pounds, the MG100 is a powerful gun that has been proven over time to be reliable as well as accurate.
It's a high-performance paintball gun with a magazine that can hold up to 10 paintballs-5 on each side.
We played different matches of woodsball with the Planet Eclipse Mg-100 and we found it a bit irritating to flip the sides of the magazine after 5 shots. That's why Planet Eclipse has added the feature of dual configuration, that is, it is hopper fed too. After using the magazine-fed option of Planet Eclipse Mg-100 with two magazines, we then switched to the hopper-fed option by placing a dummy magazine as it is mandatory to be placed while using the hopper.
Apart from this, the MG100 features a gamma core bolt. This reduces noise when you fire it, making it ideal for use during stealth missions and silent attacks on enemies. The spool valve in the gun helps reduce noise even more. The MG100 is not compatible with CO2 or lower pressure tanks, so if you're looking for something that can be used in a variety of situations, this isn't an ideal model because of that reason. It is compatible with only HPA tanks.
To give you a real soldier-like feel, it has got multiple Picatinny rails. So that you can mount laser lights, bipods, and flashlights to fight like a soldier. Picatinny rails are indeed a great way to upgrade your marker.
MG-100 is known for its exceptional accuracy as it is equipped with a 14.5-inch barrel, which is the longest barrel on any semi-auto maker in its class. Its longer barrel makes it more accurate than other similar markers because you'll be able to aim your target precisely with ease. However, long-barrel markers will require more air to shoot repeatedly because the amount of energy that compresses within the spring over time needs extra air to release it safely. Thus making guns less air efficient.
So here comes the solution. Planet Eclipse has installed a Gamma Core Bolt System that releases compressed air faster while providing impressive consistency and efficiency; thus allowing Mg100 owners to experience less recoil and higher rates of fire without hurting their wallets!
Pros
Less kickback and low noise
Air efficient paintball marker
With built-in EMC rails for the latest upgrades
MilSim style
Durable construction
Cons
Magazines have got the low capacity
Not compatible with CO2 or low-pressure tanks
Without a single doubt in the heart, planet eclipse MG-100 is one of the best magazines fed paintball guns. Its sturdy and AR rifle looks to make it a perfect MilSim gun. The less noise level of the gun and less kickback is indeed worth appreciating.
3. Valken M17 Magazine Fed Paintball Gun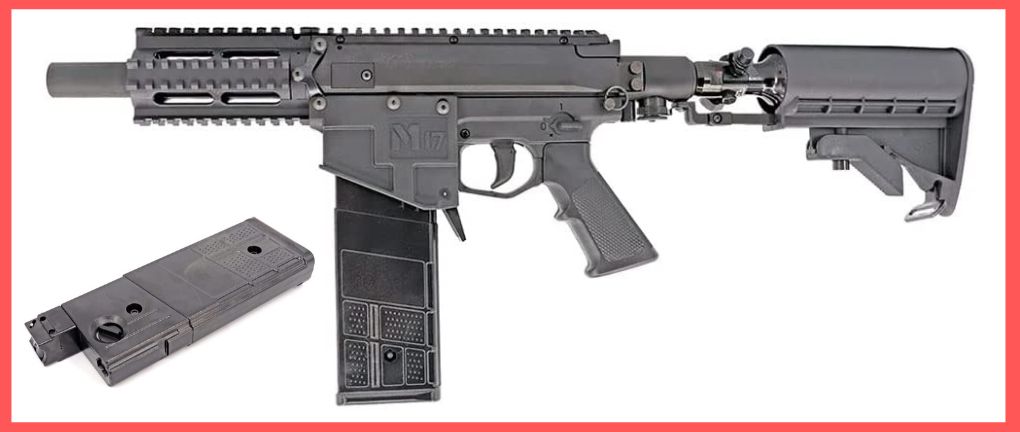 What if I tell you that you can switch a gun from semi-automatic to a fully automatic MagFed gun within a second just by flipping a lever?
Of course, you will be amazed!
Let me introduce you to the Valken M-17 MagFed paintball gun, which is basically a semi-automatic gun, but during a heated battle when you want to dominate your enemies, you can convert your Valken M-17 into a fully automatic gun.
Because of its advanced and unique aesthetics and MilSim style, you will like it as if you are holding a real tactical rifle in your hands. HPA is the ideal propellant for M-17 and the best part is, the HPA tank fits at the back of the gun. It makes it pretty diverse from the other guns where the tank fits at the bottom.
One of the best things about the Valken M-17 tactical style riffle is, it is compatible with first strike rounds. So those peeps who want to have a more accurate target, then you can use 0.68 caliber first strike rounds from the magazine. Mind you, it can hold up to 18 ammo at a time, which is a pretty impressive capacity when you compare it with the Planet Eclipse MG-100 MagFed gun.
The Valken M-17 has a "super grippy" texture which is designed to provide comfort and stability. The rubberized over-molded design allows for easier handling, whatever the conditions. It also includes a velocity adjuster that can be found behind the grips themselves.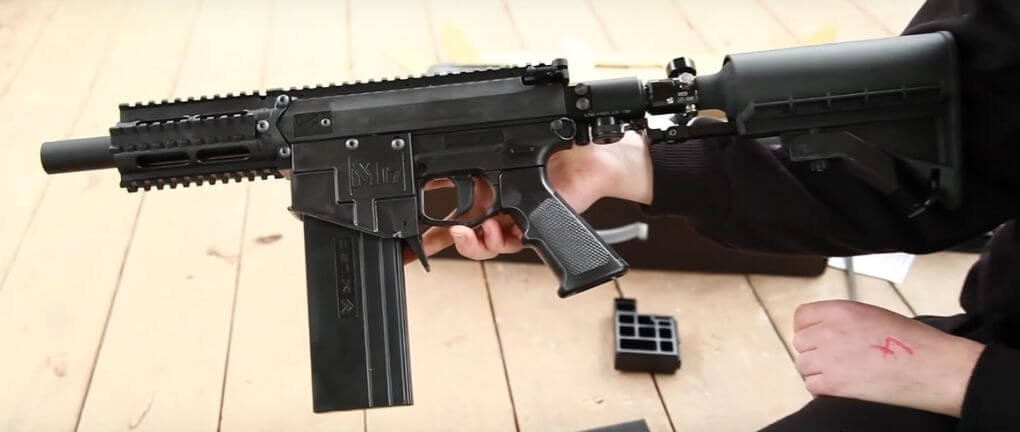 When it comes to cleaning, as per reviews of our team members, it is pretty easy to clean and it's because of its 2 bolt system. Instead of using any special tool, you need to use your hands to remove the two bolt system and viola! Your marker is ready to get cleaned and maintained.
Furthermore, M-17 is powered by Valken's patented HEAT core engine. This amazing technology is responsible to gives consistent shots and high performance regardless of which ammo is being used whether it's standard or First Strike paintballs. This sort of consistency makes an even bigger difference when firing First Strike paintballs because velocity and accuracy stay consistent upon hitting a target at long distances. With all these amazing features, one drawback that our team observed is, it has the capability to chop paintballs no matter what kind of paintball you use.
Pros
Easy to clean and maintain
HPA tank can be installed at the back
Super comfortable grips
Compatible with first strike rounds
An all-in-one package for those who want to experience semi and full auto modes, mechanical firing, a comfortable grip, and tech features like easy loading and ambidextrous release magazine operation.
4. Tippmann TMT TMC Paintball Gun with Magazine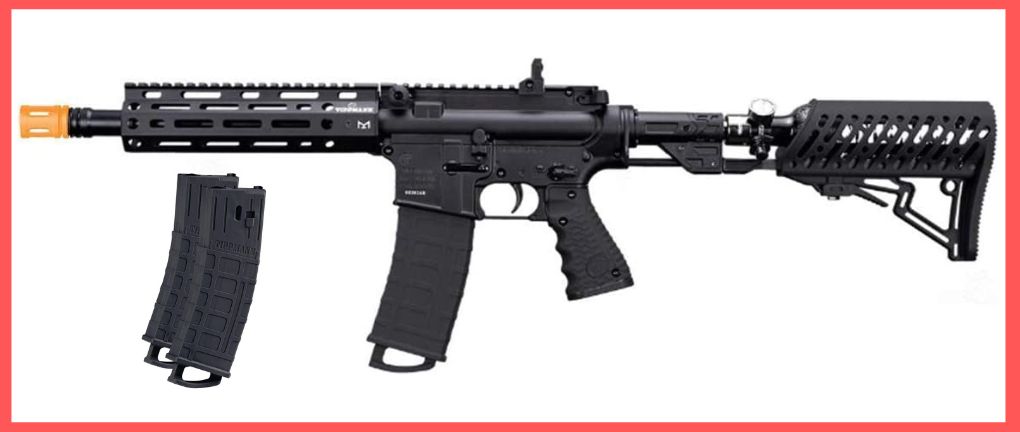 Tippmann TMT elite is the advanced and upgraded version of Tippmann TMC. Luckily, it's a MagFed paintball marker that features a dual fed option that is you can use a hopper as well. But like other Mag Fed paintball markers, you need to use a dummy magazine when you are using a loader as a medium of loading paintballs into the barrels.
The best feature that makes TMT different from TMC is its magazine capacity. You can load up to 20 paintballs easily in the magazine, and this will not at all affect the consistency of the marker.
The build construction is pretty sturdy and durable. Even though the handguard is made of aluminum, it is very light in weight. Over the handguards, there are lots of Picatinny rails that let you add cool stuff like sights, and lights on the gun.
Besides this, it features a 12 inches barrel, which makes it a highly accurate and reliable MagFed marker. You can increase the accuracy of the marker by choosing different accessories that are available in the market. With the help of its adjustable rear and front sights, you can precisely aim your target and give a tough time to your opponents.
I really like its soft over molded rubber grips; even you can hold it firmly with buttery fingers.
To make Tippmann TMT a real MilSim style look, it features a collapsible stock. And for your comfort, it has got 6 different levels of adjustment. Tippmann TMT is not compatible with low pressure or CO2 gas is operated with an HPA tank. The adjustable stock has got enough space that you can hide a 13 cubic HPA tank behind it. You can even remove the stock if you want to add a large tank, as the tank will serve as a stock as well.
All in all, it's a very great MagFed gun with amazing performance and accuracy. But one thing that bothers me and, for sure, paintballers too, is its weight. It weighs around 6 pounds which is pretty heavier than the high-end Mag Fed markers. Carrying unnecessary weight on the field will decline your performance.
Pros
Inline bolt system prevents leakages
Adjustable stock
Durable
Can be customized as per your preference
Cons
Heavier than the other models of the same category
Tippmann TMT is a nice MagFed paintball marker with modern features backed by comfortable handling. The superior performance and endless customizations make it ideal MagFed paintball marker for professional paintballers.
5. Valken CQMF 68 Caliber Magfed Paintball Gun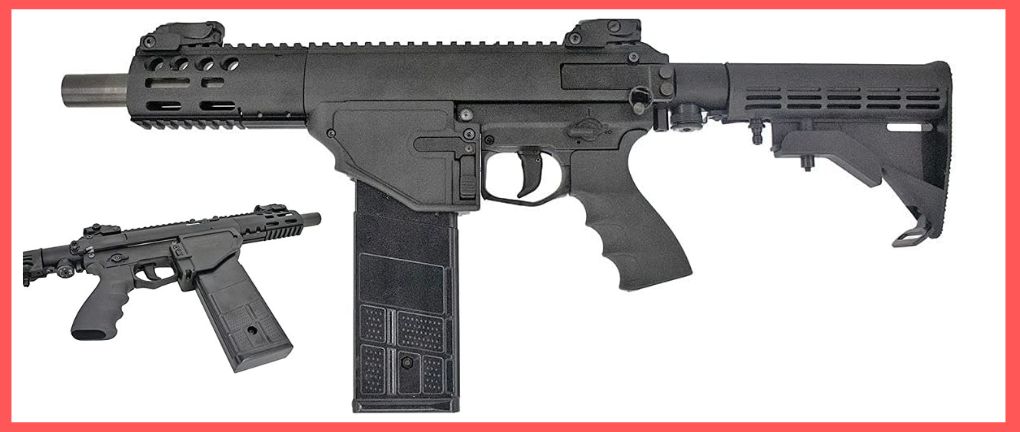 The last one on our list of paintball guns with magazines is again from the banner of Valken. That is the CQMF, which is the falcon version of the Valken M-17 MagFed gun. We haven't tested this product before, because it is very similar to Valken M-17, but later on, after using rented CQMF, we realized a few differences between the Valken CQMF and M-17. Therefore, we decided to thoroughly test Valken CQMF.
Starting with the looks, both of the guns look pretty much the same design-wise but if you observe it closely you will feel the build material is different in both. The majority of parts of CQMF are made up of aluminum like handguards and bodies whereas Valken M-17 is made up of polymer. Because CQMF is made up of aluminum, it is comparatively light in weight.
Also, the stock in CQMF is an adjustable buttstock, unlike M-17 which features air tank buttstock, where you can use an air tank as a shoulder stock.
Another feature that is different from the CQMF is the magazine release function, CQMF has a magazine release button both on the left side and right side of the gun. This way, left-handed or right-handed players can take full benefit of this ambidextrous magazine release function. The Valken M-17 is different in this aspect as it features a magazine release lever right next to the magazine. This is also a convenient option for players.
Apart from all these differences, the rests of the features are the same. You can switch between safe, semi, and fully automatic firing modes. You can switch between different firing modes just by flipping a lever A lot of people ask for a charging handle in MagFed gun, Valken M-17, and CQMF doesn't require any charging handle since these are semi automatic guns.
Valken CQMF features a unique blow-forward operating system that maintains the accuracy and consistency of the gun. Since it's a MagFed gun so you will get a dummy magazine to use when you are using a hopper as a loading mechanism. The magazine can load up to 18 paintball rounds of 0.68 caliber. It is even compatible with the First Strike round as well.
When it comes to customization, the Valken CQMF gives you lots of opportunities to customize the gun as per your choice. Thanks to its flat top, where you can mount different accessories like scopes, lights, or sight rails. One thing that disappoints us is like Valken M-17, CQMF has got the tendency to chop the paintballs. Valken should focus on this issue and resolve it.
Pros
Consistent and accurate shots
Durable and sturdy gun
With adjustable stock
Lightweight and easy to use
Valken CQMF is one of the affordable and perfect Mag Fed paintball guns that gives an exceptional performance on every field. The multiple firing modes make it the best equipment for MilSim paintballing, where every paintball matters.
MagFed Paintball Gun Buying Guide
Shopping for a Mag Fed paintball gun is pretty different from the conventional paintball gun. Besides keeping an eye on features like build quality, propellant, and mechanics, there are a few more factors that one should keep in mind while looking for the best MagFed paintball marker. Read our handy guide to the top magazine-fed paintball guns on the market today!
Dual feed compatibility:
One of the worth noticing features of MagFed paintball guns is, that they SHOULD be dual-feed compatible which means you can integrate a hopper when you want in a magazine feed gun. This dual compatibility lets you enjoy both experiences.
Using magazines gives real-time military feelings, for which paintballers play paintball. But after reading our reviews, you might have got an idea about the magazine capacity, which lies somewhere between 10-20 paintballs. After which you need to use another magazine or refill it.
In contrast to this, a hopper can hold up to 200-300 paintballs. So if you are in a battle and have no time to refill the magazine, simply switch to hopper fed mode by attaching a hopper with a feed neck at its place.
Remember, Dual Feed mag fed paintball markers come with dummy magazines that you need to place in when you are using the hopper-fed option.
All the guns that we have reviewed above are dual-feed paintball markers.
Magazine capacity:
Keep this thing in mind that the magazine has limited paintball capacity when comparing it with hopper-fed guns. The magazine can hold a maximum of 20-25 paintballs. Not more than that. That's why we always prefer to carry extra refilled magazines on the battlefield. If you are a fan of enjoying the Military simulation paintball game, then keeping an extra magazine is the only option. Otherwise, you can switch to a hopper-fed system.
Aesthetics:
Always choose a MagFed paintball marker with military aesthetics especially if you are a fan of MilSim paintballing. Usually, Mag Fed paintball markers are just like genuine firearms, you can call them replicas that look exactly like the original firearm. All the Mag Fed paintball guns that we have reviewed above are resembles Assault military rifles.
Durability:
Quality should never be compromised, no matter whether you are buying a MagFed paintball marker or even paintballs. The durability and quality of the product must be double-checked, it should never be ignored. For Mag Fed paintball markers, construction quality matters a lot as it determines the overall durability of the product. There are a few paintball markers that are made up of carbon fiber, which is a sturdy material and can withstand wear and tear easily.
Some paintball guns are made up of aluminum, which is a nice material. Glass-filled nylon and magnesium are sometimes utilized in the construction of firearms as well. Most paintball weapons are a combination, with certain components being comprised of tough plastic. Compare different MagFed guns and choose from those that contain quality materials and stand out for their longevity.
Customizability:
Ideally, the MagFed marker should provide endless scope for customizations and upgrades. While selecting a MagFed marker always look for accessories rails or Picatinny rails. Although many paintball makers come preloaded with essential extras, such as equipment rails or a Picatinny/weaver quad-rail installation with illumination capabilities. Customizing your weapons with additional gadgets like scopes or tactical lasers enhances your accuracy and efficiency. They not only improve the overall performance of the marker but also enhance the military aesthetics.
FAQs
Conclusion:
Using a MagFed paintball marker has its own charm. With an assault rifle-style weapon in your hand, you feel like a soldier who is protecting his country from enemies. MagFed style guns are best suited for MFOG but also for MilSim style gameplay. MagFed guns are comparatively pricier than the conventional paintball guns therefore, choose them wisely. Our personal favorite is the Valken M-17 MagFed paintball gun which delivers consistent shots even with First Strike Rounds. However, if you want something economical then go for the Tippmann TMC MagFed gun. You can take help from our buying guide and decide on the best magazine-fed paintball marker for you. Whatever you choose research and check it deeply.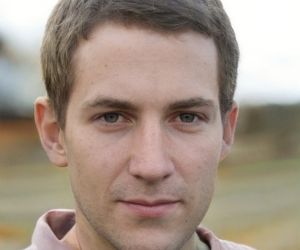 My name is Jezus Fischer, I am working full time on a paintball store and played all types of paintball games. Read more about me.