Last Updated on May 5, 2022 by Jezus Fischer
There are few things without which playing paintball is simply impossible that include guns, paintball ammo, and tank. Not just an empty tank but a tank filled with gas is mandatory for playing paintball. Gas in paintball is a propellant that propels the paintball so that it moves with great velocity.
For filling your CO2 compressed air tanks, 4500psi air compressors are required which are available at the pro shop, so that you can easily fill your paintball tank. But being an enthusiastic paintballer it seems so frustrating to rush towards pro shop now and then for filling paintball tanks. Why not to invest in a high-pressure air compressor for paintball? It will be a one-time investment that will save your precious time and money in the long run. Usually, the Best Paintball Air Compressors are electrically operated that can be powered via cars battery; they have a built-in fan for cooling and produces less noise.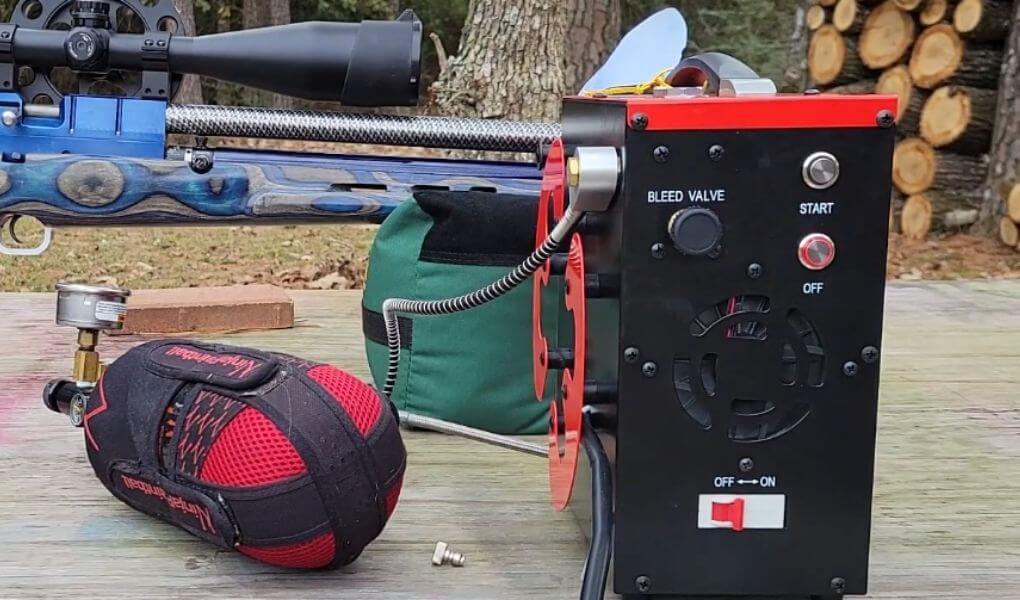 We have found out few such paintball air compressors, thoroughly tested them, and analyze each and every function. Here are reviews of some Best Paintball Air Compressors that are portable and electrically operated.
7 Best High Pressure Paintball Air Compressors
1. GX CS2 – Best Paintball Air Compressor
The basic use of the GX CS2 portable air compressor is to fill scuba tanks. Compressed air tanks for paintball guns are equivalent to scuba tanks as per the ratings. Therefore GX CS2 is a perfect electrically powered air compressor for paintball markers.
Since it's an electrically powered air compressor so there isn't any involvement of oil and gasoline so no more mess with the GX CS2 air compressor. The air compressor is pretty convenient to use with your choice of power you can even power it by your car's battery or even with your home electricity.
GX CS2 is equipped with a powerful electric motor of about 2.5 horsepower which operates on 110V. It can fill the paintball compressor tank at 4500psi or 300 bars, which is the ideal pressure for paintballers.
When we are paintballing vacations, we always prefer keeping GX CS2 with us in our car. Firstly because it's simple and easy to use. Secondly, its inflation speed which is around 2700r/min. we have tested its speed and pressure at various times. If you fill a 0.5L of the tank then it would take around 10 minutes to fill the tanks.
Lastly, its 6KG weight makes it one of the lightweight air compressors that can be taken anywhere with its easy-to-carry design. One drawback that grabs our attention is it lacks an auto shut-off feature, therefore you need to be very vigilant while filling tanks because you need to turn it off manually when the pressure reached the desired value.
Pros
Light in weight
Portable and easy to carry
Produces 76dB of sound
With a built-in fan cooling system
Cons
It lacks an auto shut off feature
GX CS2 is one of the inexpensive and easy-to-use paintball gun air compressors that quickly fill paintball tanks within minutes without producing extra noise.
2. GX CS3 PCP – Paintball Air Compressor
Well, if you want the best paintball gun air compressor then don't forget to read about the GX CS3 air compressor. It is a type of air compressor that is specially designed for air guns and paintball guns.
It features an auto Stop mechanism that is pretty useful when you are filling an air gun or paintball air tank. The compressor automatically stops when its set PSI is reached, preventing overfilling and therefore some typical problems such as under-inflation. The moisture filter prevents the compressor from overheating. This keeps it running smoothly!
GX CS3 PCP air compressor can be powered by a car battery, home AC outlet with an included 110V-12V converter, or by running it on a generator. This makes it incredibly useful as you don't have to worry about not being able to use it anywhere.
As far as its efficiency is concerned, it is designed for inflating less than 1L tanks. It fills a 190cc tank from 1800psi to 3300psi in as little as two and a half minutes, while filling a 480cc carbon bottle from 1800psi to 3500psi is done in just under nine and a half minutes. This is what we have observed while testing it at home.
With its 2700R/min inflation rate and 4500psi operating pressure it's one of the nice air compressors but in my opinion, it's pretty expensive. You can easily get another high-quality air compressor with more features in this much amount. Moreover, it is not meant to be used for filling large capacity tanks like above 1L.
Pros
Produces less noise that is 75Db
No need to oil or lubricate
Oil-less and waterless compressor
With a built-in fan for cooling
Portable and mobile air compressor
GX CS3 falls under the category of best paintball air compressor because it is electrically operated, portable, and has a good flow rate. Though it is not meant for filling large tanks, but for paintball tanks, it's best.
Orion Motor Tech air compressor is known as one of the best high-pressure air compressors. When it comes to looking for a large compressor that can deliver high power and reliability, we would definitely advise the Orion Motor Tech air compressor. It is a 4500psi air compressor that works 110V AC power.
It is equipped with a 1.8KW motor that delivers 30MPa pressure or in other words, you can say that 50L/min of air runs through it. Thanks to its special water cooling methods that boost the operating time up to 90% when you want a quick refill of your HPA tanks.
The best thing about the Orion motor tech air compressor is, it features dual-stage compression and dual water and oil separators. This stabilizes and smoothes the overall performance of the air compressor. This is the reason it fills up a 6.8L tank to 300 bars in just 30 minutes. Whereas, it can fill a 1L tank in just 10 minutes.
The compressor comes with a pressure gauge on which you can monitor the pressure of air that is being filled. As soon as the pressures reach 4500psi, switch it off manually. Remember it will not stop automatically, so you have to keep an eye on the gauge while filling.
In order to prevent friction on the piston and other parts of the compressor, it needs engine oil. In the Orion motor tech air compressor, there is a red dot that determines the level of oil. the red dot should be below the oil level. The bad part about Orion motor tech is, it is compatible with only a few engine oils like ISO VG46 and AW46 standard oils. So it's a pretty powerful air compressor but it is not portable like the other paintball air compressor.
Pros
Powerful and heavy duty
Efficient performance
Fills 1 L in just 10 minutes
Cons
No auto shut off feature
Compatible with a few engine oils
Orion Motor Tech air compressor is a heavy-duty and commercial-style air compressor that is best for pro shops. It is an electrically operated air compressor but requires oil for lubrication.
4. YONG HENG – High Pressure Air Compressor
For beginner paintball players, Orion Motor Tech products are a reliable choice. This electric high-pressure air compressor is one of the best choices because it works efficiently and it's priced lower than many similar machines on the market. It comes with affordable features meant to be convenient for users, including portability that allows users to easily transport it around or store it away when not in use.
Yong Heng air compressor operates on a 110v and can deliver 4500psi of air at 50L per minute. It usually takes around 30 minutes to fill a 6.8-liter paintball tank. This is one of the versatile kinds of air compressors that can be used for paintball, fire fighting, and even for pumping scuba tanks.
Just like the Orion air compressor, Yong Heng is a two-stage compression system, similar to the single-stage compressor functionality. This type of compressor system means that compressed air isn't sent directly to the tank for storage. Instead, it is first sent to the smaller piston for the second stroke at low pressure. After that, double pressurized air will be cooled and delivered to the paintball storage tank. The biggest advantage of using two-stage compressors is the reduction in overall operating cost as the compressor has to do less work to compress air at a given pressure.
Yong Heng air compressor machine has got more or less similar features as Orion motor tech air compressor, except the fact that Yong Heng air compressor has an auto shut off feature which automatically turns off the compressor when it reaches the desired temperature. Since it's a water-cooled air compressor so it requires water as coolant after using it for 30-40 minutes. That's the reason it requires a high level of maintenance which is difficult for any enthusiastic paintballers to maintain. We haven't used it personally but as per the reviews of our friends, it is a bit louder compressor.
Pros
Affordable
Works efficiently on high pressure
Two-stage compression system improves reliability
Cons
Requires high maintenance
Quite noisy
Yong heng air compressor is indeed a great Chinese air compressor that is pretty cheap and can be afforded easily by beginners. But due to its high level of maintenance, it's not a good choice for novice paintballers.
5. Spritech – Paintball Gun Air Compressor
We have used SpriTech air compressor for paintball, especially multiple times, and every time it delivers results with perfection. Spritech is the name of perfection. It's literally a compact, handy and portable air compressor that you can take anywhere easily. It's an electrically operated air compressor that can be powered by household AC voltage or a car's battery.
The Spritech air compressor has a new cooling system, with a fan that keeps it at a healthy operating temperature. This feature is best for keeping the device from overheating and causing burnout. Also, the automatic shut-off function provides energy savings – so you don't need to worry about your energy bills skyrocketing throughout the month!
This powerful compressor delivers up to 30 bars of pressure – that is enough to fill paintball air tanks. As far as the flow rate is concerned, Spritech air compressor can fill 0.5 liters of the tank within 18 minutes. It's an air compressor that has a built-in fan for the cooling system. This not only makes it less noisy but also becomes easier to maintain.
One thing that grabs our attention is its Auto shut-off features. Many high ends and expensive air compressor lacks these features but Spritech being an affordable and compact air compressor has an auto shut off feature that turns the compressor off when it reaches its desired pressure.
We are very happy with the performance of Spritech air compressor but those people who want to fill air tanks of larger capacity, then this is not the choice of air compressor for you. Also, its flow rate is pretty slow so it takes time.
Pros
Compact and handy
Portable and mobile
Easy to use and maintain
With auto shut off feature
Cons
Not recommended for tanks larger than 0.5L
Slow flow rate
SpriTech air compressor is our favorite compressor when we want something handy, portable yet durable. It's an air compressor that is highly recommended for beginner players and can be used for various projects other than paintball.
6. Smarketbuy – 3000 PSI Air Compressor
The next one on my list of best paintball air compressors is the Smarkertbuy Air compressor which is 35 pounds of air compressor. It's a moderately sized air compressor. It's an electric-operated air compressor that features a water-cooling system. That's the reason it requires high maintenance.
Smarketbuy 4500psi air compressor is equipped with a powerful motor of 1.8KW that delivers 4500psi of compressed air to the paintball tanks, PCP guns, or air guns. The motor requires a power supply of 110V/60hz which can be used by any household AC voltage adapter. And if you are traveling for paintballing in a car then you can be powered it's via your car's battery. Isn't it flexible?
Talking about the flow rate and inflation rate, the Smarketbuy air compressor can easily fill a 1L tank in just 10 minutes with an inflation rate of about 2700r/min.
A lot of people who have used Smarketbuy air compressor complain about its noise level. The complaint is genuine because it's an oil-lubricated air compressor so it makes noise. The downside of Smarketbuy air compressor is that like all other oil lubricated air compressors it is compatible with a few oils.
Pros
Can be powered by a cars battery
Multipurpose air compressor
With water as a cooling system
Cons
No auto shut off feature
Pretty noisy
Smarketbuy HPA compressor for paintball is a versatile and multipurpose air compressor that can be used for filling tanks for paintball or scuba diving. It's a portable and handy air compressor that can be carried easily anywhere.
7. Spritech – HPA Compressor
SpriTech is a popular name in the industry of air compressors. This TWO2 is the latest model of Spritech HPA air compressor that combines innovative technology to deliver the best product to you.
It weighs only 5 kgs which is around 2.5kgs lighter than its previous model. You can say TWO2 is an efficient model of air compressor. It can continuously inflate for 15 minutes after which it requires to do rest for 8 minutes. Talking about the performance, it can easily fill 0.5L of air tank at 4500 psi in just 20 minutes. 4500psi is the maximum pressure it can handle. It lacks an auto shut off feature instead of it you have to keep an eye on the barometer and as soon as it reaches the maximum temperature, turn the compressor off.
Spritech air compressor is one of the easy to maintain air compressors because there is no trouble of adding oil or cooling water. Rather it has a powerful side fan that dissipates heat. Not only this, for heat dissipation purposes, the SpriTech air compressor has got multiple vents on the shell. the basic agenda of vents and fans is to maintain the stability of the air compressor.
Also to protect your air gun or paintball marker from moisture and oil, the hose has got an oil-moisture filter that traps any oil or moisture molecule and increases the life of your paintball marker.
Everything about the SpriTech air compressor is amazing. We have tested and analyzed its performance various times on multiple projects. it lacks an auto shut-off feature and is light in weight than its previous model.
Pros
Super powerful
With an impressive flow rate
Can deal 4500psi of high pressure
Handy and portable
Cons
Lack auto shut off feature
In my point of view, Spritech paintball air compressor is a great choice for every level of paintballers. Besides being small in size, it's efficient and small in size.
FAQs for Paintball Air Compressors
Paintball Air Compressor Buying Guide
Pressure:
While purchasing an air compressor for paintball make sure that it should have a pressure rating of 4500psi. Using a high-pressure compressor for filling paintball air cylinders is extremely crucial because air cylinders that are there on the gun are small in size. Using low-pressure means, you will run out of air soon after the games start. This might make you lose the game.
Filling the tank now and then on the paintball field is not an acceptable thing. It will spoil the overall fun of the game. Therefore we always recommend buying a high-pressure air compressor as high Psi means more air can store within the small size tank and this means you can keep on playing without any worry.
Flow Rate:
Flow rate means how fast would be the filling speed of the compressor. In simple words, you fast your tank would be filled via a compressor. The rule is simple, if the flow rate is higher, the tank would be filled quickly and there will be less waiting time. Who doesn't want to save their time by buying an air compressor with a high flow rate, but where the shoe pinch is, compressors with high flow rates are pretty much expensive and large in size. Usually, for paintball, we always look for portable and small size air compressors unfortunately they did not provide such a high flow rate.
Source of Power:
Usually, air compressors are sourced by two powers that are electricity and gasoline. The majority of the user preferred buying electrically powered air compressors because of plenty of reasons like they make no noise at all. Such air compressors require less maintenance. You can easily use them in your backyard as they require 110 to 120 volts that are easily available in household current. Electrically powered air compressors are usually small and offer a lower flow rate, that's the downside of an electrically operated air compressor.
On the other hand, gasoline-powered air compressors offer a high flow rate, which is an important factor for any air compressor. They are huge in size as compared to electrically powered air compressors and make a more loud noise. So using them indoors is something unimaginable. That's the reason; people prefer buying electrically powered air compressors because of their ease of maintenance, size, and noise.
Air Cooled or Water Cooled:
When you are planning to buy an air compressor for paintball always look for an air-cooled compressor because they are less complicated and hence require less maintenance. Air compressors use air to cool the compressed air.
On the other hand, water-cooled air compressors are best for industrial level rather than paintball games. Since they are complicated and require more and more maintenance. Also, for filling paintball tanks, you won't be heating the compressor too much that it requires coolants to reduce the temperature. Therefore we always recommend and prefer buying an air-cooled air compressor not only they are easy to maintain but are also affordable.
Noise Level:
Oil-lubricated, electric, and hand-powered are the three main types of air compressors. Oil-Lubricated compressors tend to run relatively quietly, but they do require regular maintenance to maintain optimum performance which is why they may not be the best choice if you need a compressor that will not break down often.
Electric compressors work whenever there's electricity supplied and tend to be relatively quiet but can harm the environment due to their use of fossil fuels as a power source. Hand Powered air compressors are loud, but do not require any electricity at all and can operate for long periods without being turned off – making them ideal for heavy-duty DIY projects that require regular use like tire inflation or bicycle tire repair.
Conclusion:
If you don't have a good paintball gun air compressor with you, then we can imagine the level of frustration you must be going through. Tank filling time becomes one of the longest times when you are about to start a heated paintball battle. That's why investing in the Best Paintball Air Compressor that operates at high pressure and takes minimum time to refill the tank is vital. They last for many years around 5 years but if you do regular maintenances and minor checks up then you can take enjoy the extra life of a paintball air compressor.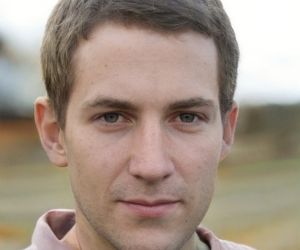 My name is Jezus Fischer, I am working full time on a paintball store and played all types of paintball games. Read more about me..