A common concern among paintball players is being hit in the groin. It's not something you want to experience on the field. Should you wear a cup for paintball to protect your crotch? Yes- groin protection is necessary to play safely and prevent injuries.
Paintball does hurt when hit on sensitive areas like hands, neck, face, and groin. Even wearing layers of clothing may not prevent you from getting welts and bruises. The condition become worse when paintball hit in the pelvic region. Many professional players recommend to wear a cup for paintball. You can also wear baggy clothing if you feel uncomfortable wearing a cup.
Read on to learn why and how many of you considered that wearing a cup is one of the best options to play safely and have fun while play/played Paintball.
How Much Does Paintball Hurt?
Here are the factors that affect how painful paintballs can be:
How far are you from the shooter?
Where does paintball hit?
The protective gear you are wearing
All these elements determine the extent of pain. Generally, paintball fields take safety measures too seriously. You are required to wear proper clothes and follow strict guidelines. Therefore, you must know what to wear for paintball to prevent injuries.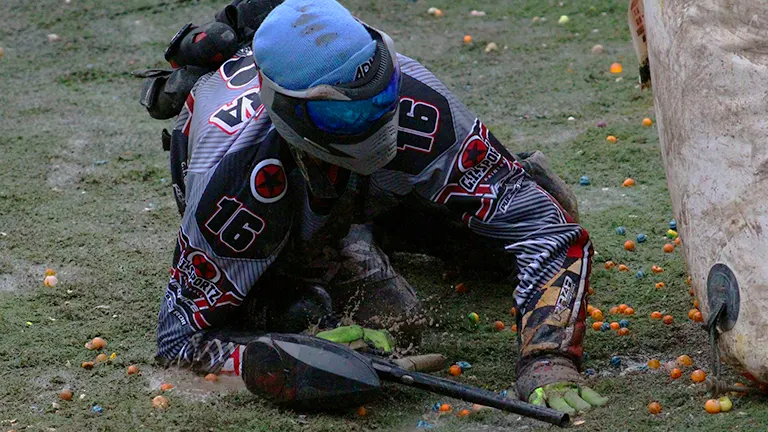 Why Do You Need Cup for Paintballing
When you play paintball, you are not sure where you will be struck by the paint. The paintball shot accuracy depends on the players' skills. There is the possibility that you may aim for the abdomen but accidentally hit the groin. These stray paint balls are quite dangerous as they can hit on areas where you are least expecting.
The last thing you want is to have a paintball game strike on your genitals. In addition to the unfathomable pain, you could endanger your male reproduction system. Paintball travel at almost 280 fps with an average weight of 3 grams.
The unprotected area around your crotch could be hit by these fast-moving paints, causing erectile dysfunction, loss of manhood sensation, and severe welts and bruises.
Still not sure whether to wear a cup for paintball or not? I highly recommend it regardless of what type of paintball game you are playing or your skill level.
Should You Wear a Cup for Paintball: Pros and Cons
The most common advantages of wearing a protective cup for male paintball players are as follows:
Reduce the Pain
Paintballs cause more pain in certain areas of the body. Hands and groins are the most painful areas among these. These parts contain nerve endings that are capable of stimulating severe pain.
With cup extra protection, you can reduce the pain sensation even when you are hit in the groin region or in the inner thigh. It minimizes the impact of a paintball and acts as a shield.
Prevent Injuries
Another reason you should wear a cup is that its extra protection can prevent you from severe injuries. A direct paintball hit can damage and inflict serious injuries within the crotch area. You may end up causing permanent damage to your delicate organs in this region, potentially affecting you for a lifetime.
You wouldn't want that to happen, right? Then perhaps you should have a cup on to avoid such mishaps.
Allow More Focus
Knowing that your pelvic region is protected, you don't have to worry about that anymore. Now, you can pay more attention to your game and increase your chances of winning. Taking risks and improvising more is also possible instead of fearing that you will be hit in the crotch.
You can read more about Playing paintball winning strategies in this article: "How to Win Paintball games."
Although wearing a cup for paintball has several advantages, you may have difficulty carrying it on while playing.
Here are some cons that you may encounter:
Difficult to Wear in Summer
Paintballing is a form of extreme sport where you have to run a lot. This running activity produces more heat in the pelvis as this region holds muscles involved in the movement. The situation gets worsens in the summer.
On normal days, you may struggle to wear it; during the summer, it becomes impossible. Having a cup on can adversely affect your game in hot conditions. You can instead wear Exalt T4 paintball pants. These are good alternatives and offer effective groin protection.
Takes Time to Adapt
For someone who hasn't worn a cup before, it will take time to get used to it. The apparatus is somewhat confining and makes it harder to wear while playing, especially for new players. Also, men with strong thighs have a tough time wearing the cup.
Cause Injury
If you can't find the right size of cup, you might end up hurting your sensitive crotch area. The continuous rubbing and heat can affect the tissues, leading to skin burns. It is better to select the right size of the cup.
Conclusion
Paintball can inflict serious pain upon hitting on sensitive body parts. You can reduce the pain sensation by wearing a cup. I hope this article has the answer the question, "Should You Wear a Cup for Paintball?" Make sure to wear other protective gears to prevent any injury.