If you have been into paintball game for a while, you might very well be familiar with Planet Eclipse— the leading manufacturer of high-end paintball markers. Their line of CS markers offers unrivaled accuracy and reliability.
After CS1's success, Planet Eclipse CS2 bombed the Industry with a lot of cool features and much-needed upgrades. CS2 is a milled-off version of its predecessor. This paintball marker has a more compact body, making it easier to handle. It is definitely a high-end spool valve gun out there.
Continue reading to get a more detailed review of the Planet Eclipse CS2 paintball gun.
Planet Eclipse CS2 Key Improved Features
The Eclipse CS2 offers a number of features that make it a top-of-the-line paintball gun:
Lighter than CS1
A toolless rear grip that you can remove quite easily
Highly accurate and reliable
Adjustable blade trigger
Easy to remove eye-coverings
Air spring bolt
It is easy to program
Maintenance-friendly
Planet Eclipse CS2 Review: Why Should You Have it
Aesthetics
Planet Eclipse has put a great effort into modeling CS2, which is quite apparent in the finish of the gun. With proper milling, the manufacturers have made this paintball gun lighter and more compact. Frame and body fit, eye covers, and feedneck show the quality of craftsmanship.
CS2 has a smaller, harder, but still comfortable grip size and is more ergonomic than CS1. You can easily handle the gun and perform necessary maneuvers on the paintball field.
Moreover, the back of the trigger frame is more vertical as compared to the CS1, which gives the gun a shorter feel. By doing this, your hands are closer to the body or bolt, which reduces kickbacks.
Further, it comes with a shaft FL barrel kit— a carbon fiber tip and two backs sized 6-81 and 6-8-9.
Electronics
Among the most remarkable features of this paintball marker is that every major component with in Planet Eclipse CS2 is new , including eyes, are hosted in the trigger frame instead of the body. You can access major component quite easily by removing the grip frame, which is toolless.
CS2 uses AA batteries that are mounted into the foregrip. In CS1, sudden jolts would knock out these batteries. The makers have fixed this issue by adding extra protection in the form of a grip cover that locks in to avoid batteries getting jarred.
Another great feature of the CS2 paintball marker is that the eyes are fixed to the board pointed outward and are easy to clean. Also, software updates are handled through the USB port under the foregrip.
User-Friendly Screen.
It is easy to set up the marker on the CS2 thanks to its clear screens and easy-to-use settings. Users will find it easy to program and user-friendly.
A magnified window in the toolless grips makes it easier to read. Plane Eclipse has used the screen on its high-end markers for a while, but this is the first time a magnified window has been added.
The CS2 also has a shot gauge similar to the CS1, so you can know when it is time for your next batch of paint.
Performance
Planet Eclipse CS2 comes with Gamma Core pro bolt engine to enhance its adaptability and air usage. Whether it is freezing or a hot summer day, GP core can take the beating without compromising efficiency. Because of this, it is one of the smoothest paintball guns on the market which have adjustable operating pressure also.
The maker intentionally upgraded from the IV core that they used in CS1. Now, the GP-core-powered CS2 is reliable, can shoot at low pressure (105 psi), and requires minimum maintenance.
In addition, soft-touch bolts enable the use of light paintballs without worrying about them breaking in the chamber.
Adjustable Rack Trigger
CS2 paintball gun with all the electronics has a rack trigger, which is completely adjustable. Paintball players can easily take out and adjust the trigger angle to shoot which suit their preference. If you are not comfortable with the vertical-positioned trigger, you can unscrew it and alter the face angle to make it more curved.
Planet Eclipse CS2: Pros and Cons
Pros:
Lightweight
Reliable
Easy to maintain
Low profile clamping feed neck with thumb wheel lock
Highly accurate with low kickback and noise
An air-efficient paintball marker
Pops assembly ASA
User-friendly screen
Customizable trigger
Quick-release eye covers with wireless eyes
It comes with an extra bolt tip, lube, spare parts, and Allen wrenches.
Cons: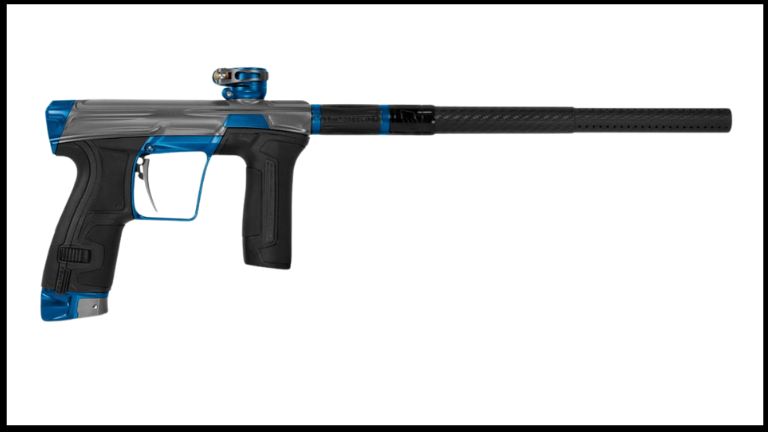 Final Verdict
Planet Eclipse CS2 is a top-of-the-line paintball marker. With features like a GP core bolt engine, outward eyes, adjustable trigger, and more, you can't go wrong with this paintball gun.