How old do you have to be to go paintballing? An innocent question that made me smile. It was my nephew who was inquiring about kids' paintball. He made me realize the need to write a detailed blog to educate children and their concerned parents about kids' paintball. The venturesome sport of paintball is proportionately in demand among all ages. Children and teens who fall under the age bracket of 18 are also desperate to be a part of it.
Paintball for kids and teens is quite suitable for birthday parties, as recreational activities together with parents, or as a school trip with teachers. Kids can enjoy themselves to their max as warriors with specially designed health and safety measures.
However, their parents and children themselves have several questions in their minds. The top most asked question is about the age criteria for playing paintball. Does kids paintballing under 10 years old exist? Does every paintball field allow paintball for teens? Where can we find paintball for kids? You will get all your answers in the blog you are reading now.
A parallel question arises here: how much does paintball hurt? You can find subsequent and relevant information about how much a paintball hurts you in our blog, Does paintball hurt? For hyper-concerned parents, you will be happy to know that not much. It will not end up taking your child to the hospital. Even if they won't bleed ever.
For the convenience of parents and children who are looking for age limits for paintballing, we split the paintballs age-wise.
Safety Guide for Kids with Material
If you are a little warrior and looking for a comprehensive guide to playing paintball without hassle, keep reading for a few more lines. You must get what you want. When you go to your parents with the idea of playing paintball this weekend, you face a prompt interrogation, "Is it safe?" The answer is yes. Hey, hold your horses! And read it fully.
Kids paintball is as safe as playing any other outdoor sport. The injury rate in paintball is quite low. But when it comes to our children, we are more careful and design some more effective health and safety measures. Have a look at some basic safety rules for playing paintball.
Don't Lay Aside Your Mask: So little champs, keep in mind that while playing paintball, never get rid of your mask. To avoid blindness or eye injury, this is the most critical paintball safety precaution.
Don't Defer Off-Field Jacket: Never remove your shotgun's Off-Field Jacket – Barrel covers must be worn when you are out of the paintball field. This will put an end to unintentional shooting.
Always Declare Being hit quickly: Put your hands up and yell "HIT" when you're out of the game to let your friends know you've been knocked down. If you don't do either, you risk being shot over shot.
Don't Climb Over Everything: All that is installed in the field is not to be climbed over. These are barracks to take cover behind. Rugrats must avoid jumping over or climbing over any structures on the field. This might result in injury.
Use only Paintball guns for kids: Paintball weapons are Allowed to a maximum speed of 280-300 FPS, in the game of kids paintball. Therefore, only use paintball guns for kids.
Don't Fire Aimlessly: kiddieplayers must be focused on where they are firing all the time.
Be Attentive to the Referee: The second most important paintball game rule is to always pay close attention to the referee. Always follow what he is guiding you.
Avoid Close Proximity Shoots: This is a typical regulation on paintball fields, where you are not permitted to shoot anyone in your close proximity. In a radius of 15 feet. Shout "surrender" and make the opponent eliminated.
Optimistically, you have got enough information regarding safety rules. But you cannot play with those typical guns and gear available everywhere. You need markers, hoppers, air tanks, masks, and other protective gear. And yes, cherry on the top paintballs.
Guns
Let us show you some designated paintball guns for kids. We are showcasing here some top-rated children's guns with some brilliant features in an economical price range. Let's start with our first recommendation.
Tippmann Cronus would be a good choice for kids. It is a really economical gun with some extraordinary features at this price point. As everybody knows, Tippmann has been in the markers-making for a very long time. It is popular for its durability and reliability. The Coronus is a semiautomatic gun with the ability to hold a ton of attachments. It can be upgraded from a basic version to an advanced version. A small gun that can be converted to a smaller gun by sliding back the front grip.
The second one is the HK Army Saber, a sleek and lightweight gun best for kids who often slam their belongings on the ground because its top receiver is aluminum. The double trigger makes it extra fast. Why is it best for kids? Its velocity adjustment option makes it easy to use for kids.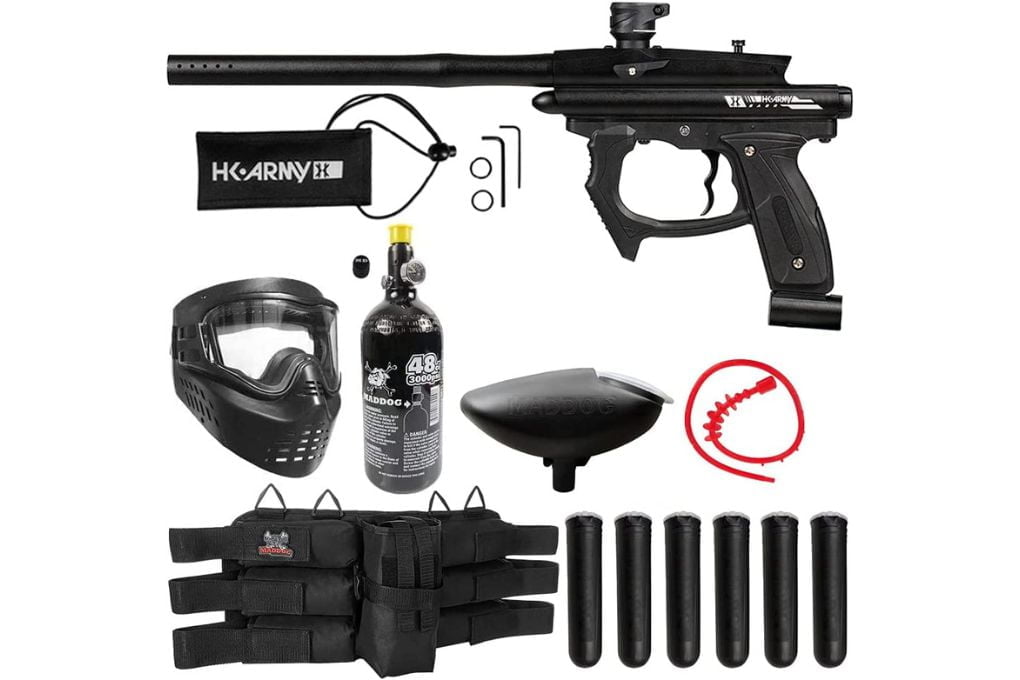 Gog Enemy is the extra mile. This is a fully pneumatic gun with a screw and unscrew bolt system for maintenance. It is lightweight and the velocity adjustment makes it indifferent. Let me tell you why we have chosen this gun in our recommended category. Again, it is a durable gun that can bear the impact against the ground.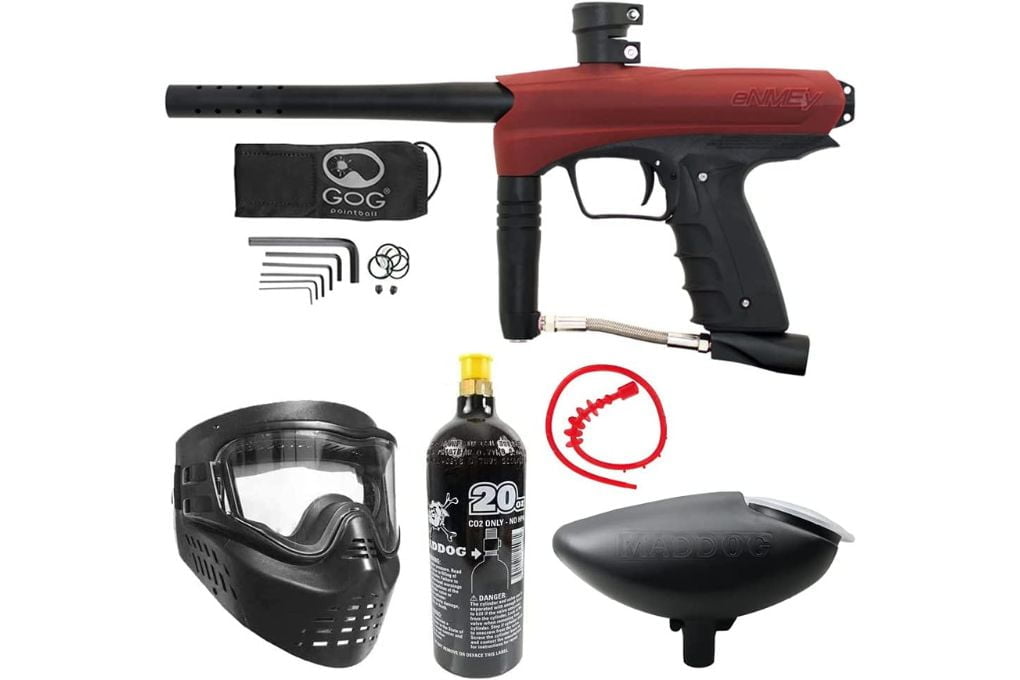 Masks
Now move towards some other gear, like masks. Your face is the most sensitive part of your body. It also has your eyes that are extra sensitive to being hit directly into. Wearing a paintball mask is compulsory to play paintball.
But when it comes to junior paintball, it is a must have. Without a mask, it is not recommended to step into the field. Otherwise, your face will be hit by some free-flying paintball and leave bruises. After the mask, the most important thing in the protective gear is the chest cover. Try to buy some chest protectors to avoid any unforeseen impact.
Hopper
You'll need something to collect all your paintballs in. We recommend you buy some good quality paintball hoppers; it is a container that fits on your gun and feeds the paintball into your gun. It makes your shooting experience out of this world. You can shoot without thinking about reloading again and again.
Air Tank
After that, you need an air tank with compressed gas for your propellant to fire the paintball. Most common air tanks have carbon dioxide gas in them. We recommend getting a small tank to attach to your gun to avoid extra weight.
Paintballs
Last but not least, you need paintballs to strike your enemy. You can find different varieties of paintballs on the market, but we recommend the small caliber paintballs. There are many different types and colors available, but for a beginner, we recommend brightly colored paintballs. The recommended caliber is 0.50 caliber.
Parent Guide
If you are a mother or father of some super energetic and adventurous children and are curious to know about safety measures taken during playing kid's paintball. You are on the correct page that is going to satisfy your queries in the best possible way.
We are providing you with the best and most concise suggestions to make them safe from any injury. These are easy to follow and, mind you, if you follow all the given suggestions, your kids' safety will never be compromised.
Always Invest in the Best Protective Gears
To follow the safety-first rule, make sure that your children wear completely protective clothes. No exposed skin is left uncovered. We categorized the protective clothing into two lists; must be worn and should be worn. Masks with goggles and helmets fall in must worn list. Without these, it is not recommended to play paintball, whether it is kids paintball or teens. All minors need to wear a mask with goggles to cover their face and eyes and a paintball cup to avoid impact on the head. 
Further down in the should be worn list, we can say that Padded jerseys and padded trousers, chest protection, and gloves are considered. Now it's up to you whether you want your children to cover fully or whether you want them to expose a little bit.
Teach Them To Stay Alert And Aware Of Their Surroundings
Ask your kids to be watchful of their surroundings. You never know where you are ambushed from. Always keep an eye on all four directions., stay communicated and keep one eye on the referee to be updated.
Give Them A Thorough Knowledge Of The Rules
Teach your junior players the basic rules and regulations for playing paintball. They can perform well during the battle if they know how to play paintball. Having comprehensive knowledge of the rules of the games will end up in a win-win battle.
Rather than teaching them in the field, it is best to give them a brief description beforehand. Let us make it hassle free for you with Paintball rules 2023 article.
Provide Them Only Low Caliber Paintballs
To save them and other kids from the potential risk of being injured, always use low caliber paintball guns. In kids paintballing and teens, the recommendation is to use only 0.50 caliber paintballs. Moreover, it is recommended to adjust the velocity to the lowest settings. It reduces the impact of the strike.
Train Them to Treat Their Equipment Nicely
There are certain heading suggestions that are recommended to make your weapon last longer and increase its accuracy and proficiency, like cleaning the barrel and unloading the Hopper from time to time. Similarly, teach them to check their markers and accessories before stepping into the battle, as a malfunctioning marker will make them lose the battle.
How Can They Play Safely?
Paintball is a sport that can give you a distinct experience. You can taste the adventure of a sport and the thrill of fighting in the same bowl. Playing it with your children is also another level of recreational activity. It allows your bond to be strengthened more. But when it comes to kids, we always play safe. 
They can play safely when they follow some basic steps. First, always choose a low caliber multiple velocity gun. Make sure it is durable and strong enough to be handled roughly. Make them learn all the rules. They should know the game before landing in the battle ground.
They can enjoy the play if they remain safe and uninjured. For the sake of protection, add more layers to their outfits and don't forget to cover their little faces and heads with masks and helmets. You can ask them to read the kids' safety guide. They should know all about the game and their markers beforehand. Ta da! They are good to go.
Conclusion
You have heard many people saying that paintball is not safe for kids and teenagers, but the fact is totally antithetical. If the young warrior and the teenager are well briefed about the game and its rules and regulations. They can play paintball expertly, but make sure to cover them thoroughly. Always choose a low caliber gun that is lightweight and easy to handle for them. Choose a nice scenario and the best paintball field to play with them on their next birthday party. It will be a memorable surprise for them.