Knowing how to play paintball with glasses can help you have more fun on the field. However, you may experience discomfort if you do not follow the right strategy when playing paintball with glasses. The two most common issues with wearing glasses under a mask are fog and incompatibility.
You can wear glasses while playing paintball by using a high-end mask. Most paintball masks these days have an anti-fog function and good breathability. Continue reading to learn why fogging occurs and how to wear glasses under the mask.
Can You Play Paintball with Glasses?
Many people suffer from eyesight issues and need glasses to see properly. Around 64% of the population wears glasses. In paintball, sight is a critical component. You can play paintball with your glasses on. Still, you need to improvise, as wearing glasses under the mask is not comfortable.
Glasses can be problematic in paintball because of fog and masks. Your visibility gets blocked because of the fog. The type of mask determines how comfortably the glasses will fit.
If the mask is too tight, your glasses will be pushed up your nose, bringing the lens closer to your eyes, and you will be unable to see properly.
By choosing the best paintball mask, you can comfortably wear the glasses and continue having fun on the paintball field.
How Do Glasses And Masks Fog Up?
Fogging is a common phenomenon whether you wear glasses or not. It is a because of condensation. The paintball masks cover the face completely so that there is insufficient ventilation.
So, how does fog form?
When you breathe, the air from your nose gets dispersed within the mask. When this warm air touches the cooler surface, like your glasses, it condenses into mist, which obscures your vision.
Proper ventilation is essential to keep masks from fogging up. Better get a mask that offers good breathability.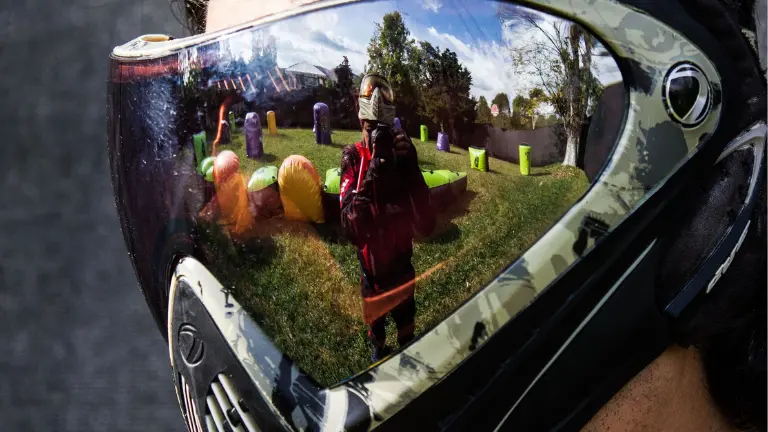 6 Ways to Play Paintball With Glasses
Here is how you should wear glasses while playing paintball:
Choose the Right Paintball Mask with Glasses
A paintball mask should be chosen carefully for comfort and protection. Masks that fit correctly will keep glasses in place and prevent fogging. For people who wear glasses, the best mask has a wide nose bridge that allows the glasses to fit comfortably.
You should wear your glasses when trying on masks and move your head around to ensure they fit and feel comfortable. If your mask sits too close to your face, it may cause discomfort and fogging of your glasses. Moreover, these masks have cuts in the foam to facilitate the glasses' arms.
Listed below are some of the best paintball masks that can be worn with glasses:
V-force Grill Paintball Mask
JT Paintball Masks
Empire E-Flex
Tippmann Intrepid
Use Anti-Fogging Solution
The most common problem people face when wearing glasses with a paintball mask is fogging. Use an anti-fogging solution before wearing your mask to prevent this.
Various anti-fog solutions are available, including sprays, wipes, built-in fans, and gels. Choose one that suits your preference and apply it according to the instructions on the package.
Adjust the Glasses' Arms
Once you've chosen the right mask, you should ensure that your eyeglasses are adjusted properly so they fit comfortably underneath the faceplate of your mask. The glasses' arms should be secured on your face before wearing the mask.
When the arms are too loose, they can fall off or slide around during play. On the other hand, if they're too tight, they may press against the sides of your head, causing discomfort.
Adjusting them correctly can help prevent any slippage or unnecessary pressure building up against your face when playing paintball later on. Keeping your glasses in place can also be done with a strap or a retainer.
Try Out Different Types of Lenses
When it comes to eyeglass lenses suitable for paintball players who need vision correction, there are plenty of options, including polarized lenses that reduce glare, photochromic lenses that darken when exposed to bright light, and transition lenses that switch between clear and tinted lenses at will during gameplay.
Wear a Bandana
A bandana is useful for absorbing sweat and preventing it from running on your face. It can also provide additional cushioning and reduce the pressure of the mask against your glasses.
Fold the bandana into a triangle and wrap it around your head, covering your forehead and back. Don't make it too tight, as this can cause headaches.
Wear Prescription Goggles Over Your Mask
Lastly, if none of these options suit you or do not provide enough protection, you may want to invest in prescription eyeglasses or shooting glasses and wear them over top of the faceplate.
Be sure not to forget about comfort and safety, which offer plenty of added comfort thanks to an adjustable head strap and added safety due to full coverage around the front-facing eyes. In this way, you can also prevent eye injuries. You can also wear contact lenses in a game of paintball to avoid all this mess.
Conclusion
You can definitely play paintball with glasses if you take the proper precautions. The right mask that fits well and covers your glasses, as well as paintball goggles with anti-fog features and a wide field of vision, can help you feel comfortable while playing.
Further, choosing glasses with polycarbonate lenses that are impact-resistant can offer extra protection and peace of mind. This is how you play paintball with glasses to enjoy the thrill and excitement of the game without compromising their vision.