Best Paintball Gun Under 400 – Light on Pocket & Heavy on Opponent
So you have a good amount in your hand and you want to buy a paintball marker. Well, if you have enough money, you can easily buy a paintball marker for under $400. But the question is, how to find budget-friendly and durable markers in the ocean of paintball markers.
Numerous markers come under $400 but a good paintball marker is pretty different from them. It should be durable, have a long barrel, a comfortable grip frame, and have the capacity for customization. Where to find such markers. We have done the homework for you. After hours of research, we have picked the 5 best paintball guns under $400. Tested them thoroughly and reviewed them for you. So that without wasting a single minute, you make your buying decision.
5 Best Paintball Guns Under 400
1. Tippmann TMC
Tippmann is a name that has been in the paintball industry for ages. It's a brand that is innovating and producing high-quality markers at affordable prices. Therefore, we selected and tested one of the highly demanding paintball guns that you can easily buy if you have $400 in your pocket.
Tippmann TMC is a MagFed gun which means you can use also use a magazine along with a hopper. Mind you, you cannot use both at a time. There is a button on the gun that can be used for switching between hopper fed and MagFed.
If you have ever used Tippmann Cronus then you must be comfortable with TMC. The reason is, TMC is the upgraded and MagFed version of Tippmann Cronus.
Like the other Tippmann markers, TMC is equipped with a blowback bolt system that operates at a very high pressure of 750 psi. Obviously, the marker would have a clear recoil along with a loud noise. Also, the blowback bolt system allows the gun to use air efficiently. Not only this, but it won't chop any paintballs in the barrel. For me, this is the biggest plus point about TMC.
TMC MagFed is a semi automatic marker, which means it is not as delicate as the electro-pneumatic guns. Due to the presence of electric components of the gun, markers may easily get out of order during aggressive battles. So TMC won't let you down.
The construction and build quality are amazing. I have tested the black and tan TMC markers. Its central body is made up of aluminum, which is black, whereas the rest of the marker is made up of nylon, which is tan in color. So the quality is impressive, but one thing that hits me hard is the poor quality of its charging handle. It is made of plastic, which may be damaged after a few uses because during re-cock you have to push it back. So use it very carefully.
It's a MagFed gun which means it uses a magazine as well. The magazine of TMC has a capacity of 19 balls and you are using two magazines, so that means when you have inserted the magazine into the marker, it would have a total of 38 balls when fully loaded. The performance of the TMC marker is pretty impressive. It can easily hit your opponent at a distance of 150 feet.
Besides this, TMC can be upgraded and customized easily. It has got a few Picatinny rails where you can mount different gadgets for precise targeting. You can even use parts of your old Tippmann 98 like the barrel and hopper.
As far as the maintenance is concerned, it's like a breeze. Unlike other paintball markers, TMC is pretty easy to clean and maintain. You just have to lube it from time to time and that's it.
Tippmann TMC is a lightweight paintball marker that is best for beginners and those players who want to play MagFed. Because of its durable build and amazing features, it's on our list of the best paintball gun under $400.
Pros
Best for woodsball
Hopper with magazine feed
Precisely hits shots
Updated version of Tippmann Cronus
Cons
Loud gun
The charging handle is of poor quality
2. Dye Rize Series – Best Automatic Gun Under 400$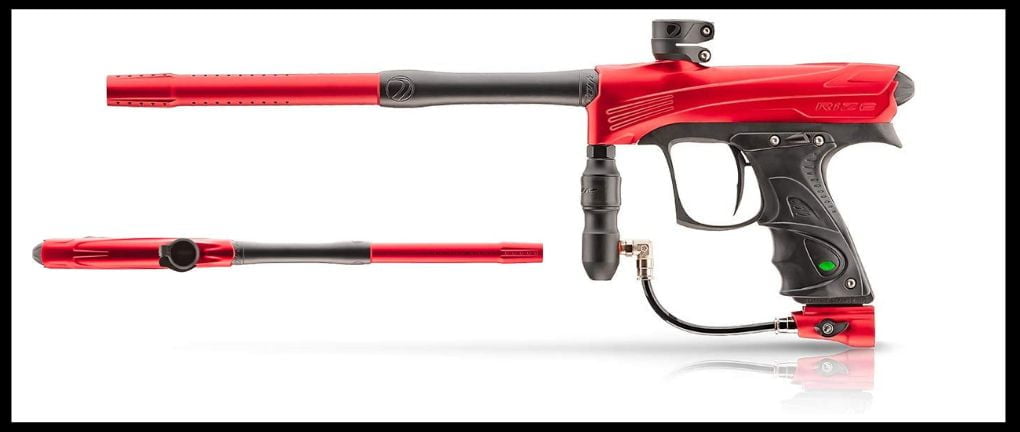 Dye Rize CZR is the combination of two guns from the house of Dye. One is Dye Rize and the other is Dye Rize MaXXed which used to be the best paintball gun from 2006 to 2008. This is an electro pneumatic gun that has an impressive firing velocity.
The appearance and performance of guns go side by side. It is a gun that is designed especially for entry-level tournament players. We have thoroughly tested Dye Rize Series Guns and were surprised by their performance that you will get under $400 easily.
Dye Rize (Dye Rize CZR) features 2 pieces 14 inch barrel which is kind of good stuff for players who love to play with long markers. The long barrels actually enhance the accuracy of your shot. Apart from this, it has a lever lock clamping feed neck so that you can easily and neatly fix the hopper of your choice and size. The feed neck is made up of composite material, which is pretty durable. To check the material, we deliberately dropped it on the field, and luckily the feed neck was as it should be. The trigger frame is made up of nylon, which is a nice material. All in all, I like the ergonomics of the Dye Rize.
Apart from this, the gun operates on a low-pressure HPA of 135 psi. Low pressure means low kickback and low sound. Also, this much pressure handles paintballs very carefully, so there are almost zero chances of a chopped paintball.
And if it accidentally chops any paintballs, then you don't need to worry about it. As Dye series is really very easy to clean It is equipped with DYE's patented 4th generation self-cleaning eye pipe that makes it easy to clean and maintain the gun.
One drawback that we observed is that it has a quick-release macro line hose, which is a good thing, but nowadays very few guns use this feature. The majority of the guns lack a macro line hose which makes the gun simple and cleaner to use like Empire Mini GS and Etha-2. So I think, macro line hose makes Dye Rize kind of outdated paintball marker.
Pros
An electro-pneumatic gun with multiple firing rates
User-friendly ergonomics
Low operating pressure
Remain gentle with balls
Cons
The macro-line hose is a kind of outdated feature
3. Tippmann Stormer Titanium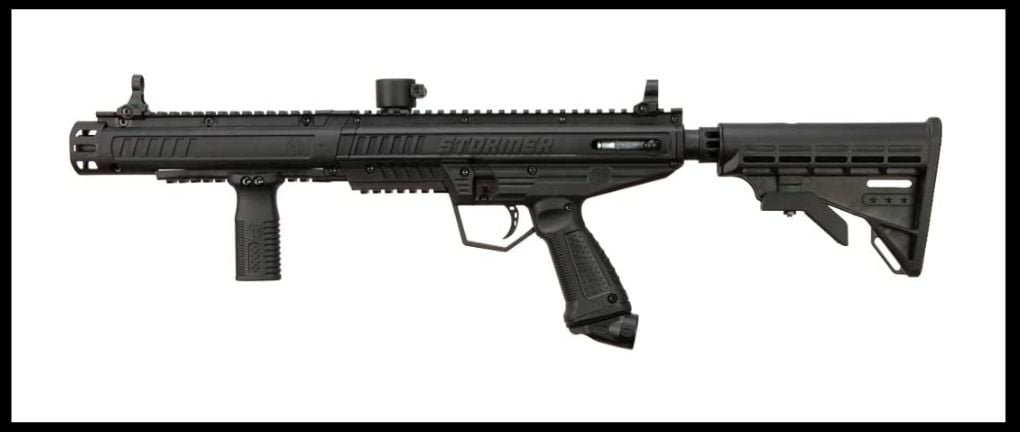 Who isn't know Tippmann Stormer? It's the marker that players wish to have as it is the most rented marker at any pro shop.
Tippmann Stormer is available in three configurations: basic, elite, and tactical. So for $400, you will be getting a tactical version of Stormer that is fully loaded with features. Like other Tippmann paintball markers, Stormer is committed to delivering exceptional performance with rugged durability. Performance-wise, it is equal to Tippmann Cronus.
Though it's a semi automatic gun, it comes with lots of upgrades. You can even add an electronic grip frame to enjoy the crazy firing rate. Tippmann Stormer has a velocity adjuster which you can use to adjust the velocity somewhere between 2550-325FPS during the battle.
The gun is a real MilSim style firearm that makes you feel like a real soldier fighting with enemies for a noble cause. It is equipped with a 6-position collapsible stock that helps you to aim your target comfortably. Tippmann Stormer has got lots of possibilities for adding multiple gadgets, and the reason is Picatinny rail. The front shroud has a few Picatinny rails which make it possible for players to mount different types of equipment.
No doubt it's one of the durable paintball guns under $400. It is made up of high-impact composite material so no matter how many times you drop it, it won't break at all. While testing it, we feel like it's quite big and bulky in size and maybe that's because the manufacturer wants to give a real touch. You need to have big stamina to carry it as it weighs around 10 pounds.
Moreover, it features an internal gas line that assures no gas leakage at all. One thing that we really like about Tippmann Stormer is, it does not chop or break any paintball. Thanks to its proven in-line bolt system that prevents ball chopping which is pretty irritating.
Overall, Tippmann Stormer tactical version is a great marker that you will get under $400. If you are a beginner level player and want to burn the fire with a MilSim style marker, then Stormer tactical is the best one for you.
Pros
Fully customizable
Barrel shroud for protection
Heavy and bulky in size
Adjustable speed
Compatible with HPA and CO2
Cons
Difficult to maneuver around. It's heavy
4. Empire Mini Gs with 2 Piece Barrel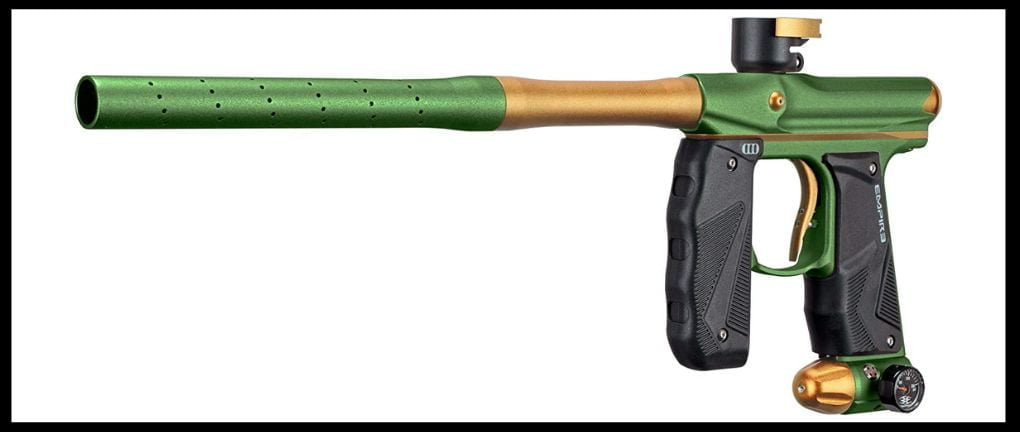 Empire Mini GS is the latest and updated version of Empire's most famous Mini paintball gun. With the addition of a few upgrades, it has now become the next-level paintball gun.
Clamping feed neck, rubberized fore grip cover, ASA on/off switch, and self-lubricating trigger. The addition of all these features gives a boost to the Empire Mini Gs gun, which was absent in the previous model.
5. Azodin KAOS 3 – Lighter Paintball Gun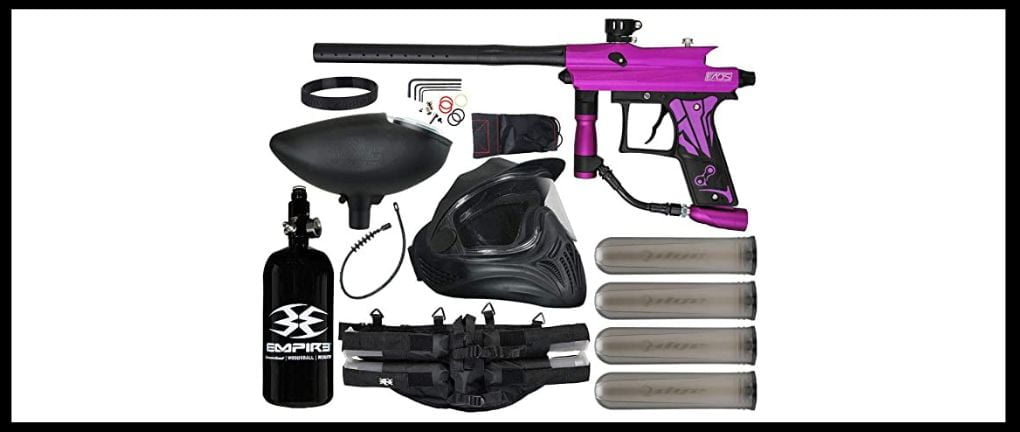 Azodin KAOS 3 is the paintball gun that you can afford if there is only $400 in your saving box. It's a perfect combination of aesthetic and performance. This marker is best for newbie players who play occasionally.
People say that Azodin KAOS 3 is the lightest marker on the planet that you may get for under $400, and I agree with that. It weighs around 1.9 pounds which is approximately equal to 2 lbs. Its lightweight frame is made up of premium high-impact aluminum. So that if you accidentally hit a tree while playing woodsball, Azodin KASO3 won't break apart.
Azodin KAOS 3 paintball gun is a semi automatic gun that supports a .68 caliber paintball. It is equipped with a 12 inch ported barrel kit which contributes to canceling the firing noise. One of the most distinguishing features of Azodin KAOS 3 is, it is compatible with all hoppers in the world. I repeat all hoppers. This is because of its upgraded feed neck which is a screw-lock feed neck. Actually, the feed neck collar is adjustable which allows any hopper to fit over it, be it a round hopper or dye hopper.
Besides this, it can be used for a variety of paintball games. For this, you can easily fine-tune your gun through a feather regulator feature. What velocity it should use, with Regulator you can easily set it. There is no doubt in saying that $400 would be less for the features Azodin KASO 3 has. It is indeed the best paintball gun under $400.
When it comes to maintenance, it can beat any high-end gun easily. Azodin KASO 3 is super easy to clean and that's because it has a Delrin bolt. This amazing bolt is very easy to remove so that you can have access to the internal parts of the gun.
Overall, Paintball KAOS 3 is an inexpensive marker that is pretty reliable and offers great performance but one thing that pinches me so hard is that it is quite hard with paintballs. It chops paintball, which is very frustrating for a newbie player. But I am sure that using high-quality paintballs won't cause such a problem.
Pros
With feather regulator to tune the marker
Easy to maintain and clean
Lightweight construction
Easy to pull trigger
With internal gas, pipe means no leakage
Cons
Chops paintball
It's a bit loud
Conclusion
The real fun of the paintball game is playing with an appropriate paintball gun for every player. Using low-quality and cheap paintball guns will spoil the real fun of the game. The above-reviewed paintball guns for under $400 are enough to give you an amazing performance on the battlefield. Your performance in-game depends on the marker you choose. Therefore, choose wisely.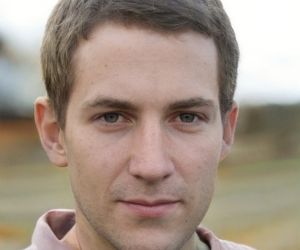 My name is Jezus Fischer, I am working full time on a paintball store and played all types of paintball games. Read more about me.