Tippmann TiPX Review 2023: What Makes It Great
Most people undermined the importance of sidearms in paintball games. Having a reliable and accurate paintball pistol as your sidearm gives you an edge. It is especially true when you are in close combat conditions.
Although the market offers a variety of paintball pistols, the Tippmann TiPX pistol stands tall among them. It has been my choice of the pistol for so many years. The lightweight build, magfed, durable, and sleek military design are some of the characteristic features of the Tippmann pistol. 
Continue reading, as in this blog entry, you will learn why Tippmann TiPX is a must-have.
Tippmann TiPX: An Overview
The Tippmann TiPX is an excellent choice for beginners as well as professional paintball players. Since the 1980s, Tippmann has been producing quality and affordable paintball weapons. That is why it has become a popular brand with a huge following across the paintball community. 
TiPX is an upgrade of its predecessor (Tippmann TPX pistol). The manufacturer addressed the flaws in the previous models and added new features that make TiPX more efficient and versatile. Now in this upgraded version, you can mount accessories like lasers, sights, or light to your pistol with the Picatinny rail system.
It is a compact paintball gun, making it easier to handle and maneuver on the field than other paintball pistols. It is worth mentioning that the TiPX brings more to the table in terms of its sturdy build than other paintball markers. It can surely take a beating, making it a great long-term investment.
What attracts me more about this paintball pistol is its dual-feed feature— you can choose whether to use a magazine or CO2 cartridges. The Tippmann paintball pistol houses a 12-gram CO2 cartridge and a 7-round magazine. So, you always have a backup in case of ammo shortage.
This paintball gun offers unparalleled shooting accuracy. The smooth trigger pull and consistent velocity in TiPX minimize handshakes that can lead to inaccurate shots.
The next thing you want in your gun is the ease of maintaining it. In my opinion, it is the most important consideration when buying paintball guns. I found TiPX performs quite well on this criteria. The disassembly process takes only a few minutes, and you can easily access the internal parts for cleaning and maintenance.
Overall, you will get a nice combination of power, accuracy, and control with the TiPX paintball pistol. Having a Tippmann paintball pistol on your side in the paintball arena gives you an edge over your enemies.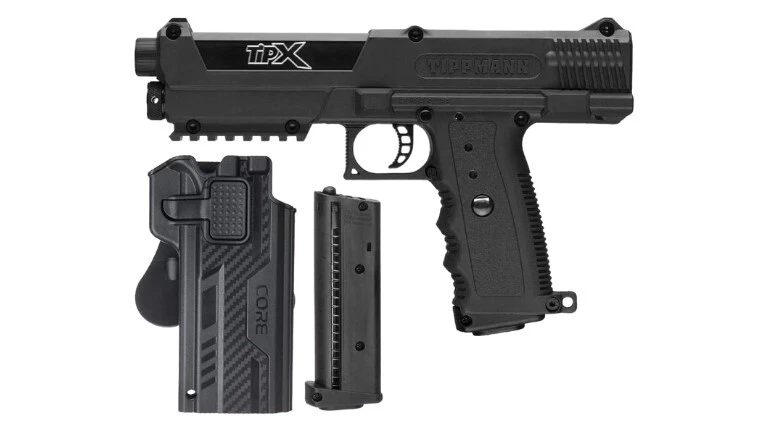 Why I Chose Tippmann TiPX Paintball Pistol?
Tippmann TiPX is my go-to sidearm for paintball. Despite trying many pistols, I always return to this one for the following reasons.
User-Friendly
Because of its simple design and functioning, TiPX is a perfect choice for beginners. You can easily learn all the ins and outs of this pistol after playing one or two games. Nothing too fancy about it, just a standard shooting procedure.
Another notable feature of this paintball pistol is that its creators have been able to overcome the jamming problem found in similar paintball pistols. They have introduced an aluminum trigger that smoothly fires whenever it is pressed without jamming.
Highly-Accurate
Hitting on target is the primary concern of every paintball player. When you are using a sidearm, it means you are engaged in a close combat situation. In this scenario, you can't go off target— you miss, they will hit. So, here you will need a gun that has dependable accuracy. TiPX is the most reliable paintball pistol in terms of shooting accuracy.
Make sure you use paintballs that match the caliber of your paintball pistol; otherwise, it will affect the accuracy of your shots. In addition, TiPX lets you shoot more shots per second, resulting in greater efficiency. All you need to do is press the speed adjuster behind the receiver of your paintball marker.
Superb Performance
The shooting operation in TiPX is simple and efficient. It uses the open bolt and blow-forward system to fire the paintball, which limits the recoiling and kickback.
The paintball gun comes with spring-loaded Tru-Feed magazines that feed the first ball into the chamber when the gun is loaded. With every new cartridge, you must pull the trigger twice to fire the gun. When you press the trigger for the first time, the CO2 cartridges are punctured and allow the gas to enter the gun. Further, the coarse thread of the CO2 cartridge makes it easier to handle and change out, even with your paintball gloves.
Tippmann TiPX Review: Pros and Cons
Pros:
Compact and lightweight design
Under-barrel Picatinny rail
Smooth and consistent trigger
Affordable
Easy to clean and maintain
Sturdy design
Internal gas line
Adjustable front and rear sights
The remote line perfectly compatible with the grip frame
Cons:
Limited magazine capacity
Short Stock barrel
Difficult to find the holster because of the size of the pistol
Upgrades and Customization
A wide range of customizations and upgrades are also available with Tippmann TiPX.
You can upgrade TiPX for:
Long-range shooting
Enhanced shooting speed
Making it your primary marker
You can buy Tippmann TiPX online for 250 – $300.
Conclusion
Tippmann TiPX offers aesthetic looks, a compact body, and accurate shooting. The pistol is worth the price. You can use it in tournaments because of its high shooting velocity and control. This gun is the perfect choice for a sidearm. Unlike other similar paintball pistols, it offers good value for the money.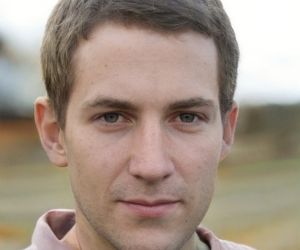 My name is Jezus Fischer, I am working full time on a paintball store and played all types of paintball games. Read more about me.