Paintball has become a booming business over the years. By capturing the attention of both kids and adults, it offers a lucrative business prospect. However, with proper preparation, your paintball business is likely to succeed. That is why you should do your homework.
In this "how to start a paintball business" guide, you will get to know the essential steps in setting up your own paintball arena. Continue reading.
Why Is Starting A Paintball Business A Good Idea?
Before starting any business, it is important to consider factors like demand, cost, return on investment (ROI), opportunities to extend the business, and more. The Paintball field business is no different. So, let's explore the size, growth, and revenue it generates in the USA.
A further 0.5% increase in growth is predicted for the paintball market in 2023, which is currently worth $1.3 billion. A total of 1721 paintball businesses are operating in the United States.
Almost 16144 people are employed in the Paintball field industry, which is expected to grow by 1.1% over the next few years.
Recent advancements in paintball equipment have made the game safer and, hence, attracted more customers. Further, there is a thriving online paintball community with great marketing potential. Recreational paintball offers family and friends the perfect place to spend the weekend.
Renting paintball time and gear, teaching newbies how to play, and providing a monthly newsletter are some of the ways you can earn money in the paintball business.
With these stats and trends, it is safe to say that paintball has great potential to be a profitable business.
What is Paintball Business Start-up Cost?
The first step to establishing any business is to determine the investment cost. For the paintball business, the estimated start-up cost is somewhere between $30,000 and 90,000. It depends on factors like:
Type of paintball arena you intend to open ( $10,000 – $20,000)
Cost of land purchased or leased ($100 – $300)
Types of equipment ($10,000 – $20,000)
licenses and permits ($100 – $300)
liability insurance ($100-$300)
After establishing the paintball arena, the paintball gear you will need include:
Paintball guns
Paints
Goggles and mask
Bunkers
CO2 and HPA tanks
Each tool has a varying price depending on the quality.
For instance, entry-level paintball guns will cost you around $50, while the price of high-end guns can go as far as $2000.
Knowing the start-up cost upfront will help you decide whether to pursue this business venture. If you have considered all the expenditures that will go into this project, follow the steps in the next section to set up your paintball business.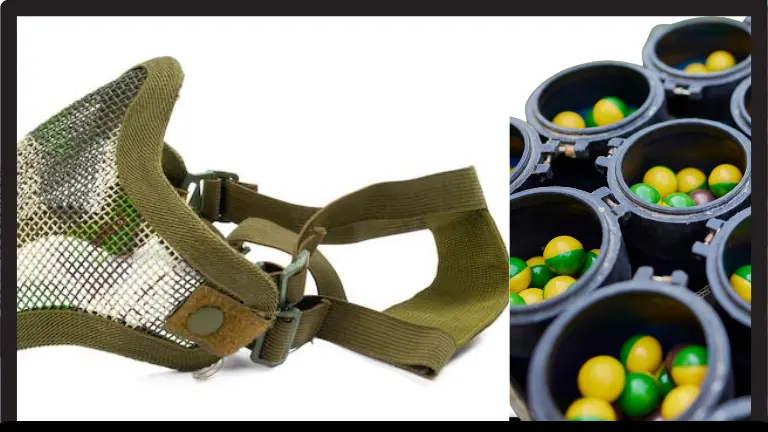 How to Start a Paintball Business in 2023: Step-by-Step Guide
Research your Target Market
Create a Business Plan
Come up with Business Name
Register your Business
Choose the Right Business Structure
Register for Taxes
Secure Financing for Your Paintball Business
Apply for Permits and Licenses
Acquire Insurence
Develop Marketing Strategy
Hire Your Team
Start Earning
Research Your Target Market
If someone can teach you effectively about the business, that is your competitors. Your first step should be researching and analyzing your competitors in your area for their services, packages, and customer reviews.
Look for weaknesses, gaps, or opportunities that you can exploit. If they aren't offering meals, you can add this to your package. Do they have an indoor paintball field?
Additionally, if the local market doesn't cater to kids or females, you can capitalize on this by focusing on them.
Create a Business Plan
"By failing to prepare, you are preparing to fail." – Benjamin Franklin.
It is essential that you have a clear business plan that lays a solid foundation upon which you can build your company's success. It provides a blueprint for every step toward your key goals, leaving no space for errors. Plus, you can revisit and alter the parts that aren't working without affecting the overall progress.
With a good business plan, it is easy to attract partners and investment opportunities.
A detailed plan outlines the costs and the ways in which you will profit from your trade. You will also need to identify your target market, engage them, and determine how much you should charge them.
Using the right strategy, you can profit from paintball up to $20,000 per year— see how important is the business plan.
Choose a Business Name
Choosing the right business name is very important. Make sure your name accurately reflects your brand, your goals, and what makes you unique. Don't use your own name.
You must also check the state's business records, social media platforms, and web domain availability before registering the business name. If no one has taken it, you can proceed with registering the business name.
Register your Paintball Business
This step is crucial for setting up your business. With a registered business, you can open a bank account, pay taxes, generate revenue, and perform other necessary operations officially.
Before establishing your paintball business in a specific location, you should be aware that every state has different tax laws and legal requirements. Also, some states may provide more revenue than your intended state since they have a larger customer base.
So, better consider all these factors while you register for the paintball business.
Choose the Right Business Structure
Another thing that can affect your business is its legal structure. You might not know there are different business entities, each with its own characteristics; whatever business model you choose will largely impact the taxes, registration process, and personal liability.
Here are some common business structure types:
Sole Proprietorship
Partnership
Limited Liability Company (LLC)
An LLC structure would be a good choice for the new businesses, as there is no liability on the business owner, and it has pass-through taxation.
Register for Taxes
Registering for different state and federal taxes is a prerequisite for starting a business. For this purpose, you must get the Employer Identification Number (EIN) first. Getting EIN is an easy process: simply visit the IRS website, and you will find all the detail there.
After receiving the EIN number, you can choose the tax year, which determines your tax cycle.
Your business can either operate in a calendar year (January-December) or a fiscal year (a 12-month cycle that begins in any month).
After that, you should open a dedicated business bank account. Here is a pro tip— never operate your business on a personal bank account. Plus, get business credit cards that will help you manage all the business expenses in one place.
Apply for Permits and Licenses
If you want to save yourself from getting a heavy penalty, you must apply for federal and state/local permits and licenses for your paintball site. In some states or local bodies, you will need to acquire special permits for buying/renting paintball fields and guns.
Here is a list of standard Federal regulations and permits required for opening new businesses:
Doing Business As (DBA)
Occupational Safety and Health Administration's Permits
Copyrights
Trademarks
Patents
You can further look into the federal government regulations for new businesses.
Likewise, your state and local county will also require you to apply for licenses and permits. However, these regulations may vary from state to state. So, you better look up the state's law before applying for the permits.
Since there is a chance of getting injured while playing paintball, paintball arena owners should make the customer sign liability waivers to prevent potential legal issues. Also, make sure the participants are over 18 years or have parental consent.
Most states make it compulsory to wear protective gear for a paintball game. Plus, it may also be required to use paintball guns with a maximum velocity of 300 fps. Your paintball establishment should make sure that these laws are strictly followed to avoid any liability.
Secure Financing for Your Paintball Business
Getting funds from different sources is a good strategy for your business. Many opportunities exist, including bank loans, SBA-guaranteed loans, crowd-funding, self-fund, friends and family, and government grants.
A bank or SBA loan is the best way to fund a paintball business.
Acquire Insurence
Business insurance is essential for safeguarding the economic well-being of your company against unforeseen losses. You will find many insurance policies covering varying damages. Small businesses work fine with the General Liability Insurance that provides the necessary coverage.
Develop Marketing Strategy
After you have crossed all the hurdles and succeeded in establishing the paintball business, it is time to make it visible to your target audience. In this digital age, social media platforms offer great marketing potential.
You can utilize Facebook, Instagram, YouTube, TikTok, Twitter, and other resources to increase your brand outreach and attract people to play paintball games at your arena.
Setting up a Google My Business (GMB) account is another effective way to grab local customers. Add location, business hours, phone number, official website, and arena images in your GMB profile. Paintball business owners must have an official website. Having an official website with an online booking service can drastically increase the turnout.
Hire Your Team
Obviously, you can't run the paintball company by yourself. You'll need to hire a team of professionals to manage and take care of the paintball business. In fact, hiring a professional trainer to instruct newbies on how to play paintball would be a great way to make your business more profitable.
Start Earning
You've learned the ins and outs of the business. NOW is the time to capitalize on a growing market for paintball. Keep offering paintball participants quality services. In this way, you will successfully build your client base. You can double the profits by providing both indoor and outdoor fields.
Final Thoughts
The paintball industry has the potential to generate a lot of revenue. The growing paintball trend makes it a lucrative industry. You can start your own paintball field; however, it will take time and a lot of effort. This "How to Start a Paintball Business" guide is enough to help you build a successful paintball field.