Can A Paintball Gun Kill You? ( Damages & Injuries Overview)
Paintball players who are just starting out have many safety concerns. Among these, the most frequently asked question across various platforms is, "Can a paintball kill you?"
Statistically speaking, paintball is a safe sport and doesn't cause severe damage when played in a properly regulated environment. You will find a couple of incidents where fatalities are reported. Playing paintball, however, may result in serious injury.
The severity of these damages may increase when players don't follow safety guidelines. Paintball guns can cause serious harm to unprotected players when fired at close range at high speeds.
Read on to learn about paintball bruises and welts and how you can avoid them. How much does paintball hurt if we do compromise on safety measures
Do Paintball Guns Cause Deaths?
The air-powered paintball guns are not designed to kill, although some reports indicate otherwise. As you analyze these reported deaths, you will find out that these casualties, which are few, are either the result of underlying conditions or accidents.
can paintball guns kill? Paintball guns can't kill someone instantly but In 2001, a 39-year-old man in the UK got hit by a paintball in the neck, which triggered a cardiovascular arrest, leading to his death. Another unfortunate incident occurred in 2007 when a valve on a paintball gun got detached accidentally, releasing a CO2 cylinder that struck a woman in the head. She died later.
Have There Been Any Paintball Related Deaths? Looking at these incidents several factors contributed to the deaths of these individuals. So, you can't blame paintball shootings for these mishaps However, it doesn't mean that paintball can't cause injuries.
Paintball projectiles have a speed of around 300 fps and can cause excruciating pain when hit on delicate body parts like the neck, head, chest, or groin and can cause death in rare cases and there have been several confirmed Paintball related deaths.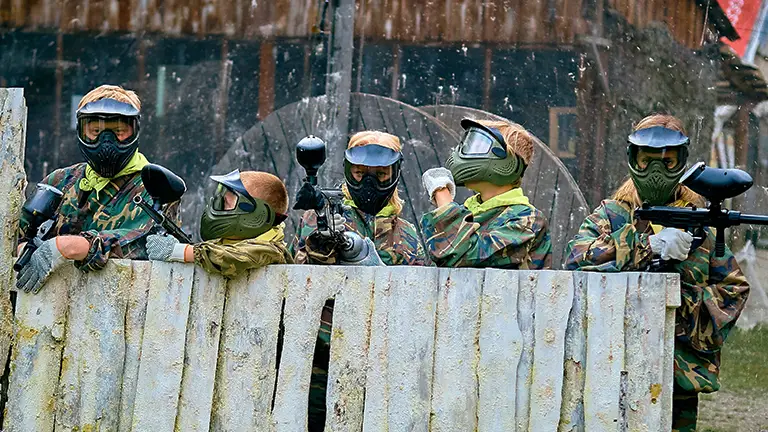 Factors Contributing to Paintball Gun violence
Paintball arenas place strict safety rules to prevent any mishaps. Most accidents occur because players do not follow the rules and are negligent. The following factors can lead to injuries and even death:
Underlying Condition of Player
Players with underlying health issues like heart or breathing conditions shouldn't be playing paintball game. It is a physical game that involves running, jumping, and crouching. Those with pre-existing health conditions, such as asthma or heart disease, are prone to strokes.
Shooting from Close Range
Under paintball game safety rules, when you are within 10 feet of an opposing team player, you cannot shoot them. Players who neglect this rule and fire multiple projectiles from close range could fatally injure their opponents. Play like a paintball game not like a paintball wars
High-speed Shooting
Another paintball rule is that guns are restricted to shooting at 300 feet per second to avoid injuries. If you are using a paintball gun with shooting capability above the speed limit, it can inflict serious damage.
CO2 Cylinder Exploding
The valve and cylinder combination of paintball can pose safety issues. Several reports have shown that the firing of the CO2 tanks due to valve malfunctioning resulted in injuries and even death. To curb this issue, makers have introduced a safety mechanism that prevents cylinders from exploding.
How Powerful is Paintball Gun?
Paintball markers can shoot at an impressive speed of 300 fps, potentially posing an injury risk. Knowing this, most paintball fields limit the speed of the gun to 280 fps (307kph) for safety purposes. Still, you need to wear proper safety gear like a paintball mask, vest, gloves, and shoes to protect yourself from the impact of these paintballs.
It is more likely that you will receive severe injuries if you do not wear any protective gear. The paintball gun damage can range from hurting your eyes to teeth shattering. The player may need to be hospitalized if he or she is hit in the groin area. Despite their appearance, these guns are not toys – you can even use them for self-defense.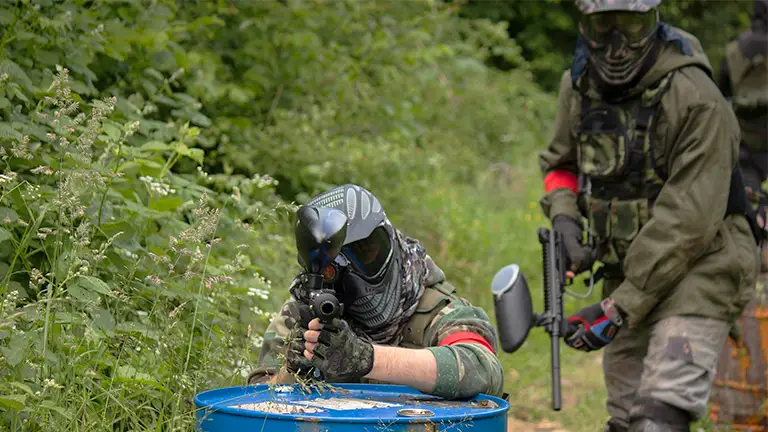 Paintball Gun Injuries Statistics
According to one report published by U.S. Agency for Healthcare Research and Quality (AHRQ), paintball injuries led to 614 visits to emergency rooms in 2008. Among these, only 12 percent were hospitalized, while the majority were released after getting minor treatments. Looking at this data, one can safely assume that odds of getting serious paintball injuries are much low.
Does Getting Hit With A Paintball Gun Hurt?
Getting hit by a paintball can hurt sometimes, and the severity may vary depending on various factors. After hitting a paintball, you will most likely feel a slight sting, which fades away shortly. Having bruises and welts on the skin are typical paintball souvenirs.
The pain severity depends on the speed of the Paintball, the distance it travels, and the point at which it strikes you. More importantly, the amount of padding or protection you wear also influences how paintballs hurt.
How Much Damage Can A Paintball Gun Do?
As established above, the protective gear fends off paintball impact. However, the outcome can be devastating if paintball breaks on the bare skin. Furthermore, these guns do not shoot bullets but they can damage the eye permanently if not worn with a safety mask. These paintball victims may need to undergo invasive procedures such as surgery in these situations. It is even possible for some people to go blind in one eye. Therefore, these paintball guns should never be used outside of regulated environments.
Where Does Paintball Hurt The Most?
A paintball hit doesn't hurt much most of the time. In some areas, however, you will feel searing pain when struck by the paintball. Here are some of the most sensitive body parts to get hit during a paintball wars:
Hand
Groin
Back of the head
Inner Thigh
Neck
Keep an eye out while playing paintball and ensure these areas are not hit by paintballs.
Can A Paintball Gun Kill An Animal
Considering the speed at which markers fire paintballs, they could easily kill small animals like rats, rabbits, or squirrels. But targeting these animals is difficult because of their small size and quick movement.
What Can You Do To Prevent Paintball Gun Injuries?
Almost all paintball games put strict safety measures. During the game, players cannot remove their masks and should wear protective gear or use markers firing faster than 280 fps. It is compulsory to follow all paintball guidelines to prevent injuries.
Below are some suggestions that can reduce the likelihood of paintball gun damage:
Make sure the paintball game setting is properly regulated
Every player is given a thorough demonstration of safety measures and risks involved
You should always use functional and reliable protective gears
Keep your goggles on at all times during the game
Wear high-quality boots
Final Thoughts
Paintball cannot be played safely without following basic safety guidelines. Without protective gear, players are more likely to get injured. Paintball games can lead to injuries, but fatalities are rare.
Restricting guns that shoot above 280 fps, wearing paintball masks and goggles, shooting from a safe distance, protecting sensitive areas, and moving cautiously can prevent severe injuries.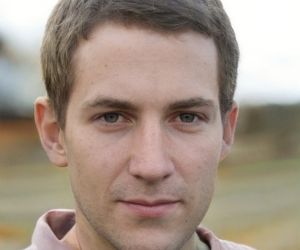 My name is Jezus Fischer, I am working full time on a paintball store and played all types of paintball games. Read more about me.