Last Updated on May 5, 2022 by Jezus Fischer
Usually, young paintballers are afraid of getting hit by paintballs. This fear not only makes them lose the game but also it demotivates younger player for further games. Paintball is a healthy activity so the best idea to keep in touch with this thrilling game is to use 50 cal paintball guns.
Unlike 68 cal Ammos, 50 cal paintball Ammos are smaller in size and so produce 60% less impact than the 68 cal paintballs. 50 cal paintball guns are pretty light in weight and it's so fun to carry them around the field. Kids and younger paintballers feel safe to play with 50 cal paintball guns. With more than hundreds of paintball guns finding out the best 50 cal paintball gun is a complex task. Therefore we have selected and reviewed few best 50 cal paintball guns which are light in weight and energy-efficient.
Best 50 Cal Paintball Guns 2022
1. JT Splatmaster – Best 50 Cal Paintball Gun
JT Splatmaster Z18 is an ideal 50 paintball gun that is best for young players. It is a spring-powered gun which means it does not require air or batteries to be operated. In simple words, you can say that JT Splatmaster Z18 lies in the category of pump-action type of marker.
Since it's a spring-powered gun so obviously it is going to shoot with a much lower velocity than any air-source marker. It can shoot with a speed of 100-120FPS.
JT Splatmaster can hold 50 cal paintballs. And the worth mentioning point here is, it is compatible with both hopper and magazine. You can use Tippmann 50 cal TMC magazine with JT Splatmaster Z18 gun. Switching from hopper to magazine or vice versa is a bit technical thing in Z18. You can't do it at the field as you have to open the internal components of the gun.
Hopper of Z18 can hold about 250 rounds of 50 cal paintballs whereas the magazine can hold up to 25-27 rounds of 50 cal paintball which is pretty impressive.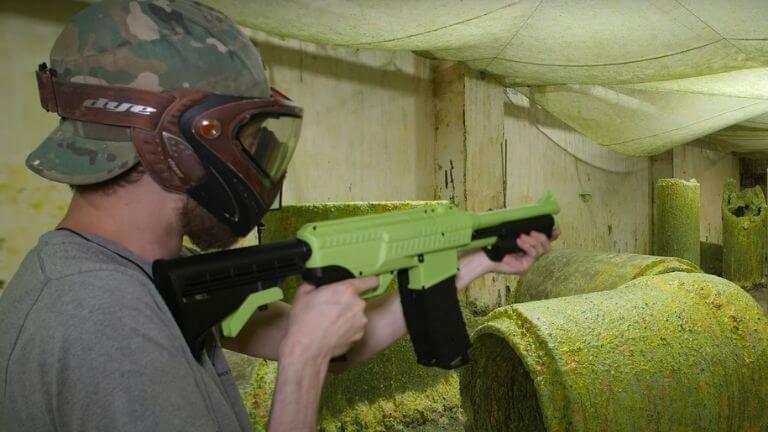 Using Z18 is a great experience; it's simple and easy to use with no such complications as in air-powered guns. While testing z18, we like its adjustable stock, so that you can adjust it according to your comfort level.
Z18 is a great weapon if you want to just mess around with your friends in the backyard as it hits the target with an accuracy of 50 feet.
Pros
Lightweight and easy to use the marker
No extra expense for buying CO2 tank
Pretty economical
Adjustable stock
Magazine fed and hopper fed
Cons
You can't switch from hopper to magazine fed instantly
2. T4E TR50 – 50 Cal Sniper Paintball Gun
If you are in search of the best 50 cal paintball marker, then Umarex T4E TR50 is the bestest choice. Basically, it's a revolver that is very easy to use and carry.
T4E TR50 is professionally used by arm forces for target training practice. Luckily Umarex has designed T4E in such style that it looks like a real gun. It is a 50 cal paintball revolver which produces 60% less impact than the other 68 caliber paintballs.
T4E TR50 is a semi-automatic paintball gun that is powered by CO2. You will require a 12g cartridge to shot from T4E TR50. One thing that I really like about the T4E TR50 paintball revolver is it features a quick pierce CO2 system which lets you use the marker instantly without activating the CO2 cartridge. Just insert the cartridge and you are all ready to go.
Unlike other 50 cal paintball guns, Umarex T4E TR50 shoots with a high velocity that is about 360FPS. Since it's a revolver so it uses a 6-rd rotary magazine which can accommodate 6 rounds of 50 cal paintballs. What I feel about the T4E TR50 gun is loading paintballs into the magazine is a time taking process. Umarex has provided 5 more rotary magazines which you can keep pre-loaded on the battlefield. But what if when you used all the five pre-loaded magazines. So play strategically with the T4E TR50 paintball gun.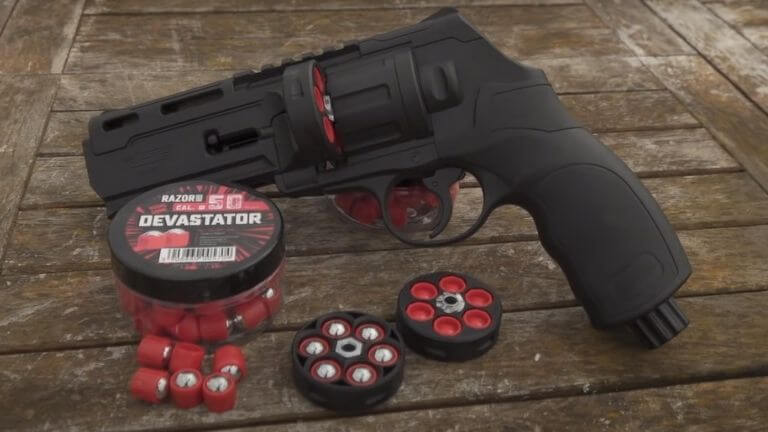 Pros
Semi-automatic gun with a CO2 cartridge
Solid and sturdy feel
Impressive velocity
Uses 50 cal paintball guns
Quick CO2 pierce system
3. Spyder – 50 Cal paintball Gun
The last one on my list of best 50 cal paintball guns is Kingman Spyder Stormer which is one of the highly-rated 50 cal sniper paintball guns.
The gun is a MilSim style semi-automatic gun that uses a CO2 tank or HPA. It is equipped with few Picatinny rails where you can mount different accessories. Since it's a 50 cal paintball gun so its barrel is a micro-ported barrel that is 13.5″ long so bigger paintballs like 68 cal cannot be used in Spyder Stormer gun. Kingman Spyder Stormer offers more accuracy to its players as it is a long barrel gun.
50 cal paintball guns are usually air efficient but Spyder Stormer is extra air efficient thanks to its Eko-valve system that reduces air consumption. With the help of the Eko Valve system, players can hit up to 3500 shots in a single 20 oz CO2 tank. This is indeed the tremendous amount of shooting.
Besides this, you will get a gravity-fed hopper with it which can hold up to 350 rounds of 50 cal paintballs. The clamping feed neck for the hopper is made up of high-impact polymer and is offset from the gun. So hopper would be installed off the set.
Kingman Spyder Stormer is not only easy to set up but also easy to clean and maintained. You will get barrel squeegee and Allen keys in the box for deep cleaning of the gun. The gun is pretty durable as it is made up of polymer including the trigger frame. Not only this it has a steel braided hose and external velocity adjuster which lets you access the velocity of the gun easily.
Pros
MilSim style gun
Compatible with only 50 cal paintball
Made up of rugged and tough material
With impressive shooting amount
50 Cal Paintball Gun FAQs:
Conclusion:
50 cal paintballs are low-impact paintballs that are around half-inch in diameter. Just because of their size they travel with reduces velocity and covers less distance. Using 50 cal paintball guns is pretty safe for young players. Once you become pro paintballers you can upgrade to higher caliber paintball guns simply by using conversion kits. So stop being afraid of paintballs, buy a 50 cal paintball gun and forget all your fears.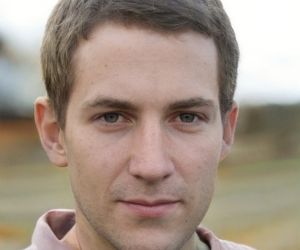 My name is Jezus Fischer, I am working full time on a paintball store and played all types of paintball games. Read more about me..